A gorgeous wedding dress doesn't have to break the bank. There are plenty of places to buy an affordable wedding dress online and many of them have wedding dresses under $500!

Gorgeous Wedding Dresses Under $500
A wedding dress you love shouldn't be out of reach no matter what your budget. There are plenty of top places to buy a wedding dress online and so many of them have wedding dresses under $500!
If spending thousands for a dress just isn't your style, you're not alone. Many couples are choosing to buy affordable and casual wedding attire, and retailers are listening. Here are our latest picks for bridal gowns under $500, from online retailers. One of the best parts of buying a wedding dress this way is that they usually ship more quickly than made-to-order gowns in boutiques.
Where To Shop For Bridal Gowns under $500
Here are the shops and Bridal gowns and wedding dresses we've found that are under $500.
Lulus is one of the first places we look for affordable wedding attire of any type. They have gorgeous bridesmaid dresses under $100, amazing wedding guest dresses, and they have so many wedding dresses all under $500. Their new line of Luxe Bridal dresses are simply beautiful and look like gowns that cost hundreds more. They also have so many long white dresses that are around $100 that make for elegant and simple wedding gowns. Here are a few we really love:
Lace and Tulle Low Back Mermaid Dress

The fitted silhouette and fishtail hem and train look like gowns for much more than this price point. We love the spaghetti straps, the lacework at the bodice, and the tulle overlay. The Everlasting Affection Dress from Lulus is $428
Off the Shoulder Gown with Deep V

For those who love an off-the-shoulder style, we think this one is exceptionally lovely! The sheer inserts a the neckline and sides are a designer-style feature at an affordable price. It retails for The Fairytale Love Story Dress is $329 at Lulus.
Always the spot to look for fun beachy and whimsical bridesmaid dresses, Show Me Your Mumu's collection of white dresses can work for bridal showers, and rehearsal dinners, but many of the styles -like the one above - are fantastic as wedding dresses!
Tulle Maxi Dress

This dress is known as the Fairy Tale Maxi dress and we can see why. The flirty tiered ruffles and layers of tulle make this dress a delicious confection! It retails for $298 at Show My Your Mumu.
Corset Style Maxi Dress

If a more fitted silhouette is your style, then try this satin corset-style gown from Show Me Your Mumu. The adjustable lace-up back makes for a perfect fit, and at $228, it's a nice fit for most budgets as well!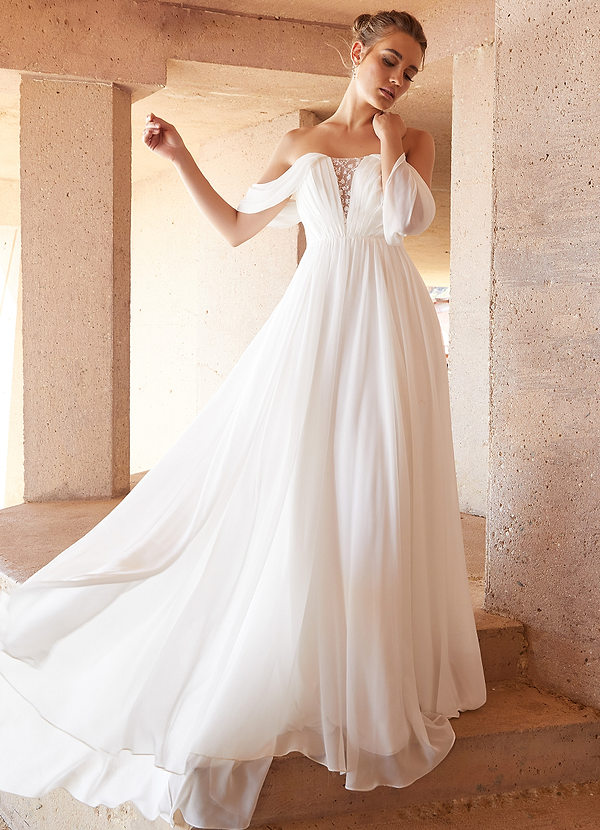 Fawn Wedding Dress by Azazie - $349
Azazie already has one of the most extensive collections of bridesmaid dresses we've ever seen. They offer so many colors, necklines, and silhouettes for wedding parties for budget-friendly prices. Now with their new bridal collection, they bring the same level of variety for amazing price points with over 125 styles under $500. they have really expanded this collection recently and the dresses get great reviews and offer some of the best trends in bridal for less. Best of all Azazie has a try-at-home program, which we reviewed, which makes it so easy to make sure the dress you select is the perfect one for you. They also fit to size and offer so many ranges of sizing that there's something for everyone here! Here are a few of our favorites:
Caymus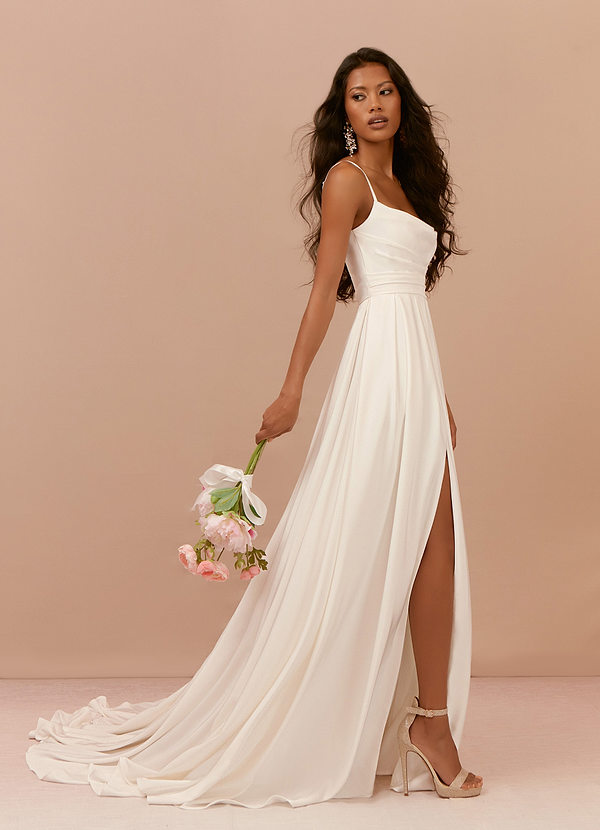 Caymus is a simple silhouette but with some stunning details. We love the extra long train, buttons up the back, box pleats the delicate draped but fitted bodice and those delicate straps! Caymus Wedding Dress from Azazie - $399
Stevie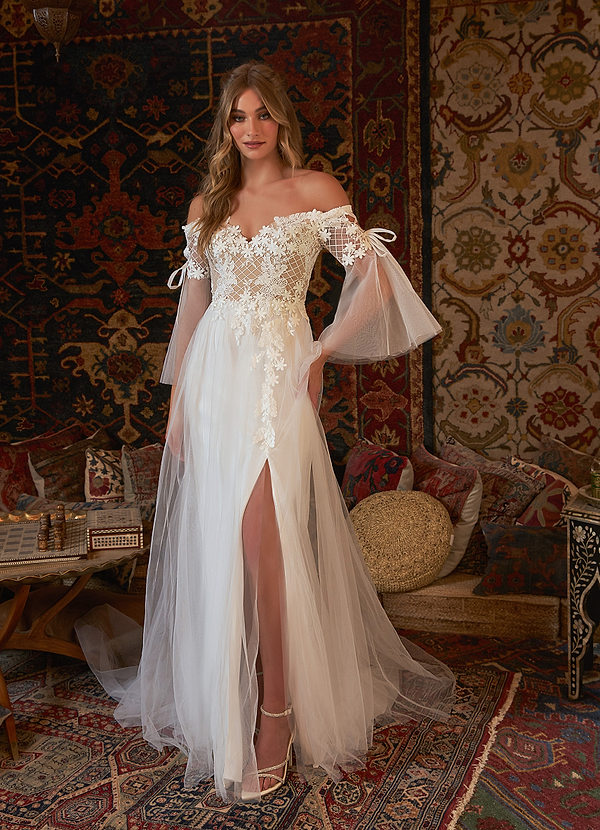 We think we see a little mystical Stevie Nicks influence in this one! The sheer line bodice and the sleeve details remind us of the high-end designer bridal gowns we feature. But the price point $399 is soo much more attainable! Stevie by Azazie
Lilith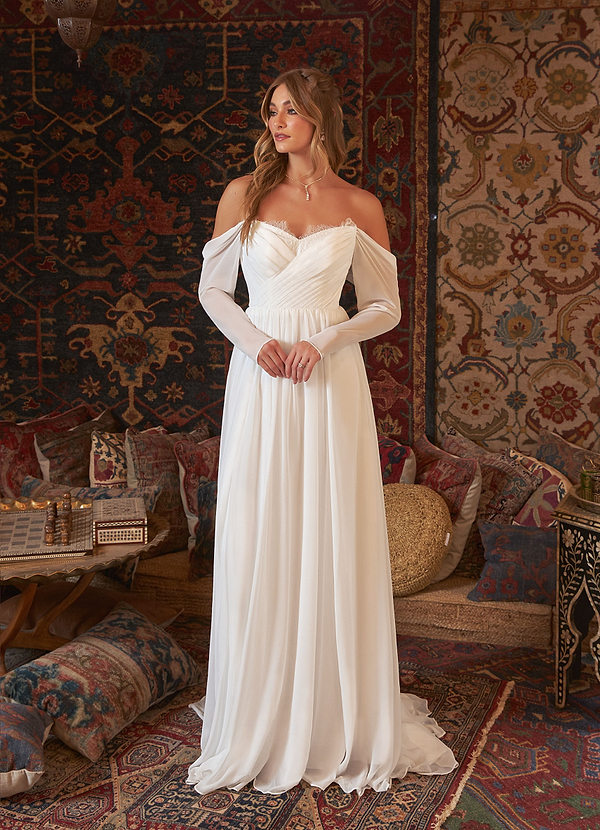 Another boho beauty from Azazie is Lilith. The unique pairing of long sleeves and off-the-shoulder styling can be hard to come by, but this gown has it! A wonderfully romantic style for $359.
Lilith Wedding Dress from Azazie
Anaisa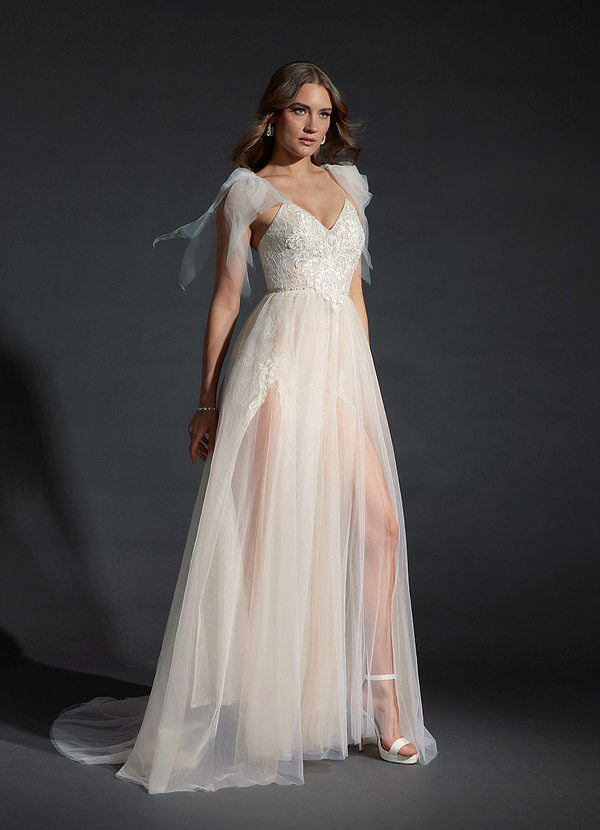 This is yet another style that reminds me of a designer bridal that retails for thousands. The sheer panels and sheer ties give an ethereal quality to the gown. This style is from the Platinum Collection and retails for $349. Anaisa Wedding Dress by Azazie
Elise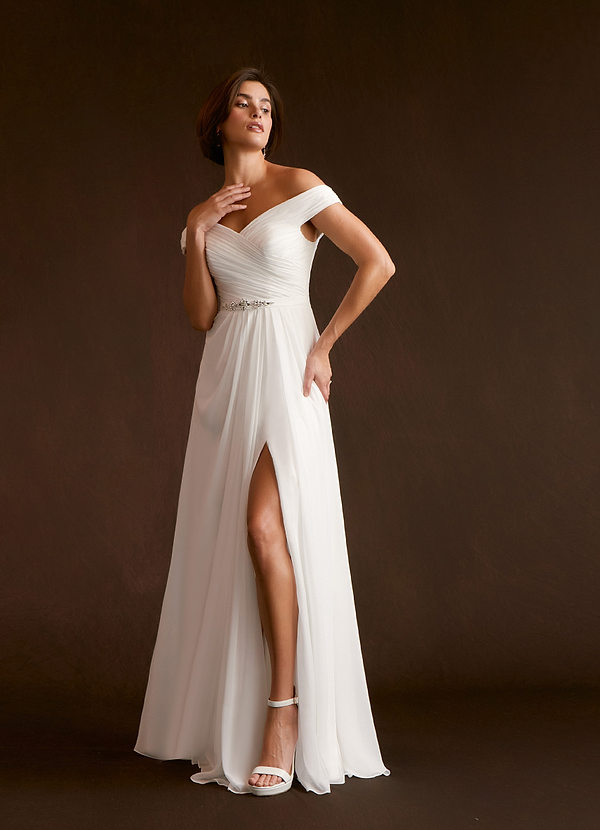 This is a movie-star-level gown, with a combination of a draped bodice that goes into an off-the-shoulder style and a split skirt for a little glimpse of leg. Elise Wedding Dress from Azazie
Prudence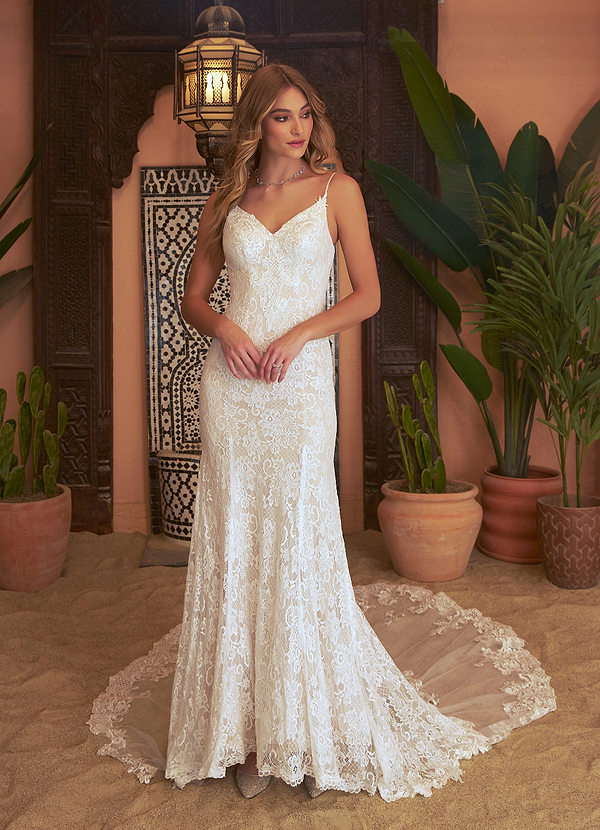 Have we convinced you yet that Azazie has amazing gowns for under $500? If all-over lace and a bit of exquisite detail on the train is your desire, this dress is for you! This one is $499.Prudence Wedding Dress from Azazie
Violette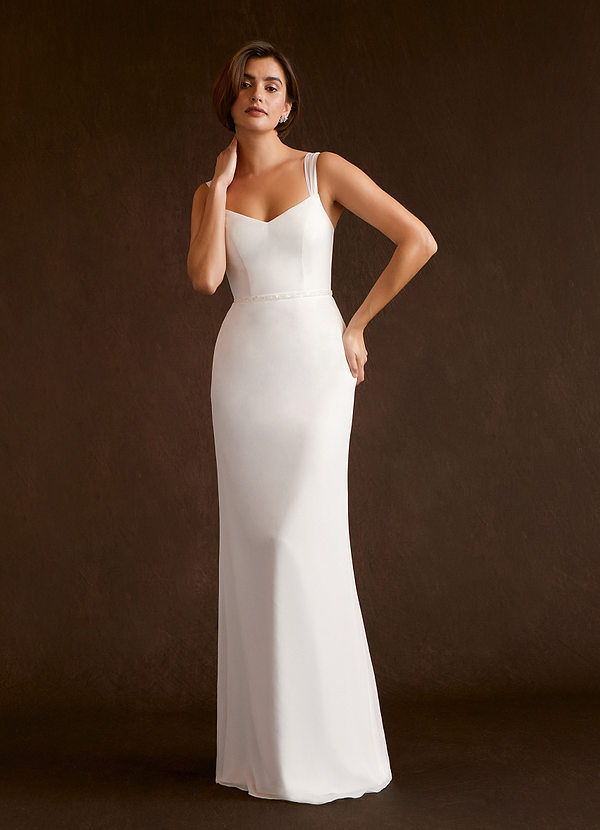 Violette is a style from the modern sleek collection at Azazie. We love the square-meets-sweetheart neckline, the illusion back, and the fitted sheath style of this gown. It retails for $239. Violette Wedding Dress by Azazie
Loey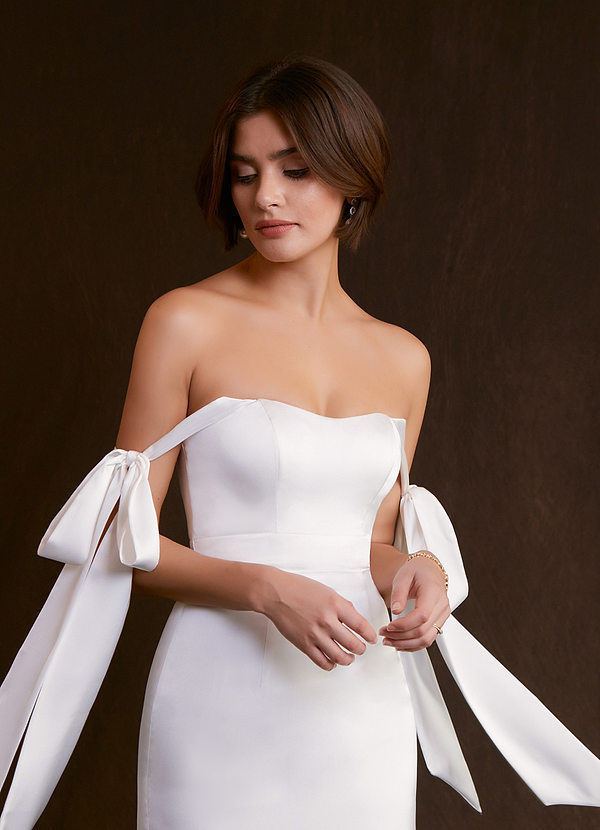 We think this next sleek style speaks for itself, if you love bow details and an off-the-shoulder style, this one is for you! The bows can also be tied at the shoulder as straps. The ankle length and fitted satin fabric of this dress also make it an eye-catcher. Loey retails for $219 from Azazie.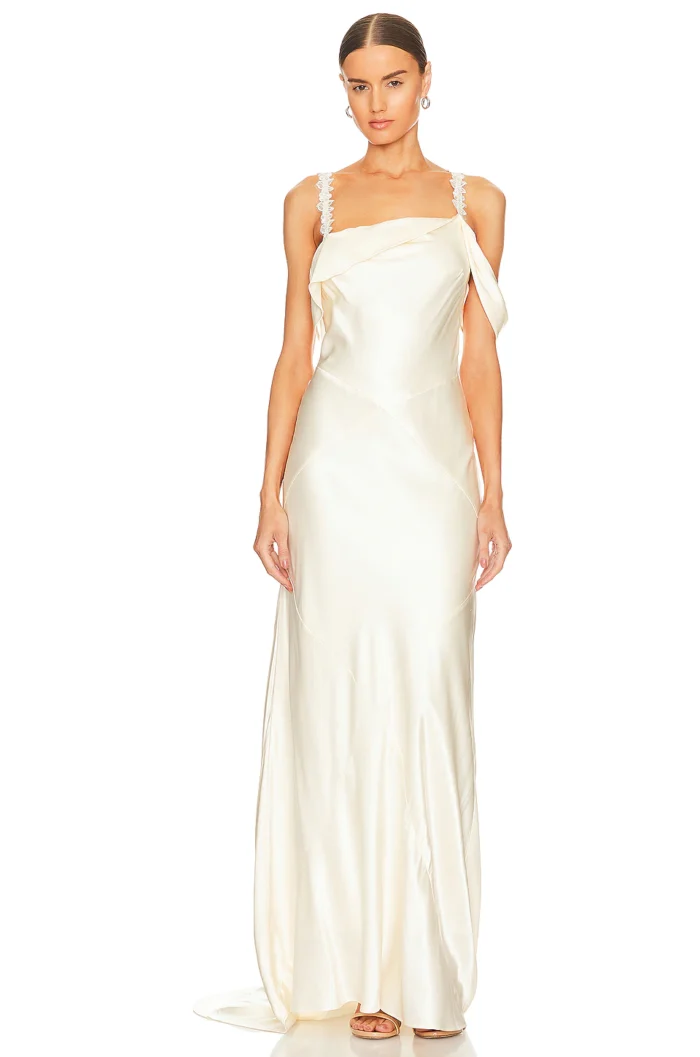 Think you can't get a designer wedding dress for under $500? Usually, you'd be right to be wary of such a proposition, but Revolve carries some amazing designers and their offerings for white dresses will make amazing wedding dresses. There are even more dresses outside the $500 range, but for under $500 you can get stunning bridal gowns like the one pictured above. Pearl Dress from Revolve

Anthropologie's former wedding website BHLDN, is now back under the Anthropologie shop and brand name and all the elegant wedding dresses have gone along for the ride! Anthropologie weddings mostly has dresses in the under $1,500 range, but there are a few beauties under $500.

Dessy's been a reliable name in bridal for decades, and their selection of wedding dresses under $500 offers top-quality fabrics and styling. Some of these gowns have a bit of a wait time associated, but it's worth the 6 week lead time! The dress we have pictured above even has pockets, as do several other styles!

Etsy is one spot where you'll need to read each individual seller's reviews very carefully. But once you do, and you find a winner, you can get an exquisitely handcrafted and often one-of-a-kind gown.
See more Wedding Dresses from Etsy
Shop More Bridal Gowns Under $500
Each one of these dresses was under $500 at the time of this post. In addition, these retailers are always a good place to look for affordable wedding dresses.

Tips When Looking Finding Affordable Wedding Dresses
While we're on the topic of finding some wedding dress bargains, we'd like to say a few words about purchasing wedding dresses online and the deals you may see. All of the dresses we've shown here are from reputable online retailers that have good reviews.
Being able to get a wedding dress online is a great innovation in the wedding world and an ideal option if you don't have a long engagement, or are having an informal or destination wedding. You can buy these wedding dresses without a long ordering lead time, you can try them at home and often return them if need be.
However, if you see a high-end couture or designer wedding gown being sold online for a price that sounds too good to be true -- it probably is! (For instance, a new Monique Lhuillier couture wedding gown will not be under $500). Usually, designer wedding dresses can only be purchased only through an atelier or bridal boutique that has been certified by the designer and found on that designer's website.
Aside from these good guys, there are some less-than-reputable companies simply steal images of designer gowns put them on their sites, and then say they'll create the same one for you at crazy prices. We can assure you it's not the quality you are hoping for. Some of the telltale signs are sites that seem a little off might be that the description of the dress might be strangely worded, there's no contact information, the "reviews" sound a little phony, and the site itself doesn't seem secure. Unless it's a store or brand you know - stay cautious. And always google and search for reviews!
Originally published November 2013, most recently updated June 2023