At this time of changing plans and smaller weddings, shopping online for dresses is a great option! One of the best selections we've seen of wedding-ready looks for brides are these white dresses for weddings from Revolve!
This post about white dresses from Revolve uses affiliate links, which means this site may earn a commission on purchases made from this post.
White Dresses for Weddings From Revolve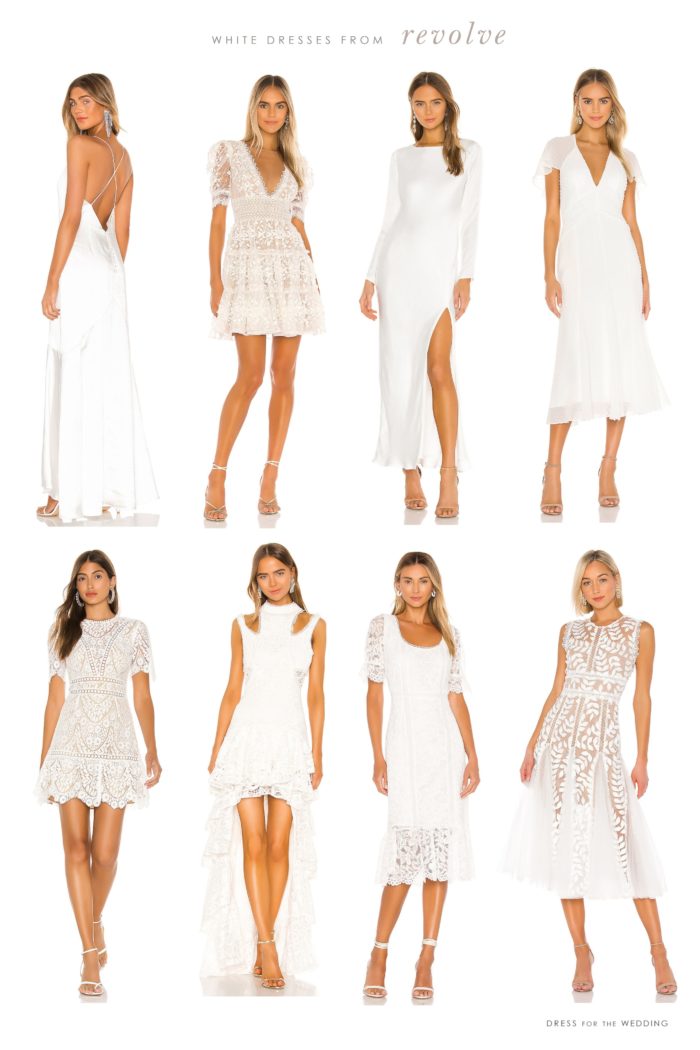 | 1 | ELLIATT Aisle Dress in White | 2 | Bronx and Banco Megan Mini Dress in Blanc | 3 | River Bias Dress by Bardot | 4 | Show the F Up Dress Katie May | 5 | Darian Dress by Saylor | 6 | Alexis Varenna Dress | 7 | Tularosa Quinn Midi Dress | 8 | Bronx and Banco Saba Blanc Midi Dress
Cute White Dresses from Revolve to Wear for a Small Wedding
Earlier this month, we shared some of our favorite dresses for wedding guests from Revolve. Today, we are sharing some of our favorite looks for brides to be. Smaller gatherings, back yard weddings, and city hall ceremonies have become the leading type of wedding for 2020. With that shift, we know many brides to be have been scrambling to find a more informal llittle white dress to wear for some of the modified wedding celebrations that are happening this year.
We suggested a number of places to find dresses in our post about Wedding Dresses for Small Weddings but today we're focused on finds from Revolve. Revolve has an amazing selection of white dresses with everything from informal white day dresses to black-tie ready gowns. The collage above shows some of our favorite white dresses with more below in the shop the look section.
Shop The Dresses

More Dresses and Ideas for Weddings
Check out these other pages and posts if you are still looking for a all wedding dresses, want to browse all wedding dresses in the collections we feature, or shop wedding dresses from our guide to online wedding dress shops.