Wedding Dress of the Week: Blakely Gown by Rebecca Schoneveld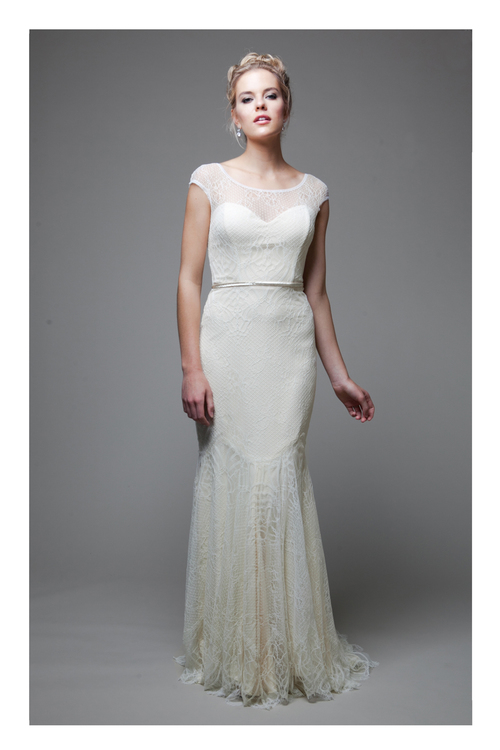 It has been such a long time since my last wedding dress of the day, week, or any other time period, and today's dress is one I've had my eye on for quite some time.  I first learned about Rebecca Schoneveld when I featured the WedAltered event, which centers around designers who are passionate about making ecologically-sustainable wedding fashion.  Since then, Rebecca has changed her label name from Schone Design to Rebecca Schoneveld, and has opened a beautiful flagship store in Brooklyn. I featured her beautiful blue Mia-Caroline gown in this inspiration board I did for Tidewater and Tulle's launch, and I've been meaning to show you more lovelies from her collections ever since. Today is finally that day!
Bohemian Art Deco Look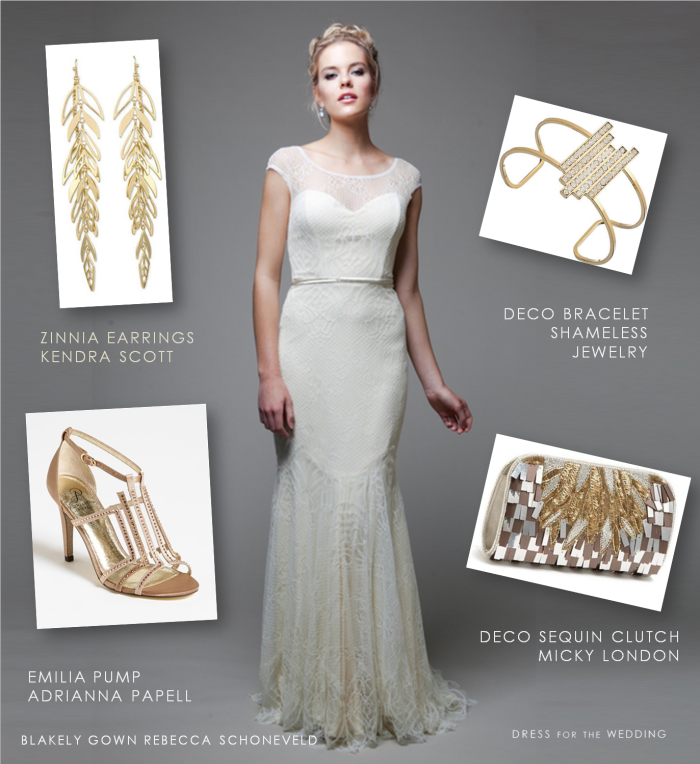 Blakely Gown by Rebecca Schoneveld / Shameless Jewelry Deco Bracelet / Deco Sequin Clutch Micky London /Adrianna Papell Emilia Sandal /  Kendra Scott Zinnia Earrings
This Blakely dress was one I had in mind for a bride friend, and I wanted to share it with you. It's a lace wedding gown, but the fabric is more open construction, without floral patterning. I love that it has such a figure-skimming shape and gives an Art Deco, vintage, romantic and bohemian feel all at once. I've styled it below with some Art Deco touches that play up the vintage and natural organic aspect of this dress. The leafy/feathery pattern in the earrings and clutch echoes the hemline, while the geometric elements of the shoe and bracelet give that unmistakable Art Deco look.  The entire collection is just as gorgeous as this gown, so be sure to visit the Rebecca Schoneveld website (www.rebeccaschoneveld.com) to see her full 2014 line.
The Blakely gown is shown with Rebecca Schoneveld belt , Photos by Amber Gress Photography / Hair by StylesOnB / Makeup by Nicole Sievers
More style ideas you might enjoy :