Black Strapless Formal Gown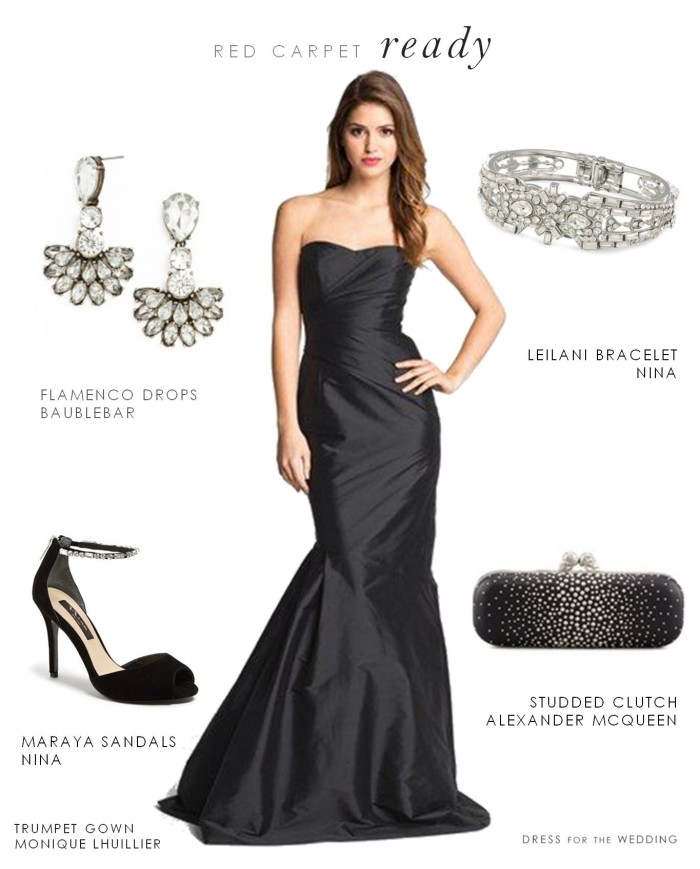 Monique Lhuillier Strapless Trumpet Gown from Nordstrom /Crystal Flamenco Drop Earrings at BaubleBar /  Nina Leilani Bracelet /Studded Clutch Alexander McQueen / Maraya Sandal by Nina
Are you looking forward to the Oscars this weekend as much as I am? Maybe it's because it always catches me off guard at the end of winter, but I always suddenly feel the start of the excitement  about 3 days before of seeing stars walk the red carpet, and really look forward to the whole thing all day Sunday.
I don't keep a notebook anymore  (um, what?!) like I used to in high school so I could compare fashion notes with Joan and Melissa Rivers on E! , but I am really excited to see what Lupita Nyong'o wears, and to see what dresses Mayhem makes! (Mayhem is a 4 year old who makes dresses with her mom which put my tin-foil mini skirt I once created to shame. She is my new favorite thing on this earth,  and apparently everyone else feels that way too! The site is down right now but maybe later you can check her out!) I'm also very excited about  probably winning this year's Oscar pool and having the trophy reside at my home. (Pay no mind, just a little bit of smack talk to my cousins!)  I also spent 15 minutes this morning engrossed in this fun little infographic from Cosmopolitan created by  mediarundigital.co.uk  about the dresses worn by the Best Actress award winners. I saw this yesterday on Anna Elyse's facebook page and pinned this morning thanks to Swooned! ( So many sources, it's like my personal "I'd like to thank." speech!)
In honor of the red carpet excitement and based on the success of last week's classic look, I'm showing this classic formal style, with a black strapless Monique Lhuillier gown as the centerpiece.  This style is of course ready for red carpets, but would also certainly make for a stunning bridesmaid dress, or a guest dress for a black or white tie wedding. Amazingly, until I had to go and add that Alexander McQueen clutch, the whole outfit was pretty reasonably priced for such grand style. I mean, it's not one of an under $100 outfit, but it's also not "I need personal-security-because-this-necklace-was-loaned-to-me-by-Harry-Winston-and-it-is-12-million-dollars" kind of get-up either. See the shop the look below for all the details and have a great weekend!


This post uses links to retail partners.