Blush dresses for a wedding under $100 for wedding guests, bridesmaids, to wear to showers and other special events. Blush is such a popular wedding color, and also can be a great color dress for wedding guests. We've rounded up some of the top affordable blush pink dresses.

Blush Dresses for Weddings Under $100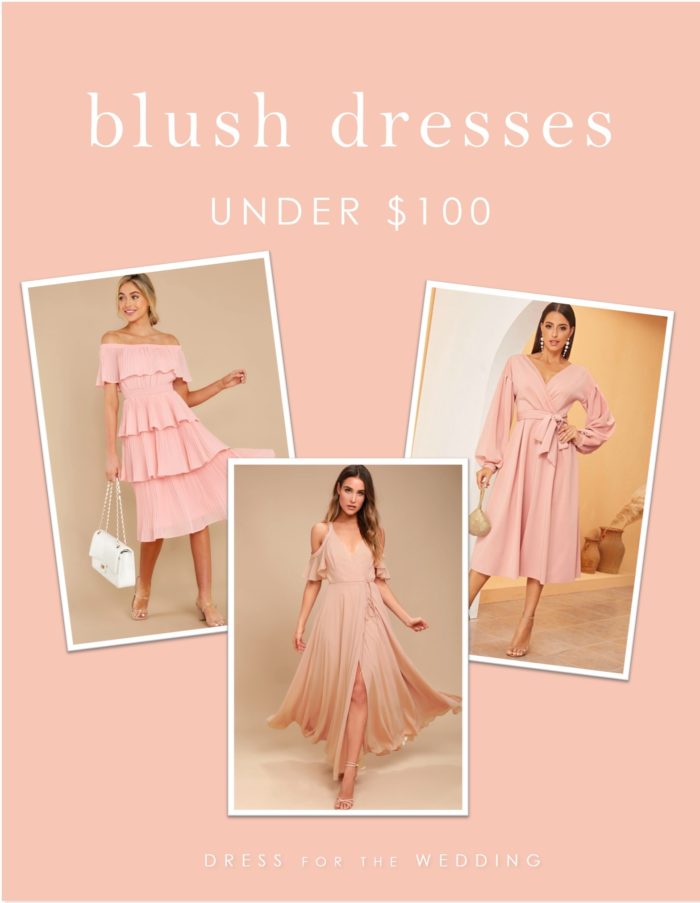 Image and dress shopping sources 1/Delightfully Chic Soft Peach Midi Dress 2/ Easy Listening Blush Cold-Shoulder Wrap Maxi Dress from Lulus 3/ SHEIN Lantern Sleeve Self Belted Wrap Dress
Shop The Dresses

I recently did a post about pink and blush bridesmaids dresses, that I have been wanting to come back to. I love the dress I showed, but by no means did I begin to even tackle all the great affordable dress options available in this soft pink hue! It seems it's a great color as we get back into the soft pastels of spring, and I know it blushes and pale pinks are a popular color for weddings this year.
I don't know about you, but my usual budget for a wedding guest dress is under $100. When I was a bridesmaid, I would have been thrilled if I could find a bridesmaid dress for under $100! So, this evening I've picked some of my favorites - all at under $100.
Affordable Blush Dresses for a Wedding for Bridesmaids and Guests
If you're planning on having blush as one of your wedding colors, you could have your maids each pick one of these for a coordinated -- but not completely matched --bridesmaids' look; pick your favorite and have all your maids get it, or choose one of these to wear to a shower, spring wedding, or bachelorette party! These dresses also run in junior sizes, so a junior bridesmaid could probably find a style to fit. A guest of a summer wedding could wear these too, just so long as it's not to a wedding where the bridesmaids are wearing blush, and that you wear accessories that make this look guest-like and not bridal.
Where to Find Blush Bridesmaid Dresses Under $100
Birdy Grey

Birdy Grey is a new bridesmaid dress company that we love! Every single dress is under $100, and has pockets. These are modern bridesmaid dresses with many convertible styles. They offer a few shades of blush dresses and all of them are beautiful!
Lulus

We were so excited when Lulus expanded their wedding collection, and for good reason! They have a huge selection of maxi dresses that are under 100 and make for beautiful wedding guest styles! There several styles of blush dresses that are perfect for bridesmaids.
David's Bridal

David's Bridal has a whole section of bridesmaid dresses under the $100 price point, and they offer some great styles in beautiful blush options. You'll want to see colors like Pale Pink, Petal, and Blush and Angel to see which shade of blush is for your wedding party!
Shop Pink Dresses at David's Bridal
Azazie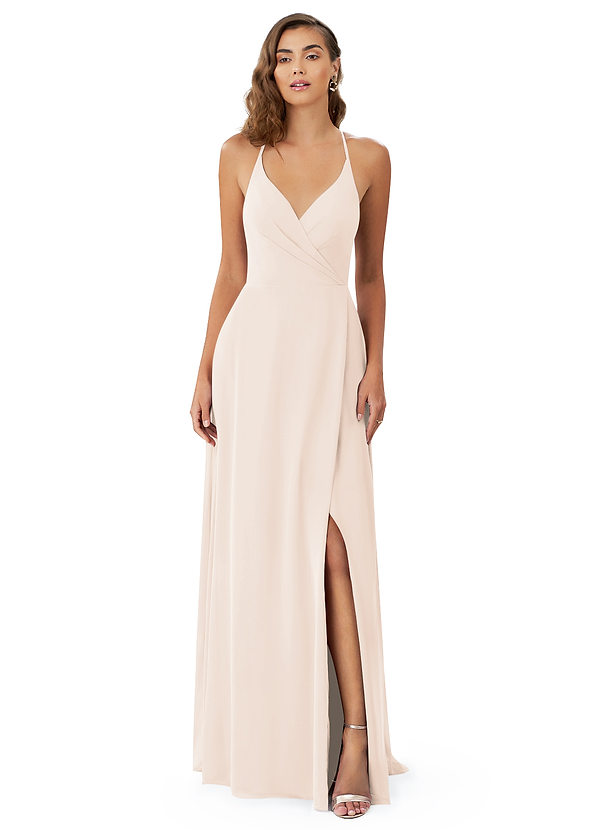 Azazie Davis Bridesmaid Dresses | Azazie
Azazie offers so many bridesmaid dresses under $100 in over 70 colors. These dresses are sized by measurements so that you may not need alterations! Azazie offers about 5 shades that could fall into the category of blush including blushing pink, rose quartz, and rose petal. You can order swatches to see which shade you like best! See more details about Azazie in our review of Azazie bridesmaid dresses and try at home program!
This post was originally written in 2013, and was updated in 2020. The original featured image and details are below in case you're reaching this page from an old pin!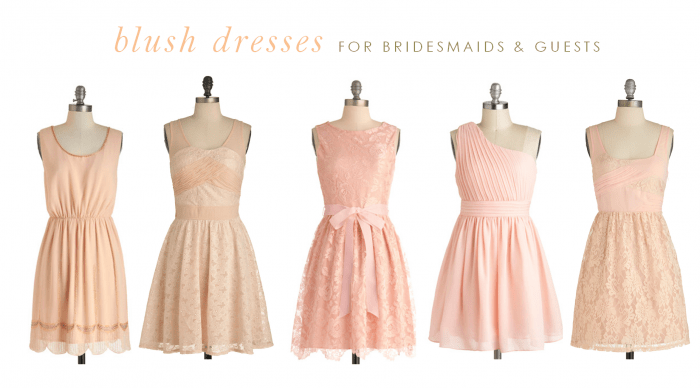 Shopping links that are noted in italics go to our sponsors and affiliate partners:
Laguna Peach Dress /Pale Pink Posies / Looking Like a Million Bucks / I Pink You're Lovely / Sugared Roses Dress