Winnie Couture Bridal Collections - Romantic Wedding Gowns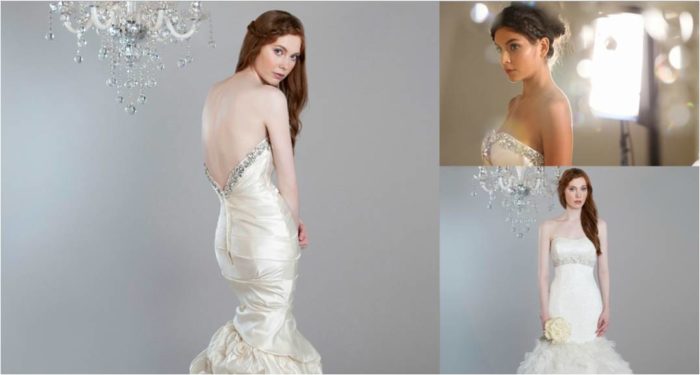 Winnie Couture Diamond and Blush Bridal Collections
Romance abounds in Winnie Couture's most recent bridal collection. However, these gowns are far from being the over-the-top version of romance often portrayed  by novels and dramatic period movies--these wedding gowns unmistakably speak to modern romance. They are sleek, but still layered with intricate detail and plush fabrication. The result is a  rich, enchanting look that allows brides to feel graceful and beautiful. The gowns are of the dreamy fairy-tale variety, but brought into modern focus with delicate vintage-inspired details reinterpreted in a very contemporary way.

Winnie Couture offers two labels for brides to enjoy her bridal designs. The Diamond label is her luxury line, while her Blush label offers her signature style in a more moderate price range. Both of Winnie Couture's labels epitomize classically feminine bridal fashion. In her most recent collection, she brought her love of lace to many of the gowns, and also relied on the use of light fabrics like chiffon, silk, organza-- draping them into tiers, trains, and rosettes to create rich layers.
Reflecting on the process of this collection, Winnie also spoke of how gowns can transform from her initial imaginings into something new during the process of draping and designing where the gown emerges. With her focus on shape throughout that designing process, Winnie's are  known for immaculate detail and perfect fit.   Each of her collections present spectacular and timeless pieces for the modern bridal who simply wants to be dazzling on her wedding day.
Here are a few of my selections from Winnie Couture's most recent collections with a few looks back to favorites from her past seasons, too.
Arya by Winnie Couture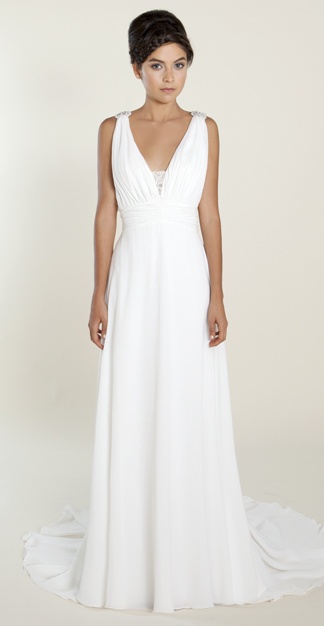 Arya is a beautiful Grecian-style  chiffon gown. Beautiful  handbeaded crystals accents grace the shoulders. Arya is part of the Diamond Collection.
---
Brunonia by Winnie Couture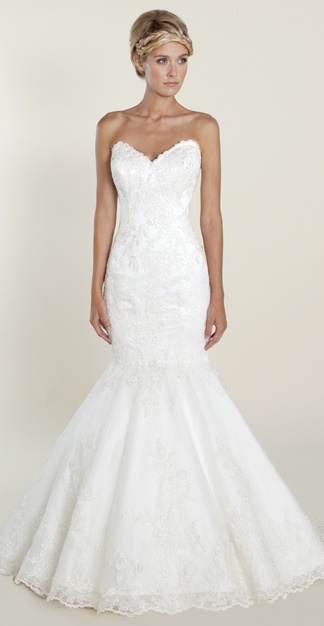 Brunonia  is a  Alencon lace mermaid gown with sweetheart neckline. This gown gets its beautiful flouncy fullness from tulle skirt with lace detail that extends to the finely-edged hem. Brunonia is part of the Blush Collection.
---
Willow by Winnie Couture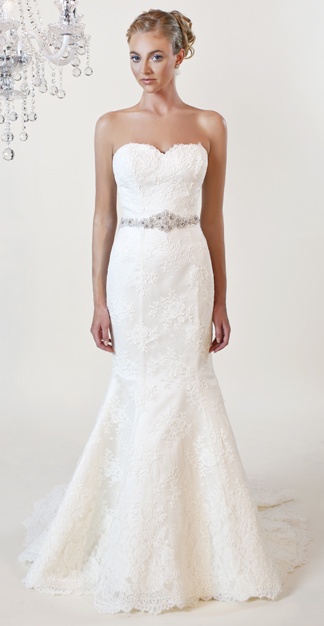 Willow is a beautiful, sleekly shaped strapless Alencon lace with a Swarovski crystal belt. Part of the Blush Collection.
--- 
Kazane by Winnie Couture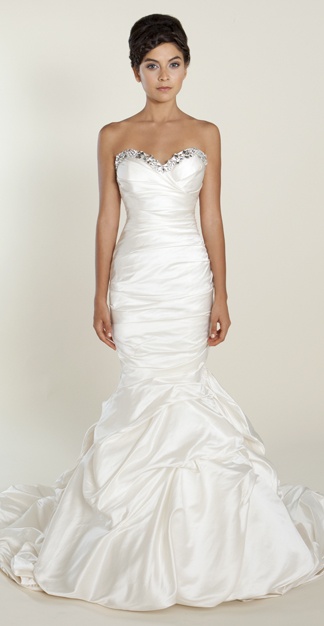 Kazane is a beautifully flattering mermaid gown with silk ruched bodice and bustled skirt. The neckline becomes the focal point because of the hanplaced Swarovski crystals. The back detail includes flower cluster on train. Kazane is part of the Diamond Label.
---
Daveney by Winnie Couture 
Daveney is and elegant Mermaid gown.  The soft, hand-cut organza layered skirt is what spoke to me most about this one! Daveney is part of the Diamond Label.
---
 Pierretta by Winnie Couture
 Pierretta brings those rosettes I spoke of earlier into full glory. This  ball gown style is fully layered with draped silk organza skirt and fitted criss-cross bodice.
---
Sabrina by Winnie Couture
Sabrina is a sleek, silk charmuese gown with beaded cap sleeves and Swarovski crystal beading accenting the bust line. This gown is reminiscent of the 1920 and 1930s to me, with a modern take on the Art Deco aesthetic. I'm in love with the beaded cap sleeves. Sabrina is part of the Diamond label.
---
Laurel by Winnie Couture
Laurel is Satin fit and flare gown with Alencon lace detail and Swarovski beaded belt. I love how the belt accents just above the hip, accenting the clean lines of the bodice and skirt.
---
Lorelei by Winnie Couture
Lorelei is an inventive take on the traditional Mermaid gown with silk ruched bodice and layered tulle and satin skirt. The tulle layer on the outside, is stunning and softens the skirt in a  beautiful, transparent way. Lorelei is part of the Diamond Label.
---
As one can see from these gorgeous gowns,  fulfilling wedding dress fantasies are a specialty of the Winnie Couture line. Find your dreamy dress at one of Winnie Couture's authorized retailers or flagship salon locations. View the entirety of the Diamond Label and Blush Label Collections at www.winniecouture.com