Where to find yellow ties for weddings for grooms, groomsmen, and ring bearers.
Yellow Ties for a Wedding for Grooms and Groomsmen
I am just barely squeaking by if I'm going to make today's post a "Tuesday tie" post, but--darn it--I'm going to post this even if it is 11 pm because I've decided that I want to dedicate at least the next few Tuesdays to a little feature called "Ties for the Guys". I've made you wait all day, so I'll get right to it: today's featured tie color will be a bright cheerful yellow.
The shopping sources and images in this post about yellow ties for weddings use affiliate links, which means this site may earn a commission if you make a purchase from our links.
Yellow Ties for Weddings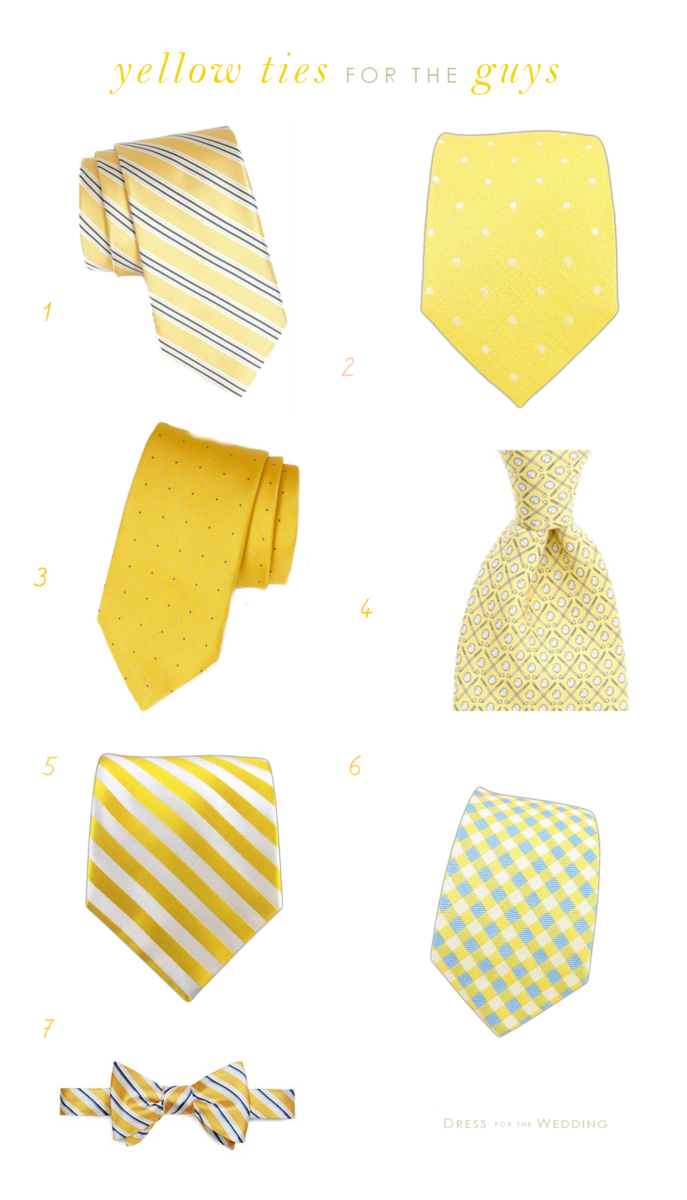 1. Nordstrom Woven Silk Striped Tie 2. Dotted Dots Skinny Yellow Tie from The Tie Bar 3. Thomas Pink Woven Silk Tie 4. Golf Clubs Tie from Vineyard Vines 5. Candy Stripe Tie from The Tie Bar 6. Diamante Tie from The Tie Bar 7. Split Awning Stripe Bow Tie from Brooks Brothers
I try pick these ties primarily to coordinate with some of the bridesmaid dresses I've featured in the past, so today's post relates back to the yellow bridesmaid dress theme I featured a few weeks ago.
Yellow can be a pretty classic color when it comes to ties, but the lemon yellow shades I'm picking for this post really will do well at spring and summer weddings and they might go into fall just fine, too. Yellow in general as a wedding color scheme mixes nicely with aqua, navy, orange, gray, and even pink, purple, and green.
Yellow Neckties and Bow Ties for Weddings
For suiting up: I think yellow ties look great against white shirts, classic light blue oxford shirts, and sometimes even a bold checked shirt. Just remember the 2 out of 3 rule of mixing prints conservatively: of the suit, shirt and tie, one must be a solid.
I love how yellow looks against a navy suit, and with some gray suits, and some black suits, but just be careful not to have a bumblebee effect when mixing it with straight black. I also can't imagine a yellow bow tie with a tux that would look exactly right to me, but go ahead, prove me wrong!
Male guests should feel free to don these jaunty yellow ties as well to summertime weddings just as long as you know it's not the wedding theme color. Otherwise, you may be asked to stand up with the rest of the groomsmen!
Yellow Ties for Grooms and Groomsmen