Wedding Dresses for a Second Marriage, Second Wedding, or Re-Marriage
Happy "Wedding Dress Wednesday"! Today, I'm taking a look at wedding dresses for a second marriage, but these dresses will really work for any wedding ceremony if you ask me!
A dear friend of mine recently asked my opinion on what to wear for a second wedding, and I also saw some beautiful photos of a friend's second marriage ceremony on a boat last summer, so this post is inspired by both of those ladies. I know there are many people out there --maybe you! -- who have found love again and can't wait to celebrate! I could not be happier to help you with your search for a dress if I can. Here's one idea, featuring a dove gray lace dress and rose gold accessories.
Shopping sources on this site use affiliate links, which means this site may earn a commission if you make a purchase from our links.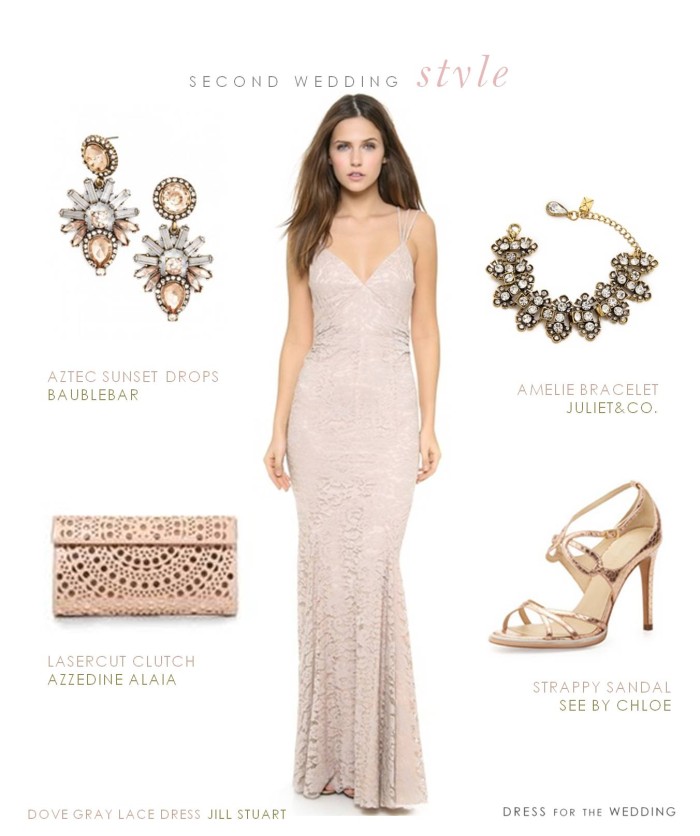 Jill Jill Stuart Dove Gray Lace Gown | Aztec Sunset Drops by Baublebar | Amelie Bracelet by Juliet & Co | Strappy Sandals by See By Chloe | Lasercut rose gold clutch Azzedine Alaia
Wedding Dresses for a Second Marriage

What Kind of Dress to Wear for Second Wedding
So, what does a bride wear for her second wedding?  In short, I think she should wear anything she wants to!  ( This is my thought for first marriages as well.) I believe there used to be "rules" for a bride who was getting married for the second time, namely that she shouldn't wear white and should also stay away from gowns that were too full-skirted or were in other ways considered traditional for a first marriage. If you feel that way, then by all means, follow those guidelines, but it's my belief that a bride can wear whatever she chooses. In fact, I think women who are getting married for the second time might have more even more options than they felt they did the first time they were brides.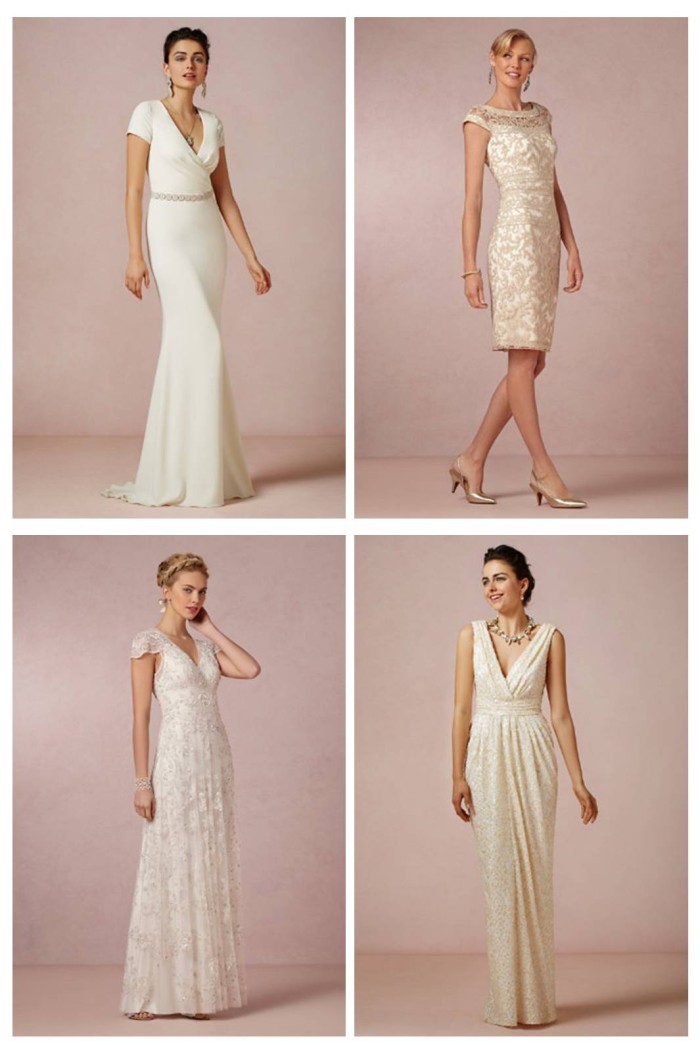 All from BHLDN:  Top left: Isis Gown  Top Right: Kinley Dress Bottom Left: Mira Gown Bottom Right:  Bette Gown
My only guidelines for second wedding gowns are that you choose whatever feels best for you, and expresses how you feel about your life, your love, your new spouse. So this means you can definitely wear a big white dress in my opinion,  but you can also choose from all the lovely blush, pale blue, silver, and gold wedding dresses we see now. Short little white dresses or off-white or light colored suits are wonderful for second weddings.  You might want to check out all the wedding dresses I've featured, if that's the route you'd like to go. You might also like this post on little white dresses.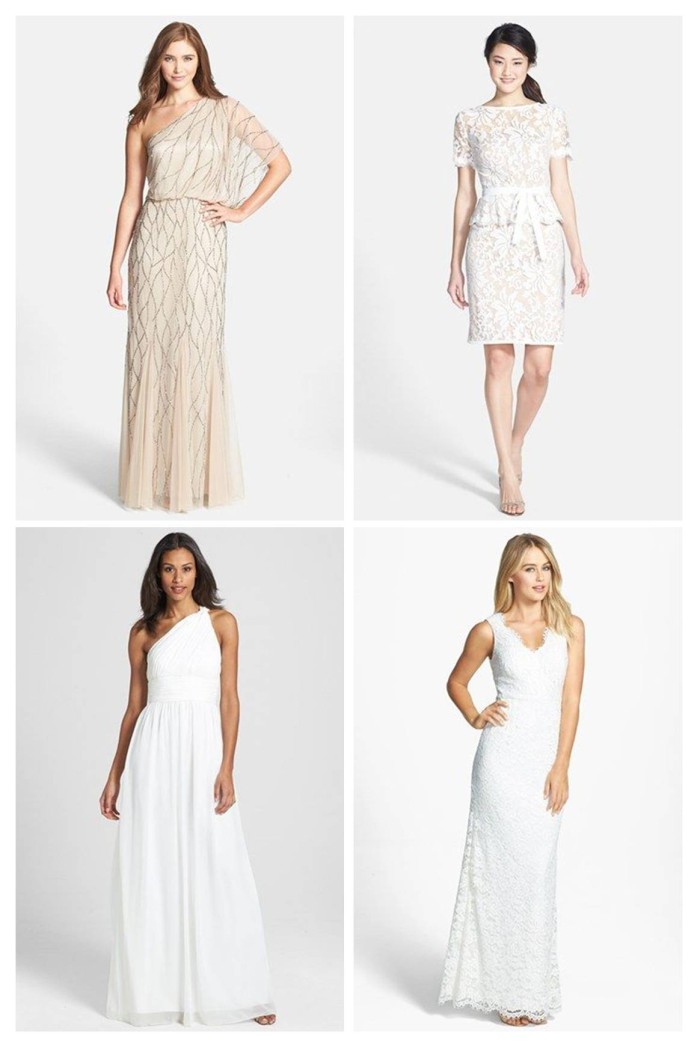 All from Nordstrom:  Top Left: Adrianna Papell One Shoulder Beaded Dress Top Right: Tadashi Shoji Lace Peplum Dress Bottom Right: Donna Morgan Rachel Dress  Bottom Left: Adrianna Papell Sleeveless Lace Dress
The great part of a dress for a remarriage is that you need not even choose a dress that is considered a traditional wedding dress color. If red is your signature color, then go for it! Do you feel most lovely in lavender?  Would a sleek midnight blue ballgown be you? As long as you choose something that suits you,  how can you go wrong?  This tenet could also hold true for those of your who  having a vow renewal or are celebrating your first marriage and just want to change into a second dress at the wedding. Pick something that is a true extension of your personality, and makes you feel beautiful! Some of my personal favorite picks for second weddings right now are pretty champagne lace dresses, rose gold anything, sparking silver gowns, easy shift dresses, simple gauzy gowns, but it's not  for me to define. It's not my wedding, it's yours!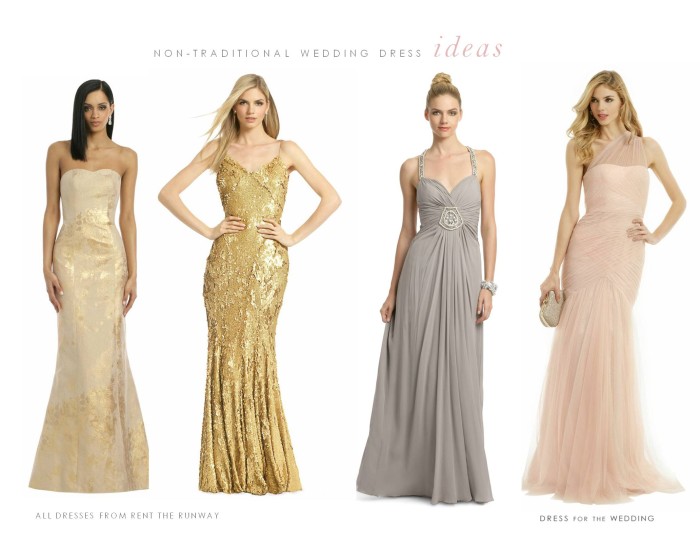 All from Rent the Runway: Carolina Herrera Catherine Gown  | ZAC Zac Posen As Good as Gold Gown |  Temperley London Monte Carlo Gown  | ML Monique Lhuillier Fallen Rose Petal Gown
Since second weddings sometimes are more intimate and occasionally planned in shorter timeframes, it's also wonderful that there are so many options in ready-to-wear gowns for remarriages.  That's not to say you can't go to a boutique and have the full bridal experience - please do if that's your wish. But if you need a destination style dress for a tropical elopement, or want to pick up something a week before the ceremony like someone I know did, you're certainly covered there as well.
Where to look first? Well, there are also many bridesmaid style dresses that when ordered in white make for the perfect second wedding dress, or a gown that might be thought of as mother of the bride dress might be just what you're looking for. It's no secret that I also am a huge proponent of Rent The Runway and places like Nearly Newlywed. There are many traditional online and brick-and-mortar shops that now carry wedding lines:  BHLDN, Shopbop, Ann Taylor, J.Crew,  Dessy (especially the destination styles!) and Nordstrom's The Wedding Suite all specialize in wedding attire now. These links are my affiliated partners and sponsors, but I have picked to have associations with them and feature their dresses frequently because I know they offer quality wedding dresses and accountable customer service. Etsy can also be a great resource, although be sure to check seller feed back. Please, as always, beware of websites that do not have a brand name you recognize for quality, and who claim to make dresses that look like designer  gowns. Bridal Guide has created a list of storefronts that are known counterfeiters. ( They have linked to the sites that are in violation, but my advice would be not to click on any site in that list, because  even a click supports them in some small way) Still not convinced? This Allure Bridals post shows you the difference!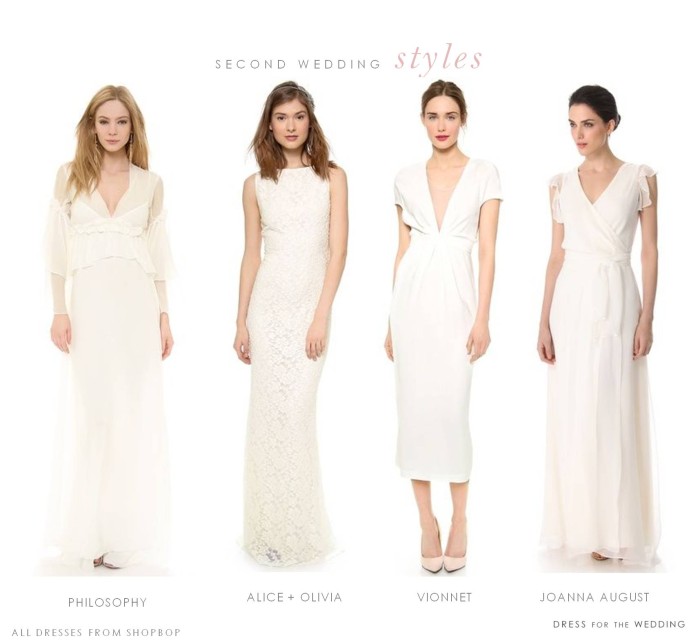 All from Shopbop: Philosophy Long Gown  | alice + olivia Sachi Lace Open Back Gown | Vionnet Short Sleeve Dress | Joanna August Amanda Dress in White
 So whether you pick up a designer gown or something ready-to-wear, I hope these dress ideas have helped you! Congratulations to you on your wedding and second trip down the aisle! If you didn't find the dress for you here, here are some recent posts and categories that might help inspire you:
Wedding Dresses | Little White Dresses | Champagne Lace Dress | Bridal Accessories | Designer Wedding Dresses