Dresses for a Casual Beach Wedding
It's pretty much officially summer, and many of us are headed to the beach for relaxation -- and for weddings! I did a few posts recently on a few looks for beach formal dresses, but I'm willing to bet many of the beach weddings have a more beach casual look in mind. My take on this attire designation is that it's almost the same as dressy casual, with a little more casual and a little more beach thrown in. That clears it right up, right?
Affiliate links are used in this post.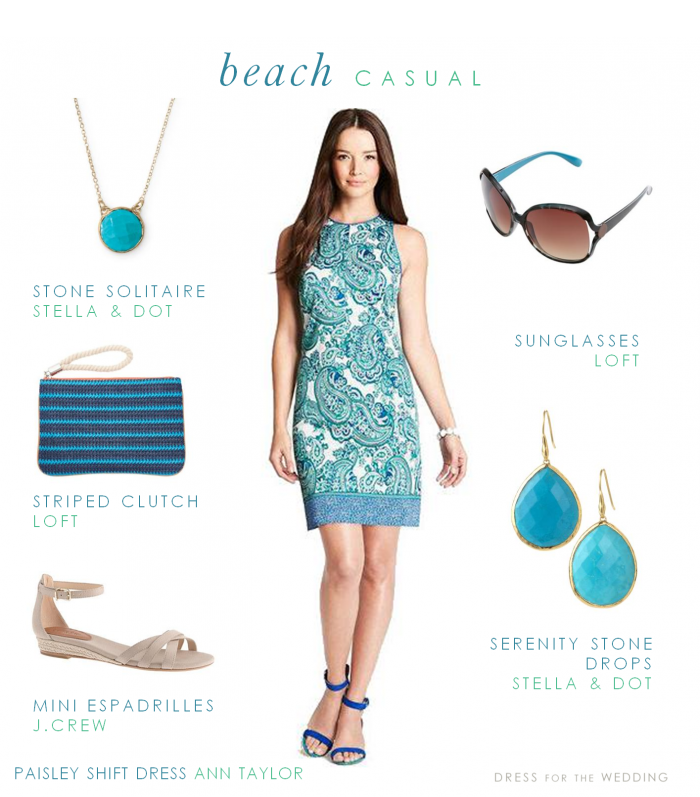 Paisley Border Shift Dress by Ann Taylor / LOFT Striped Straw Beach Pouch/ Vented Sunglasses / Serenity Stone Drops by Stella and Dot / Stone Solitaire Maya Pendant Necklace by Stella & Dot / Mini Espadrilles from J.Crew
Okay, in all seriousness, here's a better explanation: for a dressy casual wedding, I'd still wear a dress with some substance to it, and some heels or dressy flats. With a beach casual wedding, I'd wear what you might wear to a nice summer night out: a pretty sundress, some nice sandals that won't get too damaged by water and sand the beach, and a light sweater or a wrap if you'll be near a coastline that gets an evening chill.
If you're not sure on the dress code, I'd call it beach casual if it's a daytime event at a local beach or evening beach party with a bonfire or clambake or other informal theme. If it's a wedding primarily inside at a beach resort, or swanky beach club, and you won't be directly on the beach, I'd just check to see if beach formal might be more the look. If in doubt, go with a long maxi dress, which usually works both informal and formal seaside events. (Wear more bling and heels for formal; more beads and sandals for casual).
If you're convinced it's a beach casual wedding, you'll probably you'll be standing in the sand as the couple says their vows, and partying on the sand dunes. For the women, I'd suggest a light fabric for your dress--either cotton, chiffon, or a gauzy material. A skirt and nice top, or flowy dressy pants should be fine, too. Guys can likely forgo the ties, and wear something linen, light, and even a little colorful, like a tasteful summer shirt, or a low-key pattern might work (like this but probably not this, unless vibrant Hawaiian shirts are specifically encouraged!) The Tommy Bahama look is a safe bet for tropical beaches, but you may want to with more of a preppy nautical vibe for beach weddings in the mid-Atlantic, or further north, and a bit more of a surfer-style vibe for a West Coast beach wedding. Also try these tan suits for weddings - perfect for male wedding guests and grooms alike.
To help you find a dress, above one look for a female guest for a beach wedding, bringing in light blues and greens. Below, are several more dresses that look beach casual to me!
Affiliate links are used in this post.
Beach Casual Styles

Other Beach Wedding Ideas
If you're a Mother-of-the-Bride or Mother-of-the-Groom you might love this selection of Mother of the Bride Dresses for Beach Weddings.
If you're planning a beach wedding, check out these, sandals for beach weddings, beach wedding dresses, these beach bridesmaid dresses, and here's a post by The Inspired Bride on a casual beach wedding, and some ideas from a real rustic beach wedding by Green Wedding Shoes.
Searching for more beach wedding ideas? I have more! And I'll be presenting more beachy, summer looks for brides and guests throughout the season. Follow my beach wedding Pinterest board for updates.