Black and White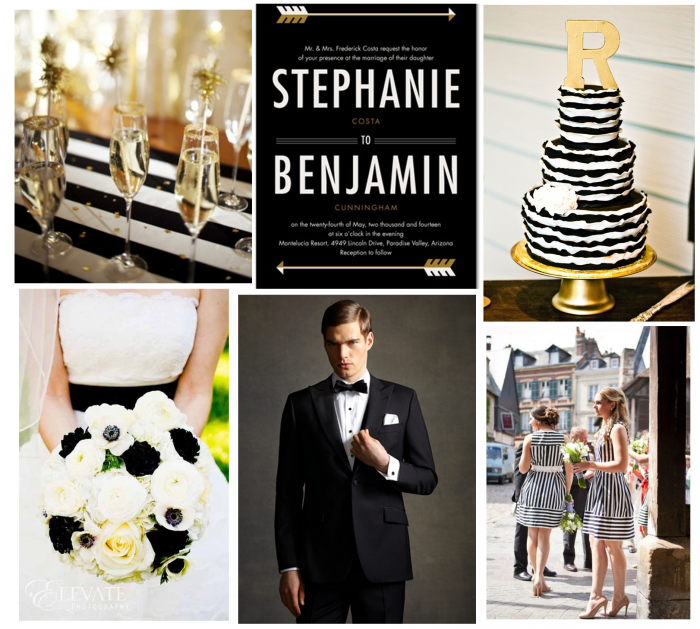 One of my favorite wedding themes is black and white. Not even necessarily black tie and white, but just the graphical appeal of black and white together looks so sharp--even when it's informally done.  I think a black dress worn by a wedding guest with a little bit of white pattern or sheerness  lessens the severity of black, making it wedding-ready, even in daytime. I also keep hoping  to see more prints and patterns make their way into bridesmaid dresses,  like the striped dresses like the look in the board above, or a black and white polka dot look. Low Country Weddings did a whole post on the topic of adding pattern to your wedding, and included some great ideas for more black and white. This black and white look I put together last fall was a favorite. Sadly, the dress is now unavailable, so I was moved to do a new look for you.
Now if you do have a black tie event, this gown has just a jaw-dropping appeal (and in my personal income bracket, at $5,000 the price tag is also jaw-dropping) but it's Nina Ricci, and I just had to show it because it's so fantastic.
Nina Ricci Polka Dot Gown from Moda Operandi
If this is a little out of your price range, too, or just a tad too formal for the events you'll be attending, here's a less formal option from White House | Black Market. I can certainly see this for a go-to wedding guest dress or for a group of bridesmaids! 
One Shoulder Polka Dot dress from White House | Black Market
If you're smitten with prints and black and white duos as much as I am, I have a Pinterest board full of inspiration waiting for you, and here are some shopping suggestions for more ways to work in the black and white look:


Image sources: Champagne Photo & Glitter Jar: The Sweetest Occasion | Invitation via Wedding Paper Divas Archer's Affection | Festive Black and White Cake from Southern Weddings, Photographer Erin Rene Photography |  Flowers via Flirty Fleurs ,Design by Bare Root Flora image by Elevate Photography | Brooks Brothers Gatsby Tuxedo | Striped Bridesmaid Dresses via Style Me Pretty