Mother of the Bride Dresses for a Beach Wedding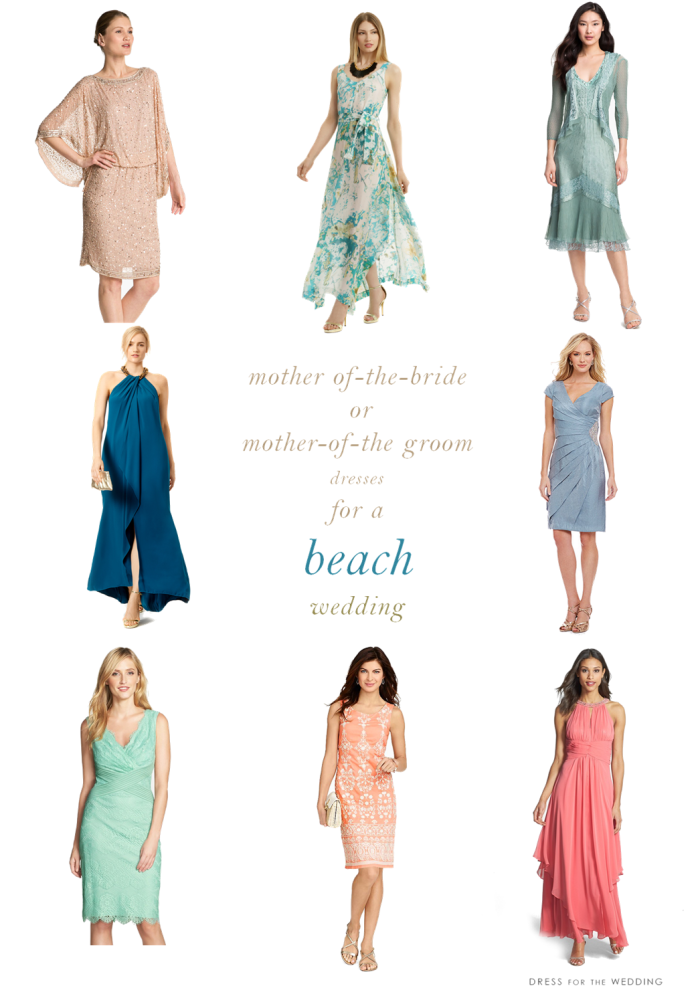 The sand and sea setting of a beachside wedding requires a special kind of mother of the bride dress that is suited for the location and the mother's role of honor. These mother-of-the-bride dresses for a beach wedding will allow the mother of the bride and mother of the groom to elegantly celebrate in their son or daughter's big day with a style that is well-suited to a beachy, waterfront location. Links in italics are from our affiliate retail sponsors.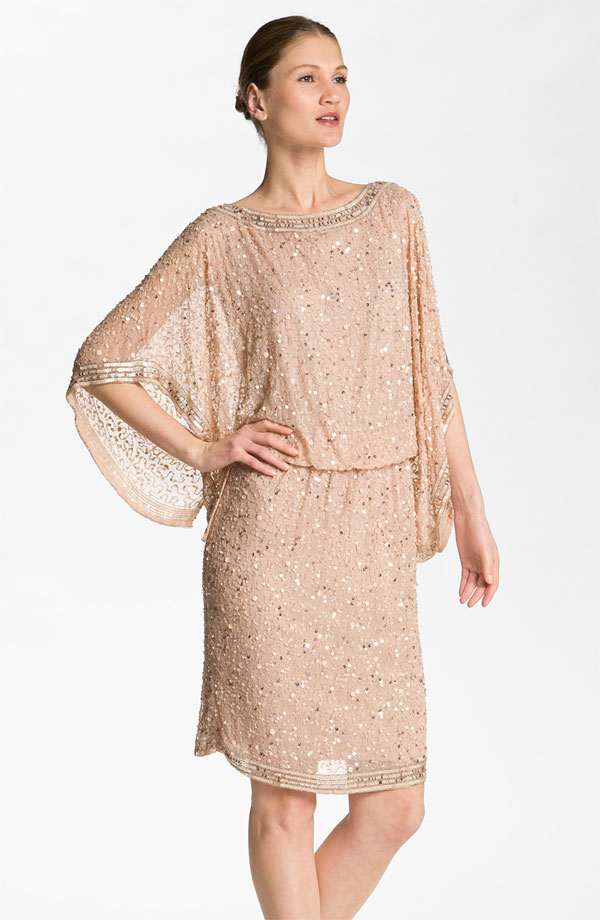 The blush sequins of this neutral dress remind me of shimmering pink sand. The light silk chiffon, short length and breezy open sleeves and caftan style make this a great choice for a beach wedding, and the sequin detail makes this dress special for the mothers in their role of honor. Patra Embellished Silk Kimono Dress in Blush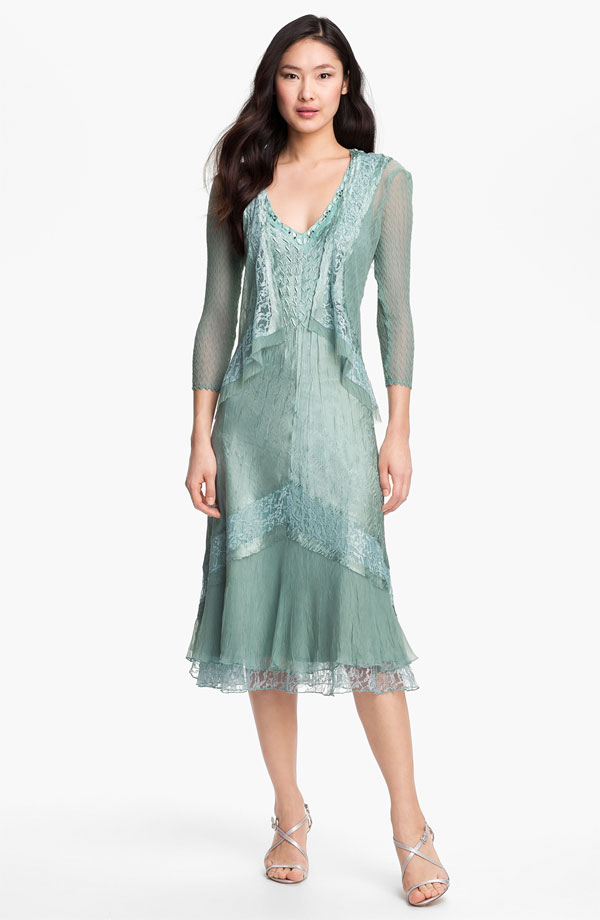 Mother of the bride dresses by Komamov are known for their loose, artistic styling. The pretty textures and jacket for a breeze make this a nice mother of the bride look for a casual beach wedding. Textured Satin Dress and Jacket.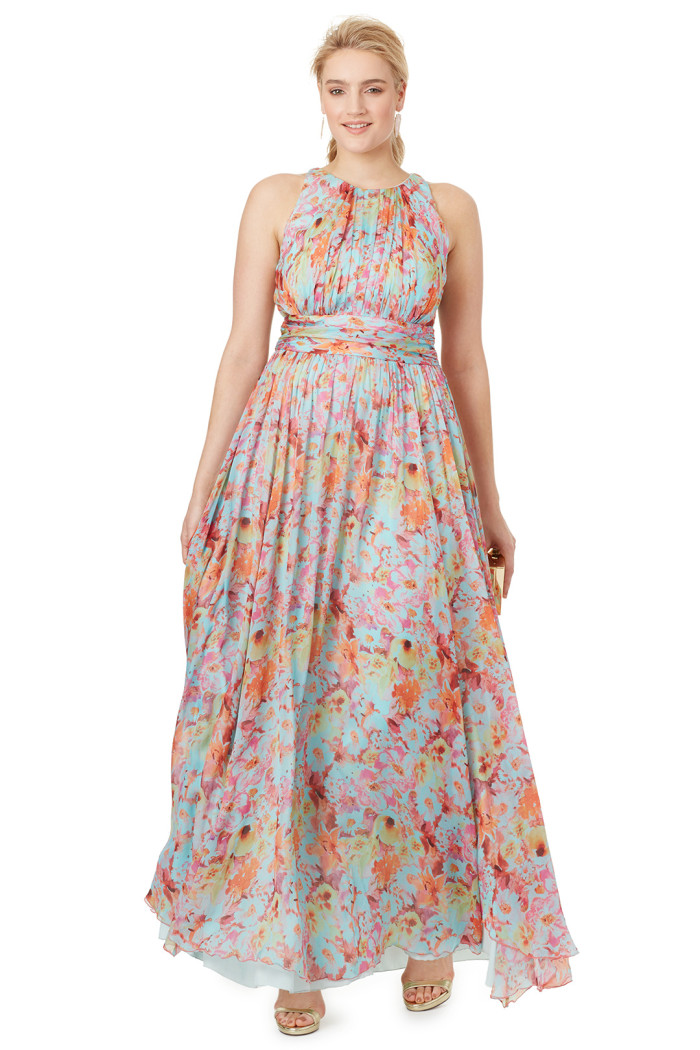 This bright print maxi incorporates so many vibrant colors, and the pleated bodice and flowy skirt make this gown one for a beach formal wedding. Maxi by Badgley Mischka from Rent the Runway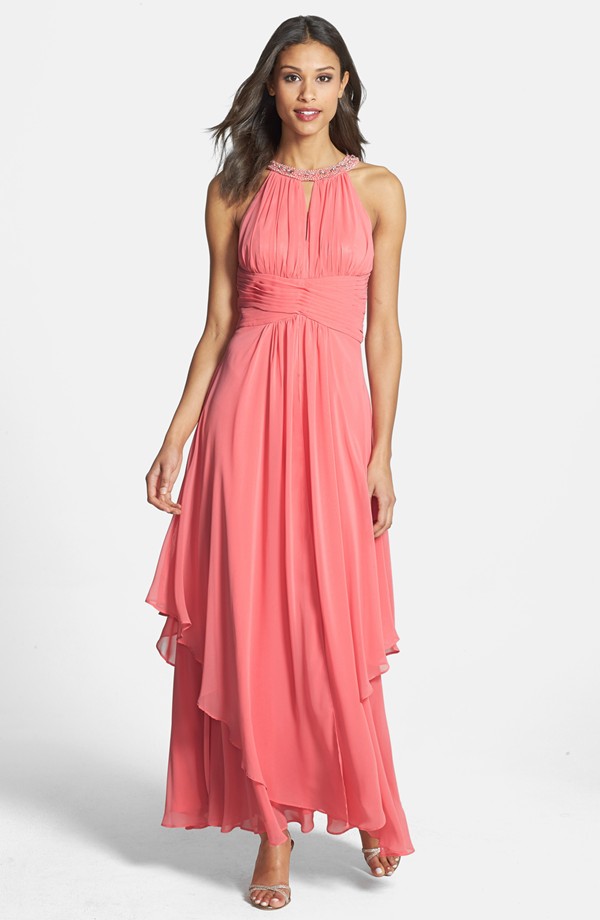 A light chiffon is always a good choice for a beach wedding – it's a formal fabric that doesn't wilt in the sun and sand. The tiered layers of this dress are flattering and look well-suited to a beach side or destination wedding.  The rhinestone embellishment adds formality. and it comes in 13 colors, to blend with nearly any wedding color palette! Embellished Tiered Halter Gown by Eliza J from Nordstrom.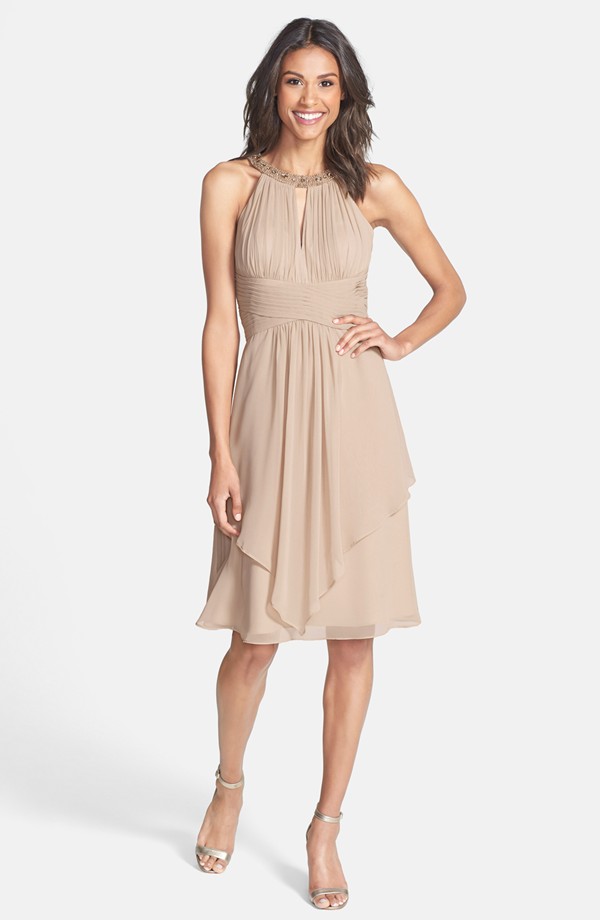 The shorter version of the dress above works for a daytime beach wedding. It's a semi-formal style that is perfect for the beachy mother of the bride or groom. Eliza J Embellished Dress from Nordstrom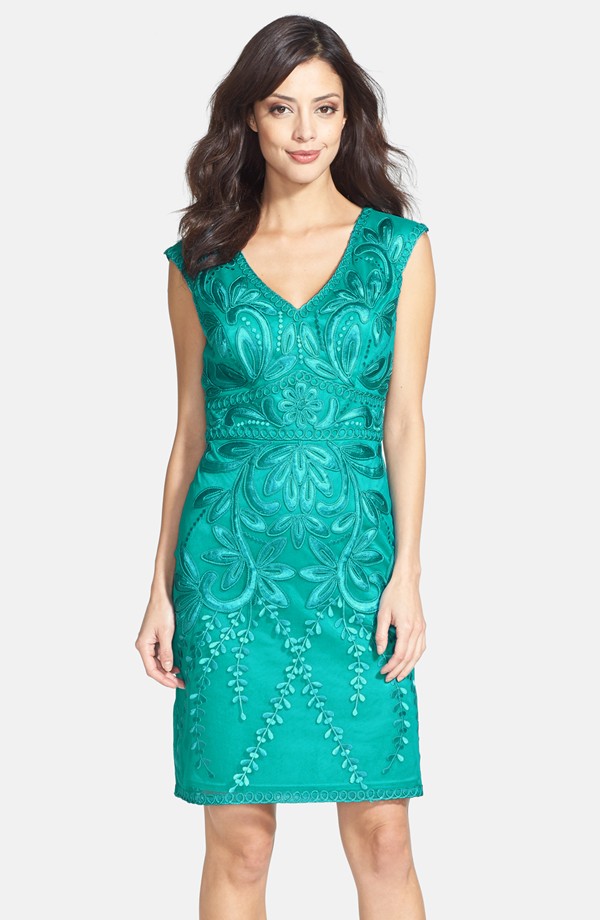 For mothers wanting a little more structure and embellishment, a tailored embroidered cocktail dress in a color that reflects the seaside wedding is a great choice. This style works for day or night! Embroidered sheath dress by Sue Wong at Nordstrom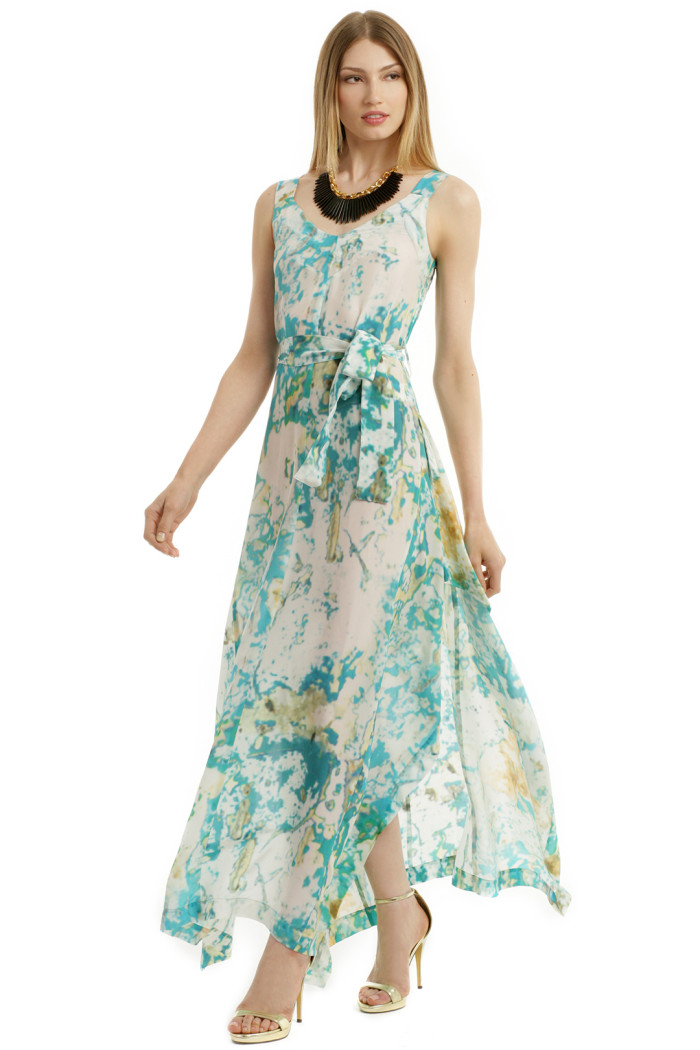 Another beautiful, light and breezy style in beach ready colors is this Vivienne Westwood gown from Rent the Runway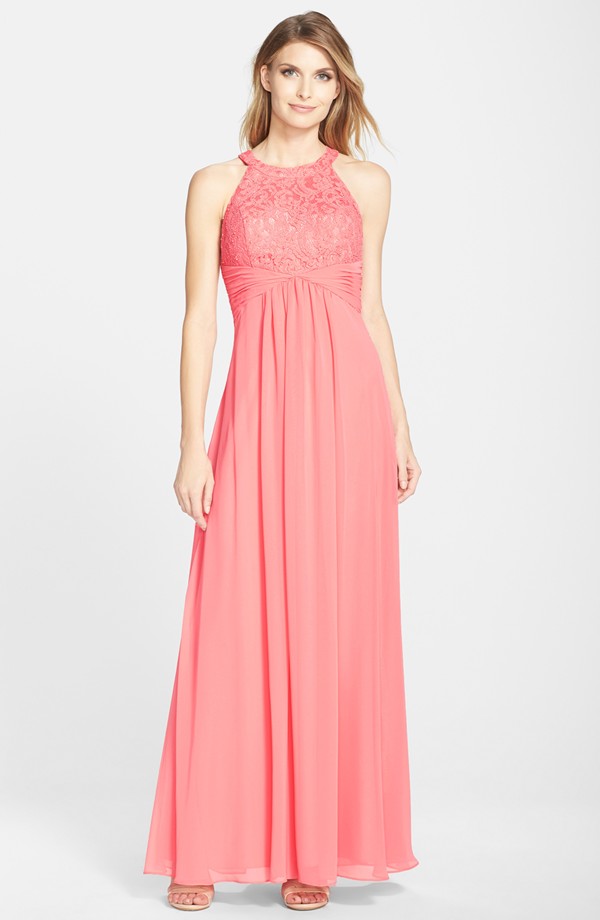 This mix of coral lace and chiffon will pop against a blue ocean, and golden sands. Lace bodice ruched chiffon gown from Nordstrom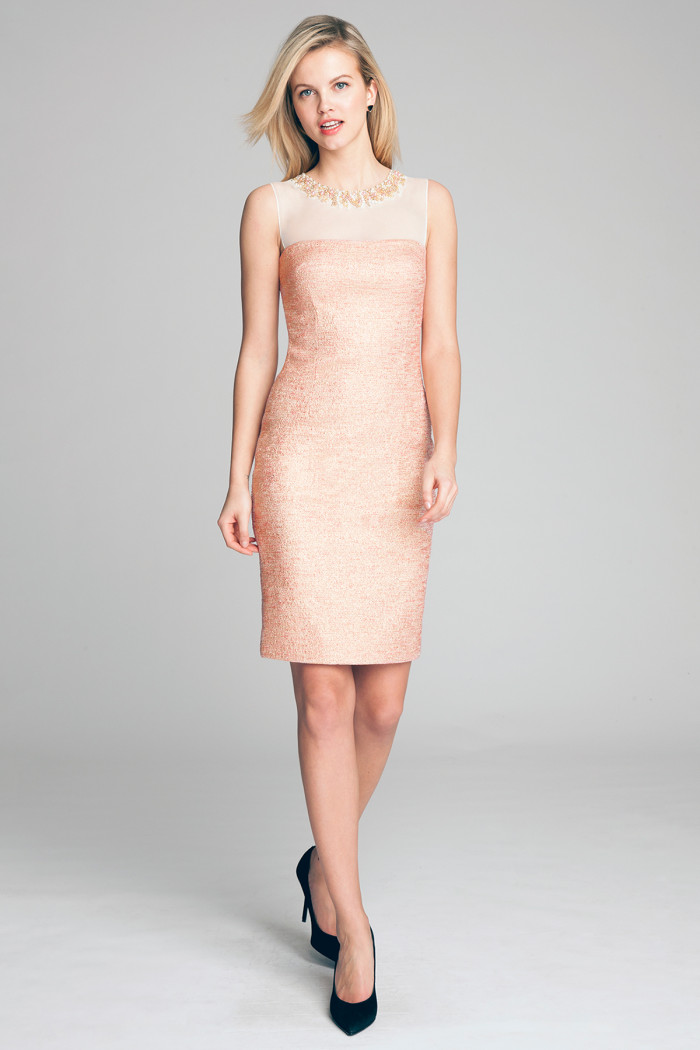 A tailored look can go to the beach as well, especially when it's in a venue near the water but exactly nuptials not in the sand. This shell pink tweed with illusion neckline is a beautiful choice for any mother of the bride in a nautical daytime wedding. Tweed dress with floral trim by Teri Jon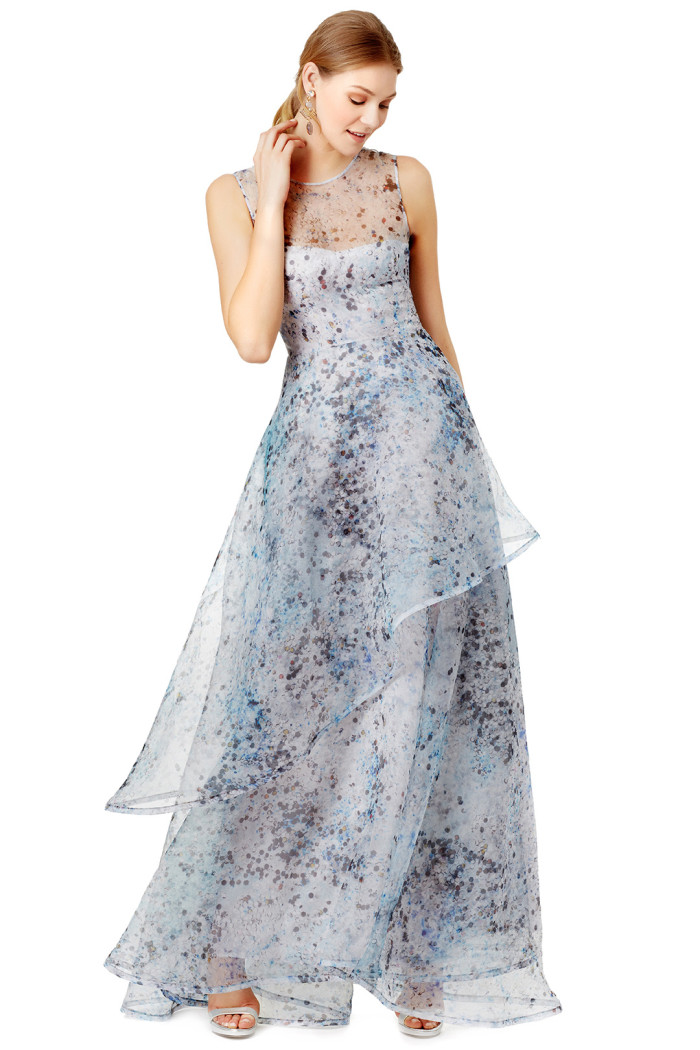 This periwinkle print is a lovely choice for a mother-of-the-bride in a beach formal wedding. Gown by Nha Khan at Rent the Runway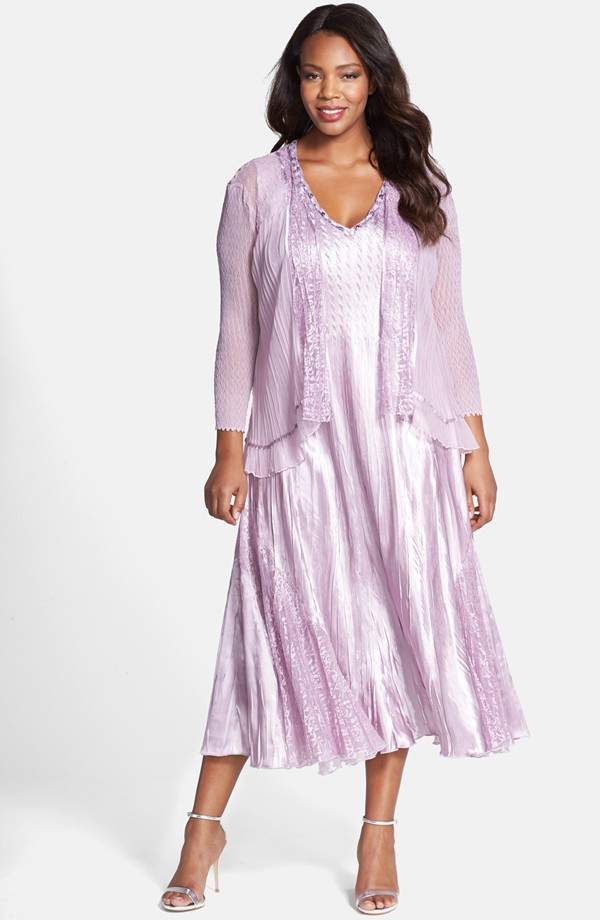 This pretty lilac color and light textural jacket and skirt set from Komarov makes for a gorgeous mother of the bride dress for a wedding at the beach. Check out these styles for more beach-appropriate attire with sleeves, as well as this post on gorgeous mother of the bride dresses with sleeves.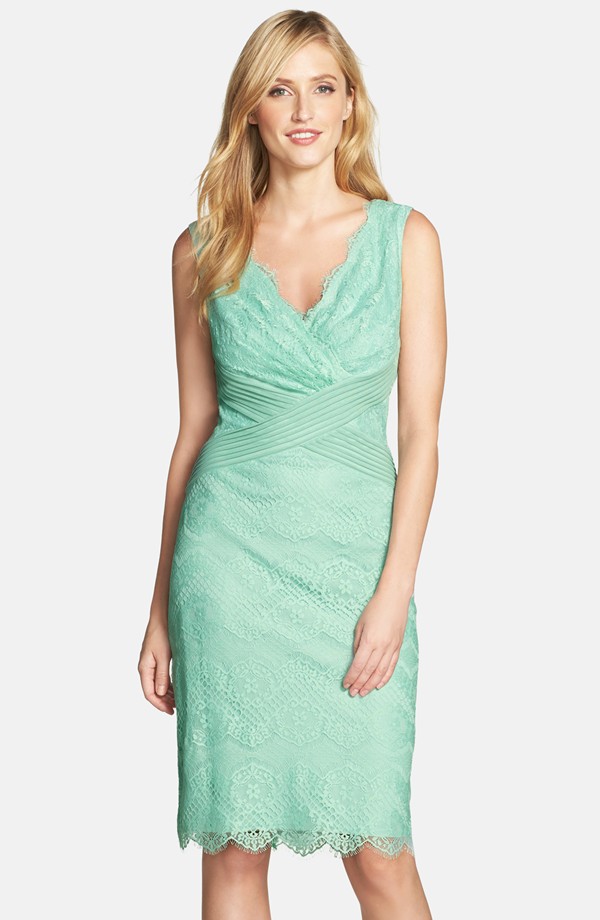 Seafoam green is a perfect beach color, and the lace short style of a cocktail dress like this will never go out of style for a mother-of-the-bride or mother of the groom in a summery nautical wedding. Mixed Media Sheath Dress by Tadashi Shoji at Nordstrom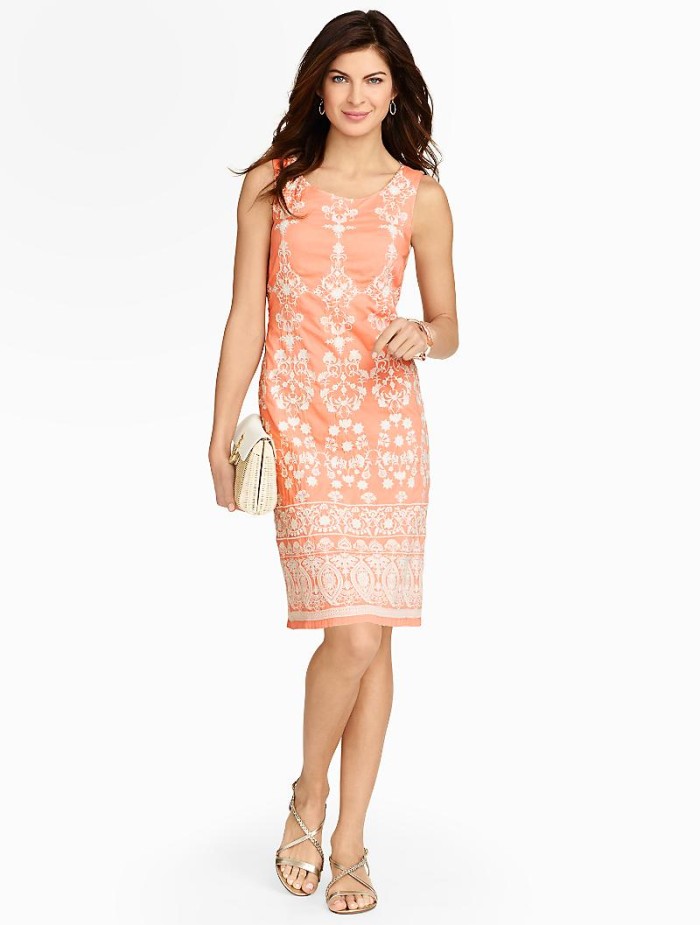 Some beach weddings, are exceptionally casual.  If the bride and groom are wearing simple attire and bare feet, and the reception is a casual bonfire or clambake, the mothers of the wedding might want to opt for a dressed-down style like this, that is casual and beachy, but still has some special interest. Seaside Embroidery Shift from Talbots.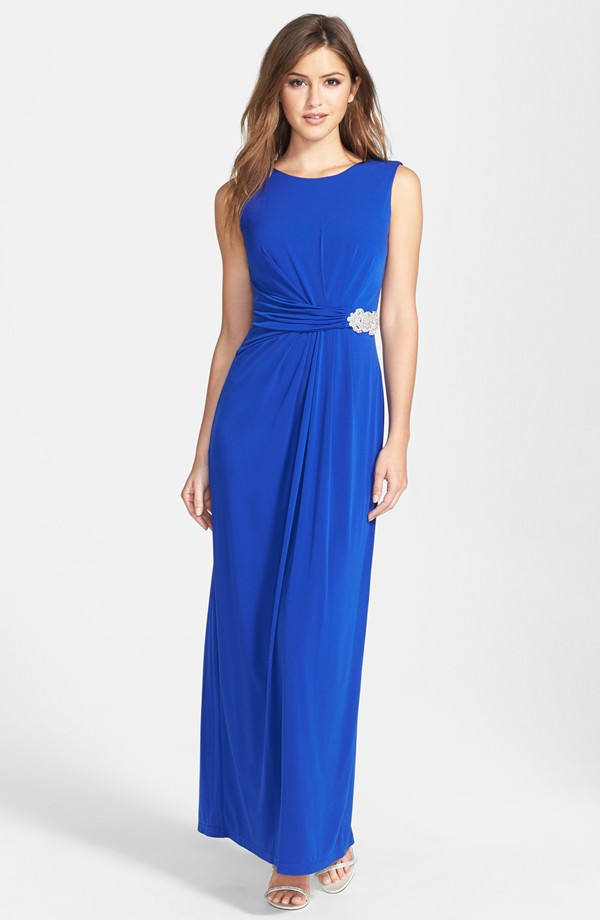 I'm not usually an advocate of wearing stretch jersey to most weddings, but a dressy jersey material like this, in a cobalt color and formal styling would make a gorgeous mother of the bride dress for a destination wedding in the tropics, or  beachy nuptials on nearly any coast. Embellished Waist Gown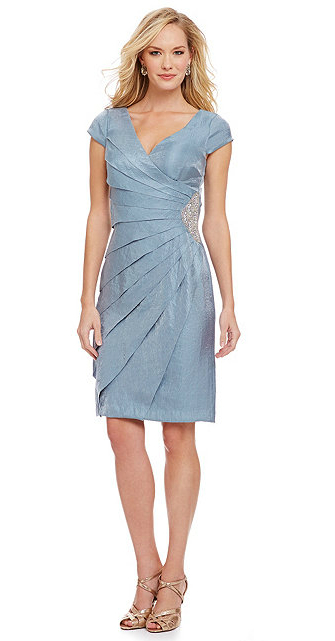 Pretty pleats and a pale blue give a structured mother of the bride dress a semi-formal beach wedding. London Times Faux Wrap Shutter Pleat Dress from Dillard's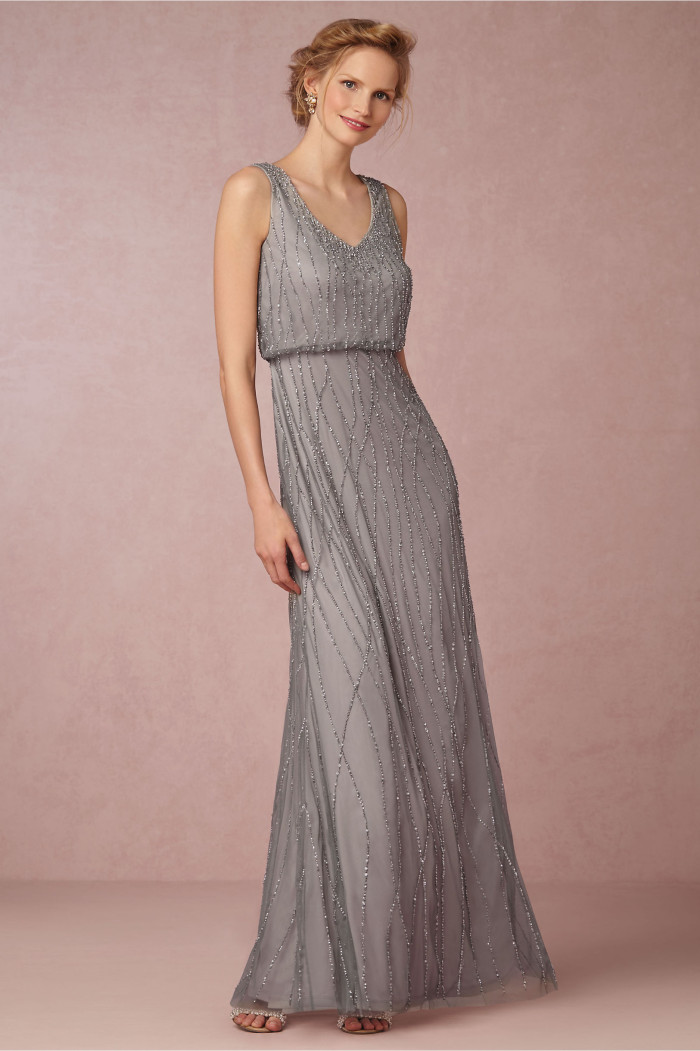 Channel your inner mermaid or siren of the sea with dazzling beading! This gown is a stunner for mothers or bridesmaids, and this moody slate blue makes it a beautifully beachy choice for a beach chic wedding with formal touches.  Brooklyn Dress from BHLDN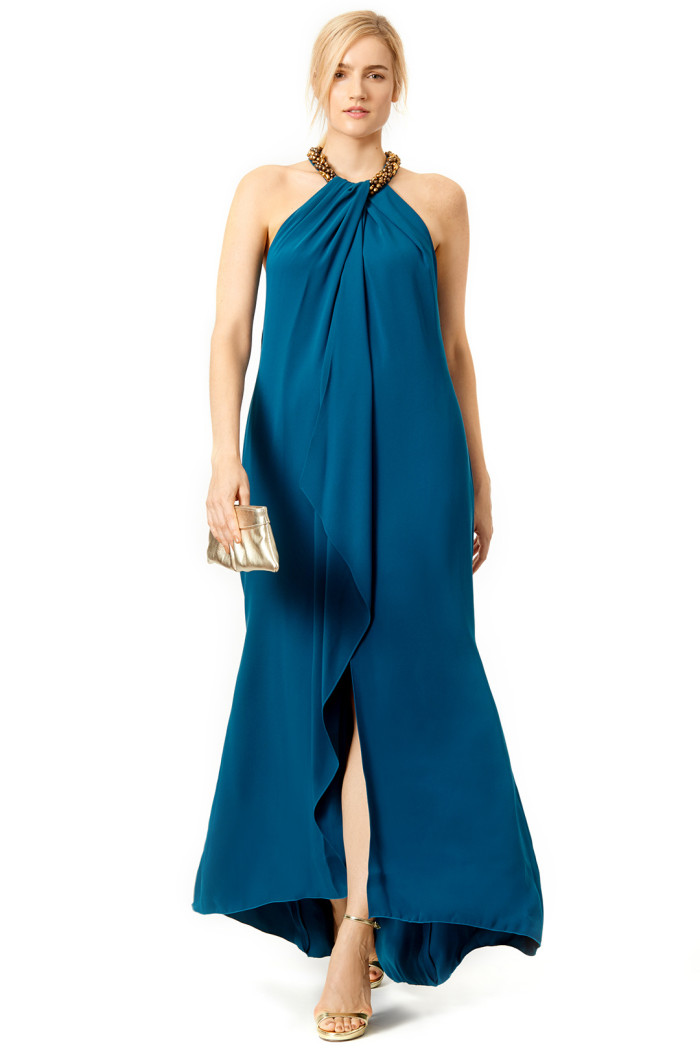 Its seems modern maxi dresses are the perfect dress for beach weddings, and they are wonderful for mothers-of-the-wedding. This gogeous rich blue and unstructured style makes a lovely gown for a modern beach wedding. Gown by Carmen Marc Valvo at Rent the Runway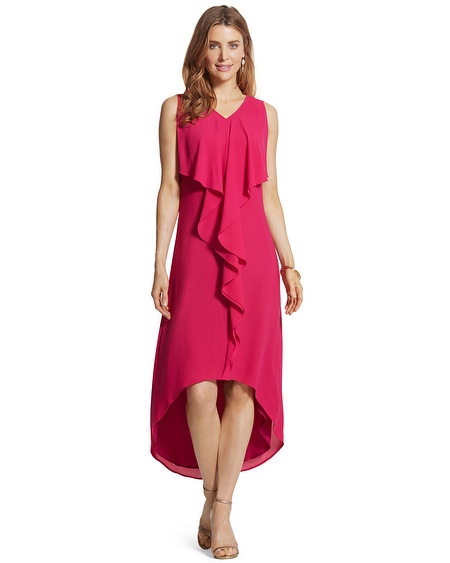 Another beautiful gown in a dressy casual beach style. Fuchsia ruffled hem gown from Chico's
Links in italics and in the shop section are from affiliates and sponsors, meaning that this blog may earn a small referral commission from the retailer, at no cost to the purchaser, if a qualified sale is made.



More style ideas you might enjoy :