A black-tie formal gown in black and white, accented with black white and gold accessories.
Black Tie Formal Gown
Affiliate commission links are used in the shopping links in this post, This means this blog may earn a commission if a qualified purchase is made.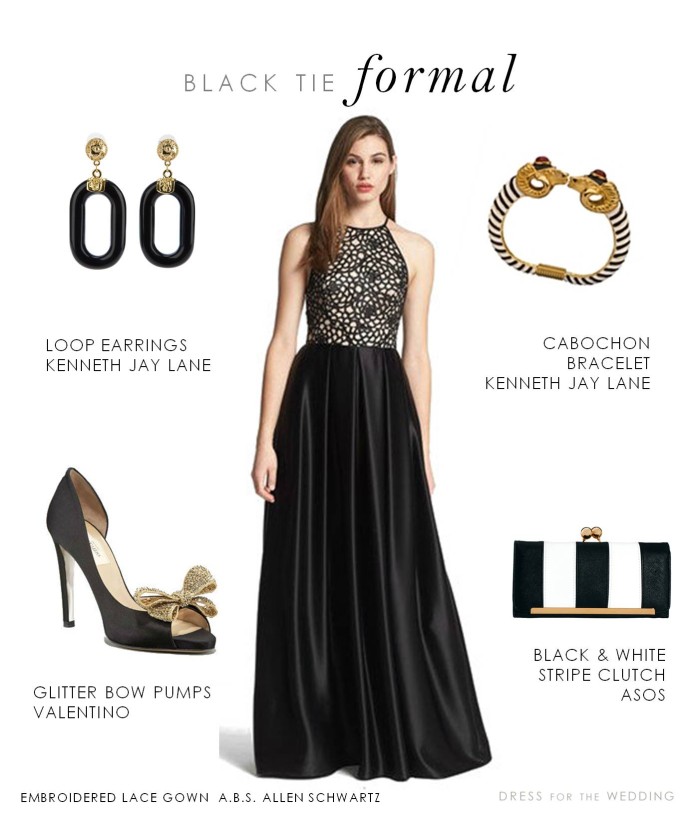 Embroidered Bodice & Satin Skirt Gown by A.B.S by Allen Schwartz / Kenneth Jay Lane Ram Bracelet / Valentino Jewelry Bow Couture d'Orsay Pumps /ASOS Frame And Ball Purse With Stripe / Kenneth Jay Lane Vintage Loop Earring
Black Formal Gown with Black and White Accessories
Where I live, it's super-hot outside, so a formal gown right now seems like the last thing you'd be wearing, but for some reason, I was drawn to this cool, sleek aesthetic for today's collage. The return to glamorous, Gatsby-style weddings is a wedding trend that is here to stay, and therefore guests can expect an increase in black tie invitations.
A long gown in black or dark neutral color is just the thing for a formal black tie wedding, and I liked the mix of these modern striped and vintage accessories with this look.
Your date can grab a tux, and you're ready to go to any black-tie affair.
Also check out these black dresses for wedding guests, and these formal gowns for black-tie weddings and events for more ideas!
Shop the Look
More dress ideas inspired by this outfit in shoppable format! Affiliate links are used in this section.
More style ideas you might enjoy :