Blue Beaded Gown for the Mother-of-the-Bride
This pretty blue beaded gown is a beautiful dress for any formal occasion, but today I've styled it with the mother-of-the-bride or mother-of-the-groom in mind.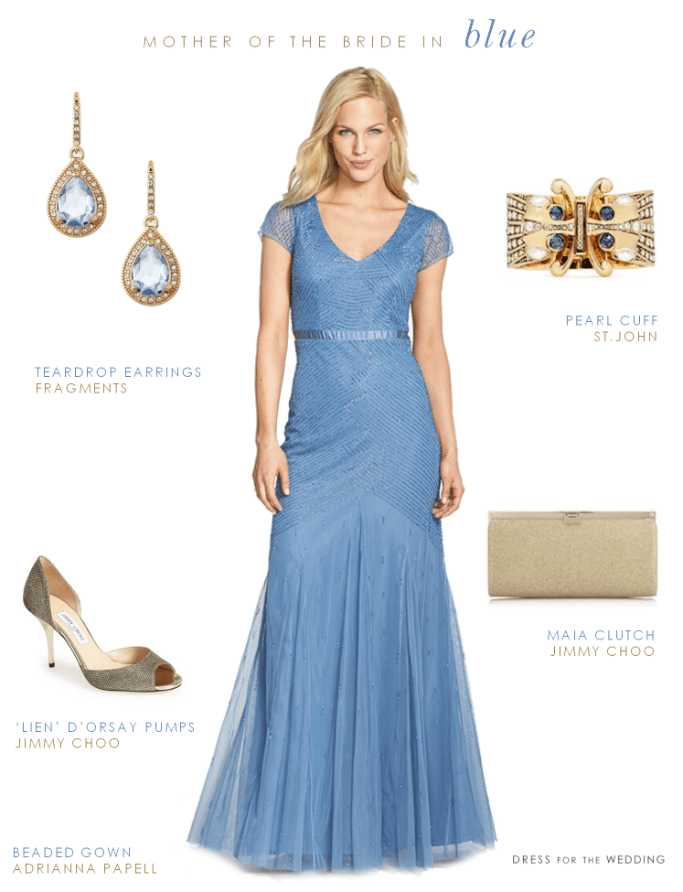 Sources and shopping links in italics denote affiliated sponsors. The Gown: Beaded Mesh Gown by Adrianna Papell in Nile from Nordstrom | Earrings: Fragments for Neiman Marcus Pavé Crystal-Outlined Teardrop Earring, Light Blue | Bracelet: St. John Crystal faux pearl hinge cuff at Lane Crawford | Clutch: Jimmy Choo' Maia' Clutch at Nordstrom | Heels: 'Lien' D'Orsays by Jimmy Choo at Nordstrom
Today's look was created with summer and spring coastal and seaside weddings in mind! What's a mother-of-the-bride or mother-of-the-groom to wear to these events? I think this pretty cornflower blue color is a great choice! It also comes in a navy blue version for those who want even more nautical flair. I just thought this shade of blue was so unusually pretty, and that the gown has such flattering lines and subtle beading, that it would be wonderful choice for mothers in beach side or seaside wedding parties.
Blue Outfit and Accessories for Mother of the Bride
For accessories, if there was one trend I noticed it the recent red carpet events, it was that many stars (and their stylists) chose to exactly match accessories and jewels to the dress. I tend to do lots of matched looks--although I do enjoy a contrasting color as well--and since this dress was such a pretty blue, I thought it would be a good idea to follow that trend accent this gown with earrings and a necklace that would pick up on that pretty blue shade even more. A neutral metallic shoe and clutch, somewhere between both gold and silver, finish the look.
So, if you find that you're in a role of honor at a nautical wedding at a yacht club or coastal venue, and wondering what to wear-- this would be a great look to choose!
Shopping sources and links in italics and in the shop section are from affiliates and sponsors, meaning that this blog may earn a small referral commission from the retailer, at no cost to the purchaser, if a qualified sale is made.
Shop The Look: Light Blue Dresses for Mothers of the Wedding

See more looks like this:
Shop for Light Blue Mother of the Bride Dresses
Dark Blue Mother of the Bride Dresses