Are you wondering which bridesmaid dress shops and labels offer silk or satin bridesmaid dresses? This shopping guide will help you with where to find satin bridesmaid dresses from trusted online bridesmaid dress shops.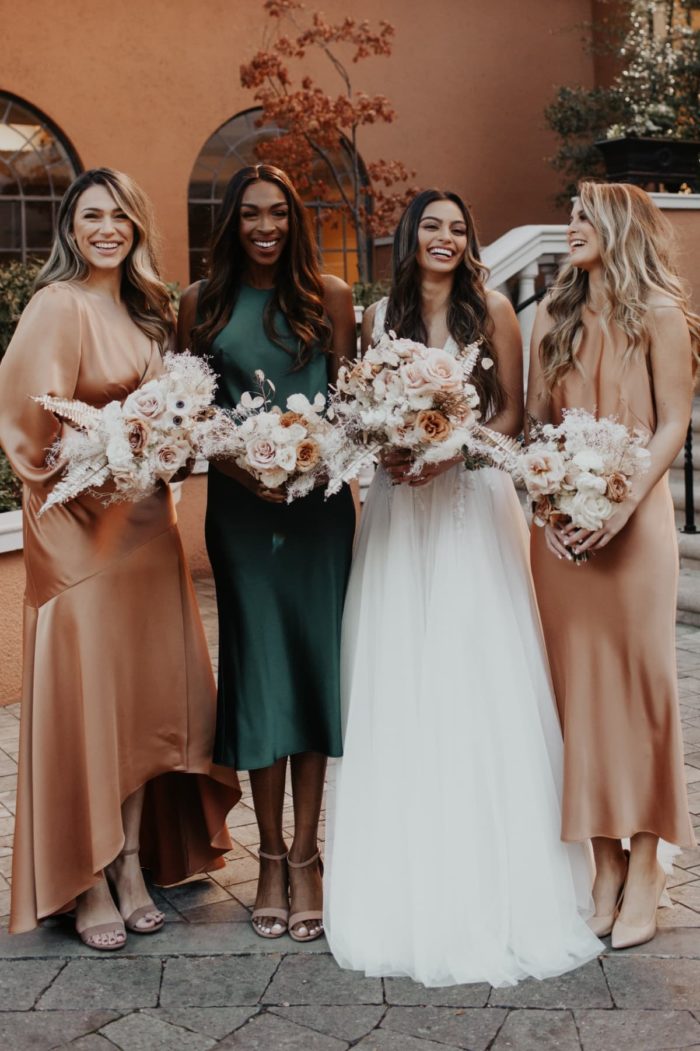 Image courtesy of and dresses from the Dessy and Lovely Bride Collection. See more from the full feature of these Dessy Dresses.
Silk and Satin Bridesmaid Dresses
Over 10 years used to be that shiny satin was the fabric for bridesmaid dresses. So much so, that it was hard to get any other fabric besides satin or chiffon dresses for bridesmaids. However, the satin dresses for weddings we see now, are far very from the heavy, super-shiny satin styles of the 1980s, 1990s, and early 2000s. Today's satin bridesmaid dresses give a nod to the 90s style, in that have a rich silky satin style that is often cut on the bias with a bit of stretch. The whole look harkens back to the 1990s slip dresses, done with a matte silk style that is elegant, modern, and chic. While we are seeing lots of satin slip dress styles, there are also some beautiful high neck maxi dresses, sleeveless styles, and some bias cut and asymmetrical styles that are beautiful modern options. In addition, also love the look of a slip dress for a wedding guest outfit and Mothers in the wedding. If you are thinking of wearing a satin slip dress you might like this post on How to Style a Slip Dress.
Where to Find a Satin Bridesmaid Dresses
We've spotted some beautiful satin bridesmaid dresses at the following online wedding attire shops. Here are a few of our favorite looks! Affiliate links are used in our shopping guide section.


Affiliate links are used in shoppable sections.
Birdy Grey

Birdy Grey is a favorite of ours for affordable and modern bridesmaid dresses in gorgeous colors. Birdy Grey just released new dresses in satin. So many in fact that they have an entire section called The Satin Shop. These dresses come in some beautiful colors and are all under $99, which is one of the Birdy Grey brand's hallmarks. They also note that these dresses work "in the wild" - aka are easy to wear after the wedding for many other events. We agree completely!
Show Me Your Mumu

Show Me Your Mumu offers some gorgeous fluttery satin bridesmaid dresses in delicious pastels, neutrals, and jewel tones. These dresses range from cute clip dress styles to high-low wrap dresses with ruffled details at the hemline and around the bodice. We love these dresses for the unique styling and delightful way they mix and match. We love Show Me Your Mumu, because these dresses are ready to ship. Perfect for last-minute planning or to snag one of these dresses to wear to a special event
BHLDN

BHLDN was one of the first places we saw to offer these satin styles for bridesmaids. As usual, they picked some of the richest colors and most beautiful constructions. Several of the dresses are under BHLDN's own label, while others are by names like Jenny Yoo. They have an entire section dedicated to satin dresses in jewel tones like red navy and emerald and with earthy colors like marigold, terracotta and mossy greens.
Dessy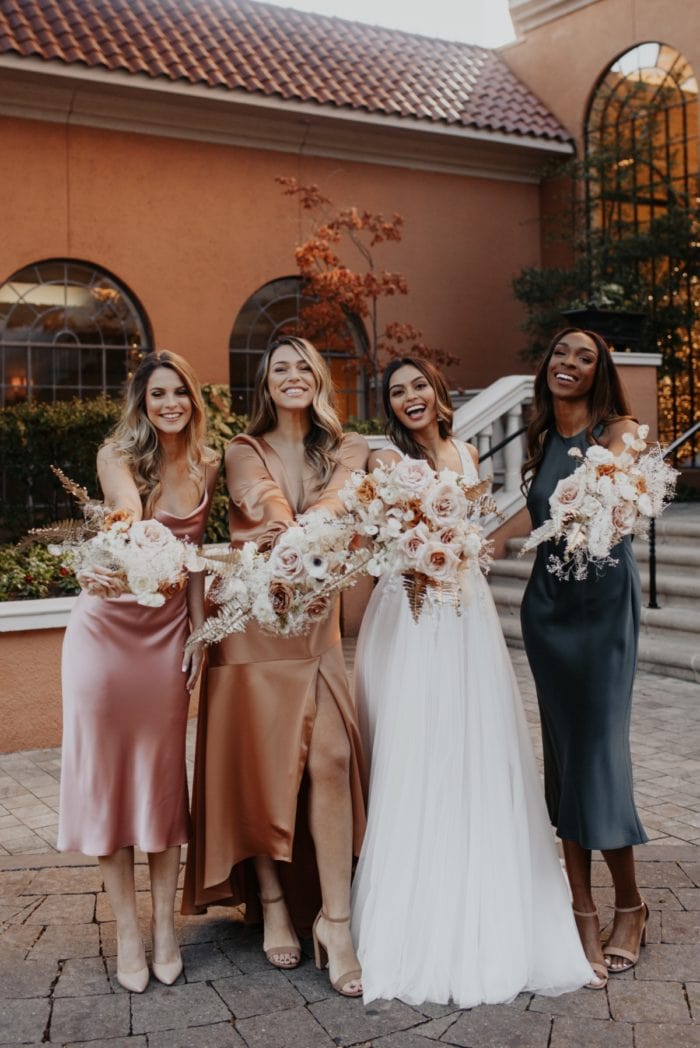 Satin Bridesmaid Dresses from Dessy 1. Blush Dress: Piper 2. Rust Dress: Teagan 3. Green Midi: Lou
We saw some of Dessy's gorgeous satin midi dresses make their debut last year in the collaborative collection with Lovely Bride. They offer a huge range of saying bridesmaid dresses in delicious colors. One of the most unique styles we saw were these long sleeve satin dresses which we would love to be asked to wear as a bridesmaid and would wear again on many other occasions!
Lulus

Lulus has started to offer an incredible collection of dresses for weddings and they just dropped the 2021 Collection! They have few satin dresses of note, and they are all under $100. These dresses come in top colors like
rose blush
, soft green, hunter green, burgundy and champagne satin. They also make gorgeous styles for wedding guests too!
More Bridesmaid Dresses at Lulus
ASTR the Label

ASTR the Label is a brand we became familiar with through Nordstrom for wedding guest dresses. They made some of our favorite lace midi style dresses. ASTR the Label also sells a wider selection of dresses on their own site, and this includes their bridesmaid dress collection that highlights some beautiful slip dresses, as seen above. Best of all most styles
David's Bridal

David's Bridal debuted a few slip dresses in their bridesmaid collections. While there aren't as many as some collections, there still are some gorgeous and unique colors. These dresses are also affordable with a few under $100, and some under $80.
Red Dress Boutique

Red Dress has just a few satin dresses, but if you'd like to stick to a price point of under $60 for a satin dress, this is the place to look! While there's a limited number of colors, they are still beautiful. We especially love this white satin dress for a wedding dress!
More Wedding Ideas
Want to keep looking? You might want to search more of our picks in our post about bridesmaid dresses by color
Looking for more wedding ideas? Please check out our posts on 100 Finds for Your Wedding from Etsy.
If you are bargain hunting you might like these Bridesmaid Dresses Under $100.
Or, finish the bridesmaid outfit with these Bridesmaid Earrings or Bridesmaid Clutches + Bags