Bohemian Style Bridesmaid Dresses
Our best tips for where to find boho bridesmaid dresses and how to style them!
Shopping sources noted with links in italics use affiliate links from our sponsors and retail partners.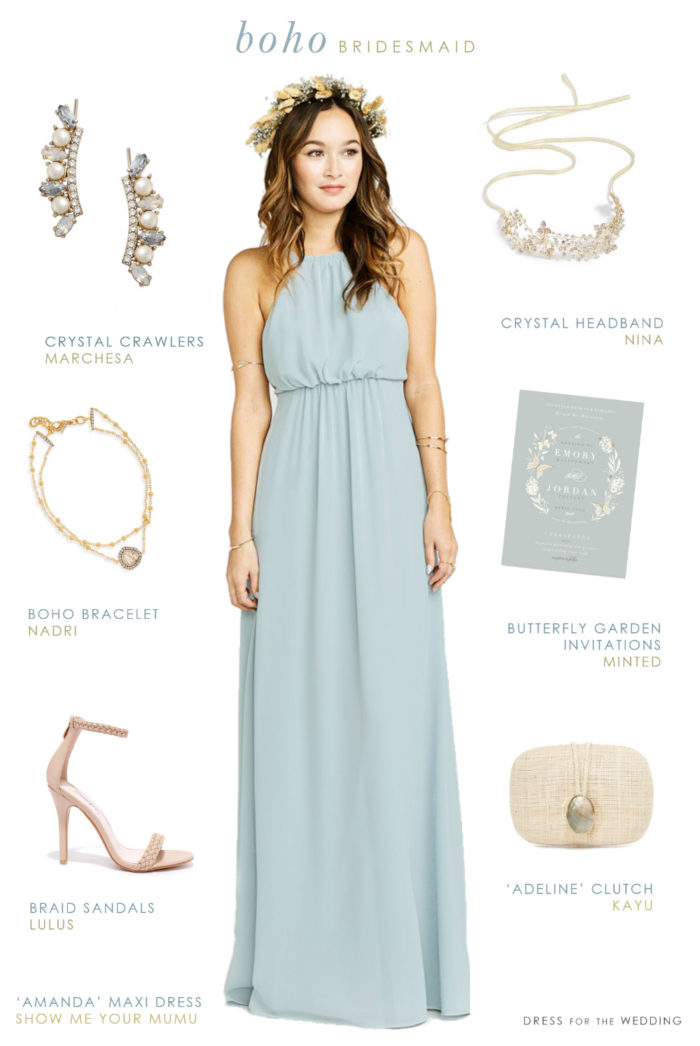 Get the look: Dress: ' Amanda' Maxi Dress in Steel Blue Chiffon by Show Me Your Mumu | Earrings: Crystal and Pearl Ear Crawler Earrings by Marchesa from Nordstrom | Headpiece: Crystal Embellished Floral Headwrap by Nina from Nordstrom | Invitation: Butterfly Garden Wedding Invitations in Bluebird from Minted | Clutch: 'Adeline' Clutch from Kayu from Shopbop | Shoes: 'Braid For Each Other' Ankle Strap Heels from Lulus  | Bracelet: Boho Semi-precious Stone Bracelet by Nadri
If you're a fan of the boho bridal look, you're not alone! This laid-back, easy style has taken over as one of the most popular styles for wedding attire. Even if your not planning a fully boho themed wedding, this versatile style for bridesmaid dresses can suit many types of wedding styles. Even for a traditional or classic wedding, Boho bridesmaid dresses are a great pick! They are a natural pick with a floral crown, or a jeweled headpiece and some boho jewelry as seen here. They also look great with bangle bracelets, long layered necklaces, gladiator sandals, or dressed up with statement earrings, and sky-high heels! There are so many reasons to love the boho style.
Boho Wedding Style
Why do we love the maxi dresses, and flowy shirts that usually embody the boho bridesmaid style? Because these gowns and dresses are often loose, flattering, figure skimming pieces, that don't require tailoring or the exact fit of some more structured styles. This makes them ideal for all sorts of different body types and style preferences, and often are great styles for moms-to-be! These dressy casual bridesmaid dresses also exceptionally easy to dress down to wear again, or elevate into a more formal style with some exceptional accessories.
What Weddings Are Best for the Boho Style?
Boho bridesmaid dresses are the natural choices for beach weddings, tropical destination weddings, romantic garden weddings, but their use can easily extend to more formal events. Beaded or sequined styles can give off a relaxed elegance for a black tie wedding. Short boho bridesmaid dresses are ideal for rustic barn weddings, or just for a sweet outdoor ceremony. We've collected some of my favorite styles as well as this mini shopping guide to help you find the boho bridesmaid dresses that are right for your wedding party.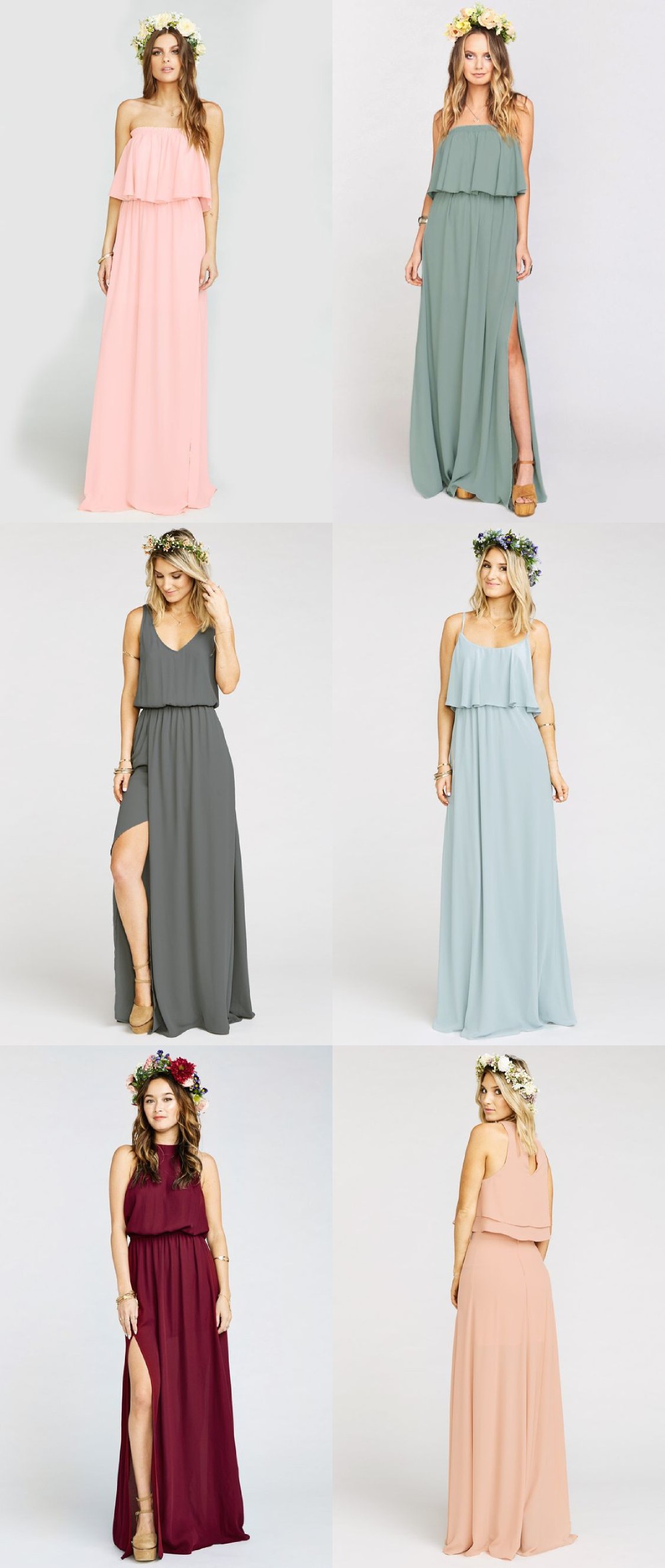 Bohemian Bridesmaid Dresses from Show Me Your Mumu. All styles come in a variety of colors!
1 Hacienda Maxi Dress in Frosty Pink Crisp  2. Hacienda Maxi Dress in Silver Sage Crisp 3. Kendall Maxi Dress in Soft Charcoal  4. Caitlin Ruffle Dress in Steel Blue Chiffon  5.  Heather Halter Maxi Dress in Red Wine Crisp 6. King Crop Top and Skirt in Dusty Blush
Where to Find Boho Bridesmaid Dresses
As you'll see, we think one of our retail partners, Show Me Your Mumu, offers some of the best bohemian bridesmaid dress styles around. These beach friendly, chic, modern, and elegant styles come in the season's best colors year after year. They also offer bridesmaid dresses in pretty patterns like soft florals, and punchy beach-chic tropical prints all at the moderate price point of $160 -$200. Shop these looks at Show Me Your MuMu. These dresses are great for weddings with tight-turnaround times, because they arrive within a week or so. No 4-6 month waits here!
These styles are so easy to make wardrobe staples, which is why they'll make great wedding guest dresses as well.  They also come in white, making those styles a great affordable option for a wedding dress, white bridesmaid dresses, or just pretty white dresses for pre-wedding parties for the bride!
Shopping sources in shop sections and links in italics denote sponsored affiliate links, which mean we may earn a small commission on qualified sales to support this blog.
Bridesmaid Dresses for Boho Weddings

More Boho Style Ideas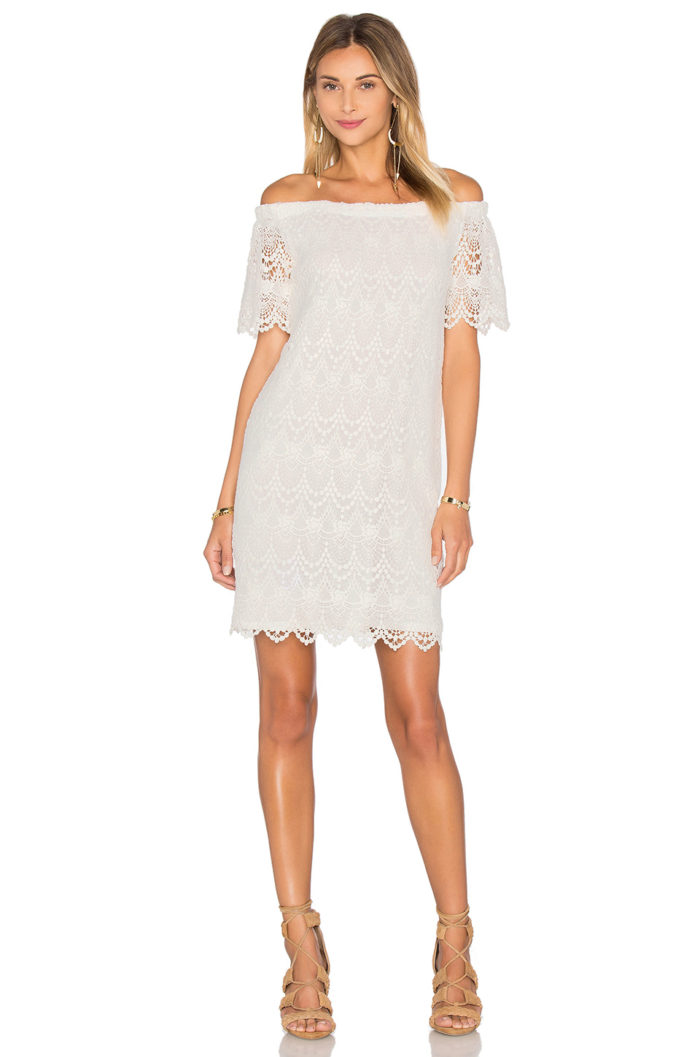 Gustina Cotton Lace Shift Dress from Revolve would make a great boho bridesmaid look for bridesmaids wearing off-white.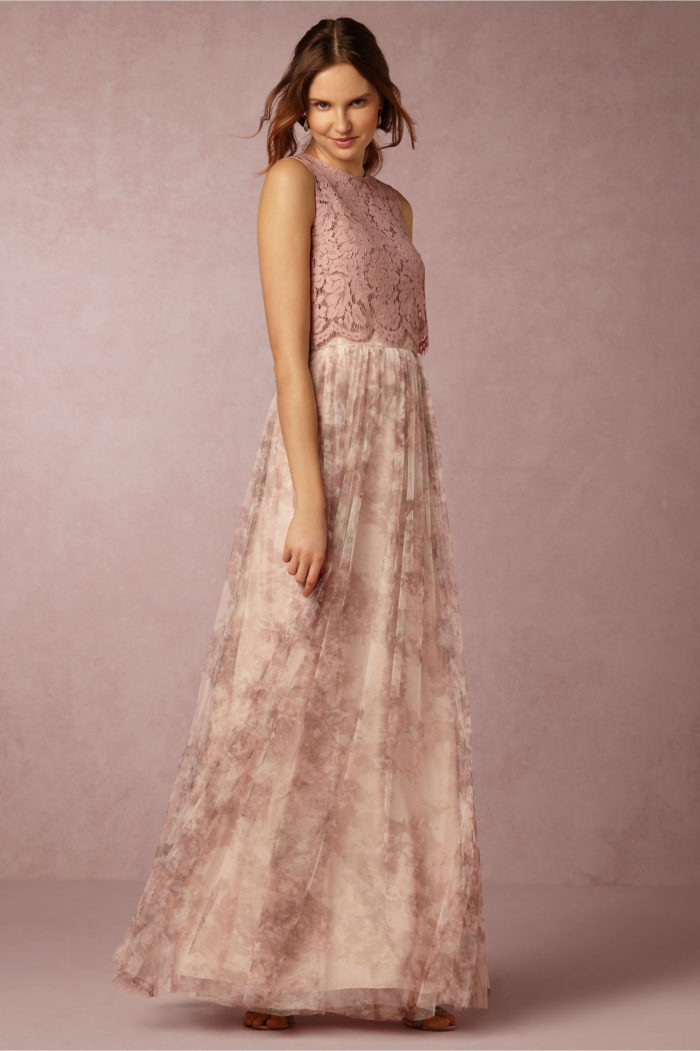 For romantic boho styles in floral pastels and in jewel tones try BHLDN Bridesmaid Dresses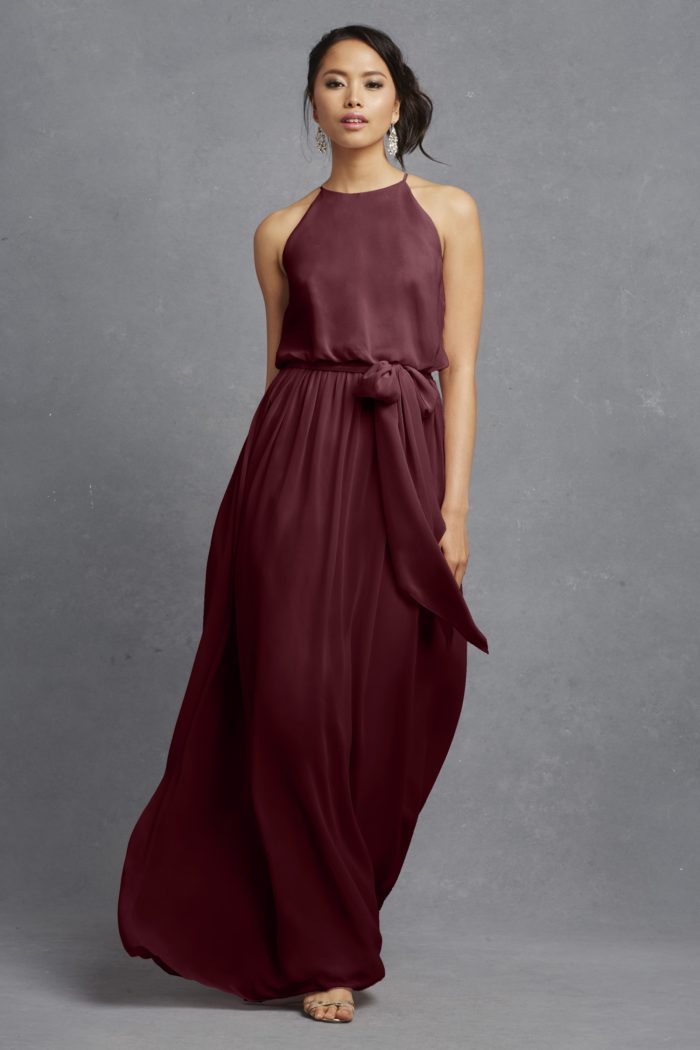 A gorgeous boho bridesmaid maxi dress. Alana by Donna Morgan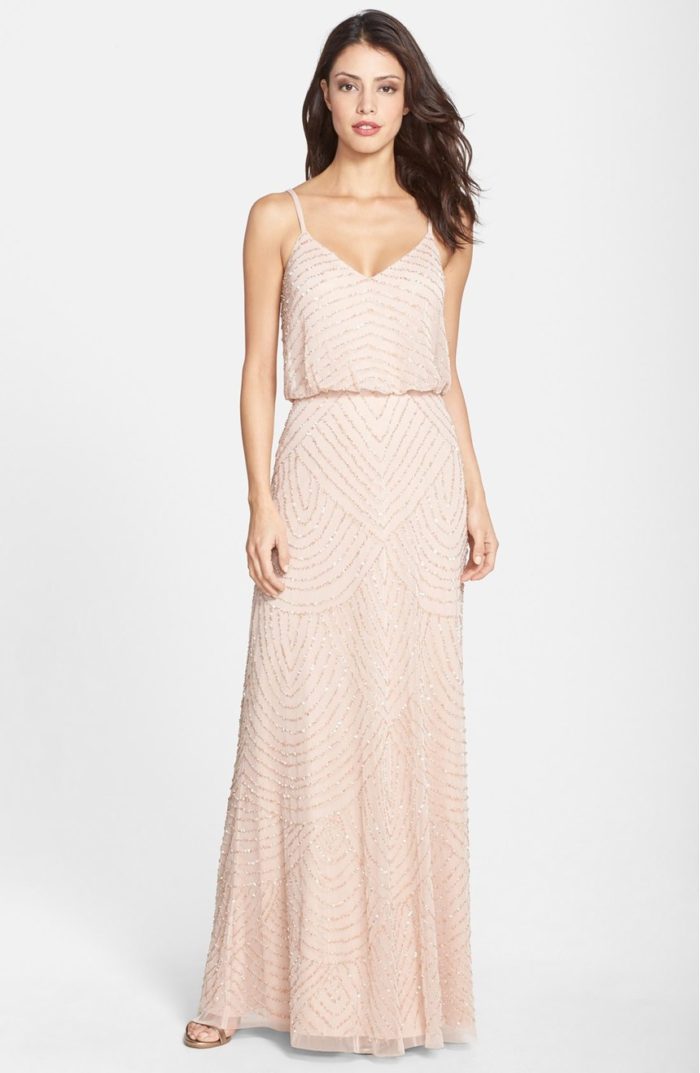 A beaded boho bridesmaid dress. Embellished Blouson Gown by Adrianna Papell
Boho styles can also be perfectly expressed with cropped tops, flutter sleeves, or sweet embroidered details. If this is your look, we think ASOS has an amazing selection!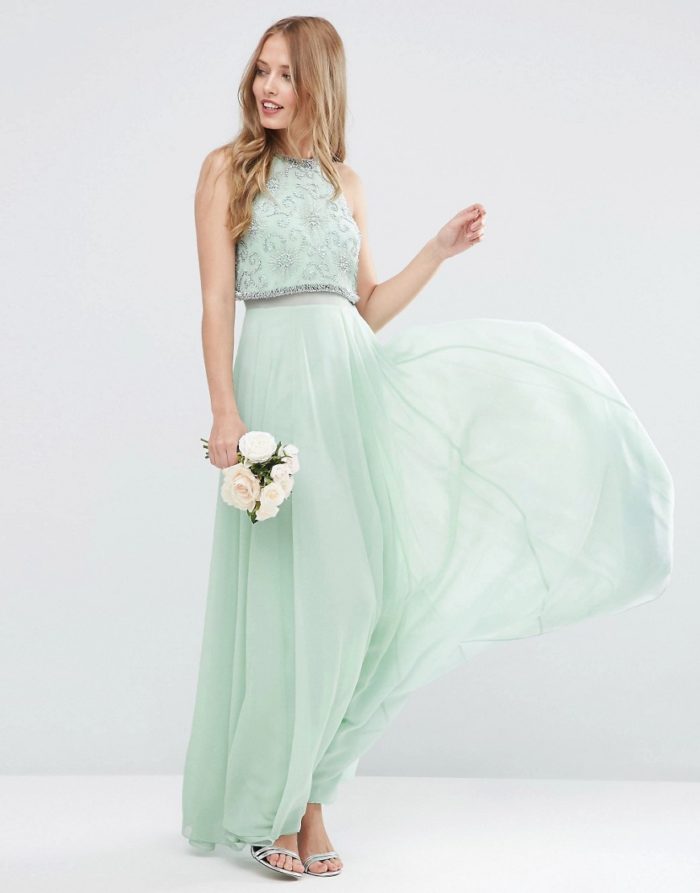 ASOS Embellished Crop Top Maxi Dress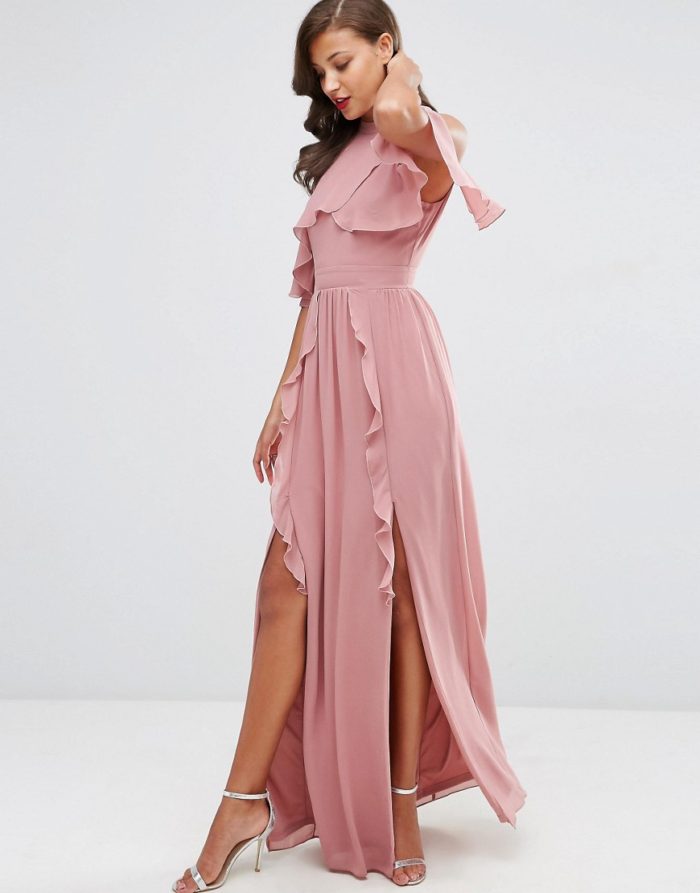 Affordable Boho Bridesmaid Dresses
The boho look can also be easy to find for around or well under $100, and we think our partners at ASOS have the best selection! If you're looking for affordable but fashion-forward boho style maxi dresses in a variety of colors, or short dresses with long sleeves or pretty gowns accented with lace, check out the section of boho styles and bridesmaid at ASOS, you won't be disappointed!
More Boho Bridesmaid Dress shopping tips and sources:
Here are some other styles and details to look for when trying to get the boho bridesmaid look. (And the places to get them!)