May weddings are the start of the busiest part of the wedding season. If you're wondering what to wear to a wedding in May, this post will help!
What to Wear to a May Wedding
Wondering what to wear to a May Wedding? A lovely spring dress should work! Here, we will show you some outfit ideas and dress options for day, afternoon and evening weddings.
Shopping sources on this site use affiliate links, which means this site may earn a commission if you make a purchase from our links.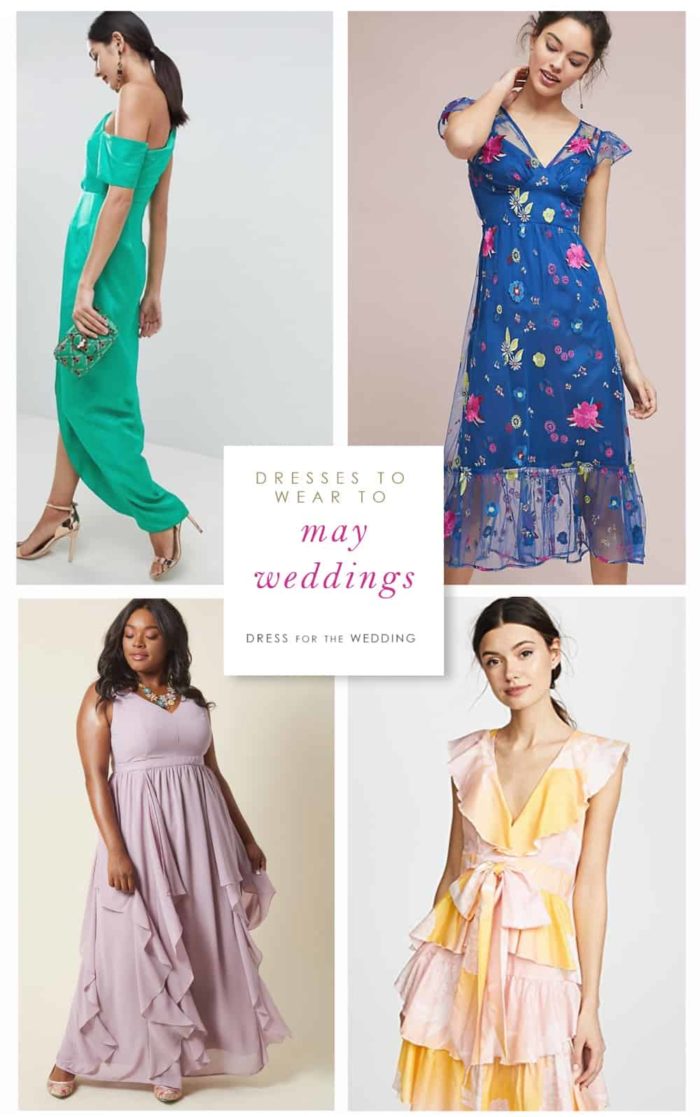 May Wedding Attire
When in doubt of what to wear to a May wedding, opt for a pretty floral dress, a pastel maxi dress or lace cocktail dresses for a daytime wedding. Try a lace cocktail dress or a pretty beaded or colorful cocktail dress for the afternoon and evening in spring colors. A beautiful gown in a beautiful bright color or pastel is the perfect choice for formal May weddings. More dresses and details below!
This post was originally published on May 4, 2015, but it has been updated with new dresses for Spring 2020
Our Picks for May Wedding Guest Dresses
Here are a few of the dresses I've been eyeing lately that are perfect for weddings in May!
Links in the shop section are from affiliates and sponsors.

Visit this page to see our latest Spring Wedding Guest Dress picks.
Past Picks: Cocktail Dresses for May Weddings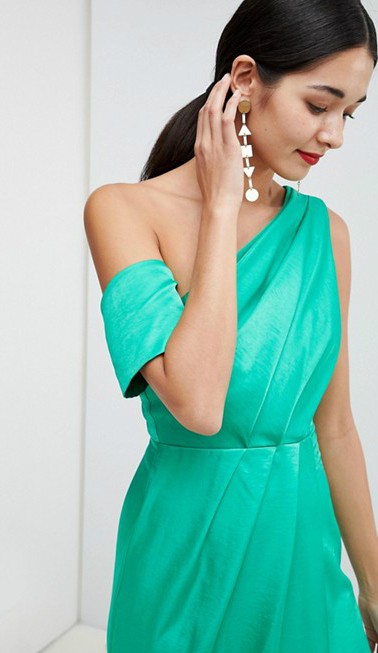 A gorgeous green satin maxi dress with a pretty hemline. One Shouldered Dress in Hammered Satin by ASOS $76
Blue Floral Fit and Flare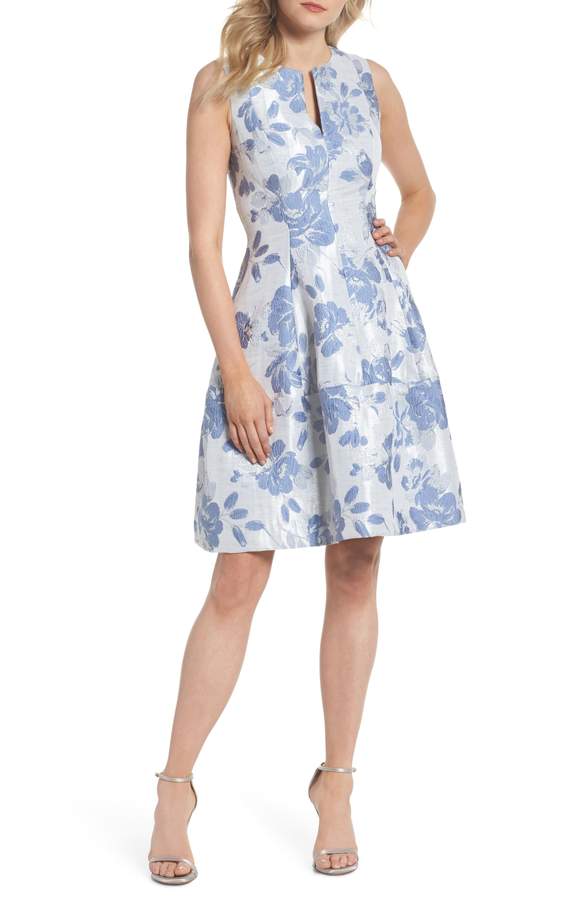 The print makes this good for May afternoon weddings, but the formal fabric and metallic texture makes it work for evening weddings too! Metallic Jacquard Fit and Flare Dress by Eliza J
Tiered Lavender Maxi Dress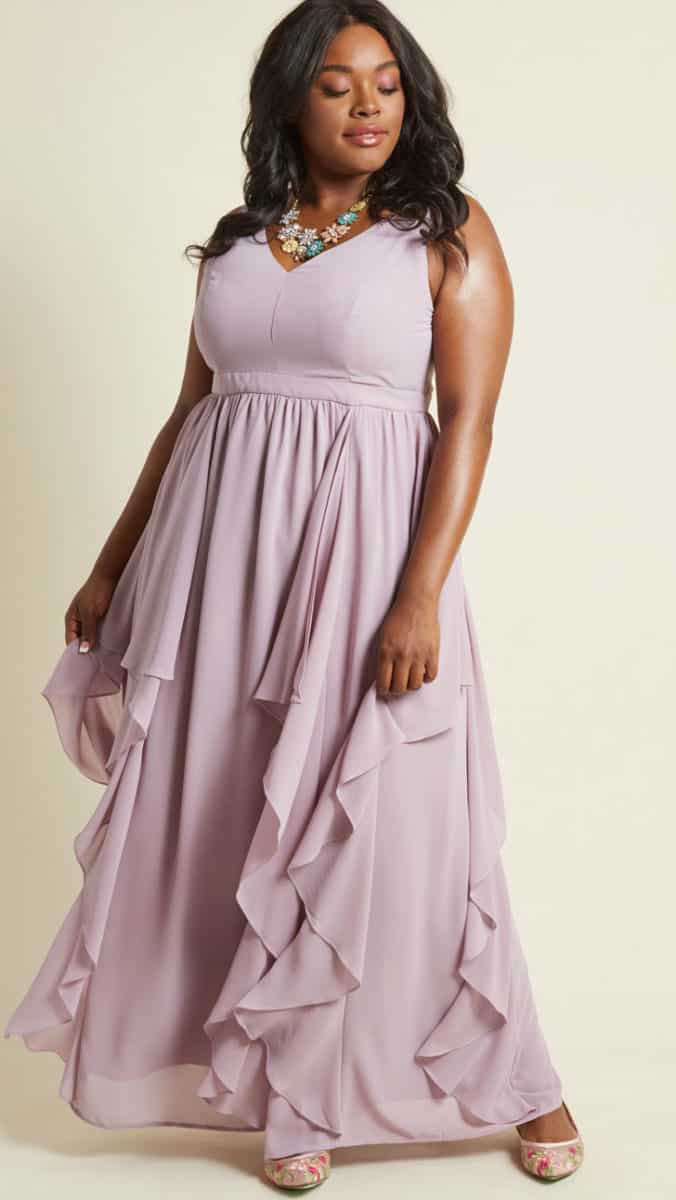 For a formal event, or if you just feel like wearing an elegant long dress in a beautiful lavender shade. As Ruffles Ripple Maxi Dress in Lavender $149 at ModCloth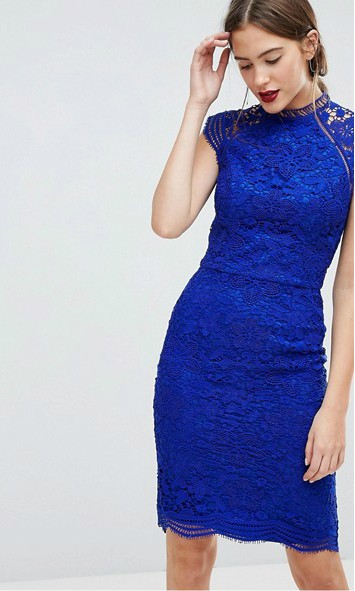 A cobalt blue lace cocktail dress is always a good choice for early spring weddings! Chi Chi London Tall Scallop Lace Pencil Dress $103 from ASOS
Black Floral Print Dress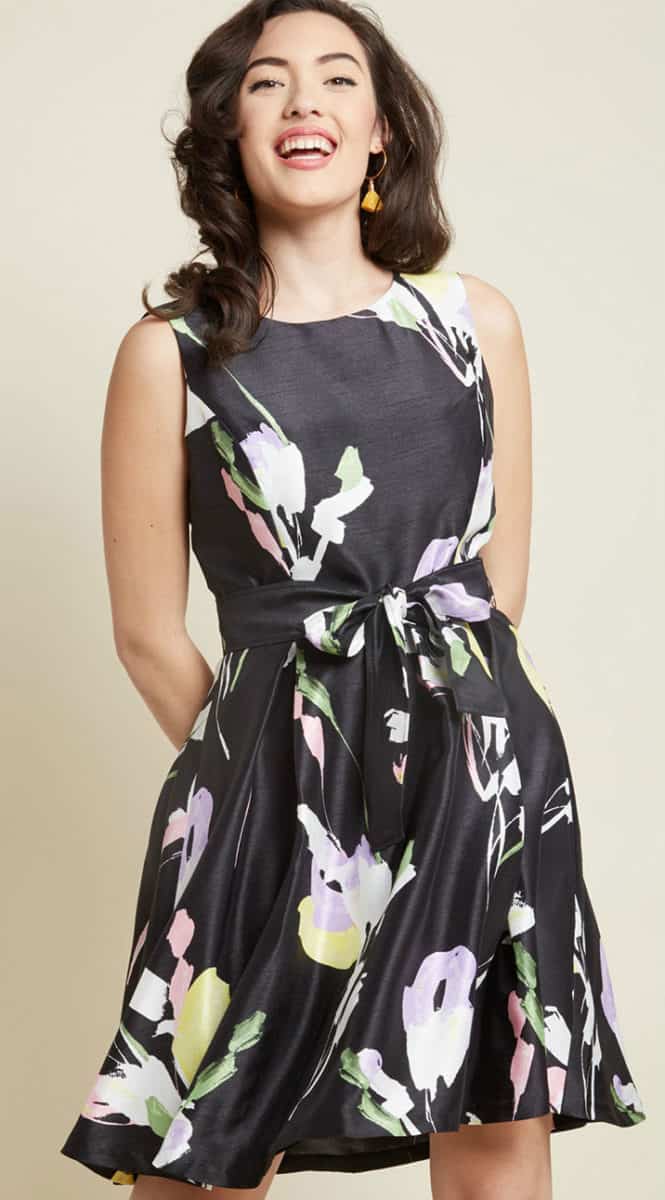 I had the chance to see this dress in person and it is so cute! The flowers are bright and cheery - more than it seems in the picture - and the black background makes it pop! I'm calling this the perfect May wedding guest style, because it works for both daytime and night weddings with just a change of accessories! And it's only $75! Undeniably Timeless Fit and Flare Dress from ModCloth.
Pale Blue Off-the-Shoulder Dress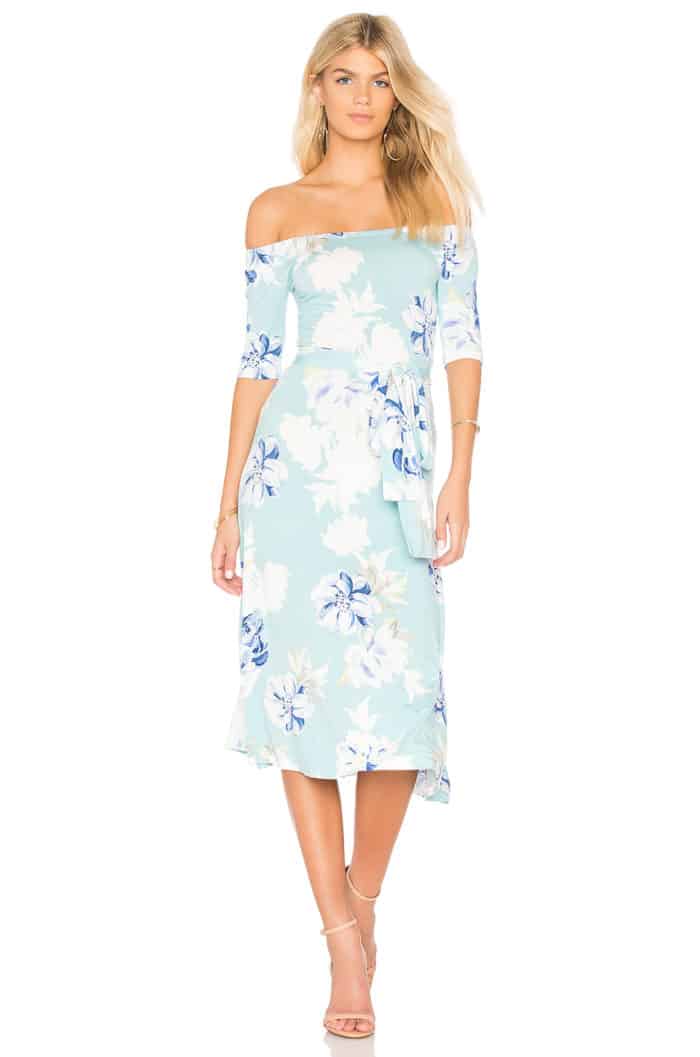 If you have a daytime wedding, a beach wedding, or a wedding in a coastal or summery venue, I Iove the look of this pale blue-green dress with a floral print! Get it in May, wear it all summer! Yumi Kim Skip A Beat Dress in Wanderlust Jade
Purple Lace Dress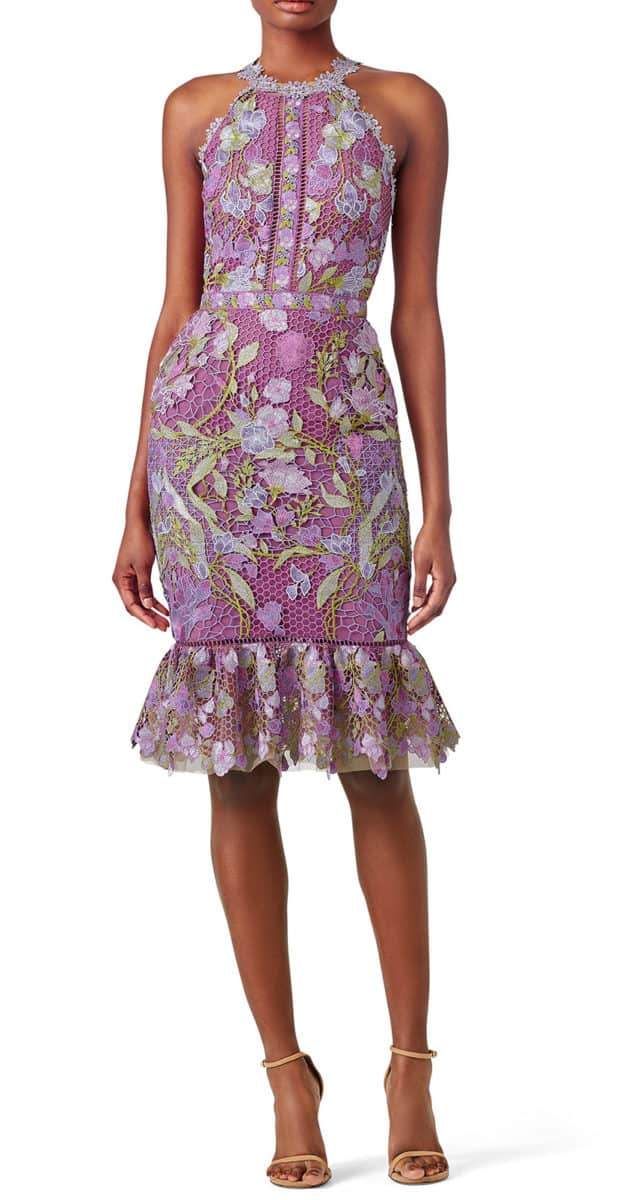 Maybe you're looking for a dress to rent? If so I love the look of this showstopper! Spring colors, lace details and just the right amount of embellishment, flattering without being overly tight. I love this dress! Rent it from Rent the Runway. Marchesa Notte Purple Lace Flounce Sheath
Long Sleeve Maxi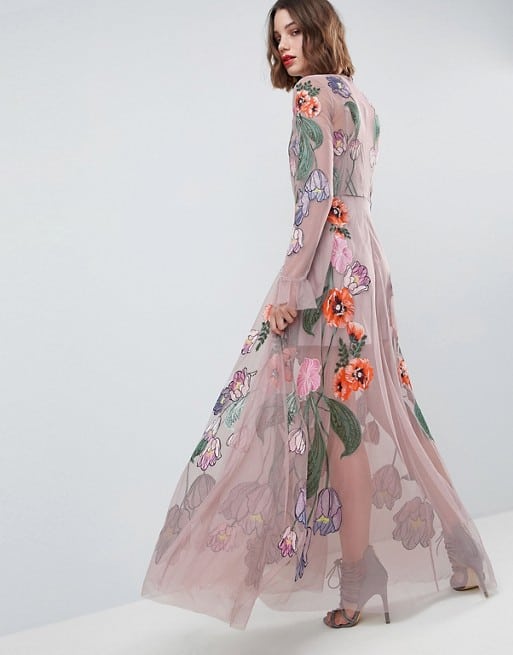 Long Sleeve Maxi dresses are big this season! This color combo of mauve and bright florals is as on-trend as they come! It would be a gorgeous choice for evening semi-formal or formal weddings. ASOS EDITION Embroidered Floral Maxi Dress
Dresses for May Wedding Guests
Are you as happy as I am that May is here? May is one of those months where spring is really in action, the signs of summer really start appearing, and the feeling of carefree days ahead sets in. It's also really when wedding season goes into an high gear! As promised, I'm trying to more do of-the-moment picks each month for wedding guests , so I have a new compilation of dresses for May wedding guests.
(Please note, this post is from a few seasons ago so many of the orginially shown dresses are out of stock, but we've added plenty of new dresses!
What to wear to a may wedding. A cocktail dress is always a great choice. Here are some favorites!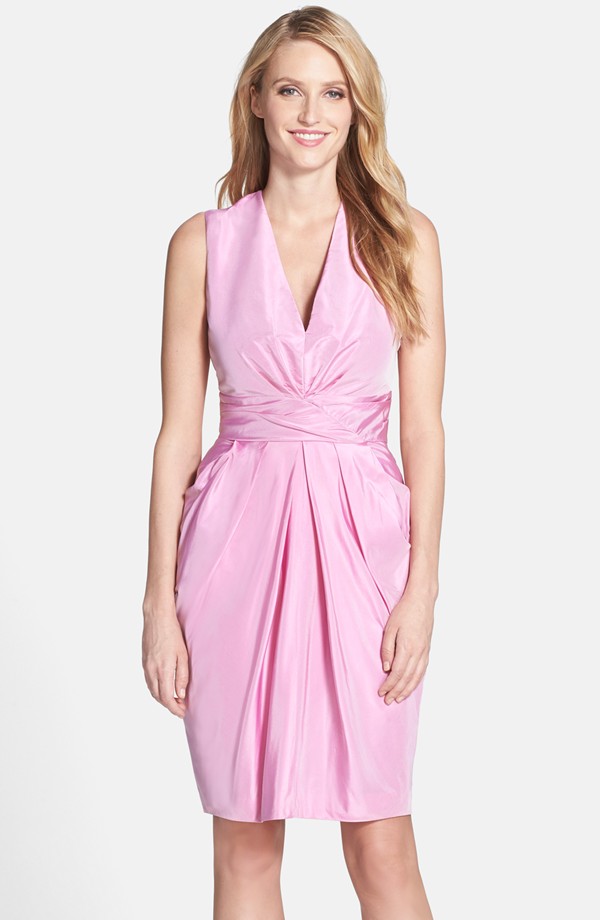 If you ask me, spring is THE season for pastels. This taffeta dress is a nice semi-formal style, that offers polished look and an easy way to wear pastels into evening. Vera Wang Gathered Taffeta Dress (now out of stock, try these pink wedding guest dresses)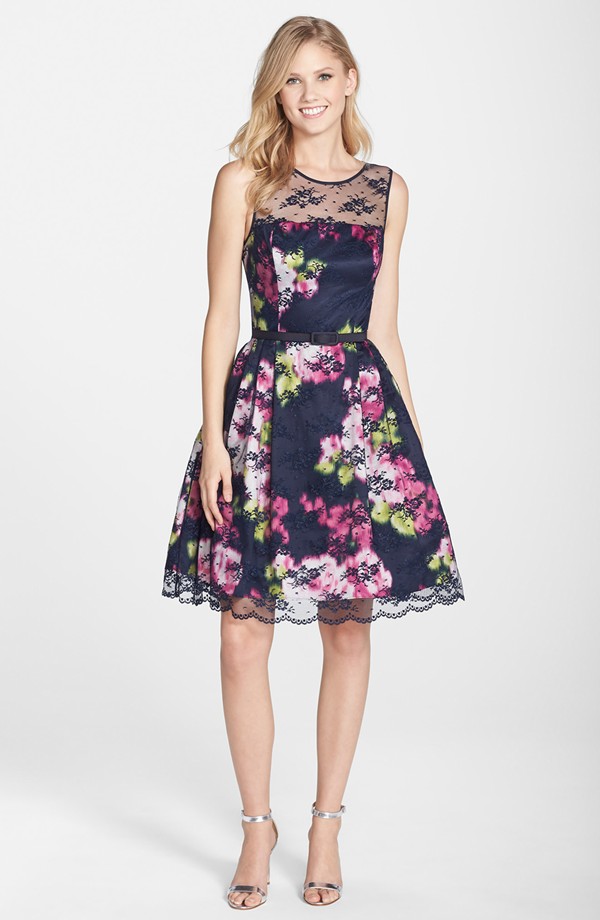 Navy blue, lace, and floral print -- three of my favorite elements in one dress! This cute and preppy cocktail dress works for afternoon into evening; it's great little dress for a semi-formal wedding! Eliza J Belted Lace Overlay Dress from Nordstrom ( now out of stock, try these other floral styles from Eliza J)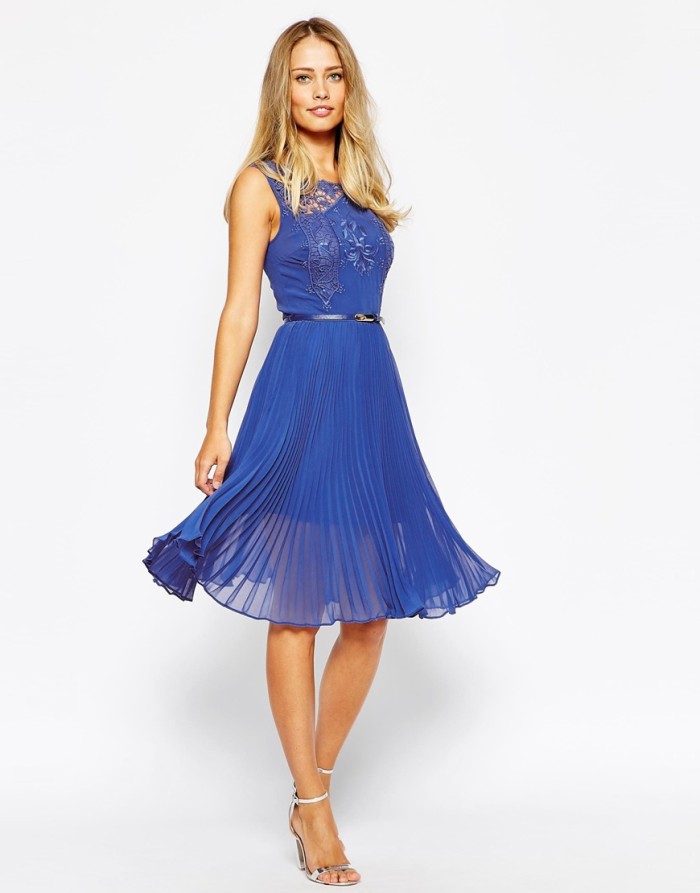 ASOS Oasis Lace Midi Dress I have yet to meet a cobalt blue dress I don't love, and the pretty pleats in this make the dress that is made for dancing! Out of stock - try more styles or this blue dress from ASOS.
Semi Formal Dress for a May Wedding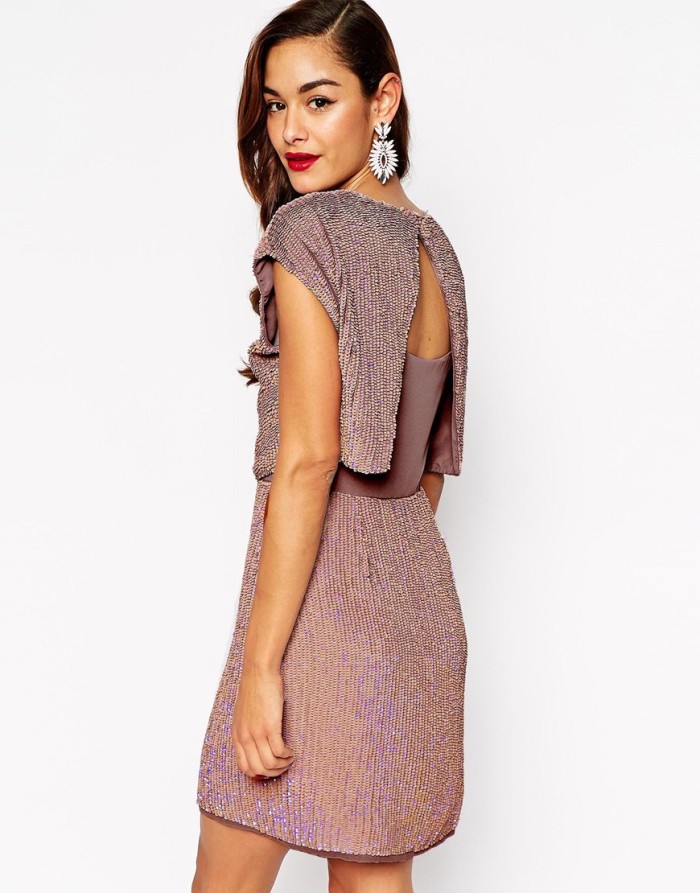 For a evening semi-formal wedding, I'm in love with this dress!It has a muted neutral mocha-y and mauve shimmer to it, and that cute little jacket is removable to reveal a cute cocktail dress that is great for the reception! ASOS Red Carpet Two Piece Sequin Dress (Second look below.) This dress might be low in stock so also look at our picks for short sequin dresses)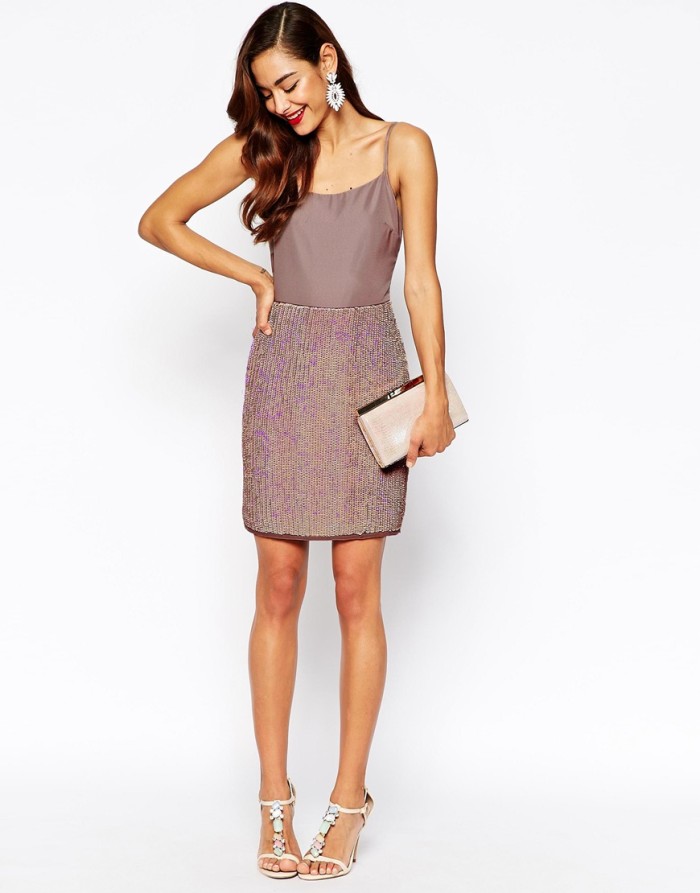 Two-piece sequin cocktail dress ASOS Red Carpet Two Piece Sequin Dress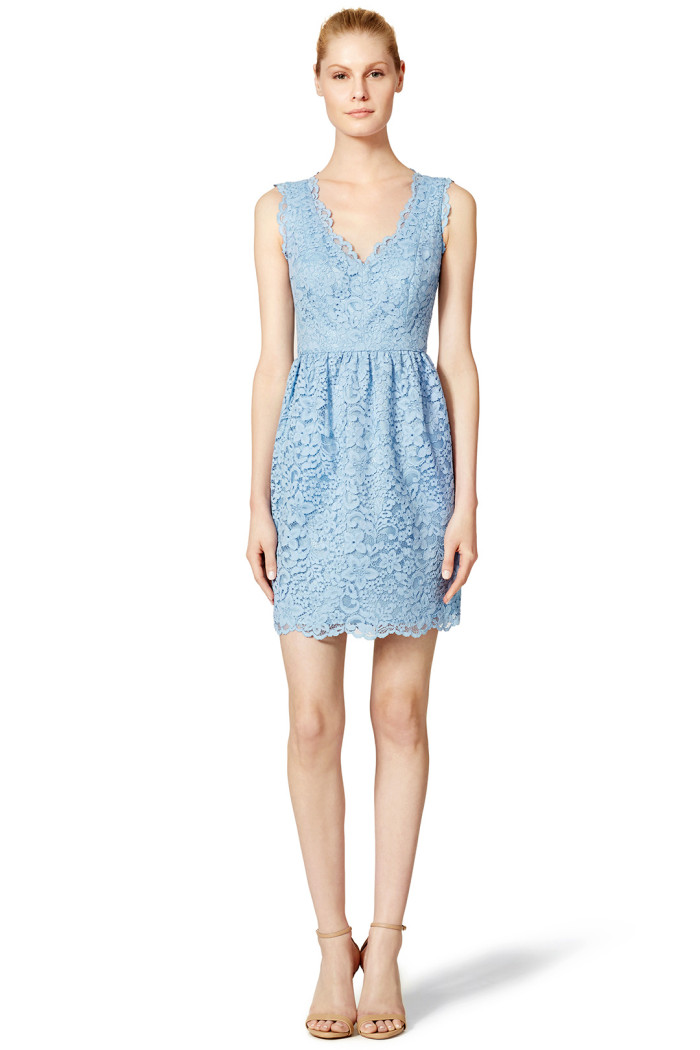 By now, you probably know there are very few lace cocktail dresses of this shape that I can resist. This pretty periwinkle blue is a great color for spring and summer weddings, and one of those great little dresses that can be suited to day or night events! Shoshanna Periwinkle Lace Sierra Dress from Rent the Runway.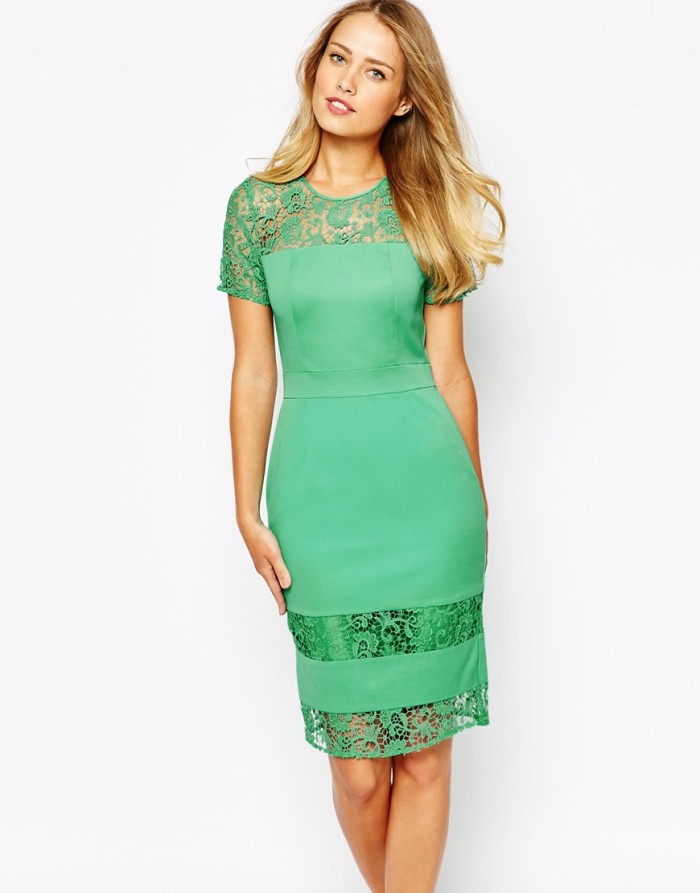 Oasis Lace Pencil Dress from ASOS
I learned a few years ago that wearing a green dress to a wedding in the UK is seen as a no-no. I'm not sure if that rule still stands, but I'm glad it's not a rule we follow here in the US, because I think green is a wonderful color to wear to weddings! Right now, I'm loving this green lace dress. It's a little bit consverative and tailored, but that little panel of see through green lace keeps it fun and fresh! I love this dress as a great all-around wedding guest dress! Here's another green dress I can't resist!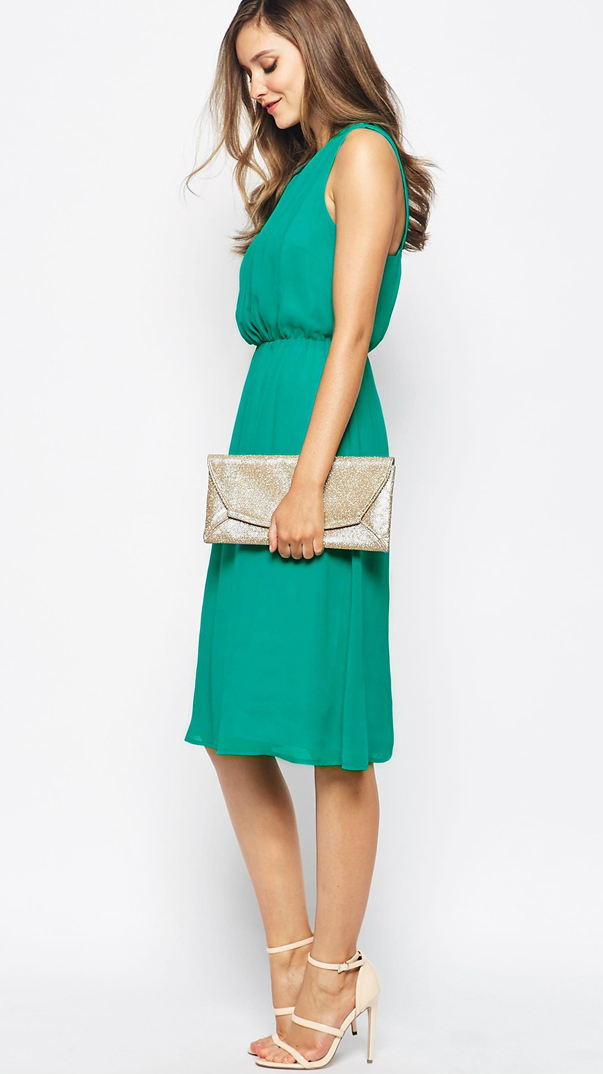 Here's another green dress I can't resist! Y.A.S. Green Arcade Dress ( This dress is now low in stock, so check out these new picks for Green Dresses for Wedding Guests, or look at the new post for Spring Wedding Guest Dresses for 2016)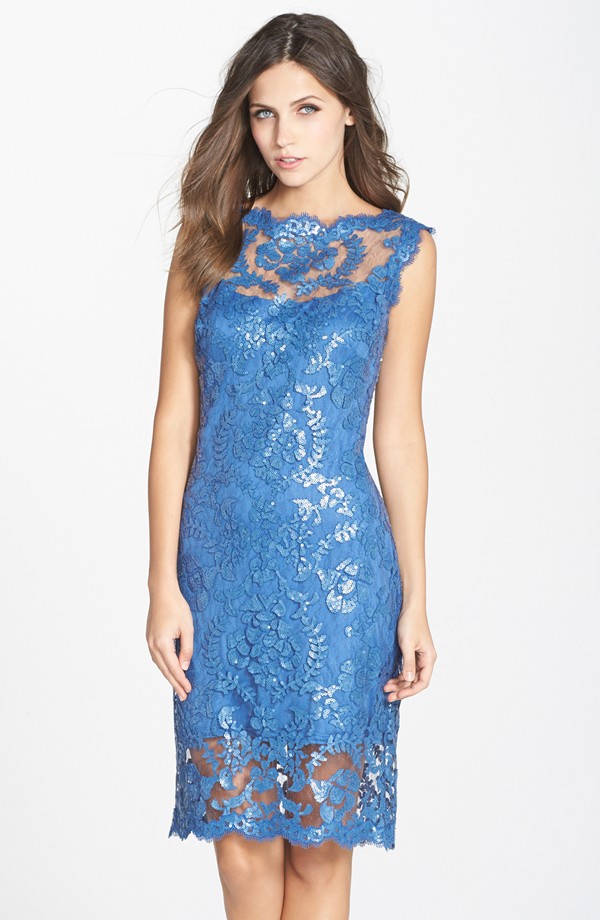 This Tadashi Shoji cocktaildress is my go-to classic lace cocktail dress pick. I very often recommend it for mothers of the wedding, but as you can see it is gorgeous dress for any stylish lady in any role at a wedding! It is a gorgeous cocktail dress and Nordstrom added so many new colors for spring!
Dressy Casual Dresses for May Weddings
The softly structured sundress is one of my favorite looks for casual daytime weddings. Floaty chiffon dresses in soft colors in a pretty midi-length are among my favorite picks for laid-back outdoor weddings at this time of year.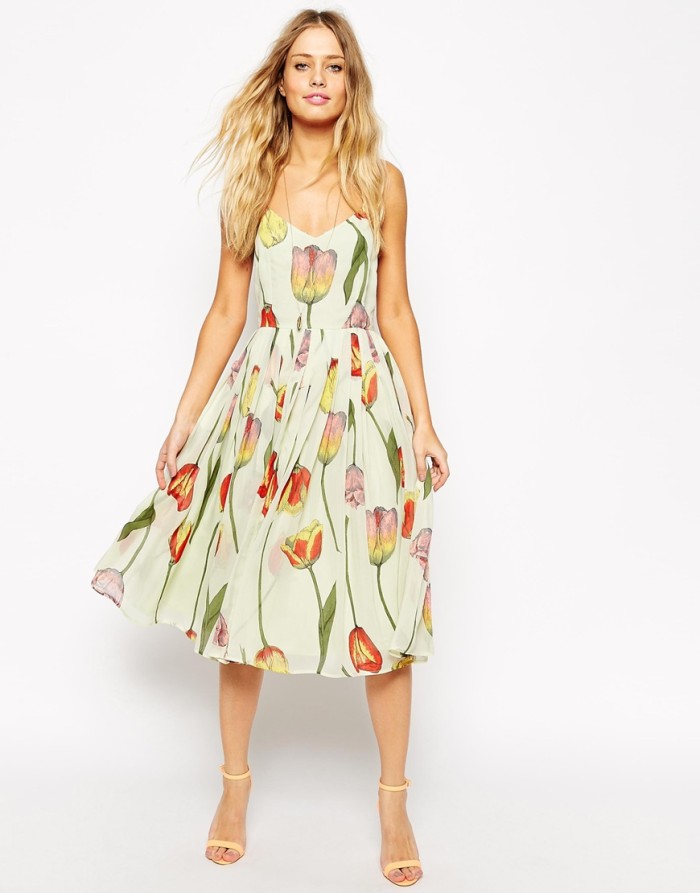 Floral Midi dress from ASOS (may be out of stock, try more floral dresses from ASOS)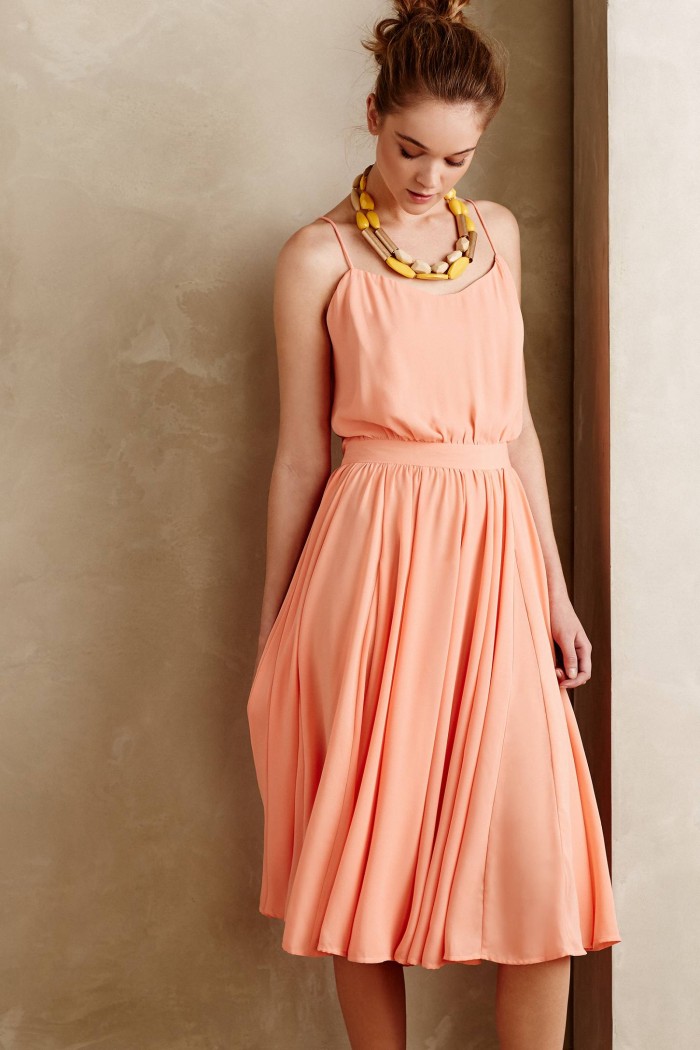 Peachtree Dress from Anthropologie (See more coral and peach dresses for weddings here)
Maxi Dresses for May Wedding
Maybe you've been invited to a beach wedding in May? As you may know, I'm on a bit of a maxi dress kick here and I especially love this one for a beach chic look.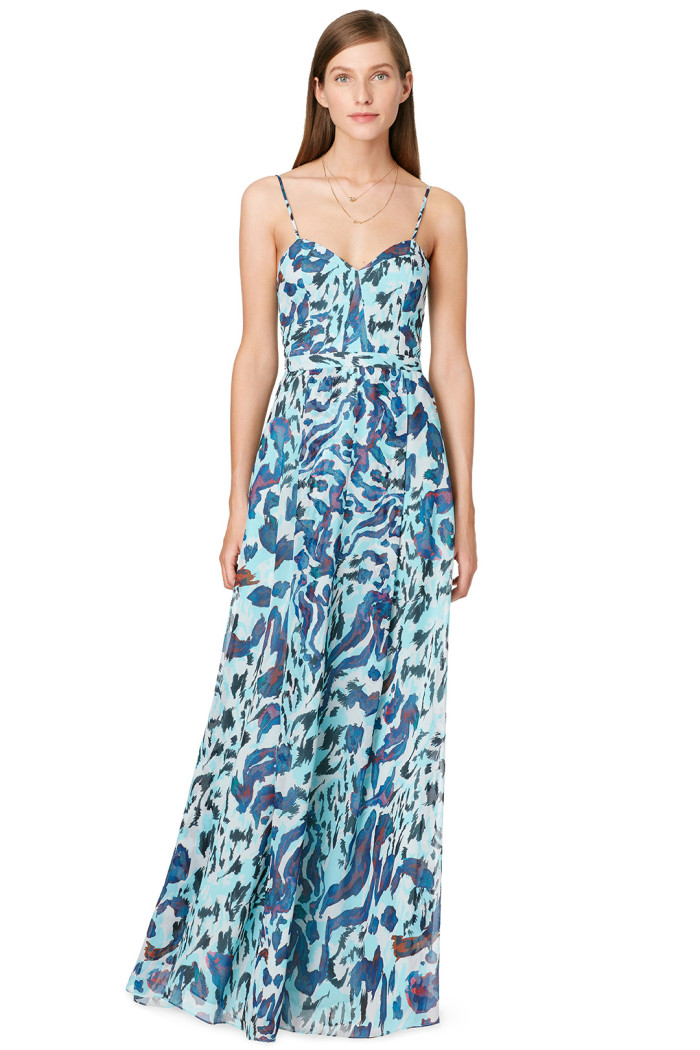 Dress it up with big statement earrings for a beach formal look, or dress it down with a casual look like this for a more relaxed beach wedding. Hunter Bell Camo Sea Maxi Dress at Rent the Runway. See our latest picks for more Beach Wedding Guest Dresses)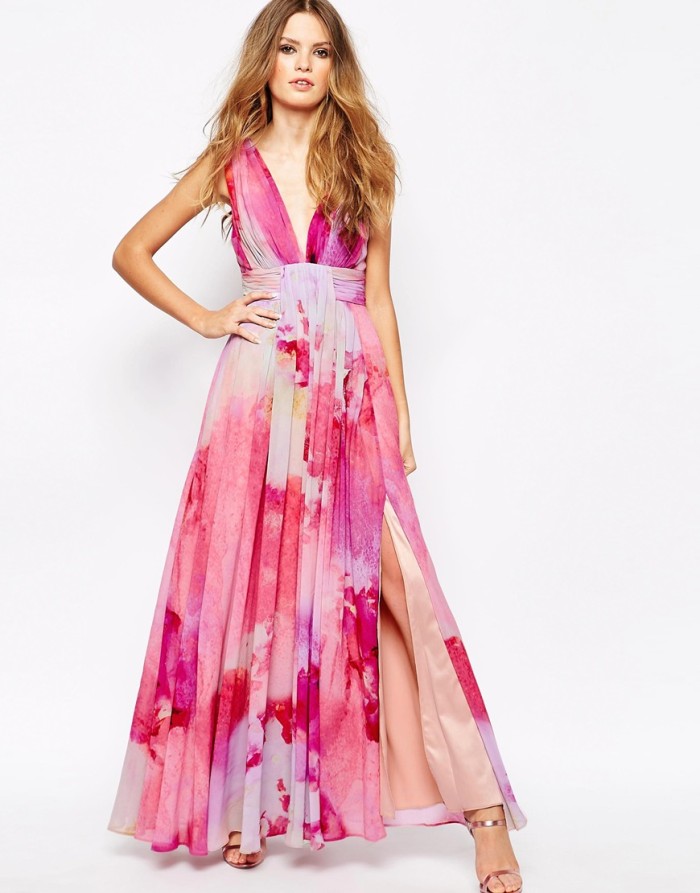 This is another dress that can go black tie, or to a beach wedding! Fame and Partners Floral Watercolor Gown available at ASOS ( More formal dress code dresses or beach chic looks here)
Another favorite for beach or outdoor weddings is a pretty maxi dress. These styles that can be made more formal with strappy sandals and some bold sparkling accessories or toned down for daytime with some simple studs and a long necklace.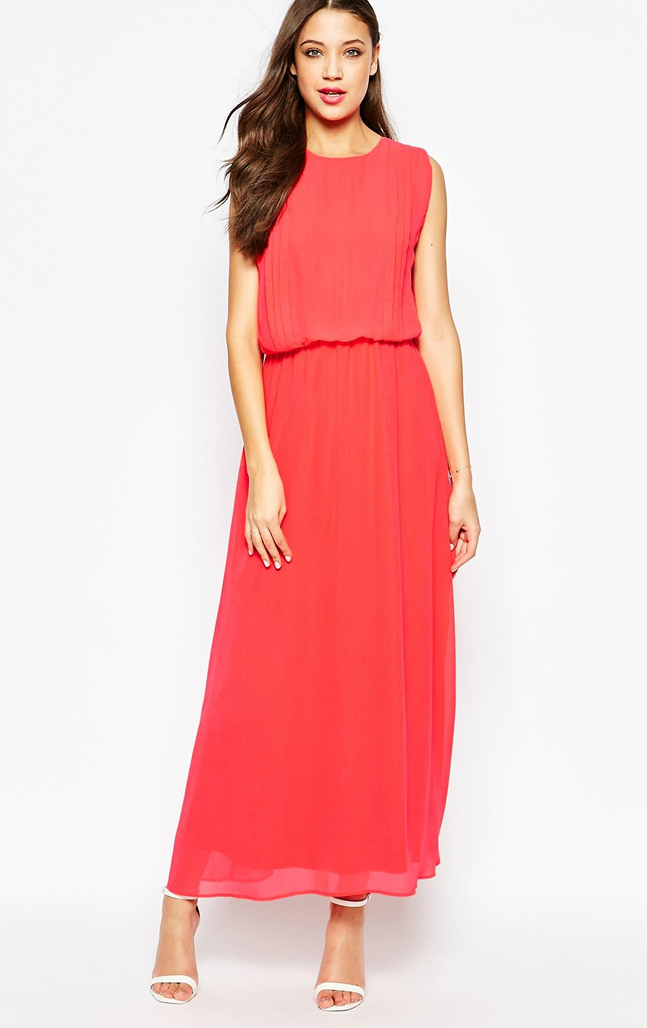 Y.A.S. Lina Maxi Dress at ASOS ( If this dress has sold out, find more red dresses here and more maxi dresses here)
Formal Gowns for May Weddings
On the more formal side of things, if you have been invited to a black tie wedding, I think spring is a wonderful time to wear a little bit of color in a full-length formal gown. It used to be that only neutral dark colors were recommended for the strictest black tie - and I've including one dark gown-- but as we see on red carpets for awards and galas, a bit of color makes for some of the prettiest dresses. Here are a few I'm loving right now!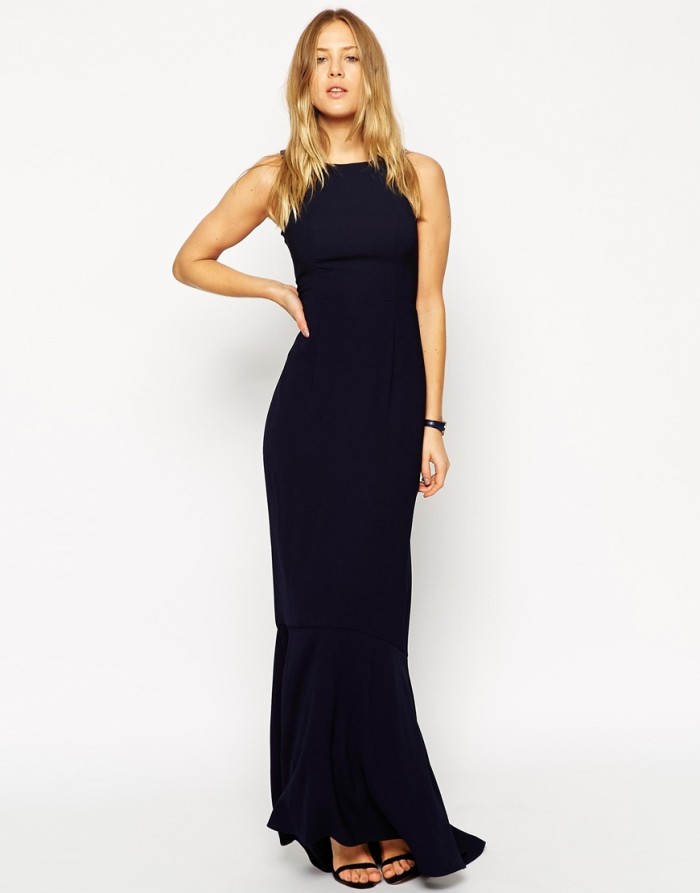 ASOS Fishtail Maxi Dress This navy blue gown is the modern take on conservative black tie. The tank style and criss-cross makes it a current look, while the fishtail hem gives plenty of glamour and formality. And one can never go wrong with navy blue! ( Also see this fabulous formal navy gown)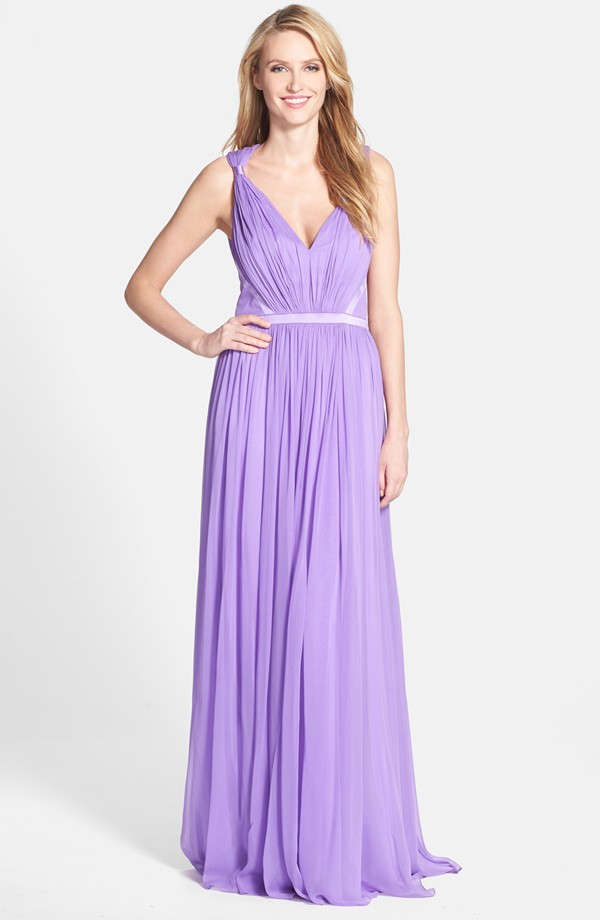 I love a lavender dress! A gorgeous color in a formal style is always lovely in my book for a black tie spring wedding. Vera Wang Chiffon Gathered Gown from Nordstrom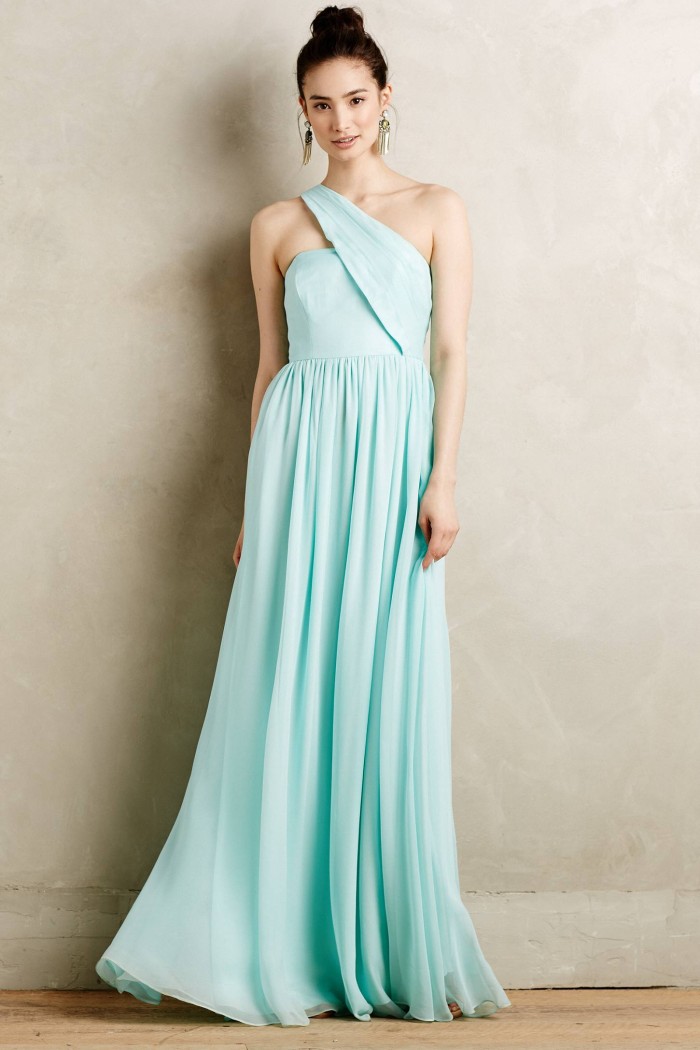 A gorgeous color, sweeping layers, and unique neckline! Minted Silk Gown From Anthropologie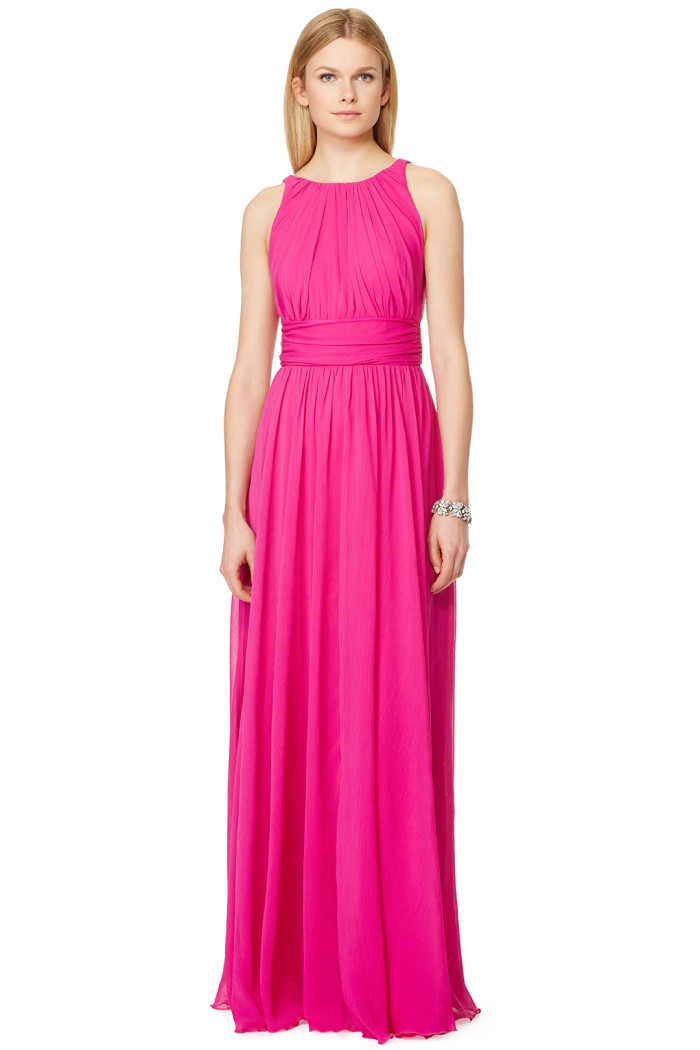 What could be more spring-like than a hot pink dress? This gown reminds me of the Azaleas and peonies that start to bloom this time of year! Corundum Tourmaline Gown at Rent the Runway
Floral Dresses for May Weddings
Spring is also a wonderful time to trot out plenty of prints and floral patterns!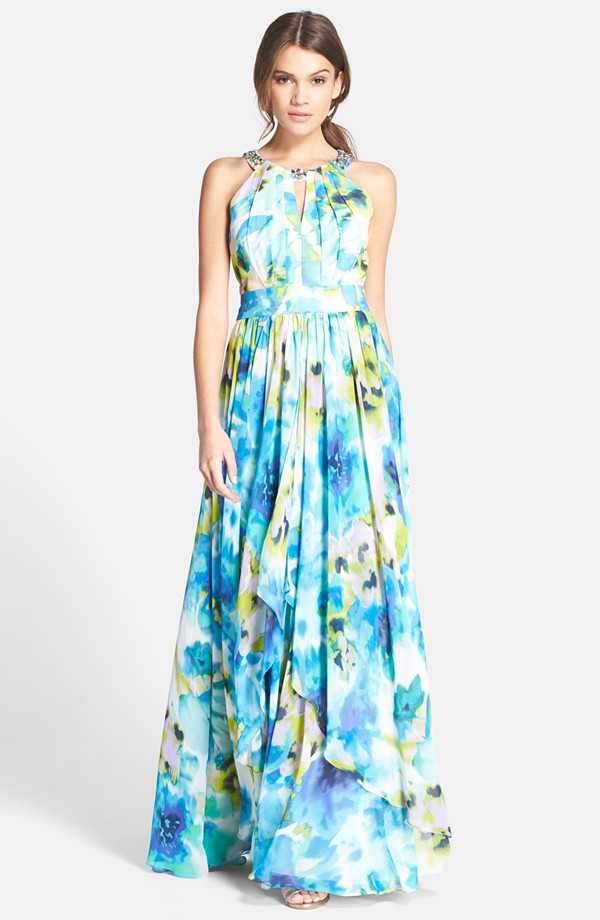 This floral maxi dress can work for nearly every type of wedding invitation - a semi-formal but daytime wedding, summery black tie, or beach formal weddings, and would be perfectly in place at a garden wedding as well! The pretty watercolor print in soothing colors and embellished neckline give this maxi dress a sophisticated twist! Eliza J Embellished Floral Maxi Dress from Nordstrom. ( If this one is out of stock, these Eliza J maxi gowns are so similar especially this one in pink print and blue print!)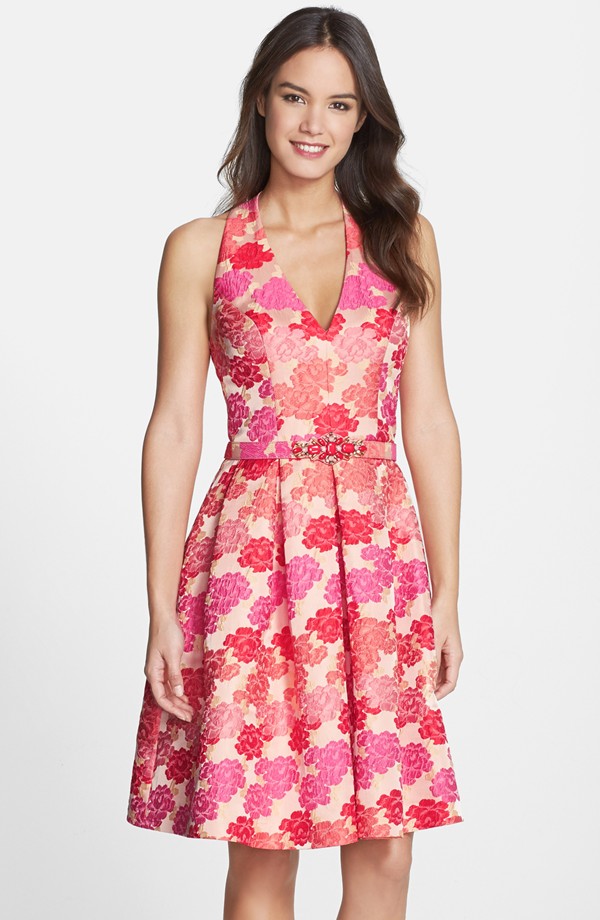 This cheerful print has an embellished belt and a great mix of rosy colors! Embellished Jacquard Dress from Nordstrom. Also see this pink dress picks!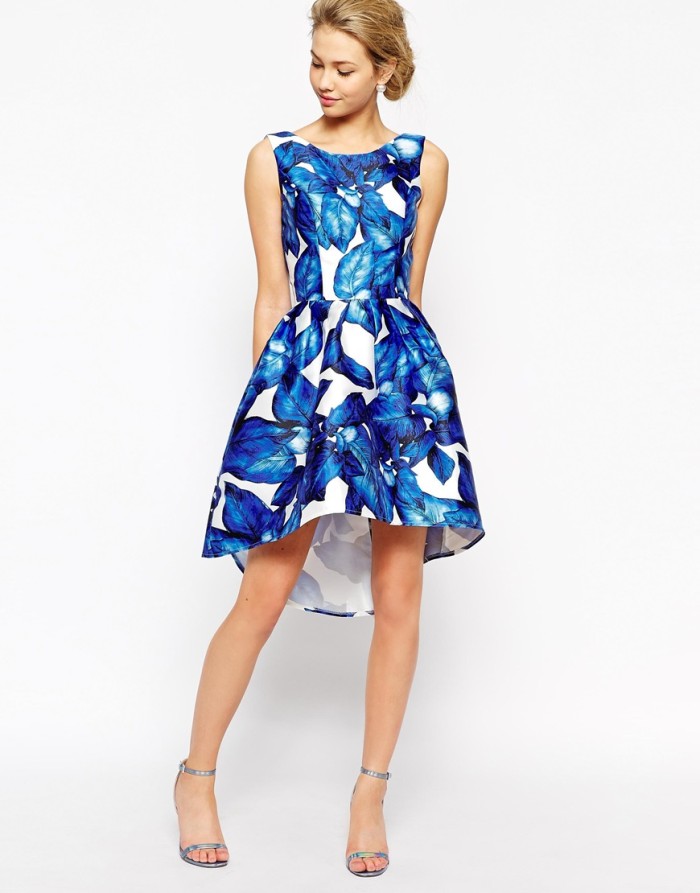 Such a cute blue and white floral with a fun hi-low hem and full skirt! Chi Chi London High Low Hem Dress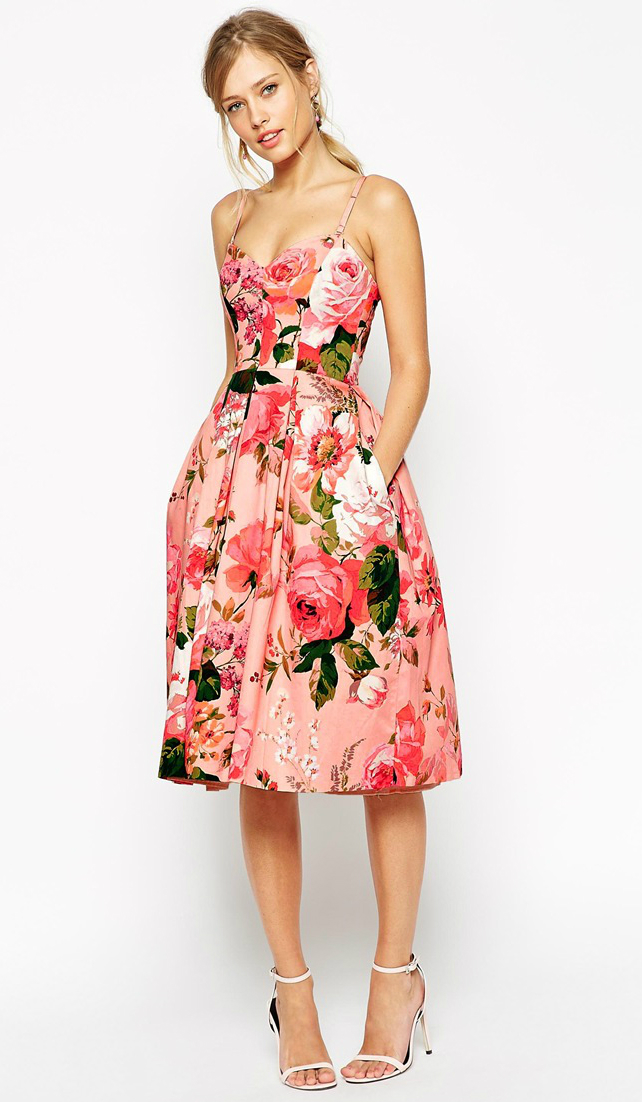 And finally, a sure sign of spring - a rosey pink floral sundress, with pockets and ready for any wedding! Pink Floral Dress from ASOS This dress is in out of stock so also try this similar style or or more floral dresses from ASOS or browse our picks for more floral dresses here.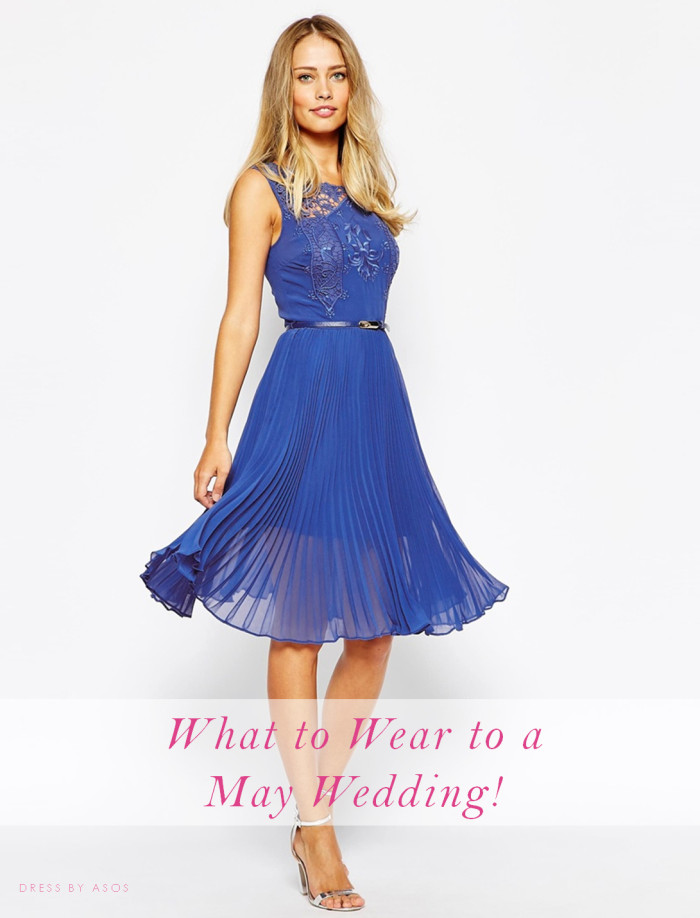 Where to Find More Dress Ideas
If these picks didn't fill your wedding attire needs for the month, check out the Wedding Guest Dress shop, where you can shop and browse by wedding style or color!
Also, see our latest picks for Spring Wedding Guest Dresses
Links in italics and in the shop section are from affiliates and sponsors, meaning that this blog may earn a small referral commission from the retailer, at no cost to the purchaser, if a qualified sale is made.