If you love the clean minimalist aesthetic of a modern wedding, you'll love these ideas for modern wedding decor, dresses, invitations, and more. From modern wedding signs, dresses, and suits, this post will help you shop for all the items to get that modern wedding style.

Modern Wedding Ideas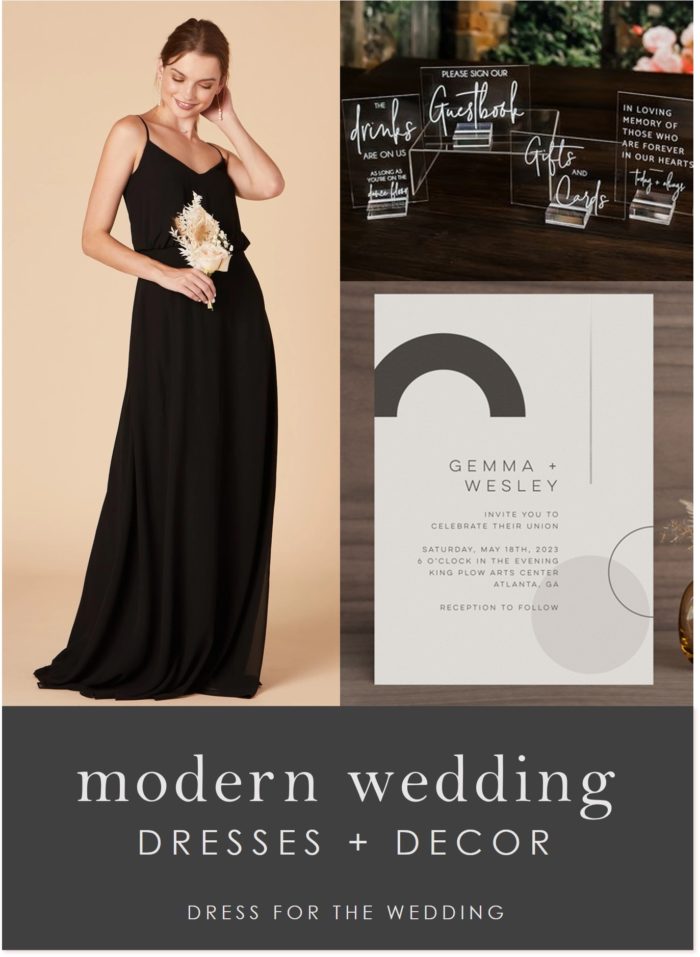 Image and product sources: 1.Dress: Gwynnie Dress in Black from Birdy Grey 2.Wedding Signs: From PinkPosiesandPearls on Etsy 3.Wedding Invitation: Bahaus Shapes from Minted
When we think of a modern wedding, it can take on several different meanings. But to our minds, we think of a modern minimalist style. It's an event design that is defined by the use of up-to-date or neutral colors and clean lines. The invitations and wedding decor have a decidedly artistic style. We might see a contemporary styling in the bridesmaid dresses, wedding dresses, and more. Certainly, a modern wedding can overlap with other styles -- like modern boho, or modern romantic -- but for this collage we're thinking clean clack and white modern style, with chic dresses, modern art-inspired paper goods, and minimalist decor.
We've been doing a lot of our inspiration board posting over on LiketoKnow.it, which is a shopping app that allows you to shop various looks for top bloggers. We create and share content there that doesn't always make it to the blog, so we've decided to start trying to overlap a little more and to share it here as well!
Where to Find Dresses and Decor for a Modern Wedding
So, here are our latest finds for a modern ceremony or reception, along with details on where to shop this look. Each image will direct you to the retailer or source where the item can be found.
Commissionable links are found in shoppable sections.

Modern Bridesmaid Dresses

For modern style bridesmaid dresses, we love the clean lines of some of the gowns Lulus offers, as well as dresses by Birdy Grey. Satin bridesmaid dresses are a current trend that we think perfectly suits a modern aesthetic. You might also like our picks for black bridesmaid dresses, grey bridesmaid dresses, or neutral bridesmaid dresses when trying to get this look.
Modern Wedding Invitations

For modern wedding invitations, Etsy has some amazing creators. Etsy invitation designers have designed everything from the invitation suite to the wedding signs with a modern look. Minted also has a whole section of modern invitations.
Modern Wedding Dresses

BHLDN has a wonderful selection of modern wedding dresses. You might also love this modern dress we saw worn by Alexis on Schitt's Creek. We also feature a wedding dress shop, where we post ideas for some of our favorite wedding dresses that are available from online retailers, we also feature designer wedding dress collections, that feature designers like Anne Barge, Amsale, and Peter Langner who perfectly capture the modern style gown.
Modern Wedding Decor and Venues

For decor and signage, again Etsy has an amazing selection of decor ideas to get that modern minimalist style. And, for instantly modern decor, picking a modern venue. Places like a chic minimalist hotel, city rooftop, or an art gallery create the perfect atmosphere.
More Inspiration
For more inspiration, check out our ideas for Tropical Wedding Ideas and Desert Wedding Ideas
More style ideas you might enjoy :