Can I Wear White to a Wedding?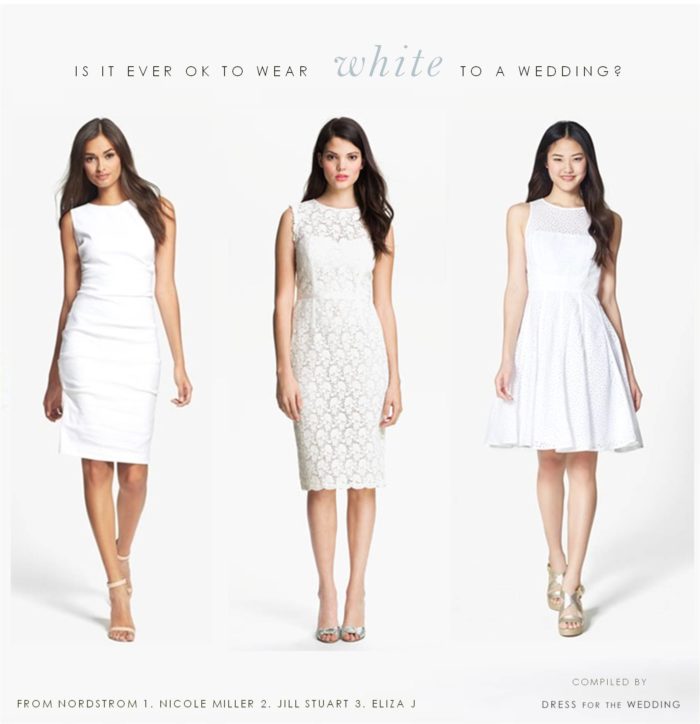 For the bride:  Nicole Miller Stretch Linen Sheath Dress | Jill Jill Stuart Illusion Lace Dress | Eliza J Eyelet Dress
Wait just a minute! Please don't wear any of these gorgeous dresses if you're a wedding guest! Instead, wear one of these for a  non-wedding-related summer cocktail party, or save one of these for the bride to wear for wedding-related events in her honor! 
Is it OK to Wear White or Ivory to a Wedding?
Since the end of May marks is usually the time that people in seasonal climates traditionally begin to wear white again, I thought this was the perfect time to tackle this post. While I've touched on this in my wedding guest attire guidelines, I can think of no better time than the last week of May to talk about wearing white (or NOT wearing white) to a wedding.
I'll start off with some uncharacteristic brevity for this post:
You: "Can I (or May I) wear white as a wedding guest?
Me: "No, please don't."
And now my usual wordier musings:
If you are a wedding guest, or other member of the wedding party, and have not been specifically asked to wear white -- for instance, as a part of an all-white wedding theme, or as a bridesmaid who has been asked to wear a cream or white dress ( lovely look, by the way) , or a mother of the bride who has chosen (with the bride's approval) to wear a pale silver or champagne cream color as a special honor -- I still think you should refrain from wearing white, and anything in the light ivory and light cream family, or anything with lots of white lace.   If it's a white dress with an all-over print, or a solid color in the deeper tones of the gray, pale yellow, or more in the tan color family than cream, then I'm a little more inclined to say it's ok, but as I've said before on this blog, if you're questioning the dress, you probably don't feel comfortable wearing it. Why risk it?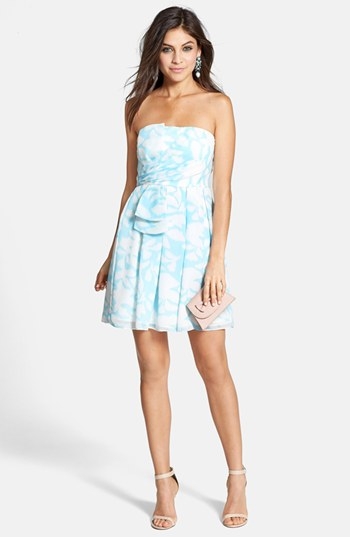 Watercolor Pattern Dress at Nordstrom 
This little strapless dress has plenty of light blue to balance the white print. It's  great for outdoor summer wedding guest.
Now, why did I say "I still think you should refrain from wearing white" in the last paragraph? Well, a few years ago, Peggy Post, the director of The Emily Post Institute and an authority on this type of wedding etiquette, said that "white, as long as it's not bridal" -- is now ok to wear to weddings. When I first heard this, from the media coverage I thought she was saying, "Let's all start wearing white to weddings!"  but that was not the case or context. [Here was the original response on wearing white to a wedding under the heading  "Does a Cream Lace Dress Compete with the Bride?"  for those who are interested.]
Now,  I'll admit when I heard that Peggy Post was saying,  "as long as it's not bridal" I tend agree with some of the thought behind that, and even more so when I saw that this was in response to a woman who wanted to wear a blush dress with a cream overlay top which doesn't sound as bridal as someone who was asking to wear white.  Still, Post's guidance was spot on, and I agree that pale blush and cream lace would still not be the best choice.
So, while I think attire rules are shifting and changing,  for now I still think we should abide by the old rule that a guest or attendees should not wear white at all to a wedding, even if it's a dress that is clearly non-bridal. (Keep in mind that many bridal gown styles are getting less formal, so the chances of finding a "non-bridal" white dress are getting even slimmer!)  That said, I also think we have to get over this idea a bride can be so easily undermined by one guest who accidentally wears a white dress! A wedding day is about love and a union between two partners, not the decor, dress, or other silly stuff that surrounds them. To do our part, I think brides and fellow guests need to be less of the "Can you believe she wore that?" mentality, and just relax and enjoy the celebration and camaraderie no matter what anyone wears.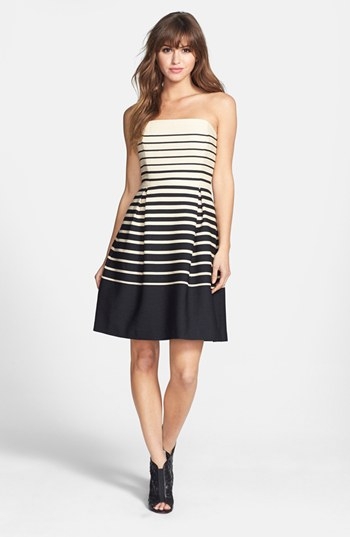 Kenzie Strapless Dress from Nordstrom 
While I usually think the less white at the top of the dress is better for a wedding guest dress, this black and white dress has enough all-over pattern to make it fine for a wedding guest!
Is OK to Wear a Dress with Some White in it to a Wedding?
So, is ever ok to wear a dress with some white on it to a wedding? Sure! My own informal rule is this; if it is clearly non-bridal, the print is all-over or so prominently placed that there is no way the dress looks bridal, or at least 50% of the dress is another color, I think you'll be fine wearing it.
If you need a test, ask yourself this, Would I describe this dress it as having all-over color?  Try it in a sentence: "I'm wearing my black and white dress to Laura and Dan's wedding."  (Go for it) "I'm wearing my white dress with the little dots on it to Laura and Dan's wedding." (Maybe try something else.)
Or, if you really want to analyze it, try the squint test: If you squint, does the dress read as another color? For instance, is the blue print making it look kind of light blue? It's probably fine, but gracious, this is a lot of trouble to go to for deciding on a dress! I usually give up and just go for a clear-cut color at this point!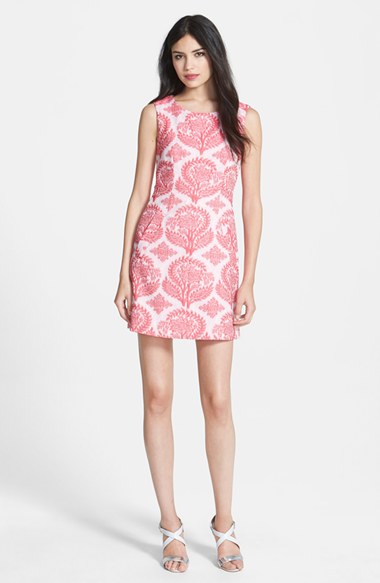 Pink and White Diane Von Furstenberg Dress 
Yes, this dress has a white background, but the all-over print makes it look pink. So cute, too! It also comes in yellow and white! Wear this to a wedding! 
Is it OK to wear Pastels like Blush, or Pale Gray to a Wedding?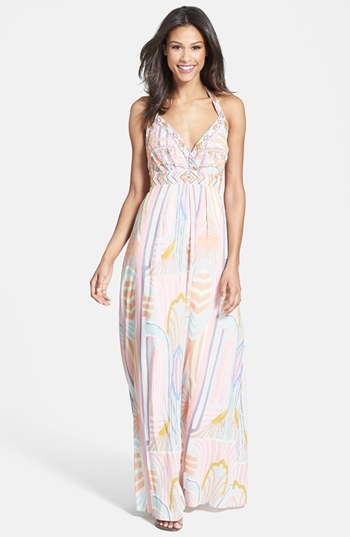 I've seen this pretty pastel print in a few pictures, and it looks like a very pale pastel on white print here, but actually it it has deeper colors than it shows. It's a little casual, but the length and beading dresses it up. Heels and some sparkly jewelry will dress it up even more! I love it for guest attire for a destination wedding, a beach wedding, or a casual summer wedding.
Now what about pastels? I think about this a lot now, especially as more designers show cream, blush, blue, lavender and gray wedding gowns, and Instagram filters can make a pink dress look white. Pastels like a truly pink blush (but not a very pale, nearly ivory blush), yellow, lavender, soft blue and gray still seem like beautiful, soft,and refined colors for wedding guest attire. However, the lightest shades of creams, true ivory, sheer nude blushes, and silvery pale grays actually can be extremely close to many wedding dress colors now. To be safe, I'd stay away from those shades of cream,  sheer blush,  pale whitish grays, and anything with white, silver lace. Also, with all the gold and silver beaded wedding dresses available, I'd avoid dresses with metallic embellishment against a white or ivory background.
Beyond that, what can you do?   I'm not sure how will one can know beforehand if the bride is wearing a pastel wedding dress, since I think many brides who choose a colorful gown probably want it to be  surprise to her groom and her guests. However, if you are a part of the bride's inner circle and know that she is wearing a wedding gown with a tint to it, plan to steer yourself and others away from any colors you know she'll be wearing. As colorful wedding gowns become more common, it will be interesting to see what happens with wedding attire. For now, if you're a guest I'd stick to pretty, richly hued colors, classic shapes, and just simple and lovely wedding guest styles.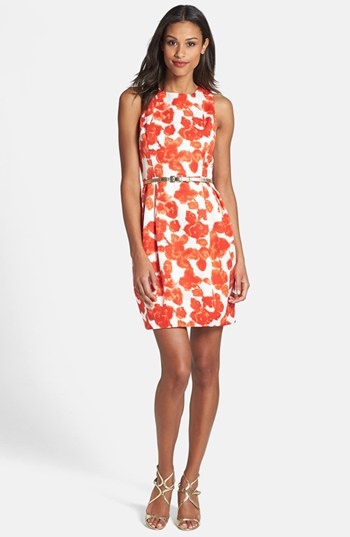 Belted Print Dress from Nordstrom
This fun all-over citrus orange print balances out the white background so that this is definitely wedding-appropriate! Great for an informal daytime wedding guest dress.
What Should You Do if Someone Wears White to Your Wedding?
Tackle her, let it ruin your whole day, complain to everyone, and end your friendship.  Just kidding! That's exactly what not to do! Show a little grace and realize it was probably an honest mistake. You might not even notice. Your wedding day is such a blur, that I assure you as a bride you will feel completely like it is your day, even if everyone wears white.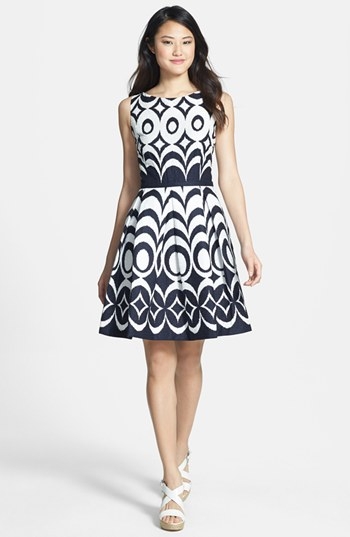 Cotton Print Black and White Dress
What's black and white and totally fine to wear to a daytime wedding? This little fit and flare dress! 
As for why someone might accidentally do this,  I can actually see how this happens from time to time. Many weddings are in the summer, and summer is a great time for little white dresses in non-wedding life. Stores are full of them!  As a guest, you're also thinking about  light, happy wedding-type things as you're shopping, and you might have a tan you're thinking about showing off. Before you know it --whoops-- you've thought about maybe a nearly white dress. Or maybe you simply looked up wedding guest dresses online, and thought it was ok! I'm always surprised at how many retailers sometimes will show customers a completely white dress under the "wedding guest" category!
Honestly, if someone is going to "upstage" or offend a bride at the wedding, they probably will do it by drinking too much or behaving badly. If someone on your guest list intentionally uses wedding attire to try to get back at you,  they probably aren't a great pal anyway, and wedding attire is a completely strange way to express any kind of ill-will.  Still, people do get up in arms about it, so if you're a guest, part of being on your best behavior is dressing  appropriately.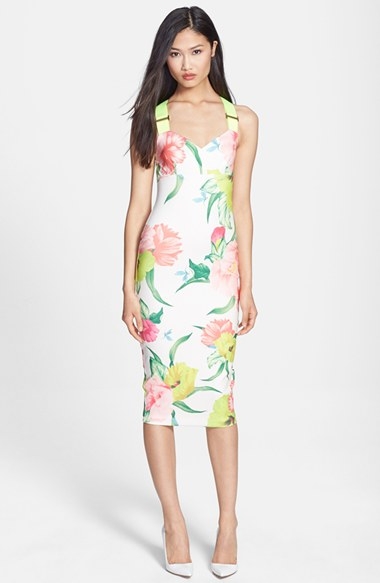 This printed dress  is so pretty! But it's a little too body conscious,  and has a lot of  white background. This is one of those on-the fence dresses! I can see it in a Miami beach or city wedding! While you could wear it to a wedding,  it wouldn't be my top pick. Instead, I'd love to see the bride wear this as a variation on the white theme for an engagement party, after-the-wedding dancing!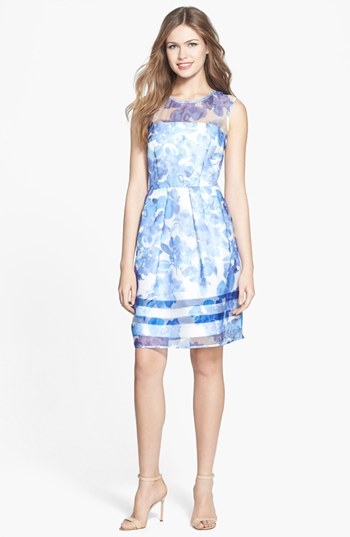 Floral Illusion Dress at Nordstrom
Yes, there's a white underlay peeking through, but this is such a classic wedding guest look! This is one way to wear a little bit of white to a wedding and still be impeccably dressed. Go for it!
Is it OK to wear White to a Bridal Shower, Engagement Party, or Rehearsal Dinner?
I'm giving this a big "nope"  too. While wedding dresses are starting to show up in range of colors, the little white dress has really gained popularity for the bride to wear to feel extra-bridal for the events for her wedding.  An engagement is a a time to cherish and celebrate any way you'd like, and a white dress can be just the way to do this! I promote the little white dress a lot on DFTW, but I do recommend that the bride change it up a little and not wear white to everything event in her honor during the engagement. It just seems like too much - after all, you probably wouldn't wear the same color to every party in non-wedding life.
Even though the bride may decide not wear white to anything she attends, as a guest of those wedding-related activities, be mindful that white still a color that is reserved for the bride during this special time, and try to avoid it. When heading to a bridal shower, wearing white pants with a colorful top are probably fine, but an all-out white lace shift might offend.  Just go with a cheerful color once again!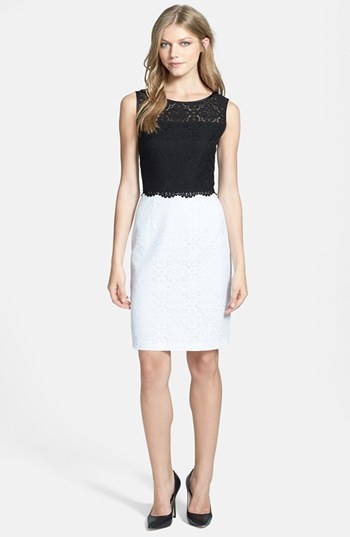 Such a pretty dress! The black top and conservative cut of this, plus the fact that the white is on the bottom, seems to make this one ok for a wedding, but I still prefer all-over color!  Do you agree? It would be also be a chic option for the bride to wear to the engagement party.
So where did we end up? Don't wear white. Not even a white linen jacket and pantsuit to a wedding. As a guest for this one special wedding day, find your own best color (which for most people isn't white!) and wear it and have fun! Let me know in the comments, what do you think about wearing white to a wedding?
Are you totally stuck now and need a dress idea? You're in the right place for that! Start searching here!
What to Wear to Summer Weddings
Dresses for a Female Wedding Guest