Cobalt Blue Dress with Yellow Accessories | Fall Fashion Ideas
As promised, this week I'm trying to provide some fall fashion ideas for those of you who are looking forward to attending weddings this fall. This cobalt  or royal blue dress from Nordstrom is one of my favorites for the season. The fit and flare style is such that it can be suited for morning, afternoon or evening weddings, and it's right on that line between dressy casual and cocktail.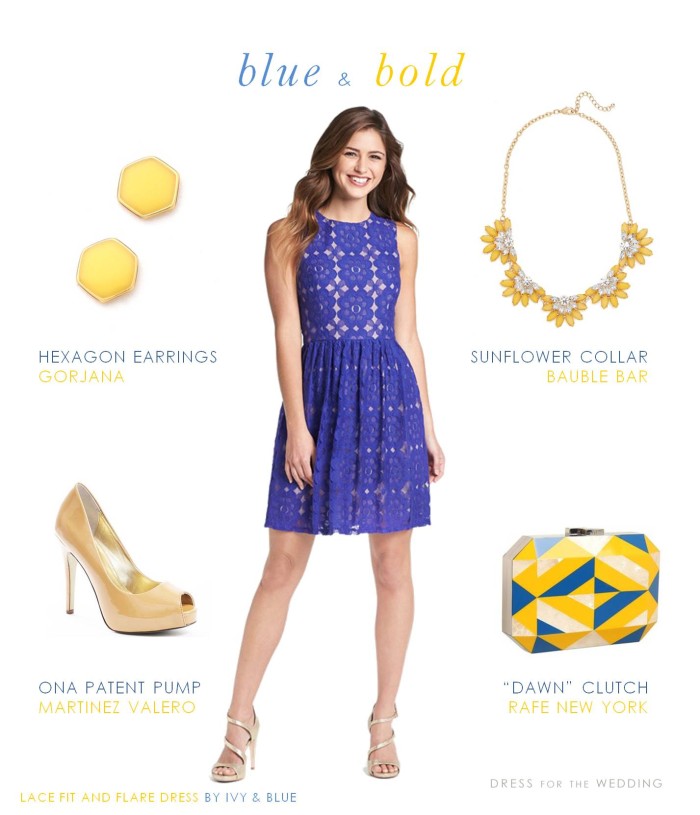 Lace Fit & Flare Dress by Ivy & Blu from Nordstrom / Gorjana Electric Hexagon Stud Earrings/ Sunflower Collar in Yellow from Bauble Bar / Rafe New York Minauderie "Dawn" Clutch / Martinez Valero "Ona" Nude Patent Pump
I've styled the dress today with some bright yellow accessories -- I was inspired when I saw that bright blue and yellow together on the clutch. This makes it a fun look for a daytime wedding, and I like that the blue and yellow pairing is cheerful, and the perfect transitional colors between summer and fall.  To keep it from being too much, those heels are a neutral with just a tinge of yellow gold, and I kept the color to one bright color. This dress really can be put with so many shades -- if you want to wear it more formally then just put some knockout crystal earrings and accessories with it; it looks great with hot pink, too!
Stay tuned for a look for more fall wedding guest looks - I'm working on a fall formal wedding for tomorrow! As always, you can check out more fall wedding guest dresses here!