Formal Gown for a Fall Wedding | Featuring Badgley Mischka's "When in Rome" Gown
As promised, I'm dedicating most posts this week to dresses to wear to fall weddings! If you're lucky enough to have received an invitation to a black tie wedding this fall -- today's post is for you.  Today's formal gown for a fall wedding is  Badgley Mischka's "When in Rome" gown from Rent the Runway. I was drawn to the Greco-Roman style shown in this gown, which feeds right into the current of-the-moment Art Deco look.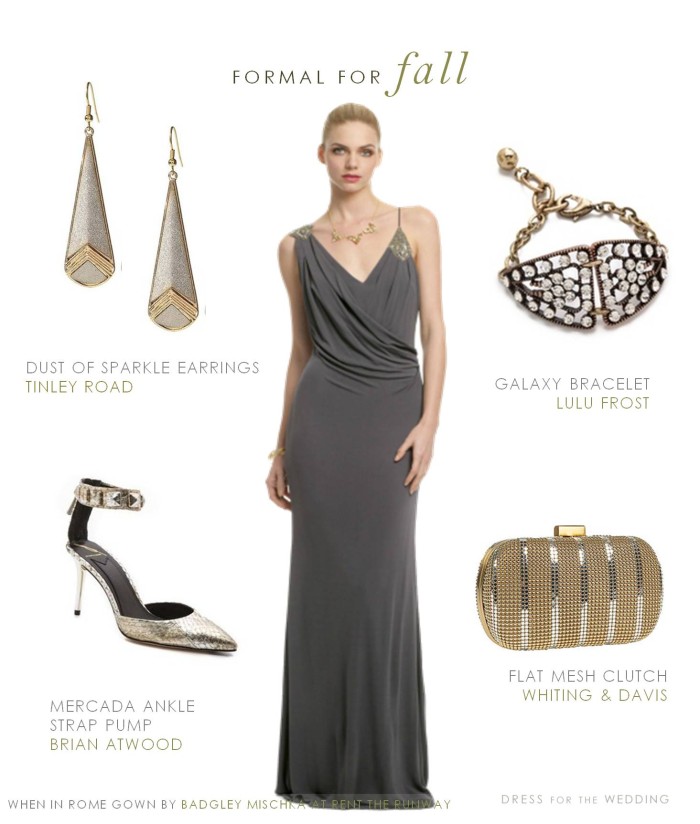 Tinley Road Art Deco "Dust of Sparkle" earrings from Piperlime / Whiting and David Gold and Silver Bubble Clutch / Lulu Frost Deco Bracelet / B by Brian Atwood Mercada Ankle Strap Pump
While I haven't yet rented from Rent the Runway yet myself, as I mentioned before in this formal gown post, I can't get over the selection of designer gowns they have -- these are gowns that frequently can't even be purchased in most stores, and are available for rent at a fraction of the price. ( This one is $135) There are so many stunning formal gowns, I'd definitely rent from them if I had a black tie wedding to go to! I'm just waiting for the invite to arrive!
The other thing I love about Rent the Runway site (besides the amazing selection)are the renter reviews and pictures. From that, one can see that most renters have had wonderful experiences, and one can also see how these designer gowns have impeccable styling that suits many body types.  You can frequently find a picture of someone who might be a similar size and shape  to get a sense of how that gown might look on you!
I love this particular gown for a fall wedding because the gray has little golden touches which warm it up, and allow it to look fantastic with either silver or gold metallic. I chose accessories that had both silver and gold touches. I especially love that Lulu Frost Bracelet because it perfectly compliments the triangular deco accents on the shoulders of the gown.
So, while I haven't been invited to any black tie weddings this fall, please, please promise me you'll wear this gown if you're lucky enough to have an invitation to a formal or black tie wedding!
Looking for more gray dresses? Check out these silver and gray dresses.