Floral Dress for Early Spring Wedding Guests
This floral print dress is a great choice for transitioning from late winter to early spring weddings!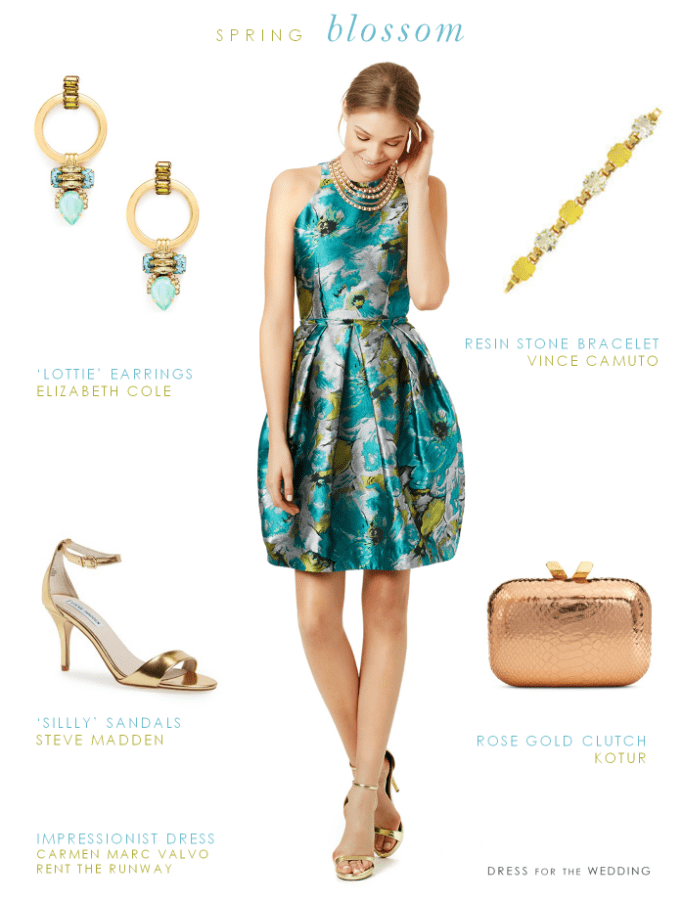 Shopping links in italics are from affiliate sponsors: The Dress: Carmen Marc Valvo 'Impressionist' Dress at Rent the Runway | The Earrings: Gold Lottie Earrings by Elizabeth Cole at Rent the Runway | The Necklace ( shown on model) The Harley Necklace | The Bracelet: Vince Camuto Resin Bracelet at Lord & Taylor | The Clutch: Kotur Rose Gold Minaudiere Clutch | The Shoes: Steve Madden "Sillly' Ankle Straps
Ok, it's official - I'm very ready for spring! In a few weeks, we'll really be in the season, but in many parts of the country -- including my own beloved East Coast -- it is likely to still be a little chilly. If you need the perfect dress that speaks to spring days with bright blooms, but still has the substance and style for you to wear in late winter or early spring weddings -- this Carmen Marc Valvo dress is my pick. The fabric is luxurious and easy-to-wear ( dressy, with pockets!) and has a great combination of vibrant spring-like colors.
For accessories, I love how turquoise and citrine yellow-green - and how that copper clutch and gold shoes pop against the teal and green, and also bring out the metallic richness of the fabric. Spring style, with warmth and luxury - this dress has it all!
Also be sure to check out our most up-to-date picks for What to Wear to a Spring Wedding!
More posts:
Shop Semi Formal Wedding Guest Dresses
Links in italics and in the shop section are from affiliates and sponsors, meaning that this blog may earn a small commission at no cost to the purchaser if a qualified sale is made.
Early Spring Wedding Attire - Shop the Look