Sparkle and Tulle Wedding Style Inspiration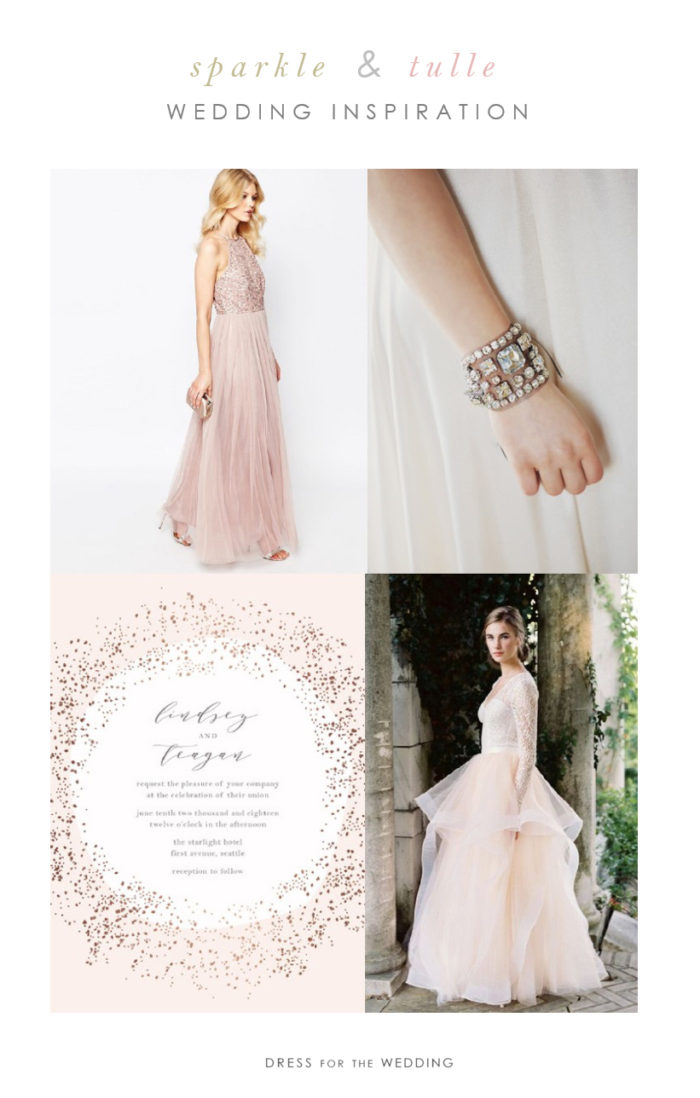 Sequin and tulle wedding style ideas and shopping sources in this post use affiliate links.
1.Maya Petite High Neck Maxi Tulle Dress With Tonal Delicate Sequins 2. Bridal Cuff Bracelet with Crystals and Tulle by Gibson Bespoke on Etsy 3. Dreamy' Invitations from Minted. 4. Laguna Top by Lace and Liberty Bridal on Etsy
I've been spending a lot of time on Pinterest and on Etsy, discovering new wedding dress designers, and some of the prettiest accessories ever! This week it seemed like I was drawn to all things with sparkling details and sheer tulle! (What else is new!?) So, I decided to group them all into this post, and share with you the new arrivals in stores and the pretty Etsy finds that caught my eye this week. If you love embellishment, sequins, and sparkle too, then I hope some of these elements will end up in your wedding sometime soon! Shopping links, which are noted in italics, use affiliate links.
Tulle and Sequin Wedding Attire Ideas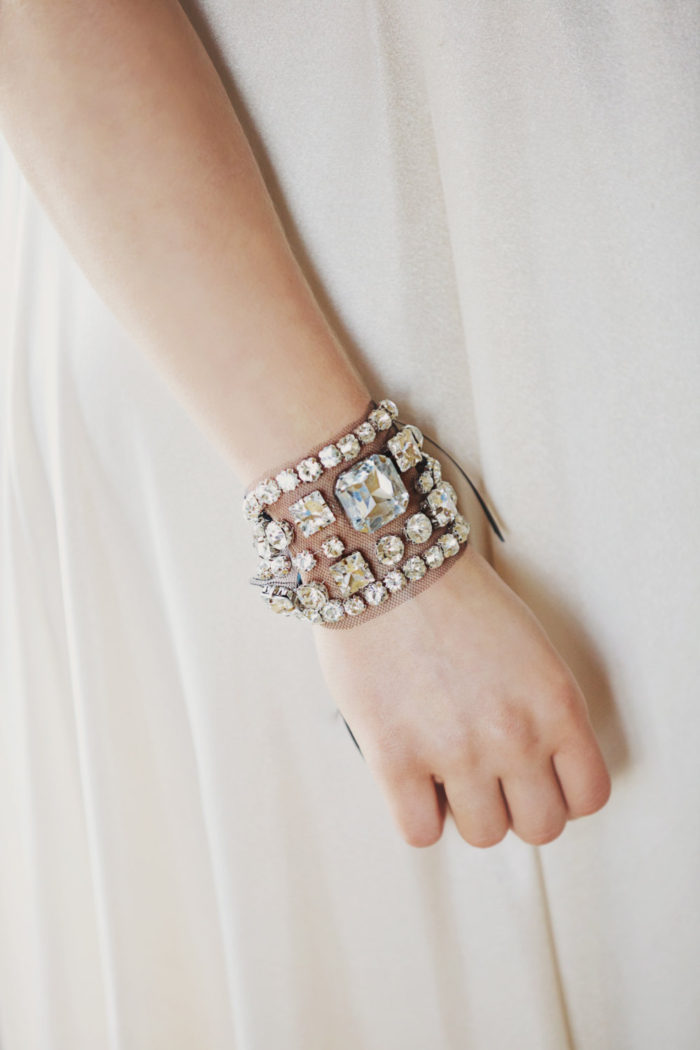 Stunning Bridal Cuff Bracelet with Crystals and Tulle by Gibson Bespoke on Etsy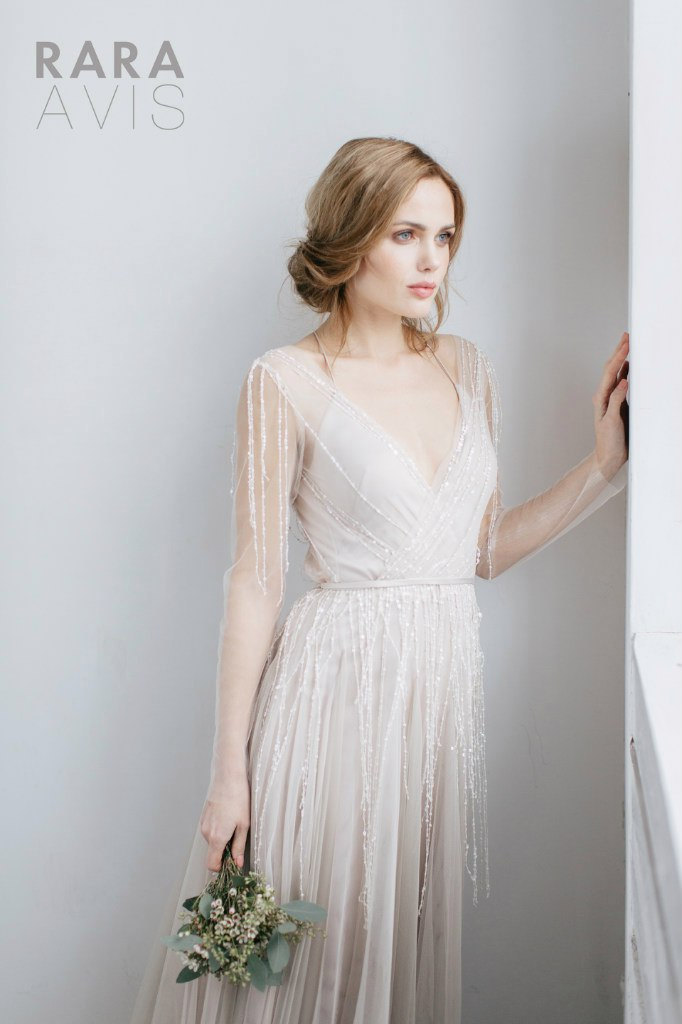 This amazing long sleeve wedding dress with whisper thin sheer sleeves and cascading beads. Designed by Rara Avis available at RaraAvisAngeEtoiles on Etsy
It's no secret that all-over sequin bridesmaid dresses have been hot, hot, hot, but I think the addition of a tulle skirt and a modern halter top like this is a lovely variation. The prettiest I've seen lately are these embellished styles by Maya at ASOS. And did I mention they are all under $150? Please, someone dress your bridesmaids one of these styles! I'm dying to wear one of these dresses myself!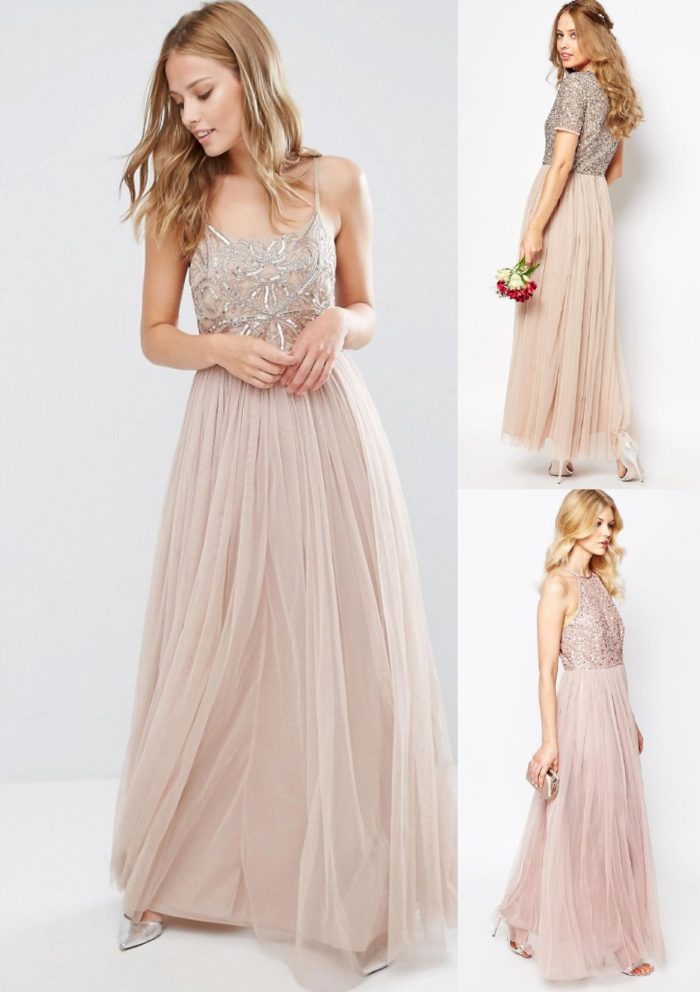 Large image : Maya Cami Strap Maxi Dress with Tulle Skirt and Embellishment | Top Right Dress: Maya V Neck Maxi Tulle Dress with Tonal Delicate Sequins | Lower Right Dress: Maya Petite High Neck Maxi Tulle Dress With Tonal Delicate Sequins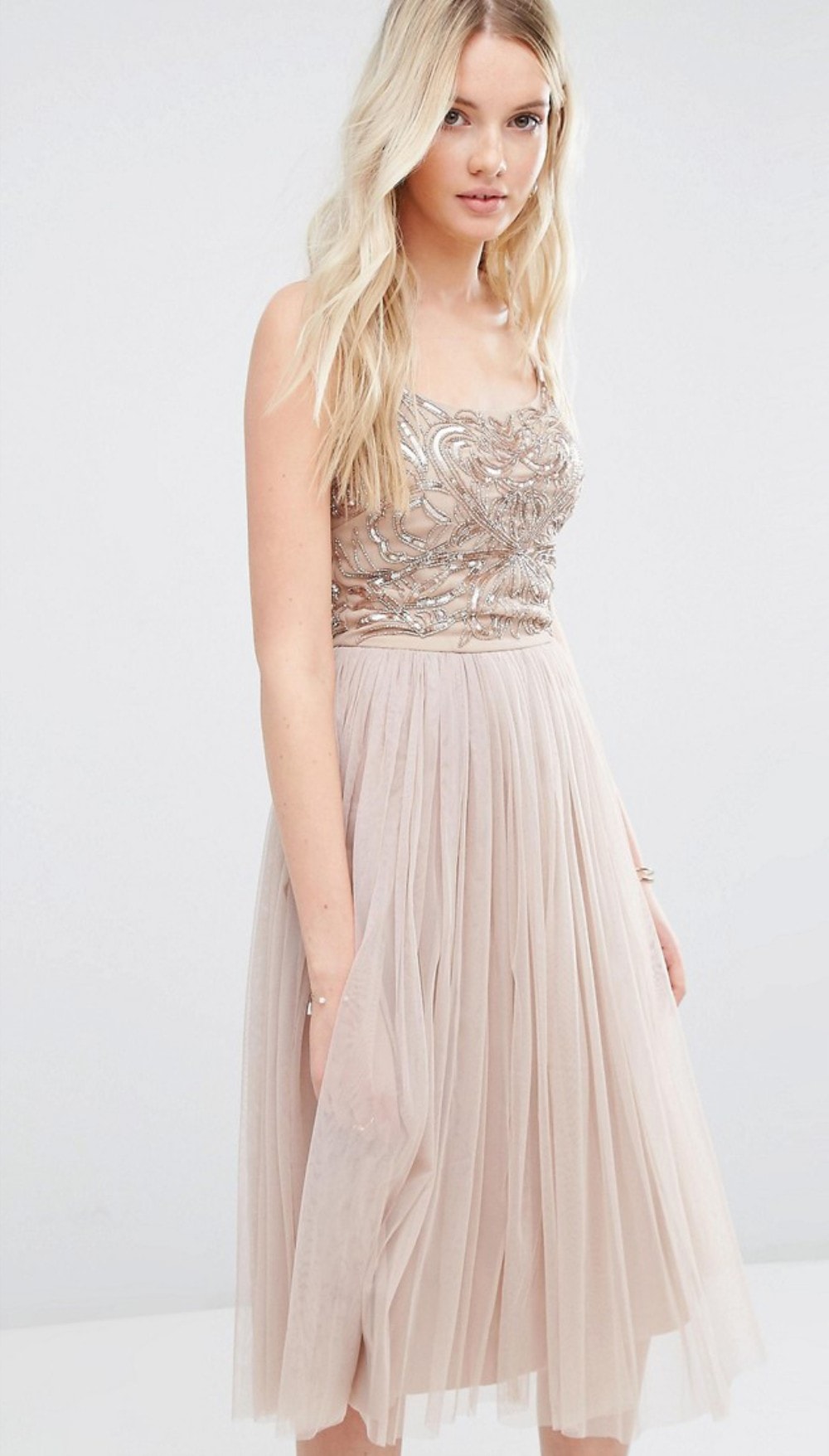 Maya Tall Cami Strap Midi Dress With Tulle Skirt And Embellishment (also in Regular Length)
Speaking of sequins, I'm really, really excited that one of our favorite dresses for mothers and bridesmaids wanting an all-over sequin style (Adrianna Papell's Short Sleeve Sequin Mesh Dress) is now available with 3/4 length sleeves in 3 colors (A taupe/charcoal shade called Lead, and dark blue Navy and pale pink Blush!) Just in time for fall and winter weddings! I know how popular our sleeves are for mother of the bride dresses and how popular sequins are too, so this combo is such a win!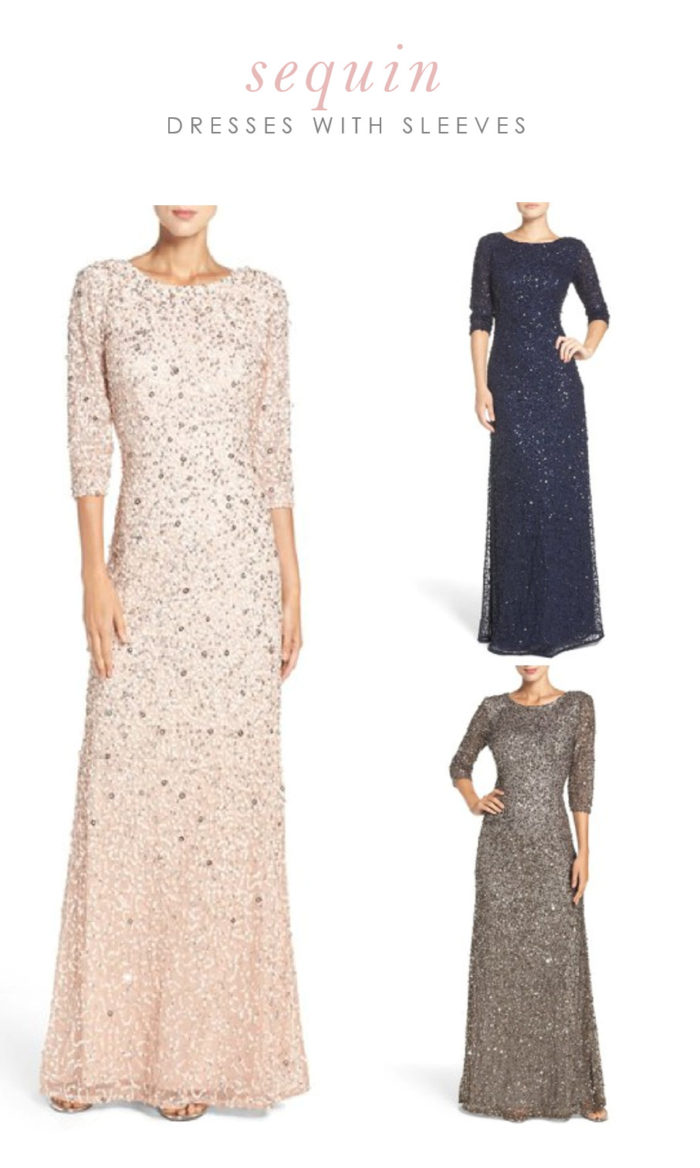 Sequin Mesh Gown with 3/4 Sleeves by Adrianna Papell at Nordstrom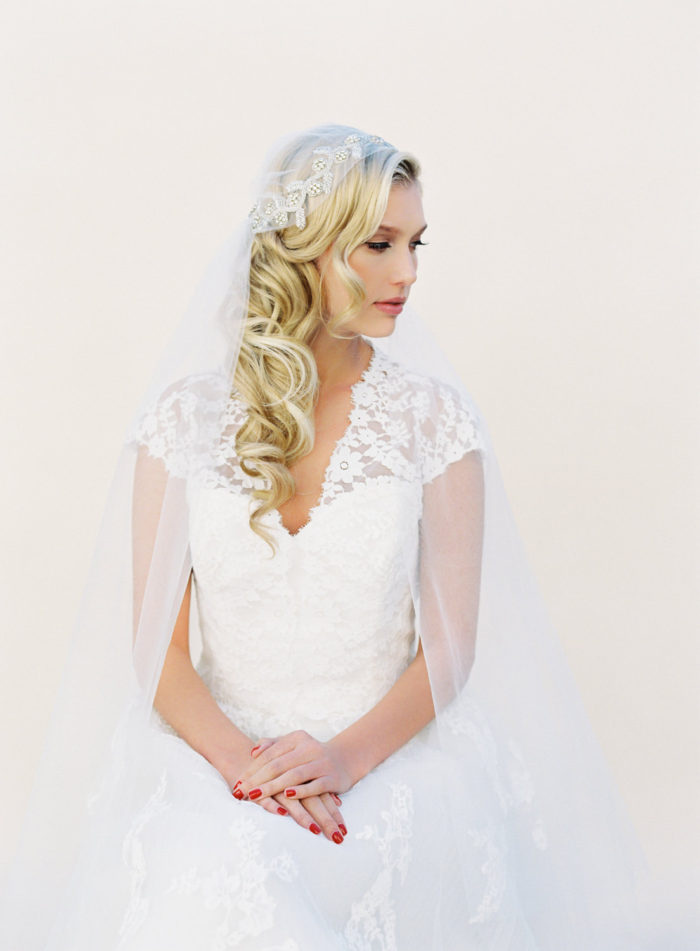 Now, sparkle and tulle really comes together in this beauty of a bridal veil by Veiled Beauty. There are so many amazing bridal accessories and veils in this Etsy Shop, it was hard to pick just one! Photo by Kurt Boomer.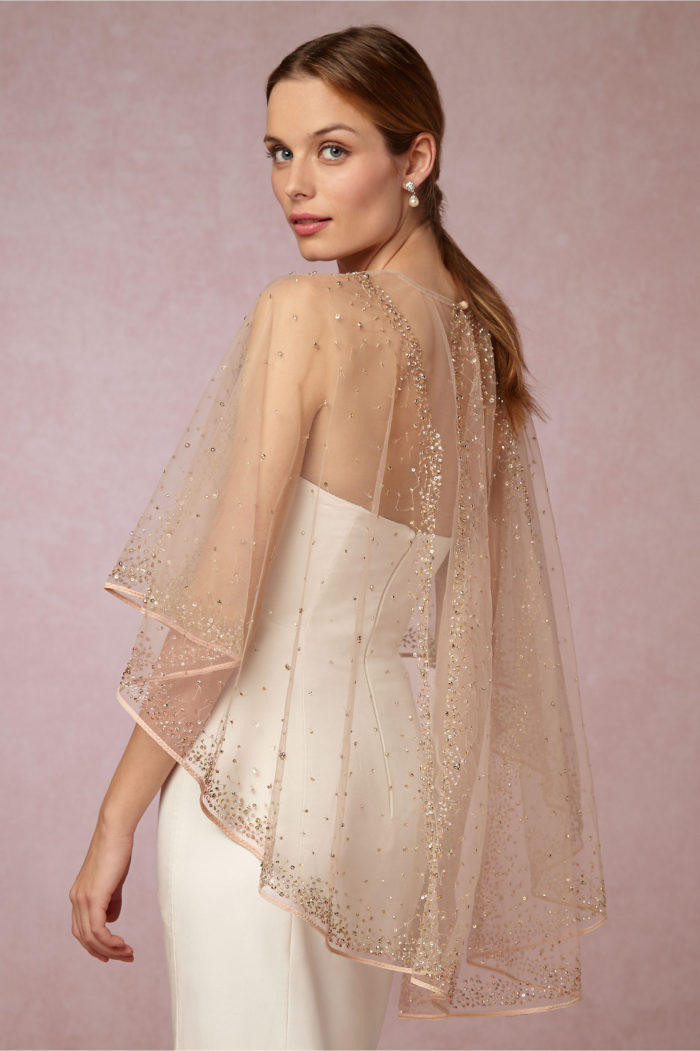 What a pretty way to cover up and give your gown a totally different, or just wear as a cover-up look to-and-from your venue, or leaving the reception! Stunning for a winter bride! The Sonora Caplet from BHLDN.
Last year, I also really got charmed with shoulder necklaces, and that infatuation hasn't subsided. It is such a great way to add interest to a strapless gown in a delicate and unforgettable way!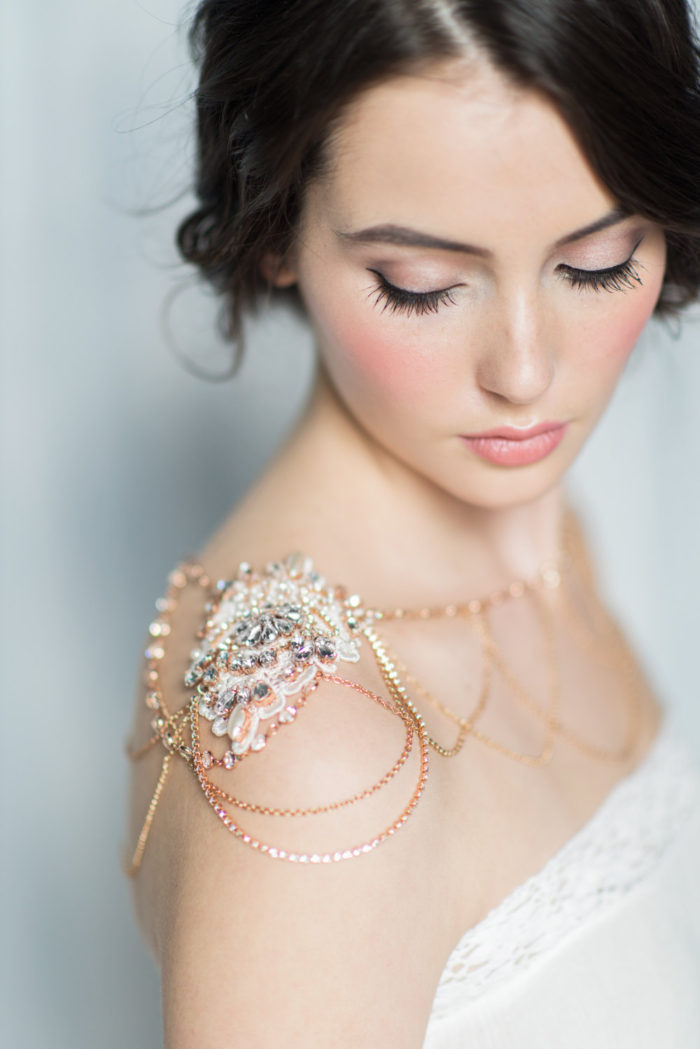 This piece by BlairNadeauMillinery is a exquisite example of how lovely a shoulder necklace can be! What a lovely bit of sparkle and fringe! Brienne Rose gold Shoulder Necklace by BlairNadeauMillinery Photos by Whitney Heard Photography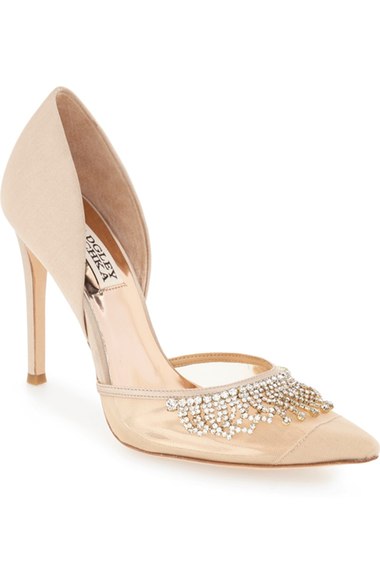 'Genna' D'Orsay Pumps by Badgley Mischka available at Nordstrom
Speaking of fringe, I love the crystal fringe on the Badgely Mischka shoes. Badgley Mischka wedding shoes always draw me in with their innovative designs which are at once elegant and simply stunning in their detail! This little nude mesh pair with crystal fringe is unlike any pair I've ever seen!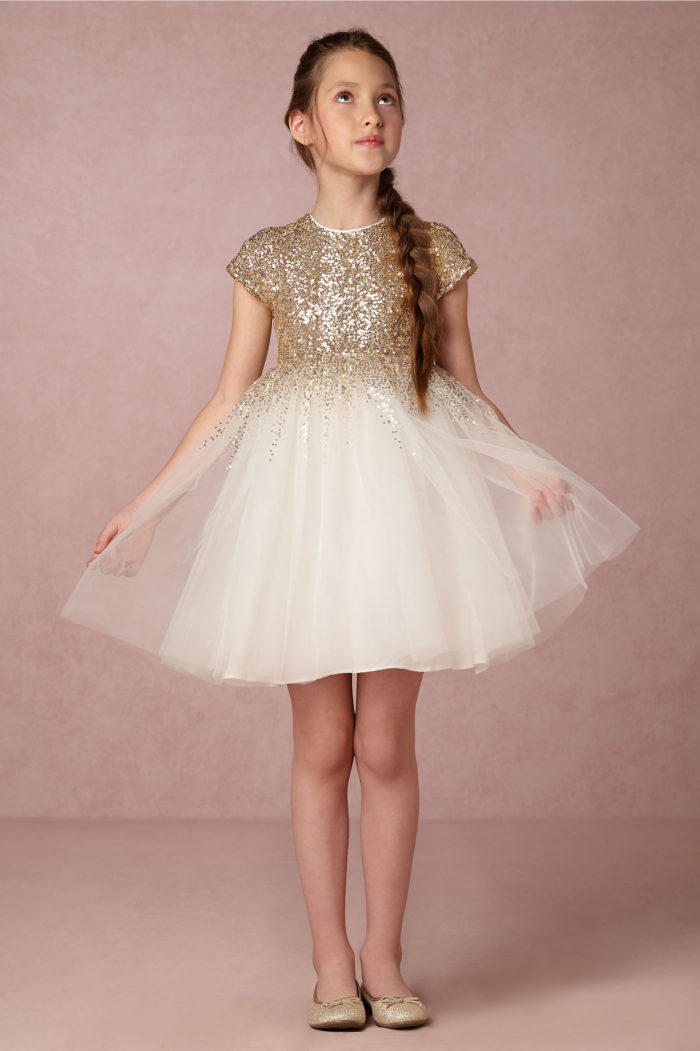 Grown-up sparkle and tulle is always lovely, but how unbelievably cute is it in this flower girl dress from BHLDN? What a fun dress for a little lady to wear in a wedding! Degas Moon Dress from BHLDN.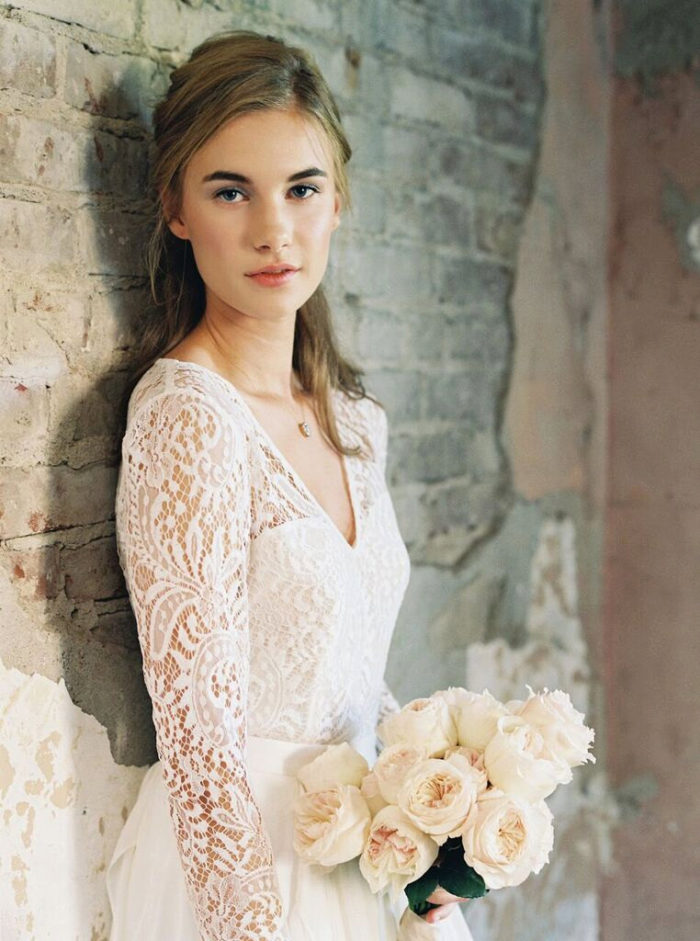 Laguna Top by Lace and Liberty Bridal on Etsy
Lastly, I think we can all agree that bridal separates are having a moment. And why shouldn't they? They are such a practical and fashionable approach to bridal dressing that gives the wearer such control over fit and style. I've just become acquainted with some new styles by Lace and Liberty Bridal, which are bridal separates made to your measurements and I'm such a fan. This pair of their long sleeve lace top paired with a tulle skirt really stood out to me! Here they are together.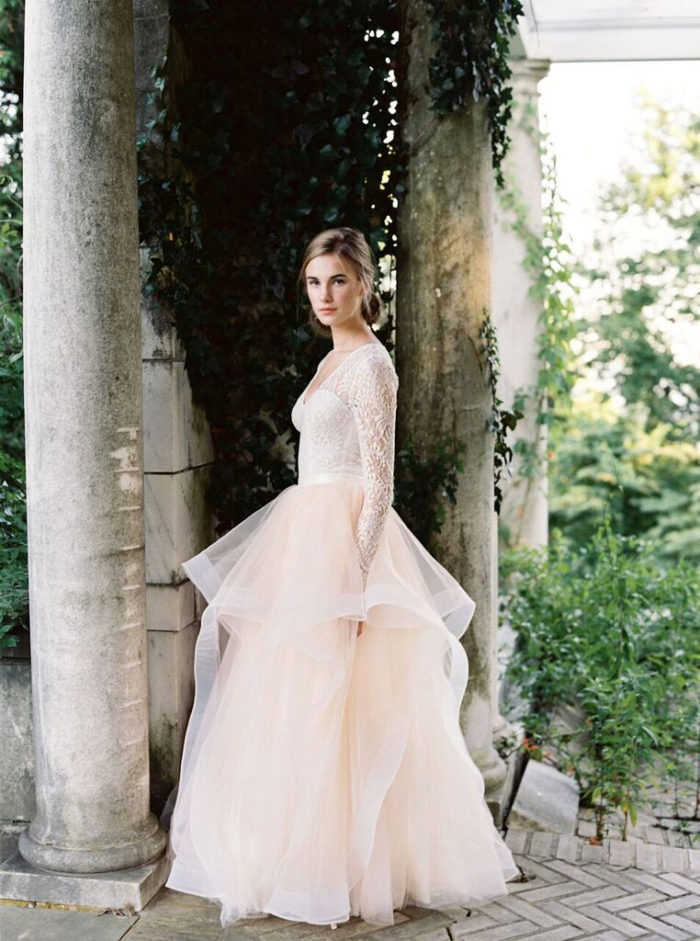 Laguna Top by Lace and Liberty Bridal on Etsy ( I believe this is shown paired with the Celebration Skirt, but any of their beautiful bridal skirts seem to work with this top! )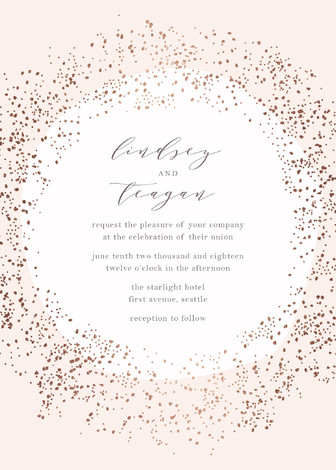 To get this same tulle and sequin style when you kick off your wedding try something like these 'Dreamy' Invitations from Minted. The foil-pressed shimmer will give that glittering effect, while the soft palette makes for a subtle look.
More posts you might find helpful:
Sequin and Beaded Mother of the Bride Dresses
Shopping sources in 'Shop the Look' sections and links in italics denote sponsored affiliate links, which mean we may earn a small commission on qualified sales to support this blog.