Informal fall weddings give guests a chance to dress up in a more relaxed autumnal way. You'll want to strike a balance between being festively dressed for the wedding and wearing fall-weight fabrics and colors that will keep you both comfortable and chic. We've selected some of our favorite casual fall wedding guest dresses to help you get the perfect look.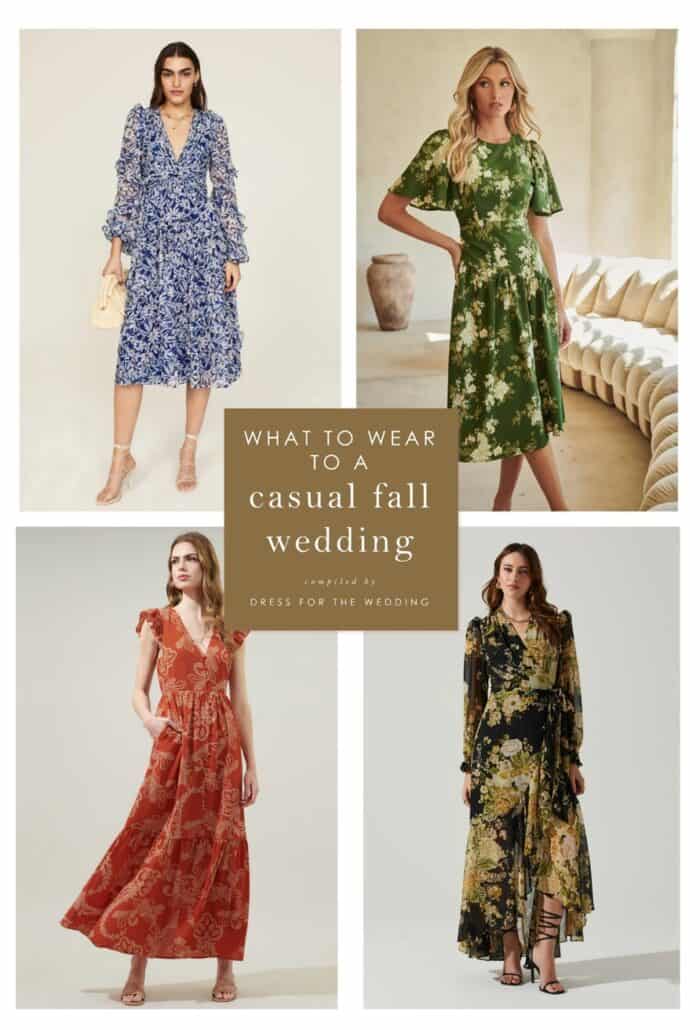 Image and shopping sources: 1. Blue Floral Midi Dress Rent the Runway 2. Vetiver Floral Midi Dress Sugarlips 3. Ginger Paisley Evianna Button Maxi Dress from Sugarlips 4. Kamilla Long Sleeve Floral Wrap Dress from Astr the Label
What to Wear to a Casual Fall Wedding
Dressing for a casual fall wedding requires a bit of balance between dressing up and keeping it low-key. For a very informal event, you'll most likely want to select a day dress or skirt with a top, pants, or jumpsuit. You're usually safe sticking to a style of dress that you'd wear for a date night, a night out, or a celebratory event but also a bit of seasonal style that reflects the festivity of a fall wedding.
You'll want to keep the venue, weather, comfort, and your own personal style in mind. We love floral prints in autumnal tones, jewel-tone dresses, and dresses with longer sleeves for this style of dressing. Remember, even though the dress code is casual, it's still a wedding, and always better to be a little overdressed than to show up too casually. Below are our picks for the best casual wedding guest dresses for fall weddings along with tips and guidelines for deciding what to wear to an informal fall wedding.
Affiliate links are used on this page.
Our Favorite Casual Fall Wedding Guest Dresses
If you're looking ahead to a casual wedding, informal outdoor wedding, or daytime wedding in September, October, or November here are some casual fall dresses we've picked just for those events.

What Not to Wear to a Casual Fall Wedding (And What to Wear Instead!)
The don'ts of dressing in this case are simple. In addition the the usual rules of not wearing white or ivory, and not wearing anything too racy, or too casual like jeans, you'll want to avoid dressing too formally at a casual wedding.
The tuxedos and full-length gowns can stay at home for this kind of wedding. Instead, you may want to choose a knee-length dress, a long-sleeve or 3/4-sleeve dress, a maxi dress in a fall style, or a pretty midi-style dress. Jumpsuits and elevated dressed-up skirts or suiting separates work as well.
You'll also want to avoid the summery looks like light fabrics and pastel colors. Instead consider muted shades or mauve, deeper shades of red, rich greens, blues and purples, pewter and gold in addition to the standard neutral timeless shades of blue, and black.
For fabrics, wear something a bit heavier than summer wear. Heavier fabrics like crepe, chiffon, velvet, satin, silk, or jacquard work well for this season.
Types of Casual Fall Wedding Styles and Venues

In the fall season, we see lots of different types of casual venues. Rustic mountain or countryside weddings, winery or brewery weddings, and outdoor celebrations abound in the warmer early fall months. In the later fall, you'll see more indoor ceremonies and potentially more formal attire. Either way, fall weddings with a relaxed atmosphere and casual dress code can be fun to dress for.
What Colors are Best to Wear for an Autumn Wedding?

Wearing warm seasonal fall colors, like burgundy, green, oranges, marigold, and bronzes, or favorites like navy blue or black can be a great choice. We also love floral or printed dresses for fall that incorporate all the best aesthetics of the season. As always, you may want to steer clear of wearing any colors that you know the attendants will be wearing, just to avoid looking like a member of the wedding party.
Dressing for the Fall Weather

Since the weather can be challenging in the fall, consider both your overall warmth as well as your footwear. You may want to bring along a chic wrap cardigan or tailored jacket to wear with your outfit. For footwear, consider the terrain. If you love high heels consider a more comfortable low heel or block heel style if you'll be outdoors. Some casual wedding outfits work wonderfully with dress boots as well. A quick check of the weather the day before the wedding can help you decide on the final details of what you'll wear.
What Should Male Guests Wear to an Informal Autumn Wedding?
For a casual fall wedding, male guests can opt for attire that strikes a balance between formal and relaxed. You'll want to look polished and neat without being overly formal. Since the dress code is informal, a tuxedo or even a very formal suit is discouraged.
Should Men Wear a Suit or Sports Coat to an Informal Wedding?
If you're sure a suit isn't required, then a sport coat or blazer paired with dress pants in a color like taupe, blue, brown, or khaki, that pairs well with your sport coat is a great choice.
Selecting a blazer in dressy wool or textured fabric like tweed, in shades of blue, gray, or brown to reflect the colors of fall is a good idea for an informal fall wedding.
If you opt for a suit, and ties are optional, you can wear the suit without a tie for a more sophisticated take on casual style.
When in doubt of the formality, it's safest to go for the dressiest option of a suit, tie, and dress shirt, since both the tie and jacket can be easily removed if you find you are too dressed up.
Which Shirts and Ties Are Suitable for Casual Weddings?
Underneath the sports coat or blazer, you'll want to wear a collared button-up dress shirt with long sleeves. You can't go wrong with a shirt in classic colors like white, light blue, or a subtle color or lightly checked or striped pattern that is in a color that complements your jacket, coat, or tie. Ask your tailor for suggestions on what combinations look best together.
A tie or bow tie might be optional depending on how formal the wedding is, and what suit or jacket you've selected. If you think you might remove your jacket or you have opted not to wear a blazer or sport coat at all, then you might consider adding a tie or a bowtie, since just a shirt and pants without a tie might be too casual for most weddings.
Wearing a tie with autumnal colors or a pattern that coordinates and ties together with your shirt, blazer, and pants is the best way to go. Always check the dress code since some weddings, like a backyard wedding, might be very informal and call just for a short-sleeve collared shirt.
Men's Accessories
For footwear and other accessories, leather dress shoes or loafers are appropriate choices. Choose shoes in colors like brown or black to coordinate with the color of your pants and belt. Match or at least coordinate your socks to the color of your pants rather than to your shoes. Suspenders are also an option if they fit your personal style. A pocket square that has a related but not matchy-matchy color as your tie is also a nice touch.
Men's Casual Fall Wedding Attire: Shop The Look
We've selected a few shoppable pieces to illustrate casual fall wedding attire.

More Ideas for Outfits to Wear to Casual Fall Weddings
We've written a few style posts over the years to help you to envision what to wear to your next fall wedding. You might also like this burgundy dress for a fall wedding guest which is styled for the afternoon. See this post for more fall wedding ideas in general! You might also want to visit these pages for sustainable wedding guest dresses the latest dressy casual or daytime wedding guest dresses and the best wedding guest dresses for fall weddings.
If your next wedding invite asks for fall formal attire, semi-formal attire, or formal black tie attire, check out the posts in those links, but also plan to check back soon because we'll be adding some new picks for those events.
Past Features
This image was from an older version of this post. The dresses pictured are from several years ago, and are now likely out of stock. The image details are left here just for continuity in case you have reached this page from a pin.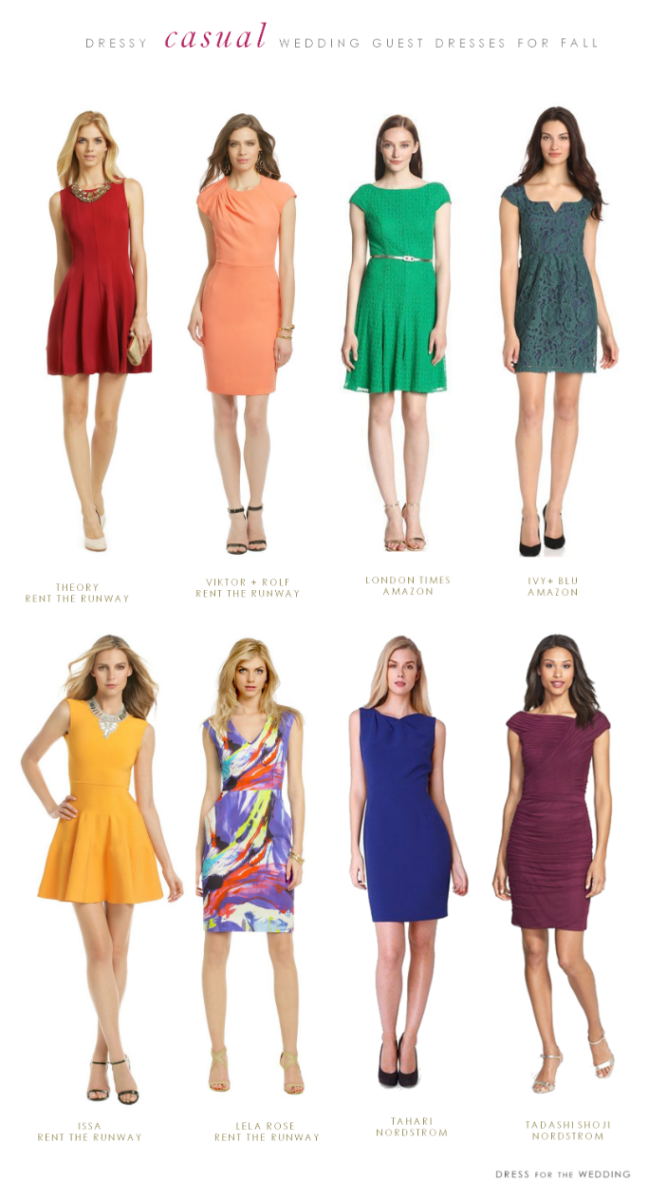 Row 1: Red Dress "Mad Crushing on You"Dress by Theory at Rent the Runway // Orange Dress "Tuck it Away" Dress by Viktor + Rolf at Rent the Runway // Green Lace Cap Sleeve Dress by London Times on Amazon.com // Dark Green Dress by Ivy & Blue on Amazon
Row 2: Marigold Dress: Amber Orange Issa Flippy Dress at Rent the Runway // Colorful Print Dress by Lela Rose at Rent the Runway // Cobalt Blue Pleated Neck Dress by Tahari at Nordstrom //Burgundy Asymmetrical Dress by Tadashi Shoji at Nordstrom
This article was originally published on August 30, 2014, and updated most recently on August 27, 2023