Evening Gowns and Enchanting Gardens
Prepare to be utterly entranced by this glamorous styled shoot by Betsy Hansen of Hundreds of Moments Photography, with evening gowns from Solutions Bridal Designer House, placed against the beautiful backdrop of Harmony Gardens.

Evening Gowns and Enchanting Gardens
Fashion-seeking friends, I have such a treat for you today! You may have noticed that I don't feature many styled shoots here on Dress for the Wedding, but it's certainly not because I lack any love for them! When I saw this amazing shoot by Betsy Hansen of Hundreds of Moments Photography, filled with designer evening gowns set against lushly wooded garden paths, I knew I had to share it.
These exquisite evening gowns are from Solutions Bridal Designer House by Marchesa, Monique Lhuillier, and Theia. These are the designer names and dresses you'll see me mention often for wedding guests, bridesmaids, and mothers. Isn't it wonderful to see them in action and in such a glorious setting?
Of course, I was initially dazzled by the evening gowns and dresses,  and then I saw Rex the Pony! I love any shoot that features stunning gowns like these, and if there is an equine friend in the mix, then I'm even more thrilled! This collaboration by a talented team of Florida-based wedding vendors, reflects exactly the sort of styling inspiration I want to offer my readers. If you think evening gowns are just for ballrooms, this shoot will have you thinking differently!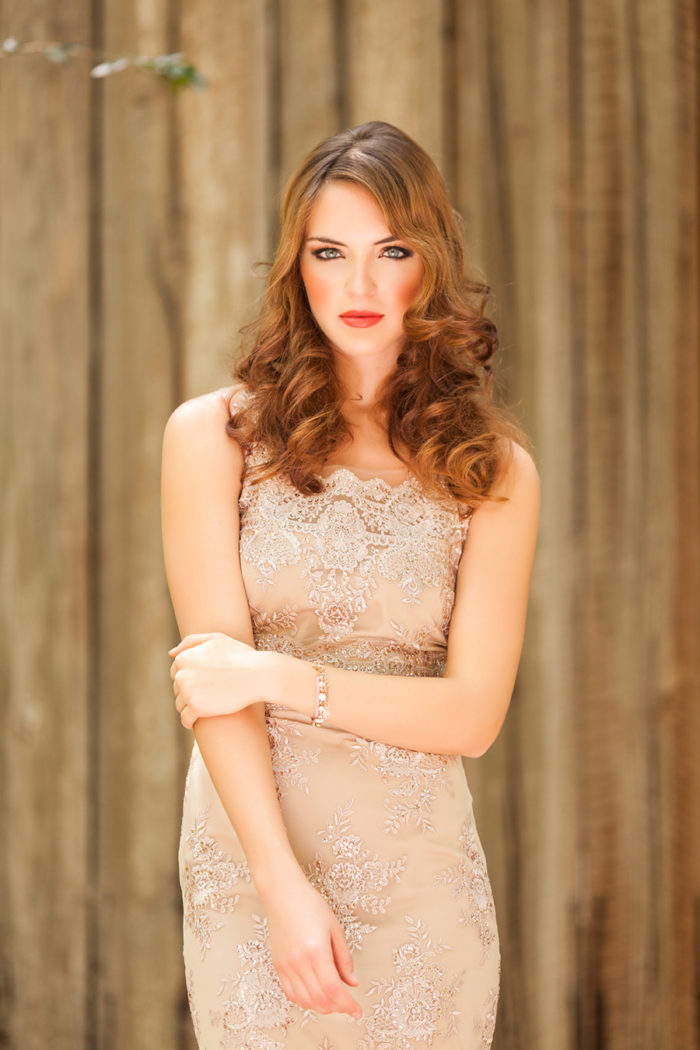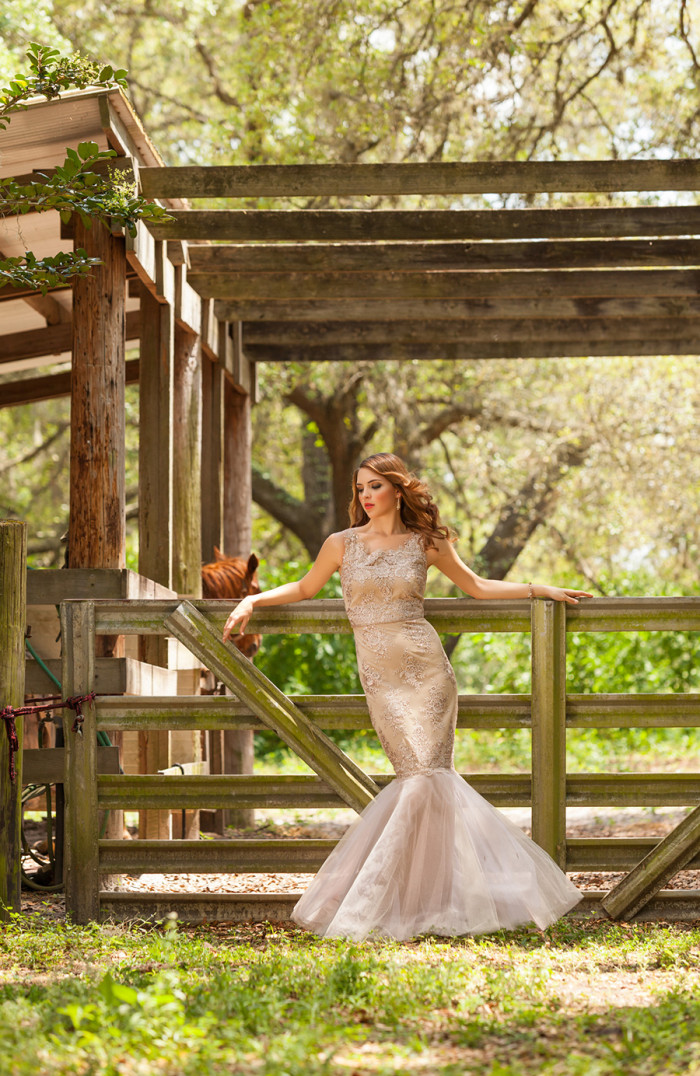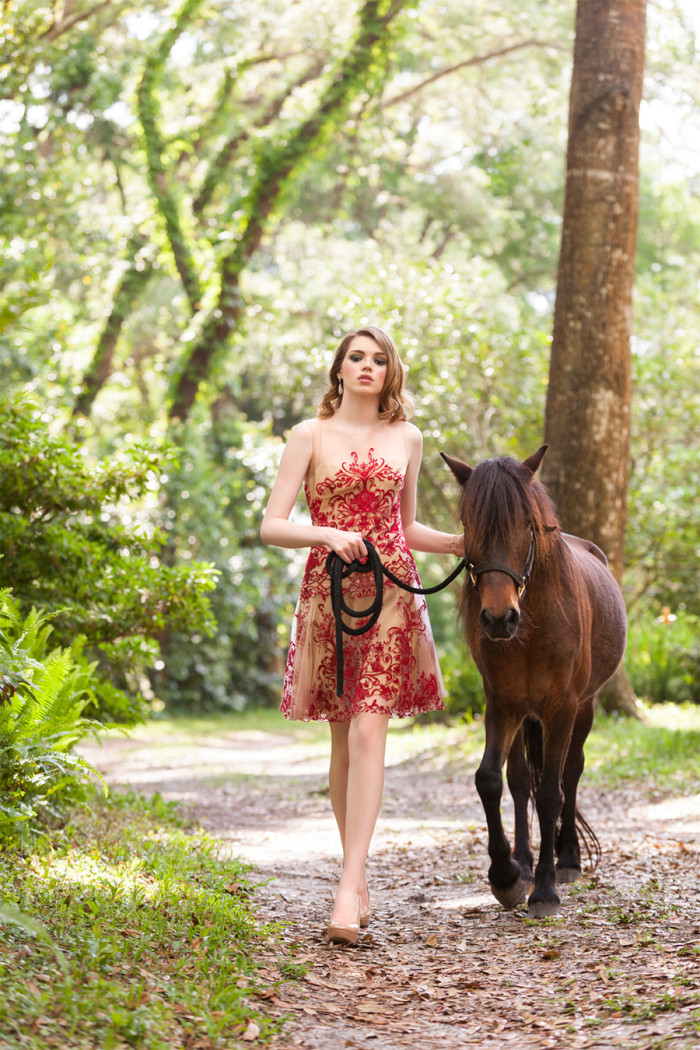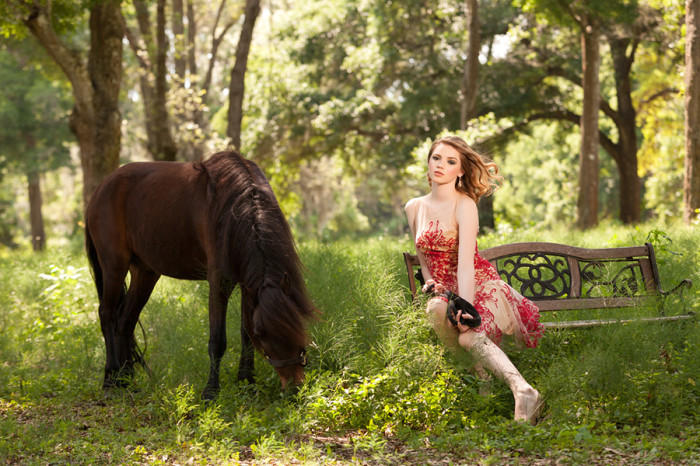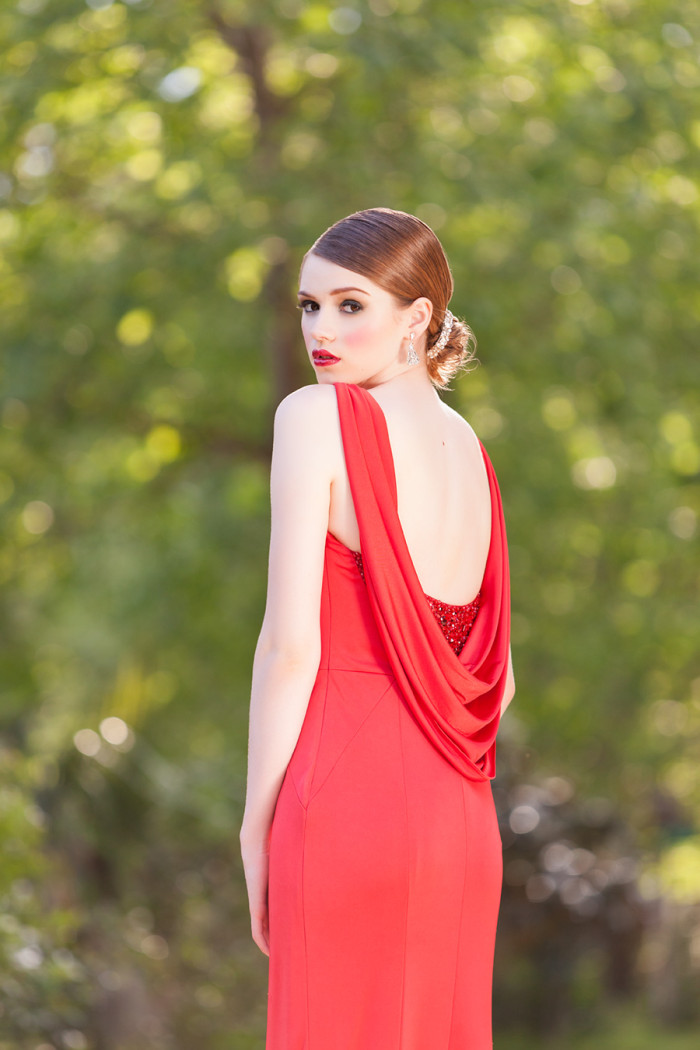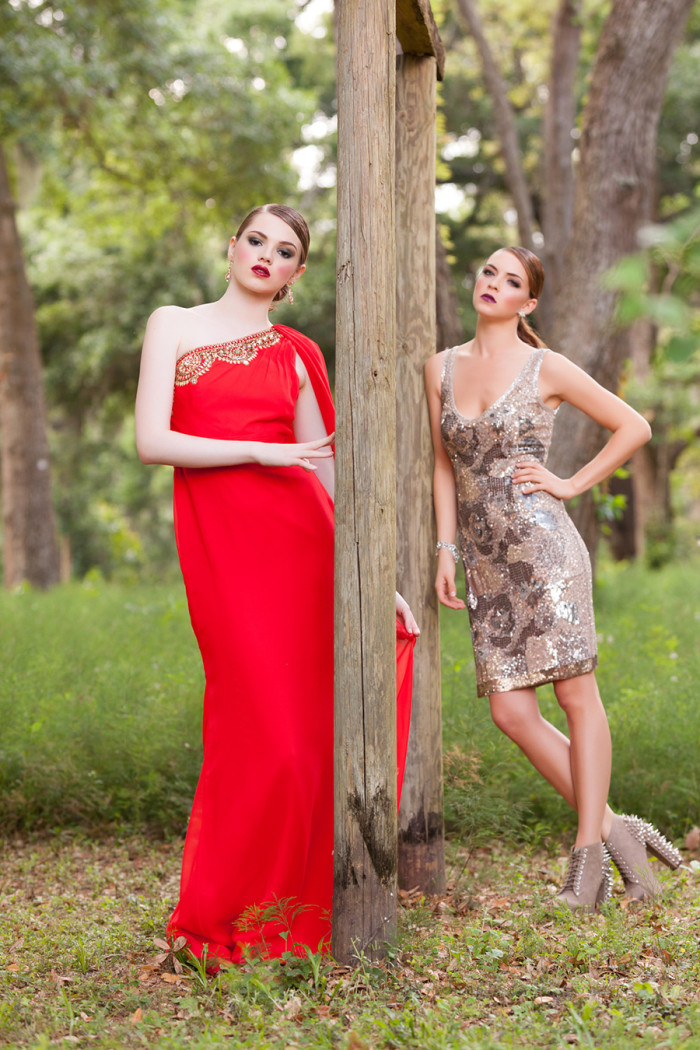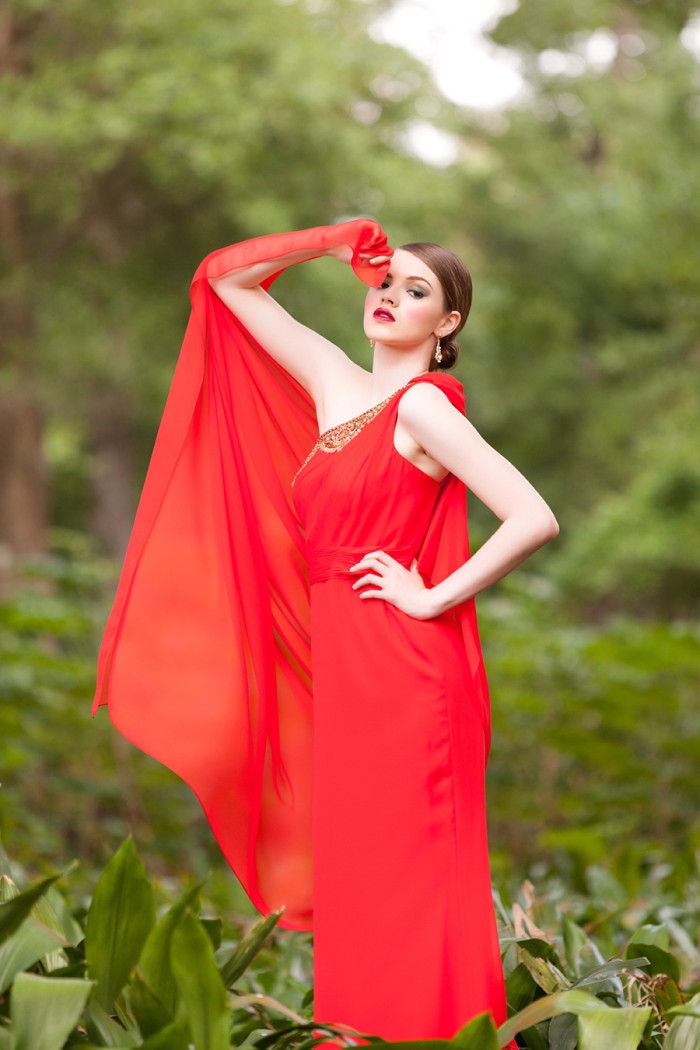 A few words about the inspiration details from the shoot by Betsy Hansen from Hundreds of Moments Photography:
"This beautifully styled and enchanting shoot came together when Solutions Bridal Designer House requested to create something special with this season's evening wear. Their desire to feature evening gowns in a shoot was spurred from their always shooting bridal gowns. They wanted to create something amazing, and I was up for the challenge!"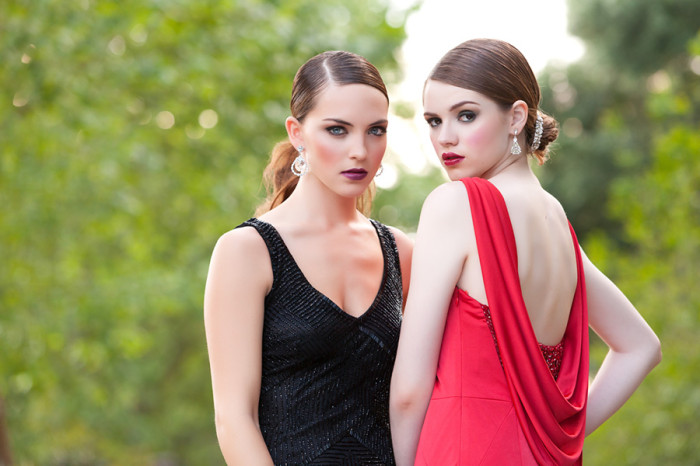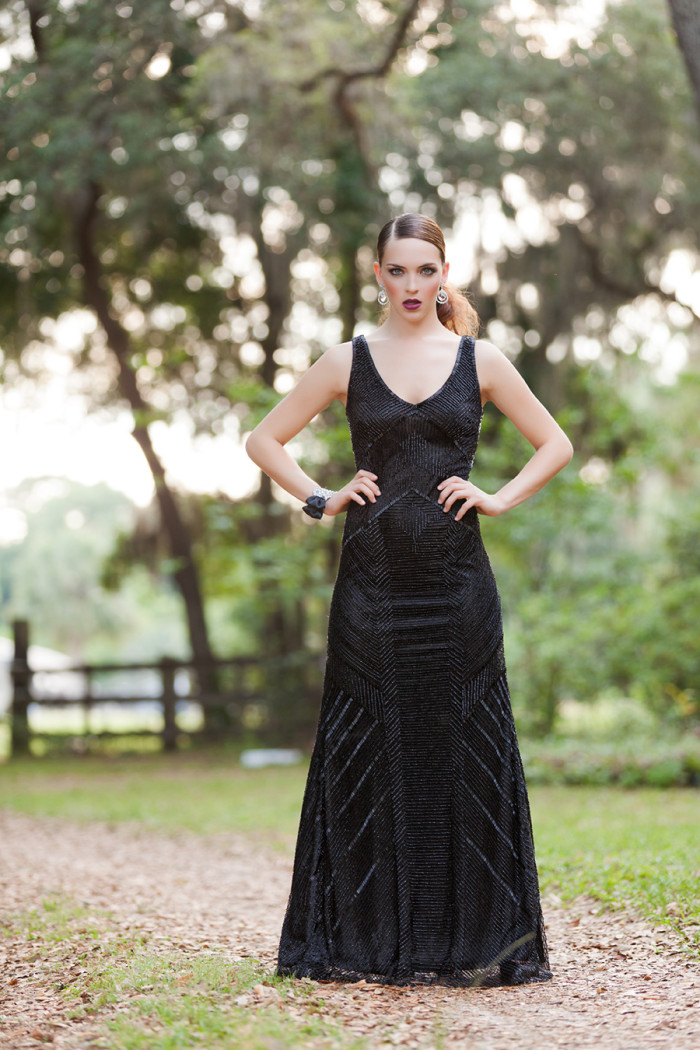 More from Betsy: "Solutions Bridal Evening Wear Specialist, Stephanie Nicholl, hand-selected the dresses from their collection. She sent images of the gowns to me prior to the shoot, and I knew they would be perfect! The bright reds and purples were just perfect to stand out against the green foliage in the gardens."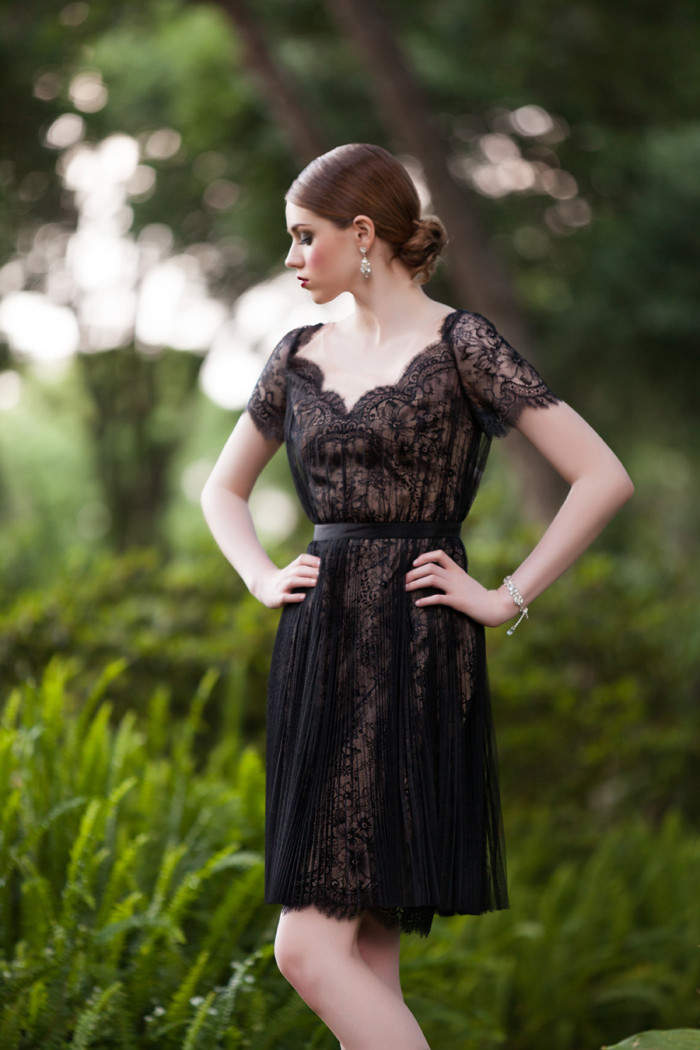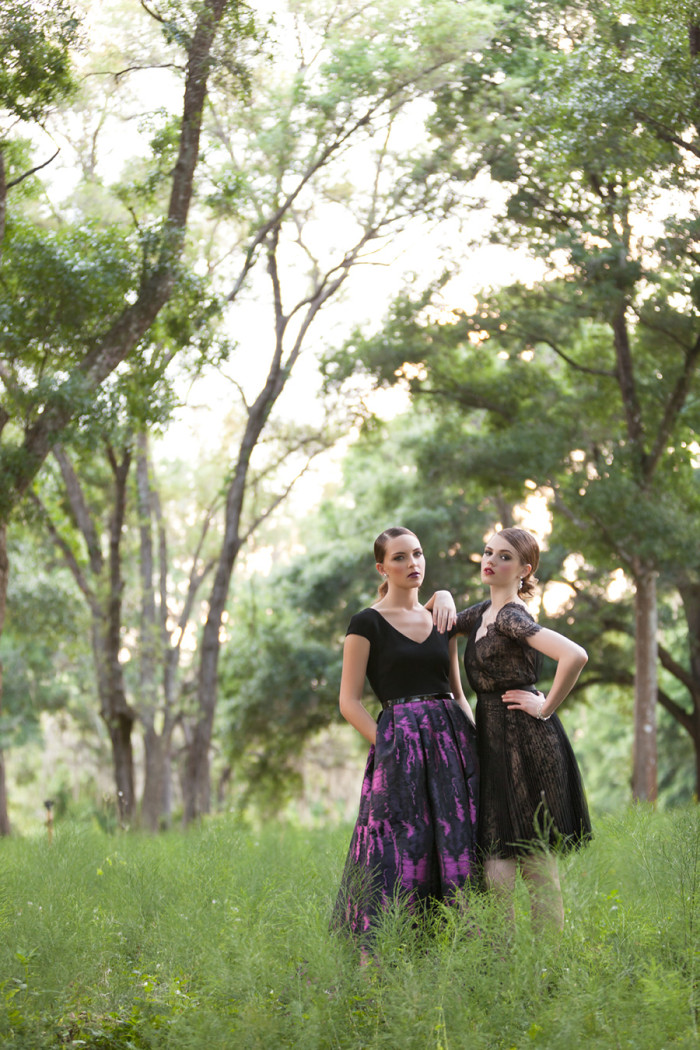 More of Betsy's behind-the-scenes details: "Harmony Gardens is a location in the small, Central Florida town of DeLeon Springs, Florida that I have previously photographed. I knew that the quiet garden was capable of giving us the type of mystical images I was hoping for, so I contacted the always bright and bubbly, Leah King, owner of the property. She was happy to accommodate our team and even helped us get a few shots in with her adorable pony, Rex!
Simone Rosas, owner of Makeover Station, is a hair and makeup professional that I have worked with for 8+ years. She is the most talented stylist I know who can beautifully craft bridal hair plus apply an amazing face of soft and elegant makeup. I was so excited to have her on this shoot.
BMG Models is an agency that I work with often. They are always up for providing stunning models for styled shoots. Lauren Ensley, a newbie to BMG, and Mariah Vos were our two beautiful girls who wore the designer gowns.
I can't stop looking at these amazing images, and I am proud to have produced them. My heart and soul was put into each shot. I even ended up lying on the ground, sitting in brush and tromping through some woods for a few shots."
From the glamorous results, I'd say Betsy's efforts were well worth it!
I hope you've loved one of Dress for the Wedding's first forays into sharing styled shoots.I think you'll agree, we have started things off with style!
---
Photography: Betsy Hansen with Hundreds of Moments Photography LLC  // Evening gowns provided by  Solutions Bridal Designer House   styled by Stephanie Nicoll (Details: Champagne lace gown, neutral and red embroidered dress, red one shoulder evening gown, and black lace cocktail dress are all by Notte by Marchesa;  Gold sequined cocktail dress, black sequin gown, and black and purple ballgown all by Theia Couture) Red draped back dress: ML by Monique Lhuillier  // Talent: BMG Models Lauren Ensley and Mariah Vos // Hair and Makeup: Simone Rosas with Makeover Station // Location: Harmony Gardens Tropical Wedding Garden, DeLeon Springs, FL // Rex the Pony: In care of Harmony Gardens Tropical Wedding Garden 
More style ideas you might enjoy :