Many brides wish for a special family member to walk them down the aisle. For some shoe-loving brides to be the idea of also being accompanied on that walk by a pair of Jimmy Choos is also part of that dream! Here are a few of my favorite sublime Jimmy Choo creations, with more details about why I think so many brides can't wait to wear Jimmy Choo bridal shoes on their wedding day.
Affiliate commission links are used in this post.
Jimmy Choo Wedding Shoes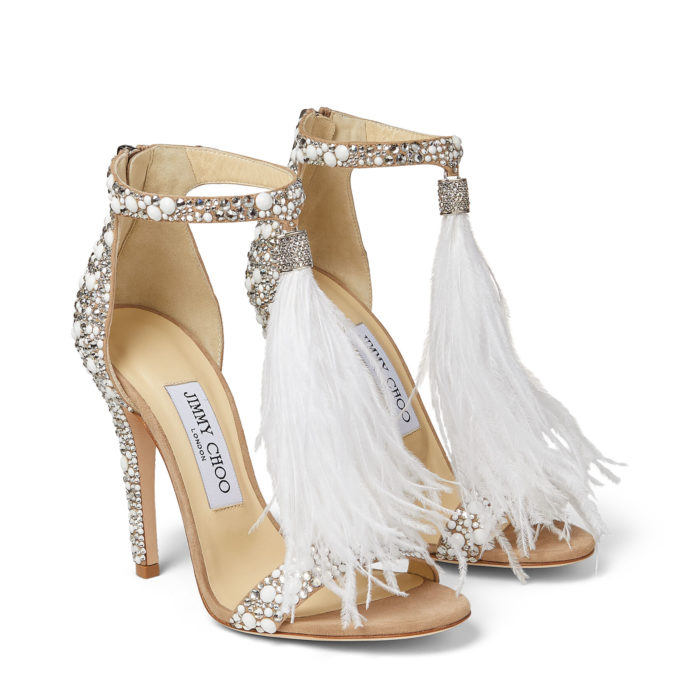 Viola is one of the most striking bridal shoes from Jimmy Choo.
The image of a bride stepping into her Jimmy Choo wedding shoes or having her bridal accessories laid out alongside these iconic shoes is quickly becoming a classic wedding portrait and wedding tradition for many.
Originally published in July 2014, updated May 2020.
Shop Jimmy Choo Heels for Weddings

Favorite Jimmy Choo Wedding Shoes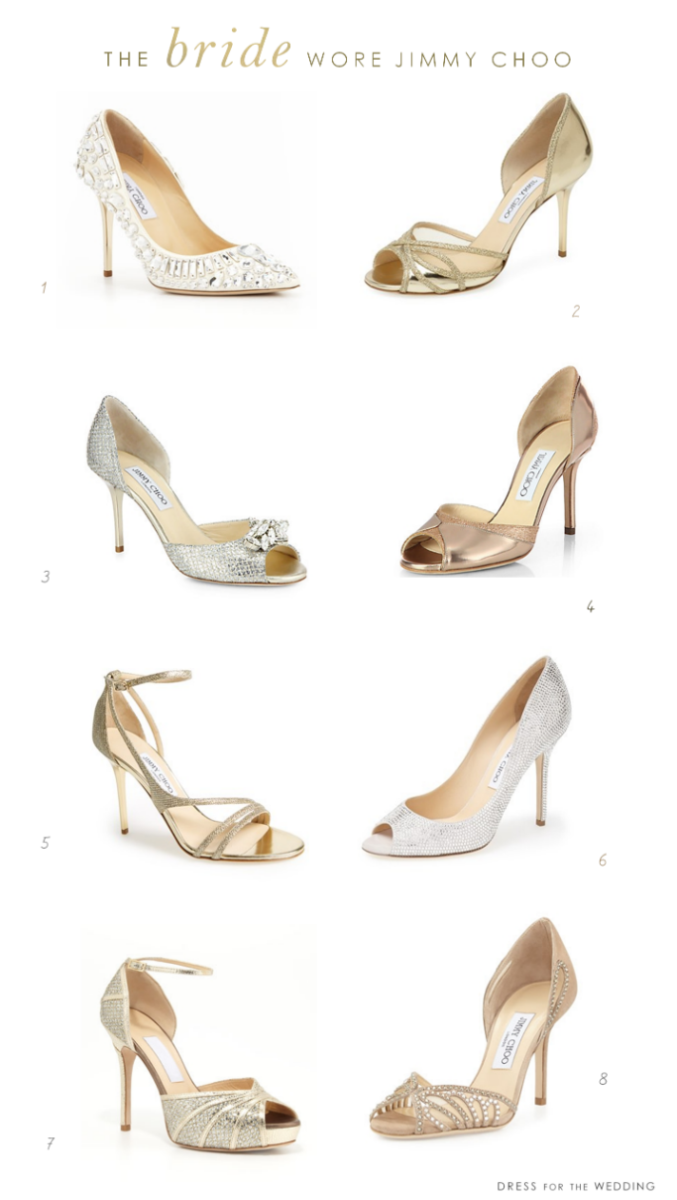 All heels from Jimmy Choo Styles may now be sold out, check the Bridal Boutique on the Jimmy Choo site for the latest selections.1. "Trina" Pointy Toe Pump in Jewel White 2. "Mulan" Glitter Trim Open d'Orsay Sandals 3. "Maria" d'Orsay Glitter Jeweled Pumps 4. "Define" Mirror Leather d'Orsay Pumps 5. "Valdez" Sandal 6. "Taliah" Jeweled Crystal Pump 7. "Kafta" Open Toe Platform Sandal 8. "Kamba" Suede Sandals
Jimmy Choo Bridal Shoes
With this amazing array, it's clear why Jimmy Choo shoes are a top pick for brides who want to wear designer wedding shoes on their big day. While it is a trend, it is also a classic choice, just like wearing a dab of Chanel No. 5, or a string of pearls. These shoes will never go out of style, and many can be easily worn again, or even preserved as a special memory of the day.
Even a beach bride can pick up a pair of Jimmy Choo flat sandals, or a pair of wedges; there truly is a shoe style for every type of bride.
The Perfect Designer Bridal Shoes
Why the obsession with Jimmy Choo? Well, the style really speaks for itself. These are high-quality shoes that push the envelope and are works of art. Hailey Beiber wore them, and I think many of the avid watchers of Sex and the City grew up with the dream of Jimmy Choo shoes right along with the fairytale of Carrie and Mr. Big. And when the sequel came out, it solidified the connection between weddings and Carrie and her fabulous fashions! I have to admit, looking at the sleek lines, sophisticated and sexy elements of these Jimmy Choo shoes, has made me wish I had splurged on a pair! Your spouse, family, and friends really make your wedding day, but getting something special for your wedding shoe will just add to the fun special memories. Which Choo will you Choose? #IDOINCHOO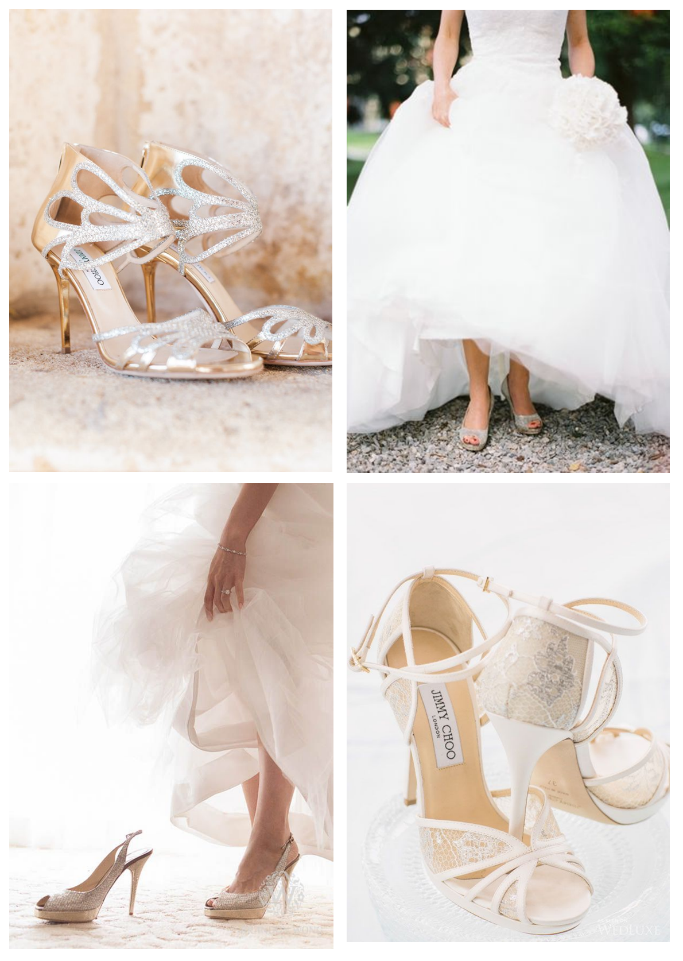 Affiliate links are used in this post. Top Right: Golden and Silver Jimmy Choo "Melody" shoes featured on Grey Like Weddings, Photography by Ace and Whim Top Left:Bride in tulle gown with Jimmy Choo "Luna" Shoes peeking out via Peaches and Mint Wedding in Switzerland Photography by Peaches and Mint BottomRight: 3. Bride Stepping into Jimmy Choo "Clue" Shoes on My Hotel Wedding, Photography by Brandon Wong Photography Bottom Left: Jimmy Choo "Fayme" Shoes featured in Wedluxe Frozen Inspired Shoot Photography by Artiese Studios
Shop the shoes: Melody ,Luna ,Clue , Fayme all from Jimmy Choo