Find the Perfect Bridesmaid Dresses at Nordstrom!
This post about the incredible selection of bridesmaid dresses and wedding attire from The Wedding Suite at Nordstrom, has been generously sponsored by Nordstrom.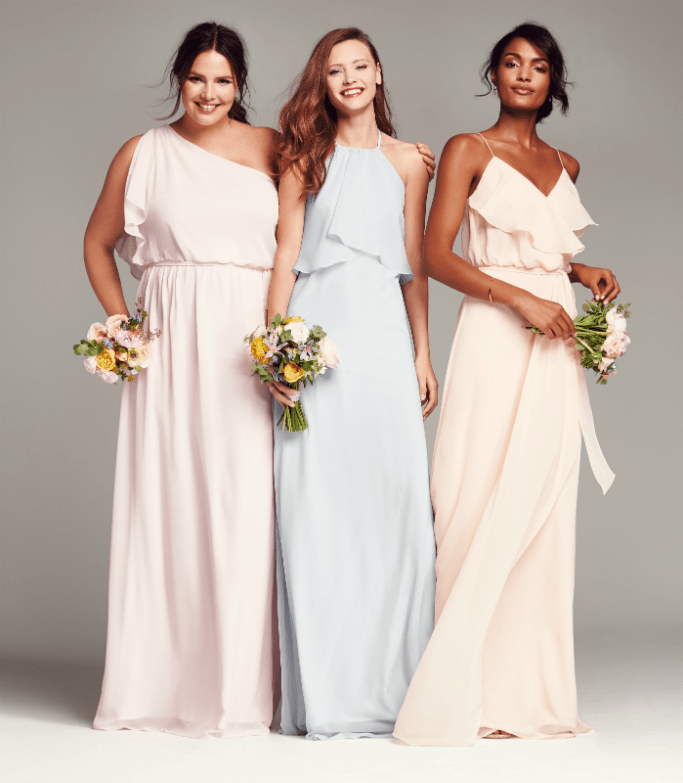 Nordstrom has one of the best selections of bridesmaid dresses anywhere! These lovelies are from the nouvelle AMSALE collection, one of the many designer bridesmaid dress collections available at The Wedding Suite at Nordstrom.
Bridal Party Attire at Nordstrom
If you've spent time looking for wedding attire here on Dress for the Wedding, you'll know that one of the top places I recommend for all things wedding is Nordstrom. Not only is the selection and customer service at Nordstrom unparalleled, but Nordstrom has one of the most expansive selections you'll find anywhere for bridal party attire. If you're searching for the perfect bridesmaid dresses, wedding dresses,  Mother-of-the-Bride dresses, suits for the groom, and accessories for everyone in your bridal party; Nordstrom is the place.
The bridesmaid dress collection at Nordstrom is one of the best there is. All of the top designer bridesmaid dresses are here: Donna Morgan, Amsale, nouvelle AMSALE, ML Monique Lhuillier and Monique Lhuillier Bridesmaids, Dessy, as well as Jenny Yoo and wonderful choices for beaded and sequined dresses from collections like Aidan Mattox and Adrianna Papell!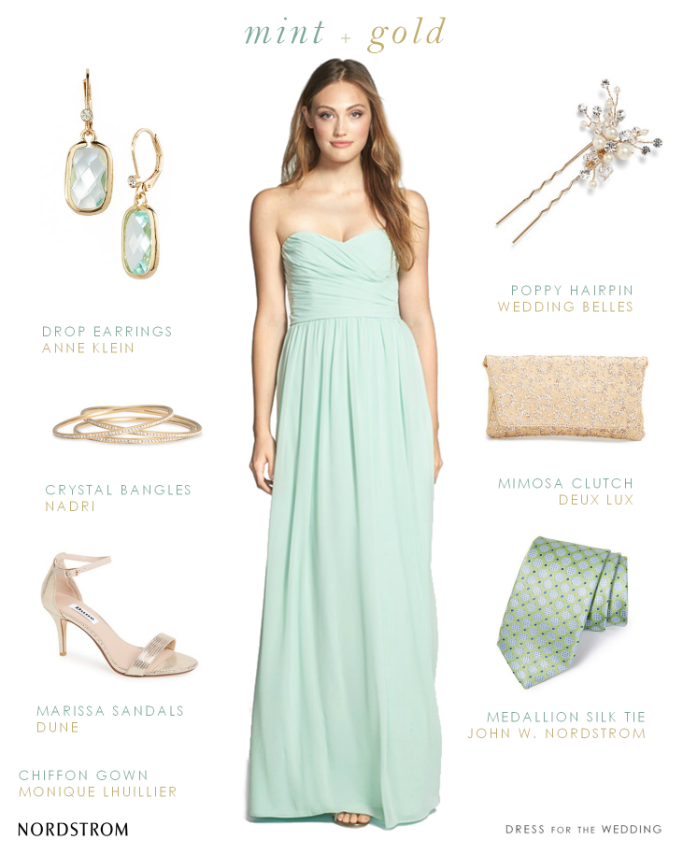 Mint Gown for Bridesmaids.  You can get the entire look from Nordstrom!
Dress: Monique Lhuillier Bridesmaids Strapless Ruched Chiffon Sweetheart Gown in Mint | Earrings: Anne Klein Stone Drops in Blue | Hairpin: Wedding Belles 'Poppy' Hairpin | Clutch: Deux Lux 'Mimosa' Clutch in Rose Gold | Tie: John W. Nordstrom 'Alvarez' Medallion Silk Tie in Green | Sandals: Dune 'Marissa' Ankle Strap Sandal in Gold | Bracelet:  Nadri Crystal Bangle at Nordstrom

Nordstrom carries the exact dresses I get to see and swoon over on the runways of bridal market each year. Now these dresses are available at Nordstrom, with the added benefit of their easy online shopping and multiple locations, as well as the exceptional customer service, free shipping, free returns, and price matching.  Perhaps the best part is this: almost all of Nordstrom's bridesmaid dresses are in stock and ready to ship. There aren't the usual 4-6 month wait times here! This means that you can get bridesmaid dresses quickly if you have a short timeline, or that your bridesmaid in Boston can easily order the same dress as your maid-of-honor in Los Angeles, to try on at home on her own schedule.
Bridesmaid Dresses in Top Colors and Styles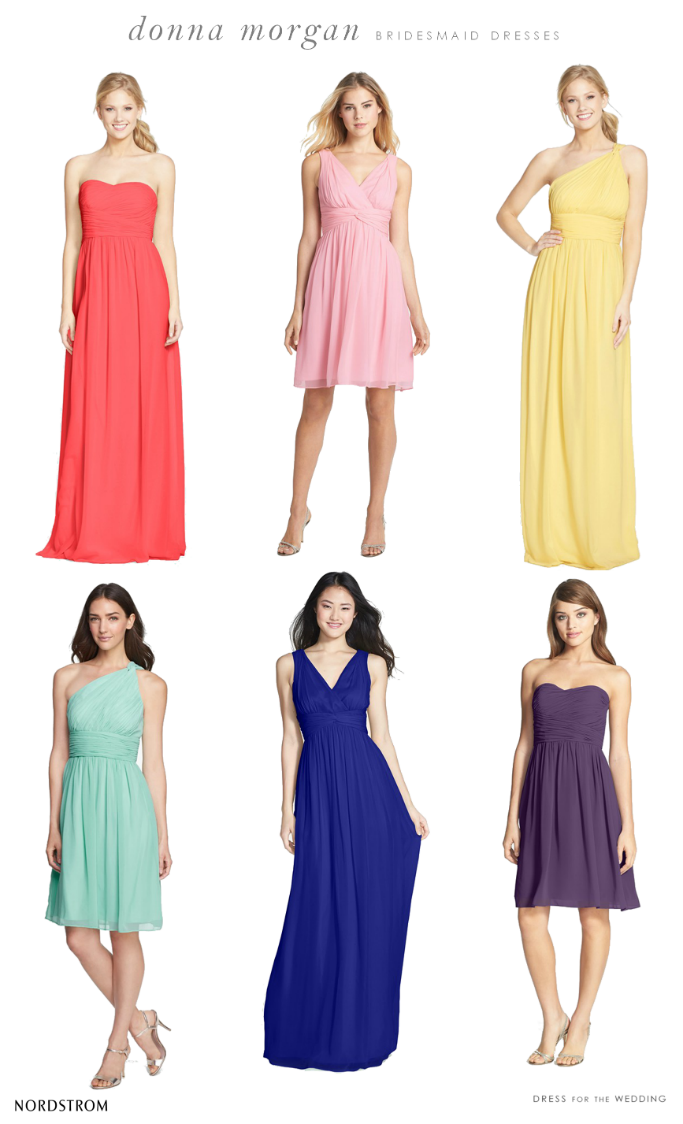 1. Donna Morgan 'Stephanie' in Coral  2.  Donna Morgan 'Jessie' in Blush 3. Donna Morgan 'Rachel' in Lemon 4. Donna Morgan 'Rhea' in Spearmint  5. Donna Morgan' Julie' Twist Waist Dress in Royal 6. Donna Morgan 'Sarah' in Amethyst 

Nordstrom specifically selects collections that make it easy to get the look you want. Lines like Donna Morgan come in over 21 colors and so many silhouettes. This allows you to easily mix and match shades, or to select one color, and let your bridesmaids choose the dress style that works for them! You can also purchase Donna Morgan fabric swatches to make color matching with other wedding elements a breeze!
This stunning selection has made The Wedding Suite one of the most comprehensive wedding boutiques ever complete with expert wedding stylists, available  in-store, by phone, and on-line. The Nordstrom stylists can help you navigate Nordstrom's unbelievable selection for everything you need to a head-to-toe look for everyone in your bridal party.
If you want have the in-store experience or to shop Nordstrom's complete selection of designer wedding dresses,  The Wedding Suites and Bridesmaid Bars have 18 locations in the United States. If you can take a road trip or short flight to one of their locations, I highly recommend making the journey! Tell your friends to plan your engagement or bachelorette party around it! If you can't manage the trip, you can talk one-on-one with a Wedding Stylist by Live Chat or by calling 1.888.300.1295.
Head-to-Toe Wedding Party Style at Nordstrom
Not only can you get your gown there, but everything you need from head-to-toe, from your engagement to honeymoon! Veils, bridal hair accessories, the perfect pair of designer wedding shoes, cute dresses for your bachelorette party and bridal shower and even undergarments!  Your bridesmaids, groom, mother, and flower girls and ring bearers are covered as well!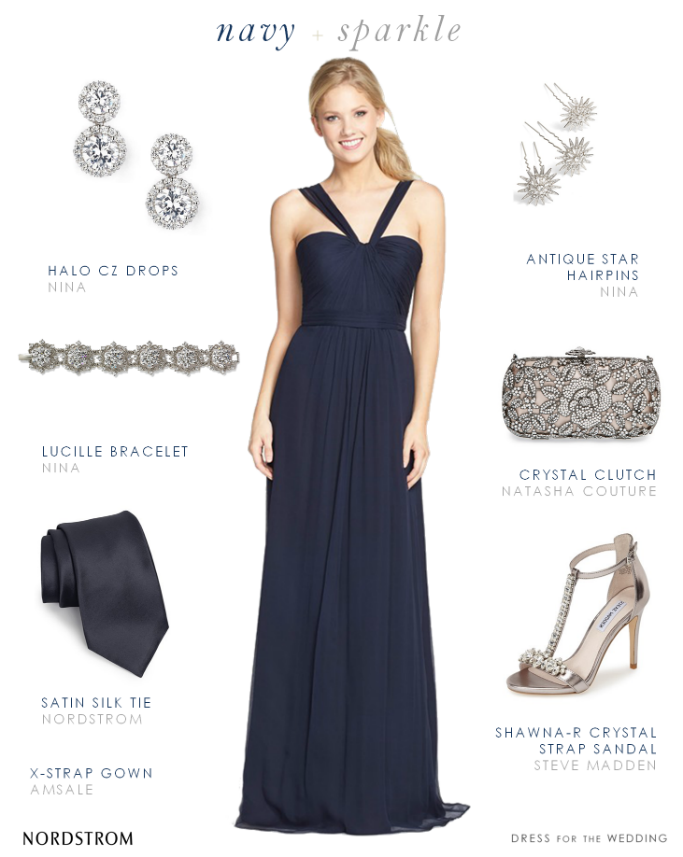 Navy Bridesmaid Style. Get this entire look at Nordstrom
Dress: Amsale X-Strap Silk Chiffon Gown in Navy |  Earrings: Nina 'Halo' Crystal CZ Drops by Nina | Hairpins: Nina 'Antique Star' Hairpins by Nina | Clutch: Natasha Couture Crystal Clutch | Sandals: Steve Madden 'Shawna-R' Crystal T-Strap Sandals | Tie: Nordstrom Solid Satin Silk Tie in Blueberry

Mix and Match Bridesmaid Dresses
Nordstrom also carries the top seasonal trends and colors for bridal parties, which means that mixing and matching between styles and designers is a cinch! If you want to stick with one designer, Nordstrom carries 'sister styles' both within designers and within their color stories, making it easy to mix necklines, or to combine a  Monique Lhuillier lace dress with a pink tulle Amsale dress and add in a sequin dress for the ideal artfully mismatched look.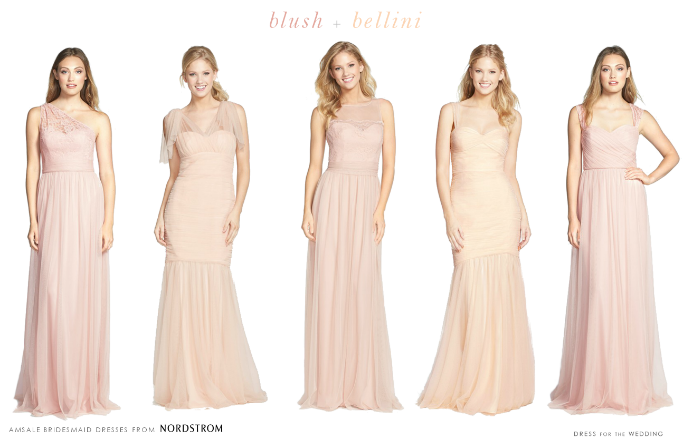 Amsale Bridesmaid Dresses in Blush and Bellini from Nordstrom.
Left to right: 1. Amsale Lace and Tulle One-Shoulder Gown in Blush 2. Amsale Drape Tulle Gown in Bellini 3.  Amsale Lace and Tulle Gown in Blush  4. Amsale Tulle Mermaid Gown in Bellini 5. Amsale Lace Detail Tulle Gown in Blush

Find Your Dream Wedding Attire at Nordstrom!
So whether you're just starting your search for bridesmaid dresses, or looking for a dream wedding dress , I guarantee you will not be disappointed if you leave it all to the experts at Nordstrom! I promise they'll make finding your wedding attire easy!