If you're a lover of Christian Louboutin's heels with their striking red soles,  you probably can't imagine walking down the aisle in any other shoe!
Gorgeous Wedding Shoes by Christian Louboutin!
Shopping sources on this site use affiliate links. That means that this site may earn a commission if you make a purchase from our links.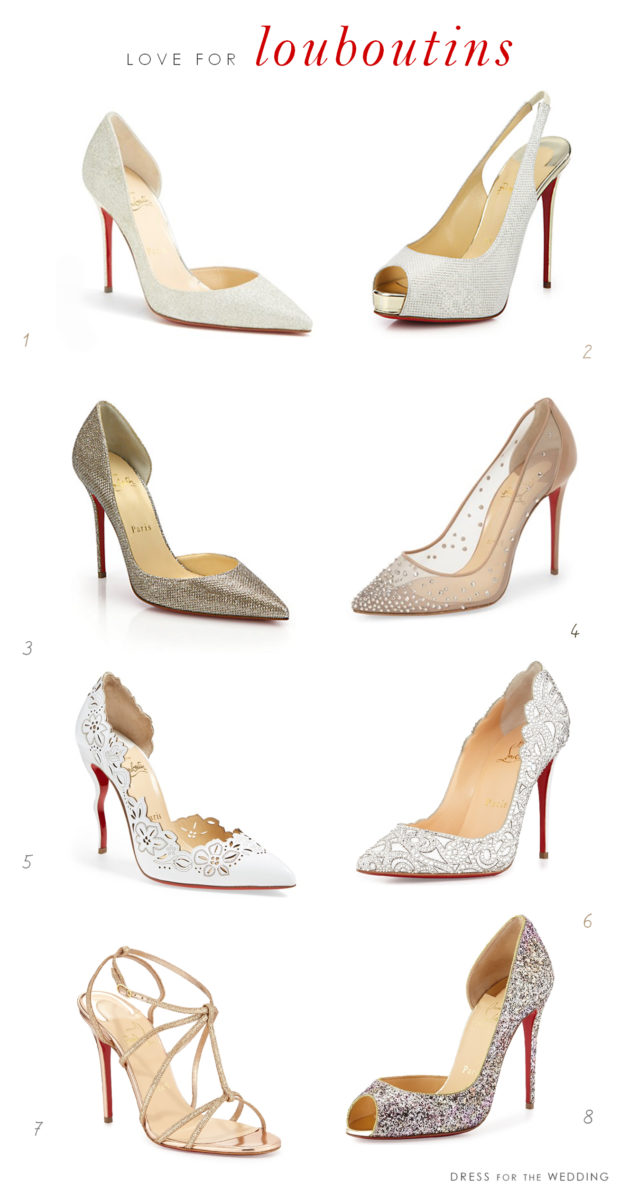 These shopping links are from our affiliated retailers who help to sponsor and support this blog. All shoes designed by Christian Louboutin
1. Ibiza Half D'Orsay Pump from Nordstrom. (Also try the Glitter Blade Heel Pumps from Saks Fifth Avenue) | 2.Private Number Glitter Slingback Pumps from Saks Fifth Avenue | 3. Ibiza Lamé D'Orsay Pumps from Saks Fifth Avenue | 4. 'Follies Strass' Pointy Toe pumps from Nordstrom | 5.'Beloved' Laser Cut Half D'Orsay Pump   |6. 'Top Vague' Scalloped Crystal Pumps from Bergdorf Goodman  | 7. Youpiyou Glittered Red Sole Sandal from Neiman Marcus | 8.Demi You Glittered Red Sole Pump, Rosette Gold at Neiman Marcus
Christian Louboutin Bridal Shoes

Louboutin Wedding Shoes
If you've fallen for statement stilettos,  you'll probably want to wear a pair on your wedding day!  There's plenty to adore about these sexy and daring shoes, with their sparkling finishes and gorgeous proportions. In fact, Christian Louboutin shoes were shown with several collections at the most recent Bridal Fashion week, and it was clear that these designer shoes are the perfect accompaniment to a couture wedding dress.
Christian Louboutin Wedding Shoes
While some specialty bridal shoe styles are available only directly from the Christian Louboutin flagship site and online store, there are also some top luxury retailers who carry theses beautiful styles that make for unforgettable wedding shoes.   Above and below are some of my picks for the most wedding-ready Louboutins.
More posts and styles you might love:
Links to retailers in italics and in the product shop sections are from Dress for the Wedding's affiliate*  partners.