Formal Dresses for Weddings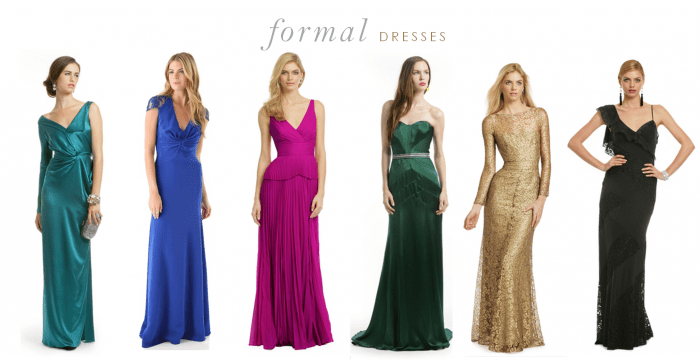 1.Alberta Ferretti Arabian Sea Gown from Rent the Runway/2. Reem Acra DeepV Gown / 3. Temperley London Rose Champagne Pleat Gown Rent The Runway/ 4.Bibhu Mohapatra Luxury Lush Gown Rent The Runway /5.Issa Gold Cassia Gown Rent The Runway / 6.Moschino Spanish Dancer Gown from Rent the Runway
Formal Gowns for Black Tie Weddings
As I was scooting around the site this morning, I realized I have very few formal dress picks — still–after a few weeks of promising more! I'm here to rectify that. With award season upon us, I've created my very own little red carpet of looks.
Happily, at a time when searching for dresses that would be worthy dresses to wear to black or white tie weddings, I have also recently become quite a fan of Rent The Runway's offerings. As some of you know, Rent The Runway is a service that allows you to rent a dress for a special occasion.  I have known about the service for a while, but only just recently realized exactly the exquisite level of fancy dresses one can borrow. In the back of my head when considering the service, I always thought I'd struggle with paying the fee for a gorgeous dress only to have it for just one event,  but — whoa — when you see the true runway level dresses, it's quite something. I would use them in a heartbeat if I had a formal event to got to, and couldn't shell out several hundreds for something white-tie worthy that I could only wear once, anyway. After seeing the less formal offerings, I'm smitten with those, too. They truly do have the best dresses that aren't as easy to come by in stores, and are just the top-of-the-line offerings in terms of style and designers.  (By the way, I'm throwing around so much praise that this is starting to sounding like I'm doing a sponsored post, and while they do participate in the affiliate program I use, but it's not like Rent the Runway contacted me or asked me to say a word of this – I'm truly just that smitten.)
As I mentioned in my post about Cobalt Blue Dresses, I wanted to share with you my favorite Cobalt dress for a formal occasion – it's that Reem Acra Deep V Gown. If you're just as into it, you can rent it from Rent The Runway or buy it at Shopbop.
So, if you've got a white tie, black tie, gala, or –heck– even have an Oscar party to go to, I hope I've helped in some small way. Even if you're staying home these dresses are fun to just look at like a red carpet pre-show, Dress For The Wedding-style.


More style ideas you might enjoy :