A guide to getting ready for 2019 weddings with outfit ideas from our sponsors at Nordstrom.
Sponsored by Nordstrom. Affiliate commission links are also used in this post.

Guide to the 2019 Wedding Season: Attire Ideas for Weddings with Nordstrom
We talk a lot about what to wear to a wedding each wedding season here on Dress for the Wedding, and we seek out a lot of new dresses and attire ideas for the spring and summer season. Hands down, one of the largest selections of fresh looks and wedding-ready styles is at Nordstrom!
Nordstrom has every imaginable component for being a well-dressed guest, with a huge selection of dresses, suits, skirts, jumpsuits, beauty items, and accessories. Nordstrom carries wedding outfits for every age group, gender, and every dress code imaginable. Nordstrom even groups outfits by the main wedding dress codes -- Casual, Cocktail, and Formal -- to make it easy to shop based on the time of day or formality of the event!
Wedding Dress Codes Made Easy with Nordstrom
We thought it would be fun to give you a little visual refresher of wedding-appropriate attire for 2019 using some of our favorite outfit picks from Nordstrom, We've also included one versatile styled look featuring a maxi dress that can be worn to everything from daytime events to formal weddings. Just follow this guide and you'll be ready for a great wedding season!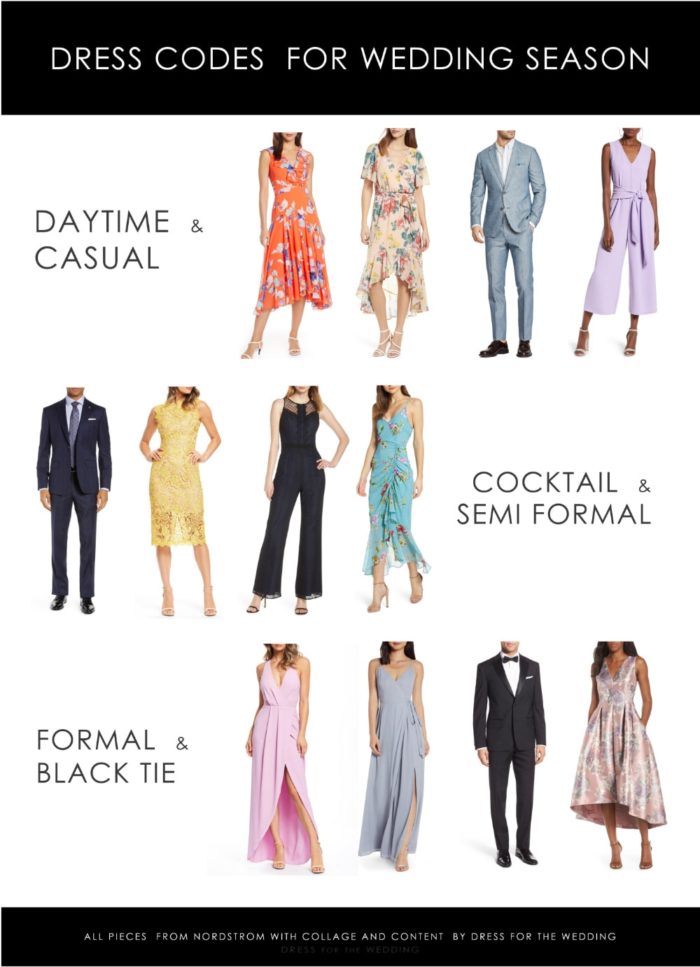 Dressy Casual & Daytime: Orange Floral Dress: Eliza J Floral Print Shark Bite Hem Midi Dress | Peach Floral Dress: Leith Flutter Sleeve High/Low Dress | Light Blue Suit: Bonobos Slim Fit Chambray Blazer and Flat Front Cotton Trousers | Lavender Jumpsuit: ASTR the Label Tie Waist Crop Jumpsuit
Semiformal & Cocktail: Navy Suit: Ted Baker London Jay Trim Fit Plaid Wool Suit | Yellow Lace Dress: Dress the Population Claudette Crochet Lace Sheath Dress | Dressy Jumpsuit: Harlyn Illusion Neck Lace Jumpsuit | Blue floral dress: ASTR the Label Floral Ruched Front Maxi Dress |
Formal & Black Tie: Pink Gown: Dress the Population Ariel Racerback Faux Wrap Evening Dress | Blue Gray Wrap Dress: WAYF The Angelina Slit Wrap Gown | Tuxedo: Nordstrom Men's Shop Trim Fit Wool Tuxedo | High Low Floral Dress: Eliza J Floral Jacquard High/Low Ballgown
Details about the specific dress codes depicted above are available below. Also see the shop section at the bottom of this post for even more dresses and outfit ideas for the 2019 wedding season!
Shop The Look

Dress Codes Decoded
As you can see from the chart above, there are some differences in formality depending on time of day, season, and where and when the wedding is held.
Daytime & Casual
In general, daytime weddings are the most casual. Sundresses, day dresses, skirts, or elegant suits pants, and tops are appropriate attire for women. Men may choose from a suit, blazer. Sometimes -- for the most casual weddings -- no tie or blazer is even required. For daytime wedding suits, choose a fabric in a lighter color and weight. This kind of casual attire is appropriate for outdoor afternoon weddings in casual settings like the beach, a garden, or rustic location.
Semiformal & Cocktail
Semiformal dress is standard attire for most weddings. You can't go too wrong with wearing this sort of look to most weddings, even if you're unsure of the official dress code. A dressy jumpsuit, a well-fitted dress in a semi-formal material, or formal pants and a top, jumpsuit are all wonderful choices for women. Men can wear a darker suit in charcoal, navy, or black with shirt, tie, and dress shoes.
Formal & Black Tie
The rules for black tie and formal dressing are a little more relaxed than they used to be, but it's still a time to bring out your most formal attire. For women, long gowns, maxi dresses, or cocktail dresses in a formal special occasion fabric, dressy jumpsuits and suits are perfect choices. Hair, makeup, and accessories should be festive; it is also the time to bring out dazzling costume jewelry and your most dressed up shoes, clutches, and other special occasion pieces. Black suits or tuxedos with darker ties and white shirts, are the standard for the men.
A Versatile Dress for a Wedding Guest
Here's one way to pull together a look for a female wedding guest that will take you to any wedding - no matter the venue!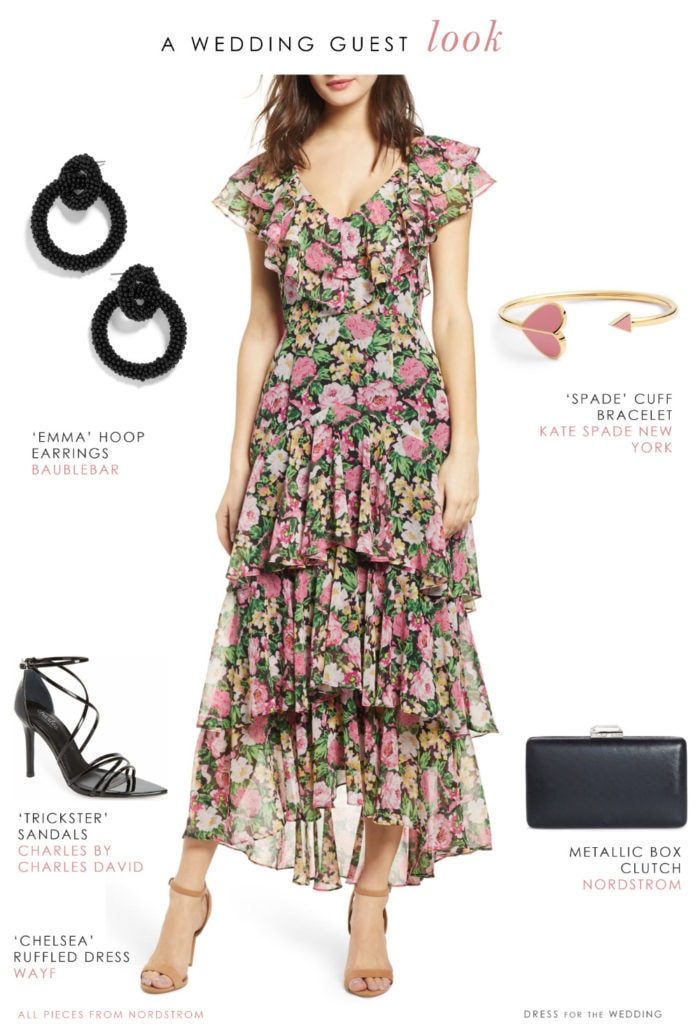 Dress: WAYF Chelsea Tiered Ruffle Maxi Dress | Earrings: BaubleBar Emma Beaded Hoop Earrings | Bracelet: kate spade new york spade cuff bracelet | Clutch: Nordstrom Metallic Box Clutch | Shoes: Charles by Charles David Trickster Strappy Sandal
This dress is an example of a versatile maxi dress that can be worn to all sorts of different weddings. When worn with casual accessories, sandals, and daytime hair and makeup, it's a great look for a rustic wedding, a winery wedding, or any wedding in an outdoor venue.
To make the dress ready for evening semi-formal events, style it as seen above, with some high heels, whimsical but dressy earrings and some informal jewelry.
It can even go to more formal events when worn with more dramatic hair and makeup, and some even more glamorous and sparkling accessories. At under $100, it's a fantastic deal on such wedding wardrobe superstar. We also love other dresses by this same line - WAYF - for weddings!
Shop The Look

Getting Ready For Wedding Season at Nordstrom
Nordstrom has everything you need for getting ready for wedding season! Shop once and you'll see why Nordstrom's service is unparalleled. You'll love all the benefits of their services like free shipping & returns, and their great gifting options!
Nordstrom is also a time-saver; you can reserve items online and try on in store, or employ their in-store stylist services for both special events or everyday looks. If you are not near a store, and still stumped for what to wear, their stylists can send you style boards with looks for all sorts of events. Or, use beauty stylists and shoeshine services to put the finishing polish on your look! It's like having a personal assistant to help you with all of your shopping details.
Here's hoping that with the combination of these service offerings and style ideas, you can relax about what to wear to a wedding and focus on celebrating with your friends this upcoming season! Here are a few more of our favorite dresses, jumpsuits, and suits for wedding guest attire for the 2019 wedding season.
Shop Wedding Attire Ideas from Nordstrom for 2019
Sponsored by Nordstrom. Affiliate commission links are also used in this shopping section