It's Show Time!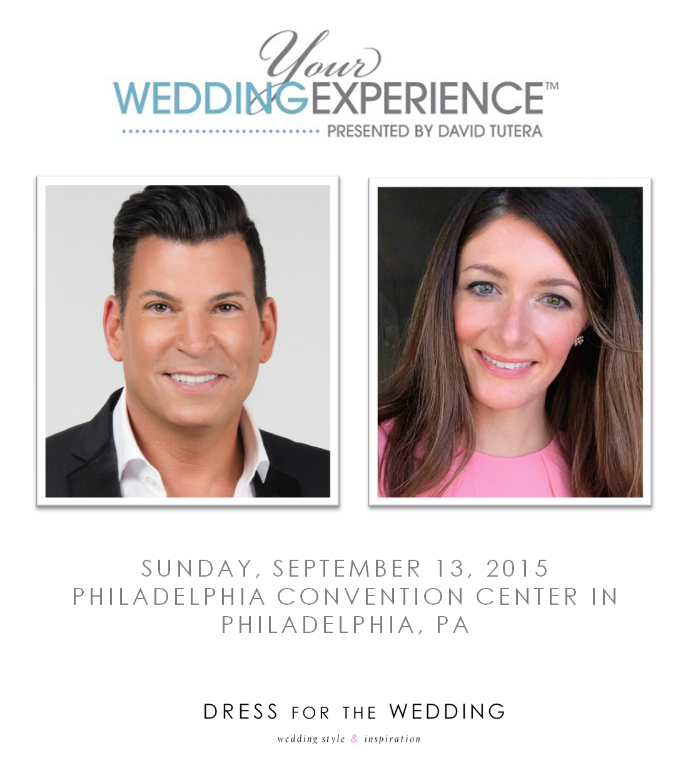 If you've been following some of my Facebook posts and posts on Tips & Trends on the Your Wedding Experience site, then you are heading to Philadelphia this weekend for Your Wedding Experience presented by David Tutera! I'm packing up my things as we speak and deciding on dresses to wear ( I have 4 in the running!) and I just wanted to leave you with a few notes in case you're going to be there too!
Dress comfortably and wear comfy shoes. Of course my first tip has to do with fashion! I'm packing pumps, so I'm not fully following this rule, but I'll be standing in one spot, while you'll be walking around!  The show is big and the floor has so many things for you to see. You don't want to have to stop to nurse a blister and miss out on all the inspiration!
Clear your phone so you have space for pictures.  You're going to have photo ops, and tons of things to see on the Wedding Catwalk, and you don't want to miss it, and you'll want to remember it!
When  you come visit me at the Something Social area be ready to tell me your wedding colors, and your wedding style, and which items you're looking for in your wedding attire search. Why? Well, I'm going to be asking couples for this detail so that I can do some collages over the next year based on your actual color schemes. I can't promise that I'll be able to do all of them, but I can't wait to be inspired by you, and to do a few based on what fashion conundrums and color requests I hear from you!
Get your pulse points ready! I'll be at the Something Social area hosting a DIY Perfume Bar thanks to Perfume Soiree. I've never done this before, so we can learn together. I have some great blends for you, and seeing some of these essential oil scents has me excited! Fig, Sage, Lavender? Delicious!
Visit all the wonderful sponsors and media partners!  We've become friends with so many people already, I can't imagine what it will be like when we all meet up! In particular, check out our friends at Philly In Love! We're going to do a styled look with them for a Philadelphia wedding  as soon as all the Your Wedding Experience fun quiets down!  They are an amazing resource for Philly couples. They have great ideas for engagement shoots and weddings in Philly, and they can connect you with the best Philadelphia wedding vendors!
Read my Interview with David Tutera to get you all pumped to see him at Your Wedding Experience. It's one of my favorite interviews I've done!
Read my Tips & Trends posts, and let me know if you have any questions about my advice when we meet in person this weekend!
Read everything else you need to know about going to Your Wedding Experience here. Start time, parking, and an hour-by-hour, nearly minute-by-minute timetable of what to expect! It's going to be a fun day.
If you are within a walk, drive, or even  flight of Philly this weekend, promise me you'll be there! Get your tickets!
---
Oh, and in case you're wondering. What should you wear?
Since because I think about what to wear more than nearly anyone, and I think it always helps to know what other people plan to wear -- I'm sharing the dresses I own that are in the running are below. I'm wearing a dress, because with a name like Dress for the Wedding it's a given, but anything you feel comfortable for the day will work!  I'd say it's a casually festive or casually elegant dress code. ( Links to products are from my affiliates.)
The final pick will probably be a game day decision. I always have to see what the weather is, and how I feel that day!  Can't wait to see you on Sunday!
More style ideas you might enjoy :