Hot Pink Formal Gown Inspired by EightTreeStreet Modern Florals
Earlier this winter, I had the pleasure of connecting on Twitter with Maribel from EightTreeStreet, a floral design studio and online store serving the Washington, D.C. and Northern Virginia areas. EightTreeStreet specializes in modern wreaths, wedding flowers, centerpieces, floral styling, and brooch bouquets. Looking at the EightTreeStreet portfolio, I found several gorgeous bouquet designs that I thought would translate well into inspiration for a few outfits.
This neverending winter and barely-there spring has me really longing for more bright colors, and I was drawn to the vibrant pinks Maribel uses, so I decided on a hot pink theme. Several EightTreeStreet designs have great uses of this bright color, so I'll plan to bring you a short series of pink inspiration from her blooms. First up is this bright pink brooch bouquet which inspired a hot pink formal dress featuring a Marchesa gown.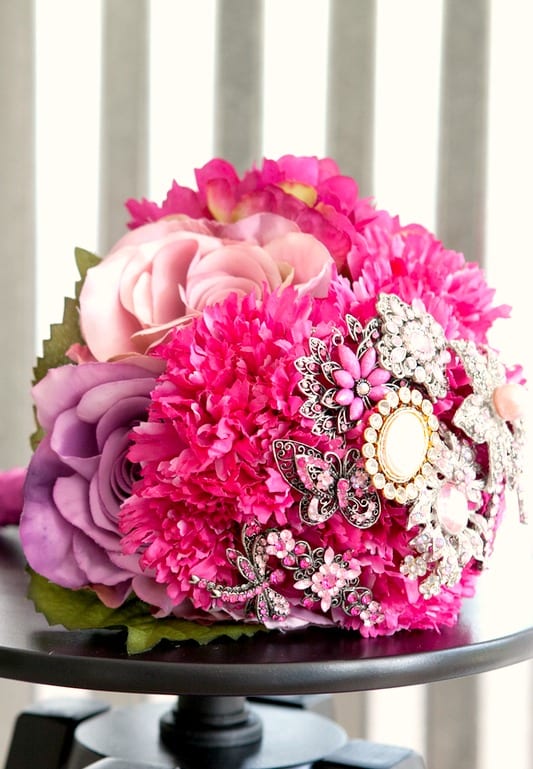 Floral Design by EightTreeStreet Pink/Hot Pink brooch: Borrowed Blue Photography
Be sure to drop by EightTreeStreet at www.eighttreestreet.com . Brides from all over can purchase the fantastic brooch bouquets and brides local to the D.C. area can use their floral services.
Hot Pink Formal Gown from Notte by Marchesa
I loved how the pink flowers looked against the silvery gray of the brooches and gray and white background, so I paired this bright pink dress with a crystal bracelet, rhinestone earrings, and silver shoes. The hot pink mixed with the sparkle is also echoed in the embellished neckline on this formal pink gown. This dress is bright, and I usually caution against "look-at-me" attire and colors, but I can see it going to a very formal springtime or summer event, where a little bit of seasonal color would be welcomed. This could also work for a mother of the bride who considers bright pink her signature color.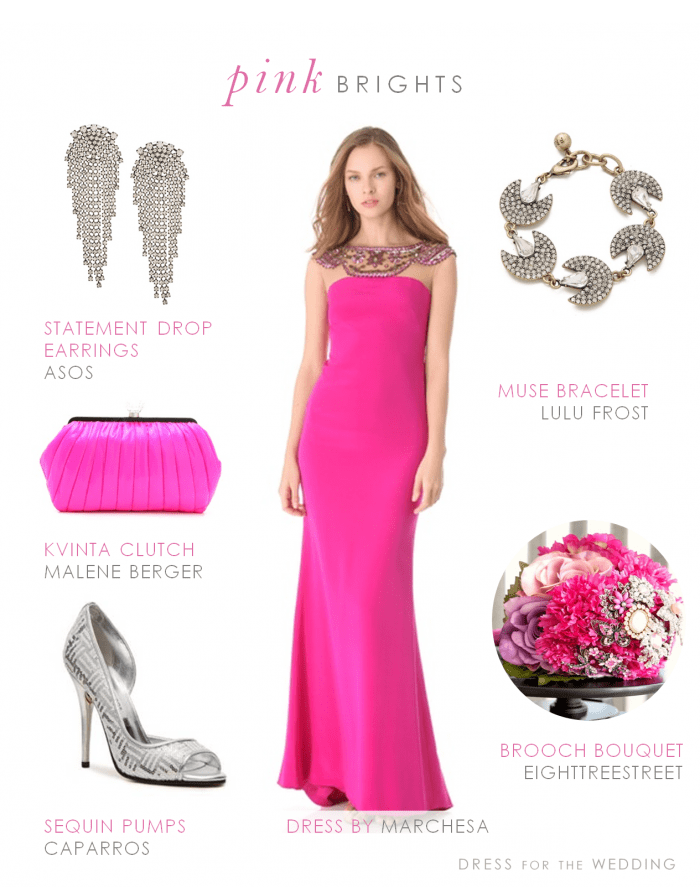 Marchesa Notte Silk Crepe Column Gown /Lulu Frost Muse Bracelet /Brooch Bouquet by EightTreeStreet / Caparros Emilie Sequin Pump / Malene Birger Kvinta Clutch /Pieces Statement Drop Earrings /