Ines Di Santo:  2013 Couture Bridal Collection

It's no secret that both the Italian and Spanish cultures bring us some of the world's most passionate, romantic, and glamorous artistic talents. So, as one can imagine, when the preeminent couture bridal designer Ines Di Santo--who is of Italian and Spanish heritage-- creates her Collection, these influences come through in the most exquisite and luxurious ways.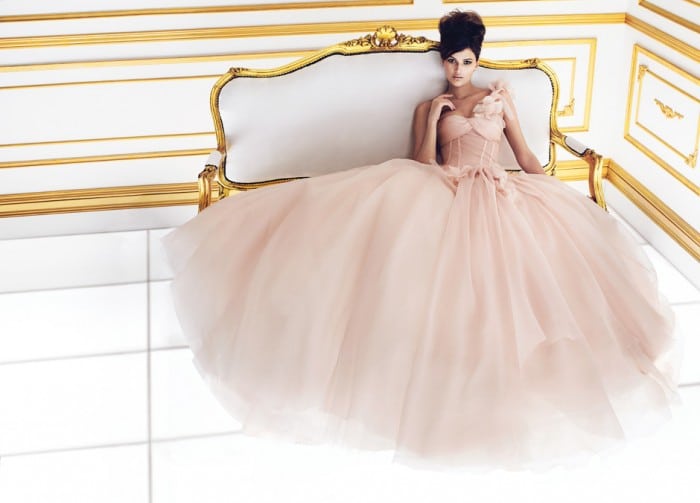 Liberta from the 2013 Ines Di Santo Collection
Ines Di Santo understands not only the female form, but also what the female mind wants, and what the eye is drawn to when selecting a couture bridal gown.
Luxury abounds in her creations. She designs necklines scattered with Swarovski crystals; carefully considered lace overlays; and uses the finest fabrics--hand-ruched and draped to reveal arresting curves.
Her silhouettes show her complete mastery of the mermaid and trumpet shapes:  the sleek lines of the bodices play perfectly against flounced skirts. In other gowns, modern shapes and asymmetrical accents are sculpted out of timeless lace or beaded patterning. In every dress, total glamour and luxury embrace the bride.
Tremendous attention to detail can be found everywhere within her collections. To achieve her signature look--this rich infusion of femininity, embellishment and luxury--the craftsmanship of each gown is overseen by Di Santo herself in her Toronto atelier.
All of her gowns are dazzling.  Here, I have selected a few favorites from Ines Di Santo's 2013 Spring/Summer Collection, with their not-to be missed flourishes.

RIALTO
Rialto features a removable peplum (shown attached and then removed, below), and a beautiful asymmetrical shoulder detail.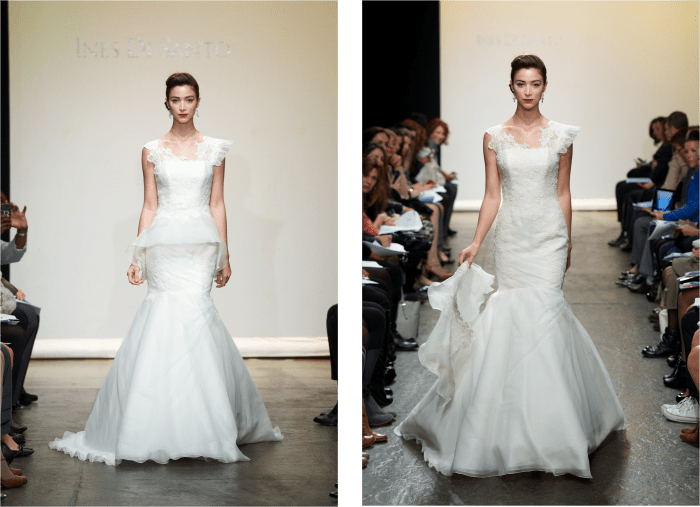 ---

LUCREZIA
Lucrezia brings high glamour in the form of scattered starlight, with Swarovski crystals across the bodice and beaded ribbon draping the shoulders and neckline.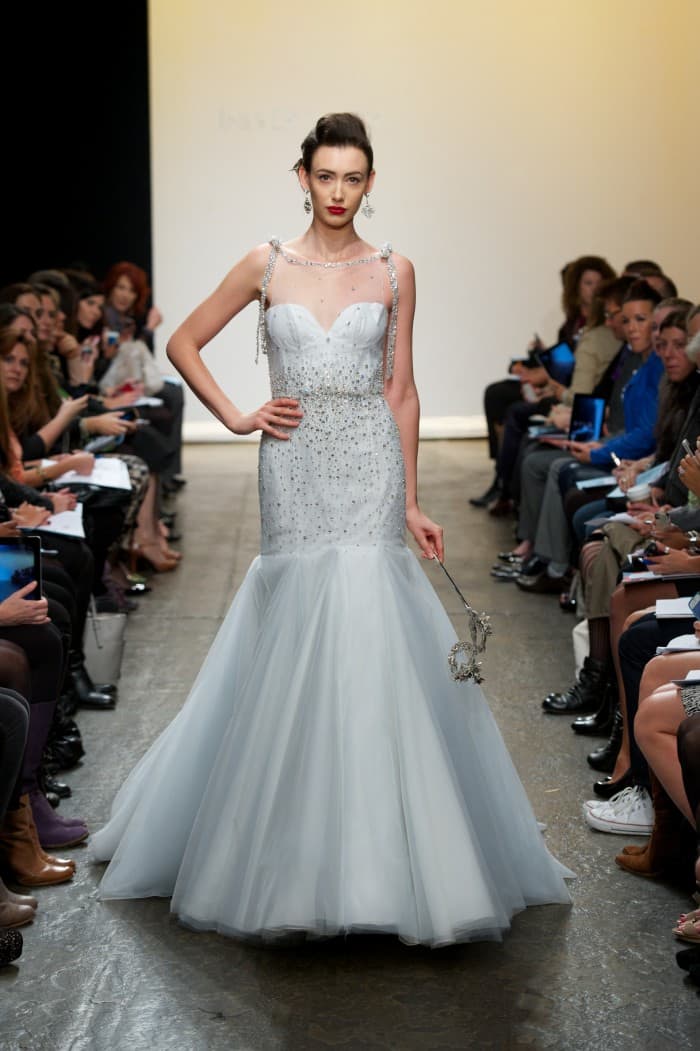 ---

ANCONA and MATTHIA
The criss-cross tulle found in Ancona and Matthia drapes across these defined bodices at beautiful angles. This light, layered treatment is embellished further by the Alençon lace appliqué overlays.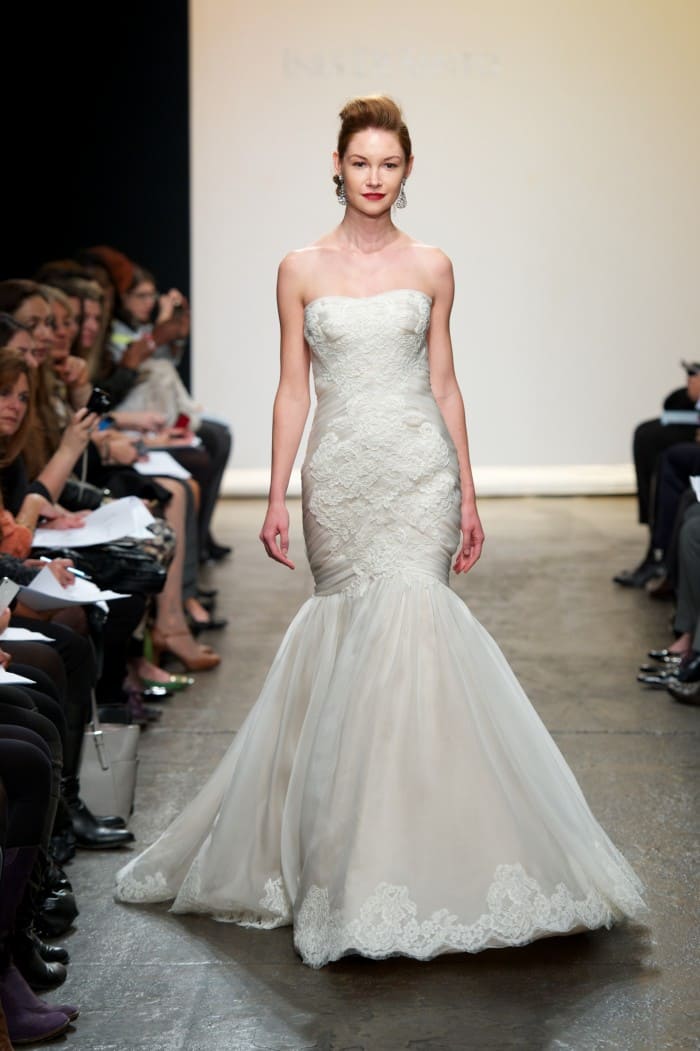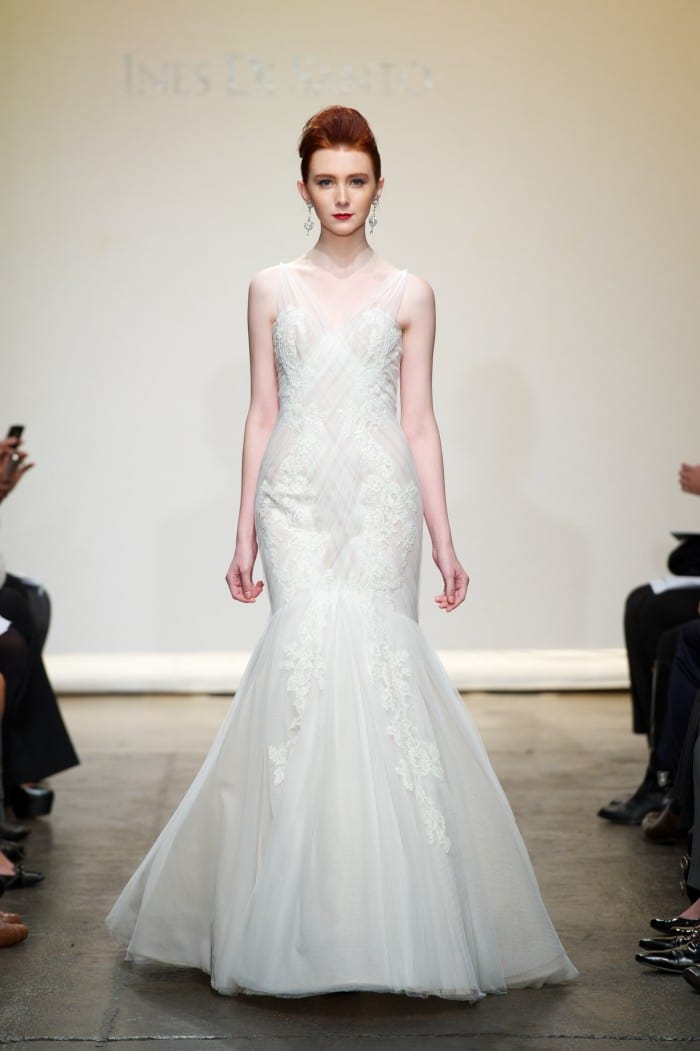 ---

MARGHERA
Delicate bands of lace hug the mermaid silhouette, and gracefully curve around to create the neckline of Marghera.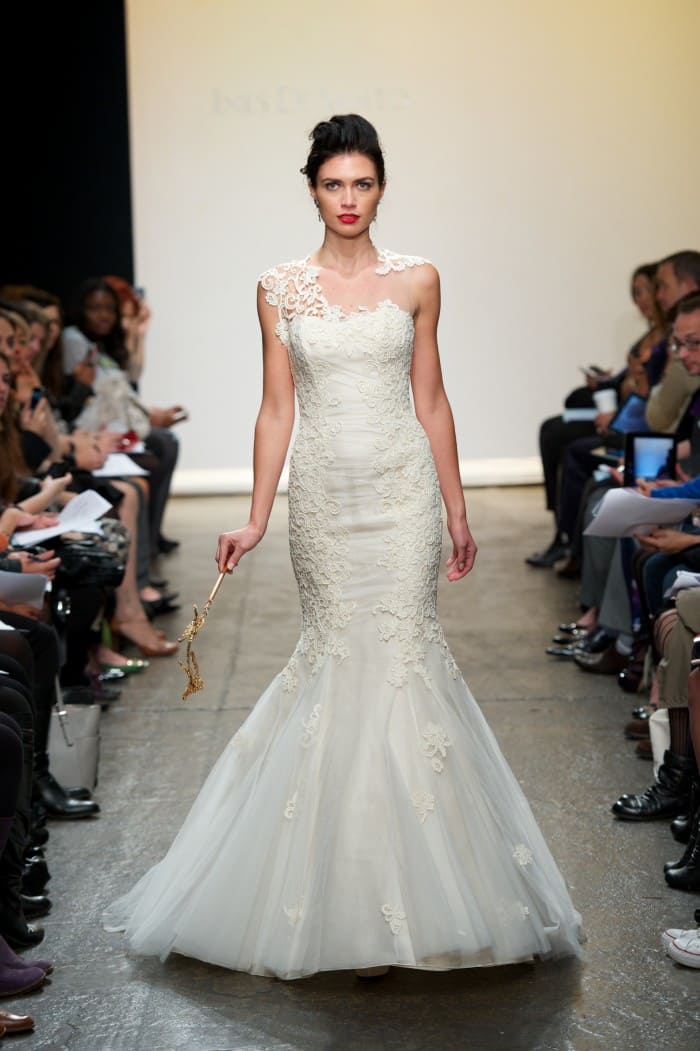 ---

REGINA
Regina features delicately beaded sheer embellishment that cascades from the shoulders down the bodice, into a full organza skirt with finished edges.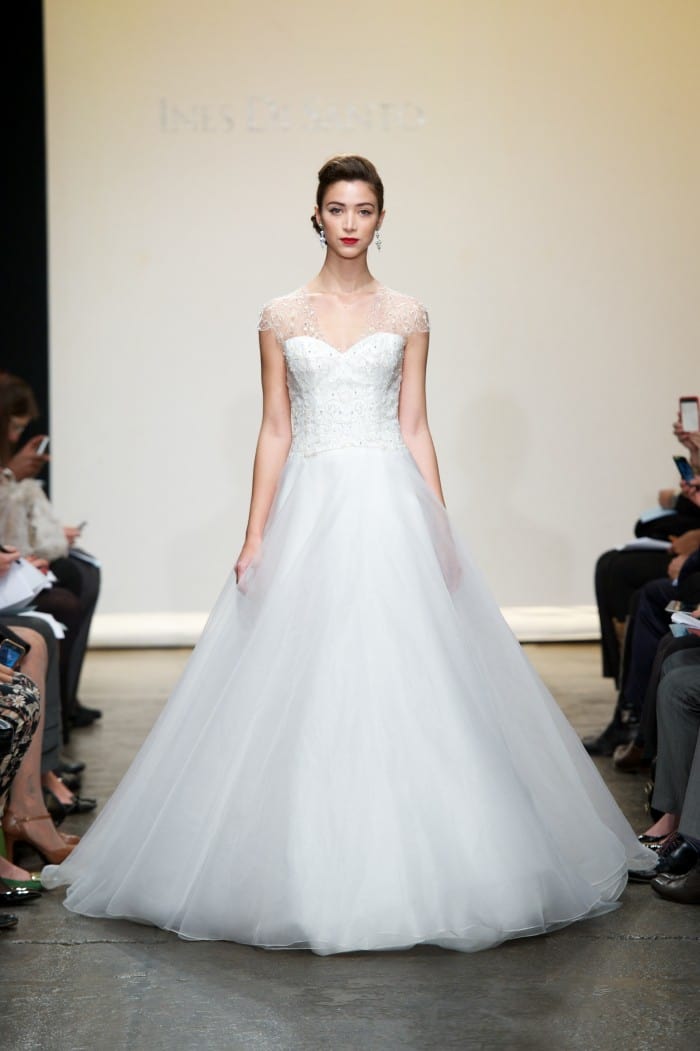 ---

PADUA
Padua's opulent silk taffeta is draped across the body and accented by floral appliqué details and voluminous hemline.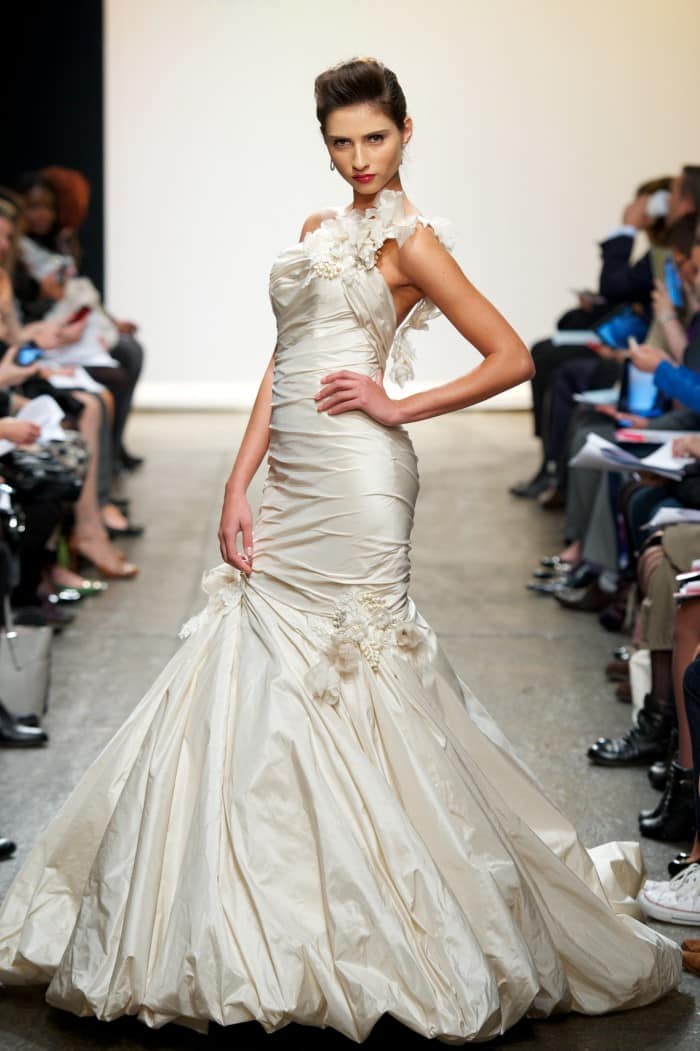 ---

ADDA
Adda's beaded tulle overlay and bateau neckline adds perfectly-placed delicate sparkle over silk.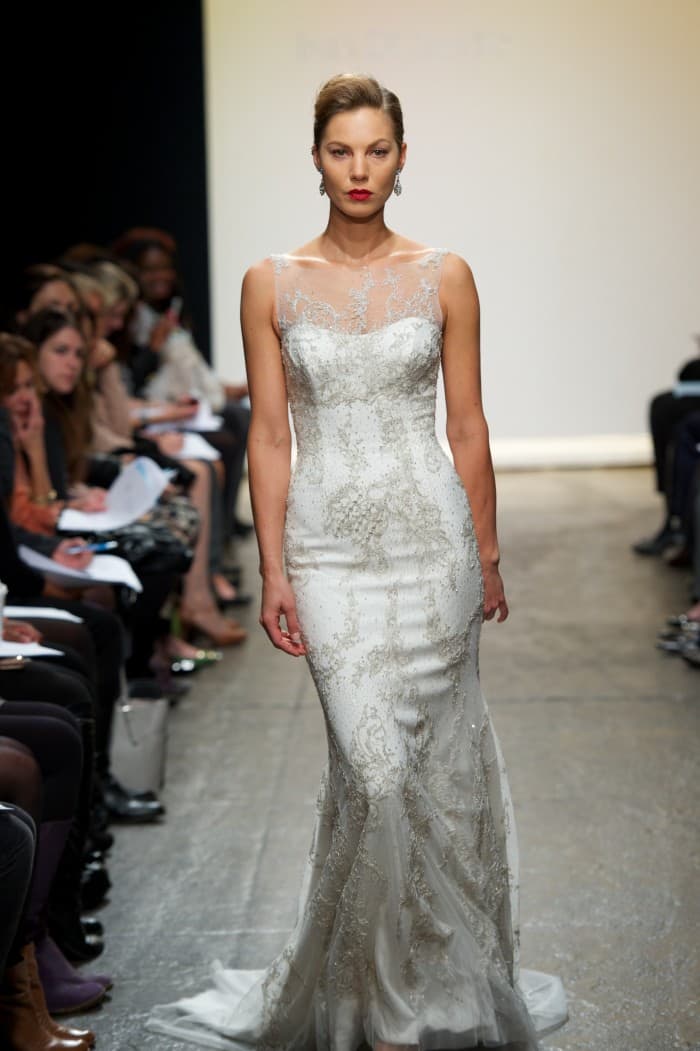 ---

SANTINA
Santina's fitted bodice is detailed with hand-ruched tucks and embroidery. The organza skirt ruffles out to beautifully finished edges.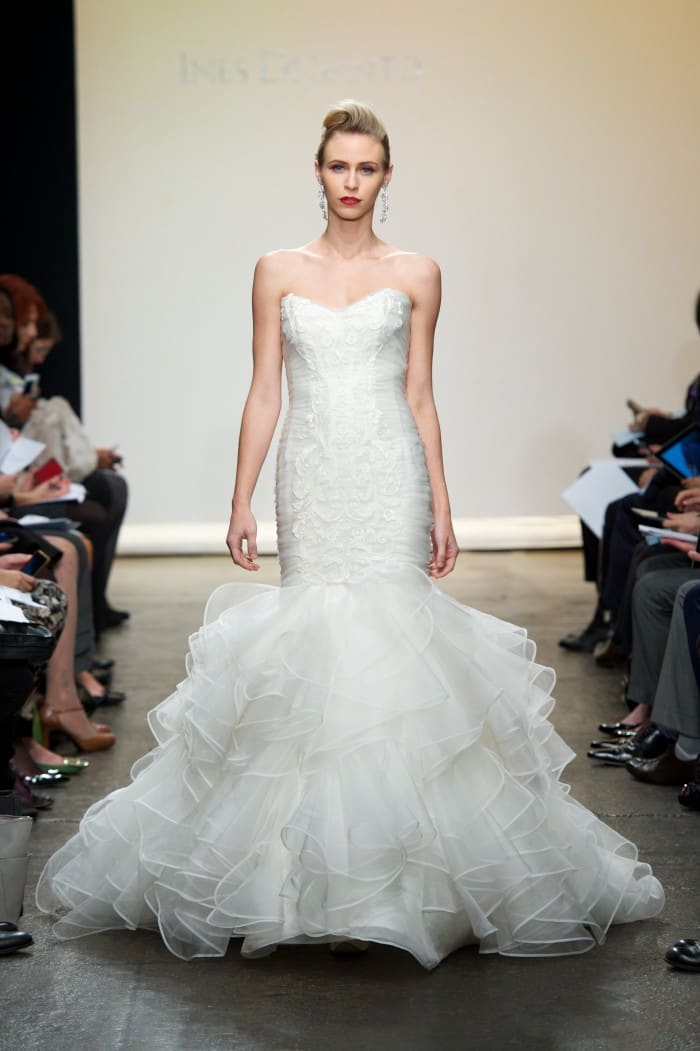 Ines Di Santo's gowns are the very translation of romance and passion, expressed as luxury bridal couture. See her complete Collection or to find your gown, visit the selected bridal boutiques that carry Ines Di Santo collection, or visit her Toronto atelier.
Ines Di Santo is also a part of The Collection on Dress For The Wedding. Click on the image there to view her site and complete collection.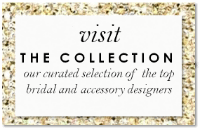 This content was created specifically for publication on Dress For The Wedding. Not for reproduction or redistribution.