Well, it's Wednesday, not Monday, but I finally have this week's mismatch ideas for you featuring light blue mix and match bridesmaid dresses!
Mismatched Pale Blue Bridesmaid Dresses
Light blue is an extremely popular color for weddings, and it can be suited to everything from a casual coastal wedding, to a black-tie event, so I have lots of combinations for you. Keep in mind you can have your wedding party pick from just 2 or 3 dresses and repeat them for as many as you need for your party, or have individual dresses for each bridesmaid.
Affiliate links to our sponsors are used in this post, which means this blog might earn a commission on sales generated from this site.
Light Blue Mix and Match Bridesmaid Dresses
1 | 'Audrey' Wrap Ruffle Gown in Steel Blue Chiffon by Show Me Your Mumu from Nordstrom 2 | 'Abigale' Tulle Halter Gown by Watters from Nordstrom 3 | 'Nyla' By Jenny Yoo from Nordstrom 4 | Lulus Ruffle Neck Halter Gown in Blue Mist from Nordstrom (If this style is too open at the chest, try the twist neck halter version ) 5 | Maggie Long Gown by Joanna August from Shopbop 6 | Slate + Willow Blue Paloma Gown from Rent the Runway
Shop The Look: More Pale Blue Dresses to Mix and Match

Mix and Match Light Blue Sequin Bridesmaid Dresses
Another hot look is a mix of beaded bridesmaid gowns. You can mix a few of these in with the solid colors above, or make a mix of all these beaded, sequined and embellished styles! The label to go for for a sequined or embellished look like this is Adrianna Papell. It's easy to shop by color (see all the blue dresses here) and style, and there is range of sizes and lengths.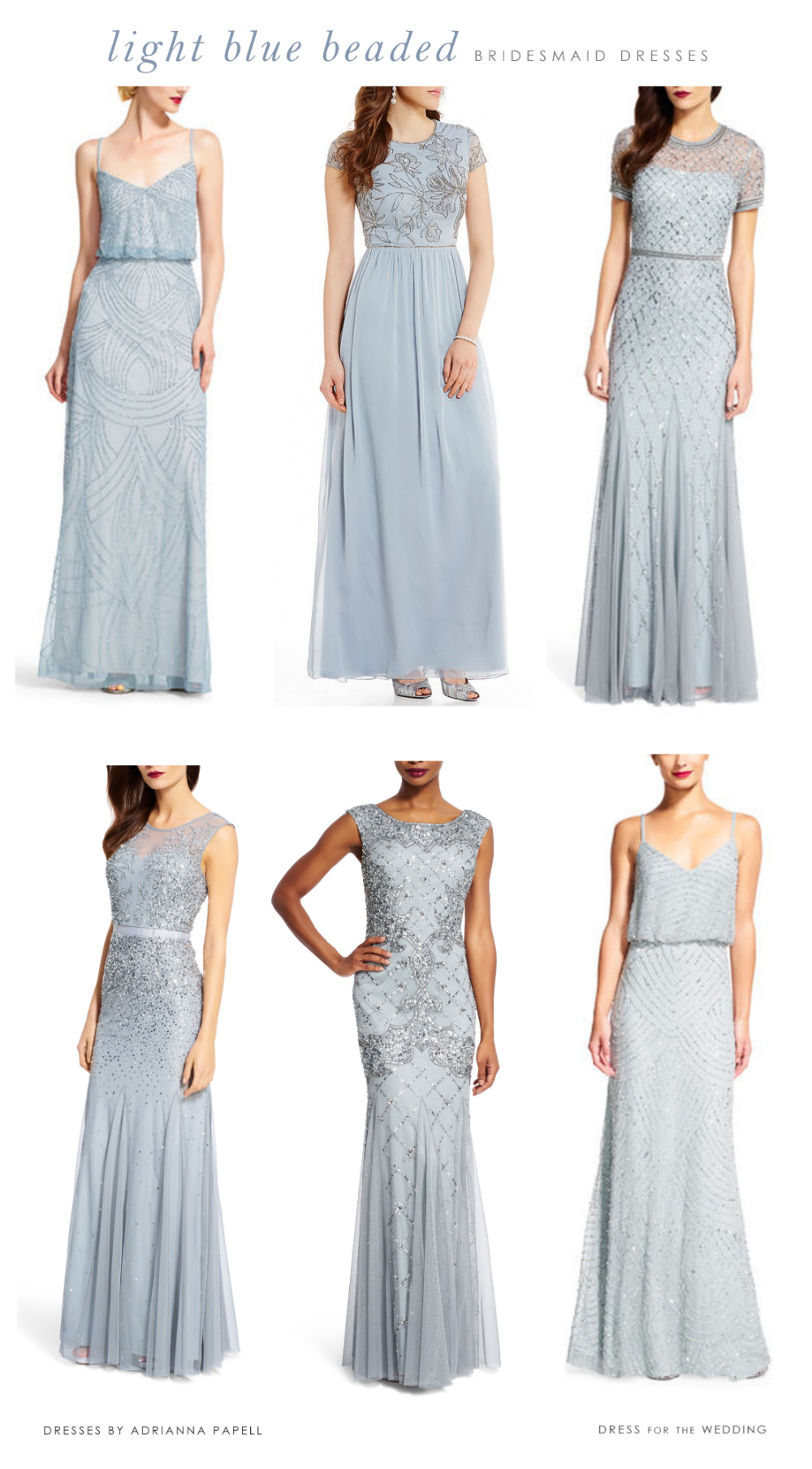 1 | Beaded Blouson Gown by Adrianna Papell 2 | Adrianna Papell High Neck Cap Sleeve Embellished Dress from Dillards 3 | Adrianna Papell Beaded Short Sleeve Gown 4| Long Beaded Gown with Illusion Neckline by Adrianna Papell 5 | Fully Beaded Sleeveless Godet Gown by Adrianna Papell in Blue Mist 6| Art Deco Beaded Blouson Gown by Adrianna Papell
Want more ideas for a relaxed style for a beach wedding? Show Me Your Mumu, has a few pretty blues to mix, try a combo of Steel Blue Chiffon, Baby Babers, Blue Me Away, and Flower Hour Sky.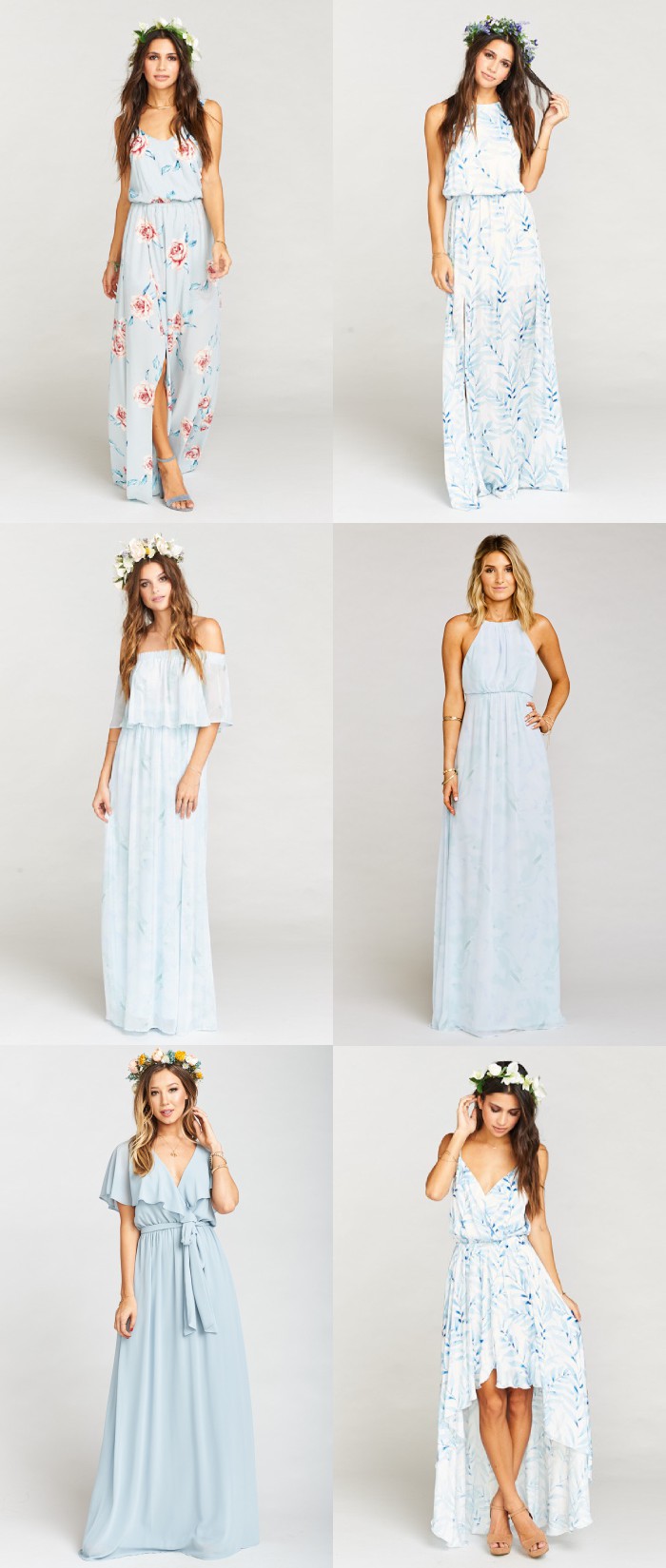 All dresses from Show Me Your Mumu 1 | Kendall Dress in Flower Hour Sky 2| Hacienda Dress in Baby Babers 3 | Heather Halter Dress in Blue Me Away 4| Amanda Maxi Dress in Baby Babers 5| Audrey Maxi Dress in Steel Blue Chiffon 6 | Molly Dress in Blue Me Away
For shorter dresses or more classic custom check out styles from our friends at Lula Kate, and check your your local bridal boutique will have all sorts of labels to try to mix and match with!
Affordable Light Blue Bridesmaid Dresses to Mix and Match
If you're looking for blue bridesmaid dresses under the $150 range, Azazie is a great place to take a look. Here's one way to blend 4 of their styles.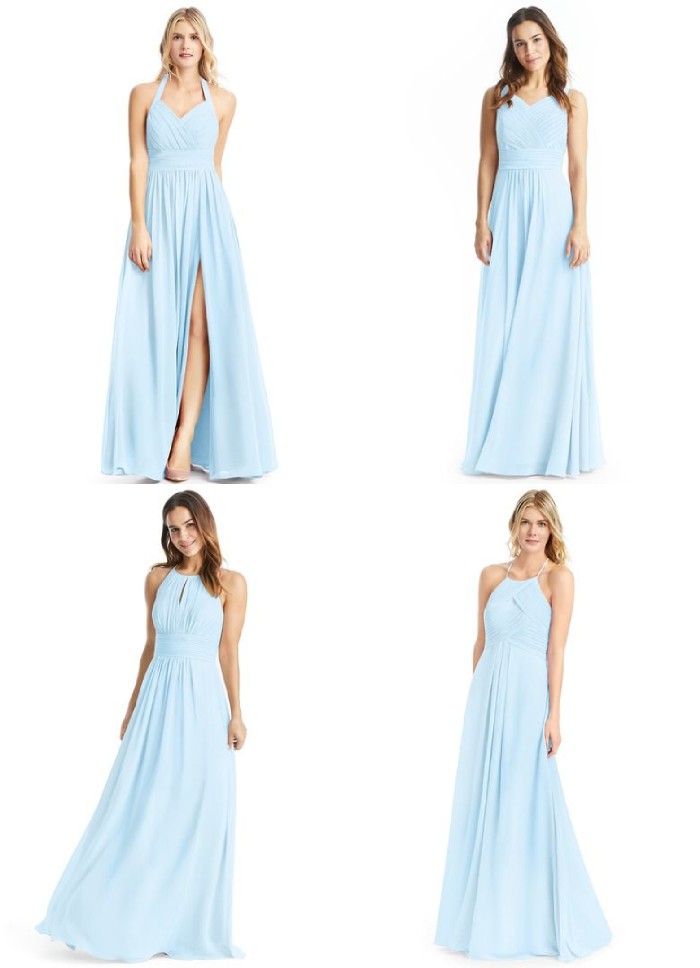 All dresses from Azazie. 1. Veronica Dress from Azazie 2. Pierrette in Sky Blue 3. Bonnie Dress from Azazie 4. Ginger Bridesmaid Dress in Sky Blue
Also check out our posts where we styled this blue beaded bridesmaid dress, show another mix of light blue and green, or our shop section where we update the latest online picks for light blue bridesmaid dresses. Looking for a slightly different shade? Check out our navy blue mix and match bridesmaid looks and mint mismatched bridesmaid dresses.
Shop section uses affiliate links.