Long Purple Bridesmaid Dress
While I love looking at wedding dresses, I wanted to give your eyes a bit of a break and a little bit of color. Today, I'll pick up where I left off with the full spectrum of bridesmaid dresses I'm attempting to style and present. If you're planning a formal wedding I have a treat for you with this long purple bridesmaid dress.
Affiliate links are used in this post which means this site may earn a commission on purchases.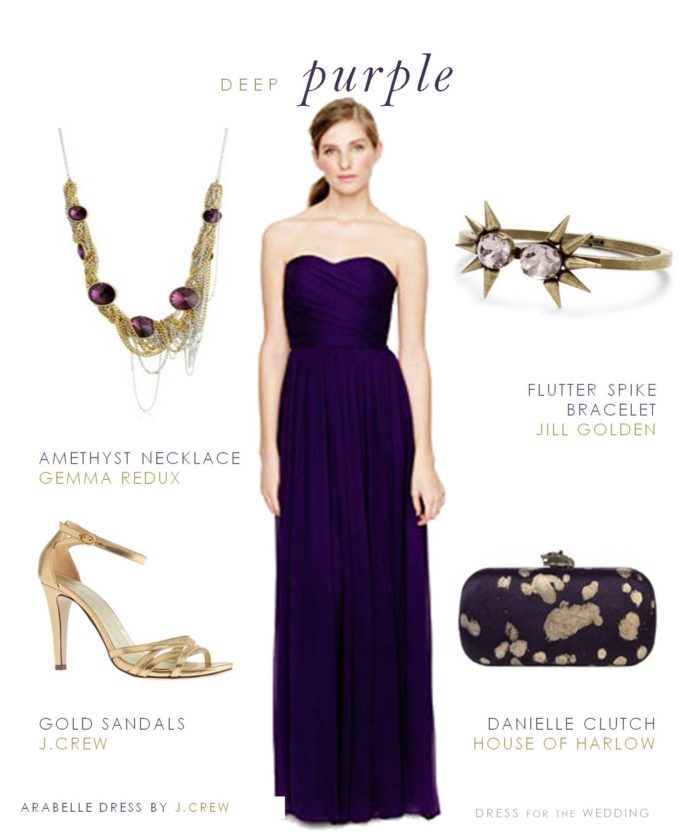 Arabelle long bridesmaid gown in silk chiffon J.Crew / Gemma Redux Amethyst Crystal Simone Necklace / Flutter by Jill Golden "Fortuna" Cord Rhinestone and Spike Bangle Bracelet / House of Harlow 1960 Danielle Clutch / Metallic Sandals J.Crew
I decided to show a full-length gown since I have done a few other posts with short purple bridesmaid dresses. (Like this lilac bridesmaid dress, as well as lots of other purple dresses.) I also think more and more brides are choosing either to have a very informal wedding with short light sundresses or at the other end of the range -- to have a formal wedding party in full-length gowns like this one.
Long Strapless Purple Bridesmaid Dress with Accessories
This purple silk chiffon is a stunner from J.Crew called Arabelle. I wanted to make this a slightly modern and edgy look, with some accessories that break with my usual classic style. I love the asymmetry and edgy look to the necklace and spiky bracelet, and the splotches of gold on the clutch. The whole look is still classic and tied together with the completely traditional shape of the gown and strappy gold heels. It's a fun way to give formal a bit of an edge and keeps with the classic pairing of gold and purple.
What do you think? Will your wedding party be wearing purple and are you choosing full-length gowns?
Since this post is older, this style has been discontinued. Please check Purple Bridesmaid Dresses for updated long purple dresses for bridesmaids.
Affiliate links are used in this post which means this site may earn a commission on purchases.
Shop Long Dark Purple Bridesmaid Gown Styles

Related Shop Pages:
Purple Mother of the Bride Dresses