1970s vibe of the Theia Spring 2020 Bridal Collection, marries vintage influence and modern bridal style. These retro-inspired Theia wedding dresses are timeless and fresh for 2020!
THEIA Wedding Dresses for Spring 2020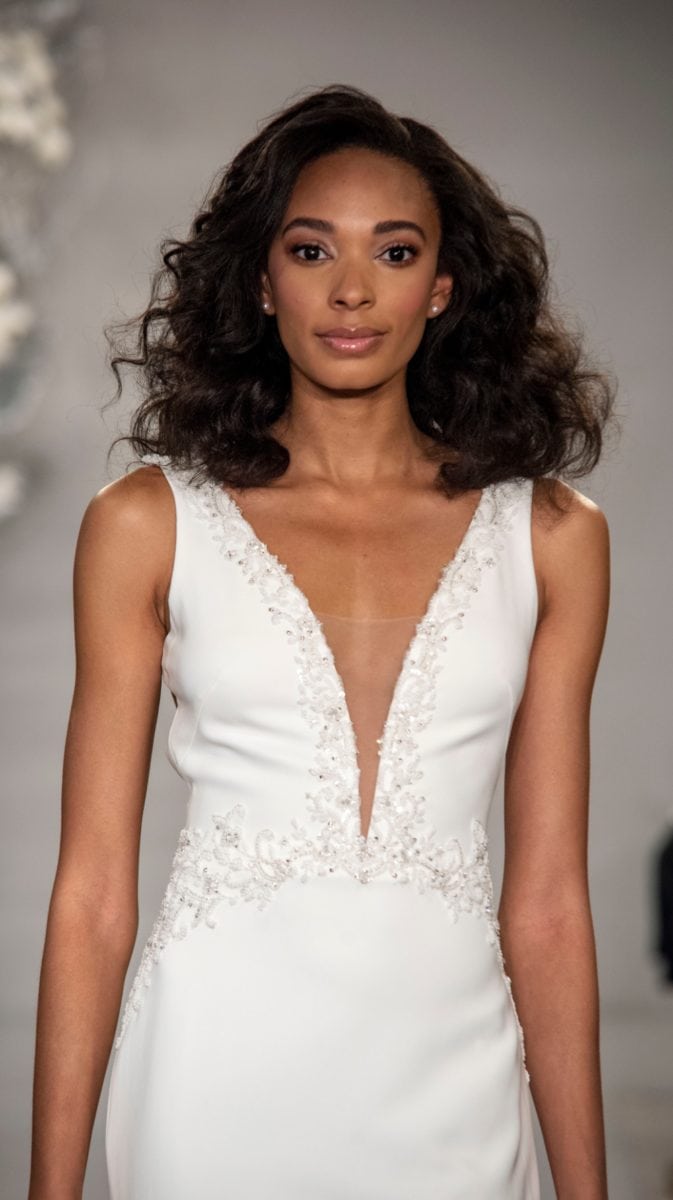 THEIA Bridal Collection for Spring 2020
Get ready to celebrate! From the design house of THEIA Bridal, the 2020 bridal collection is revealed. The sleek disco and 70s icon influence of this collection is described as:
THEIA's Spring 2020 Bridal collection, inspired by 1970's icons such as Bianca Jagger and Farrah Fawcett-Majors, as they boogied the night away at the notorious New York City night club, Studio 54.
A world of plunging necklines, thigh-high slits, gleaming lames, killer jumpsuits and dresses that dazzled like disco balls, all reinterpreted for the cool, modern THEIA bride.
Of course at THEIA our clean classic signature crepes continue to be favorites, there are some soft ball gowns for our romantics, a touch of elegant Alençon lace and our hand beaded gowns destined to become classics. Dazzling, cool, confident and ready to dance the night away, the unstoppable Spring 2020 THEIA bride.
For more information on any of these bridal gowns, please visit THEIA Bridal.
SPRING 2020 Wedding Dresses from Theia
Estrid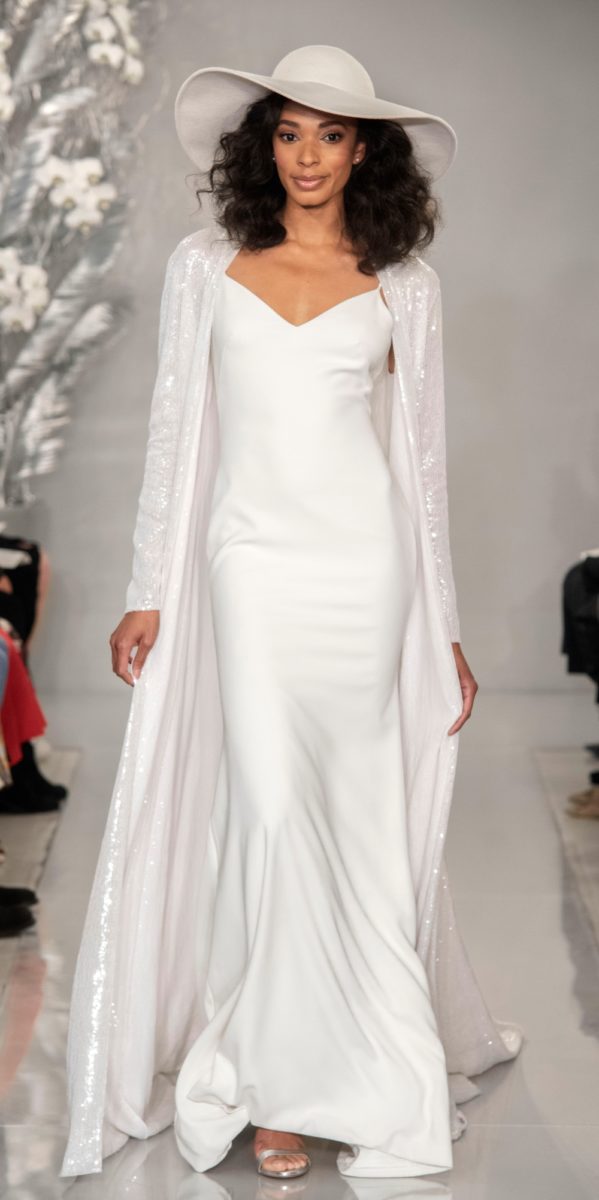 Estrid from Theia is a hand embroidered polychrome sequin duster coat over the Louisa crepe slip bridal gown.
Monroe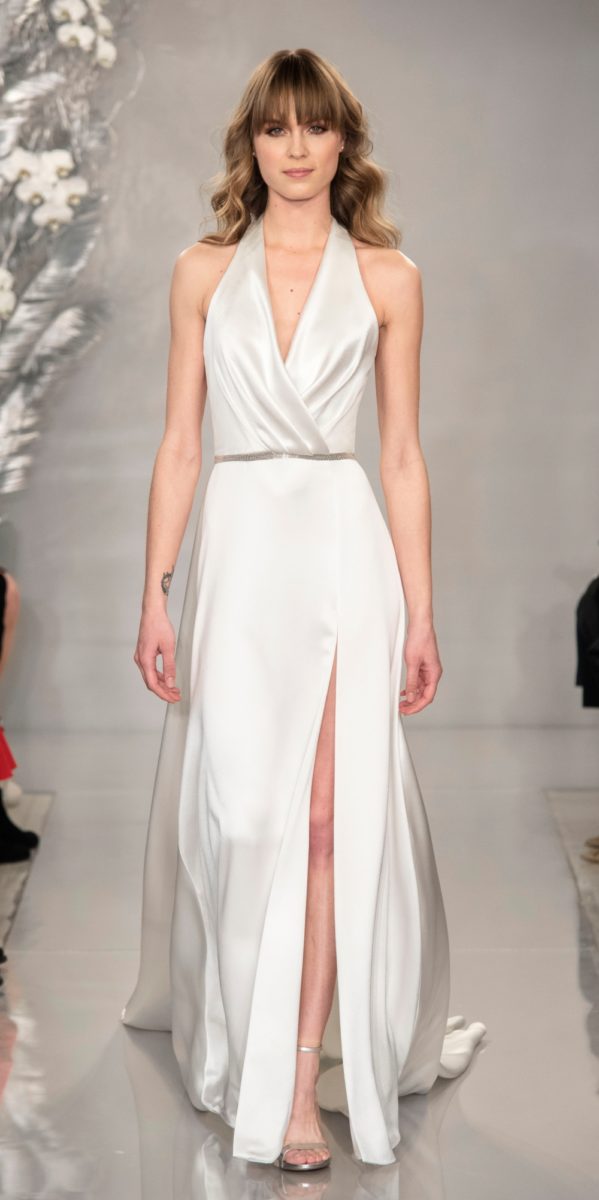 Monroe is a draped satin halter wedding dress with side front slit.
Sigrid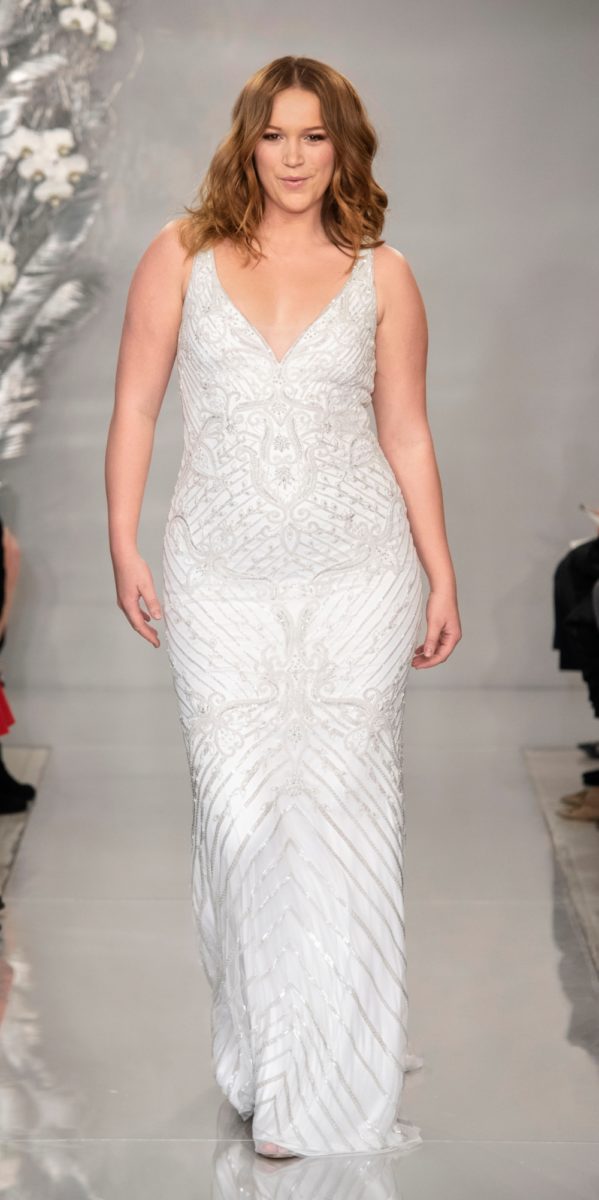 Sigrid is a v-neck wedding dress hand embroidered with pearls, seed beads and polychrome sequins.
Lindsay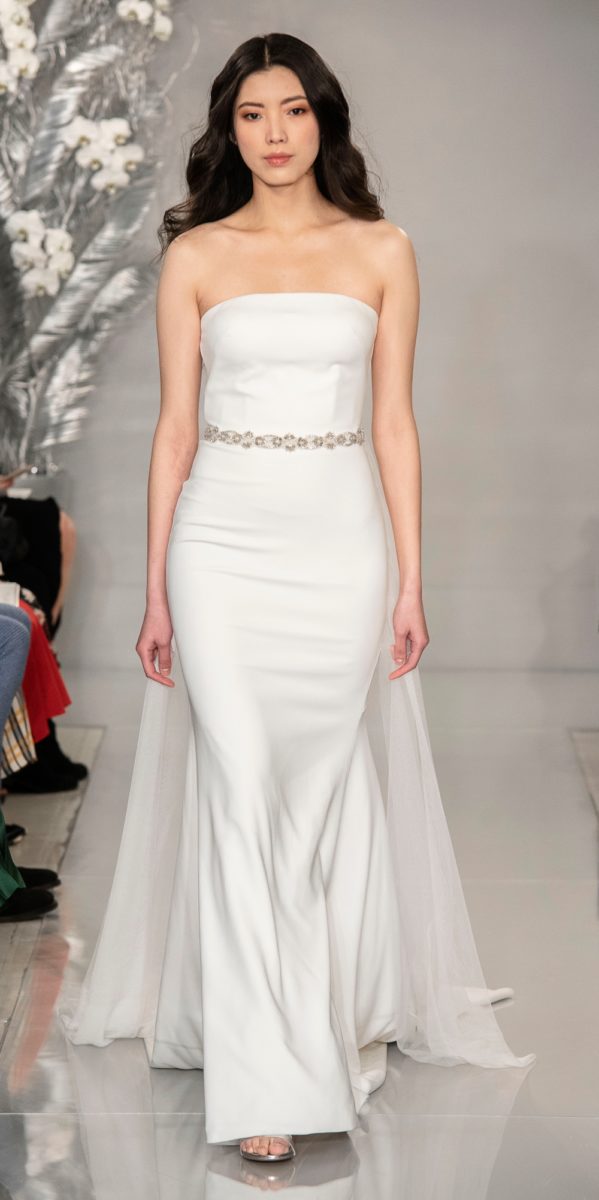 Lindsay is a modern crepe strapless bridal gown with detachable Spanish tulle train. Shown here with jeweled Jackie crystal belt.
Renee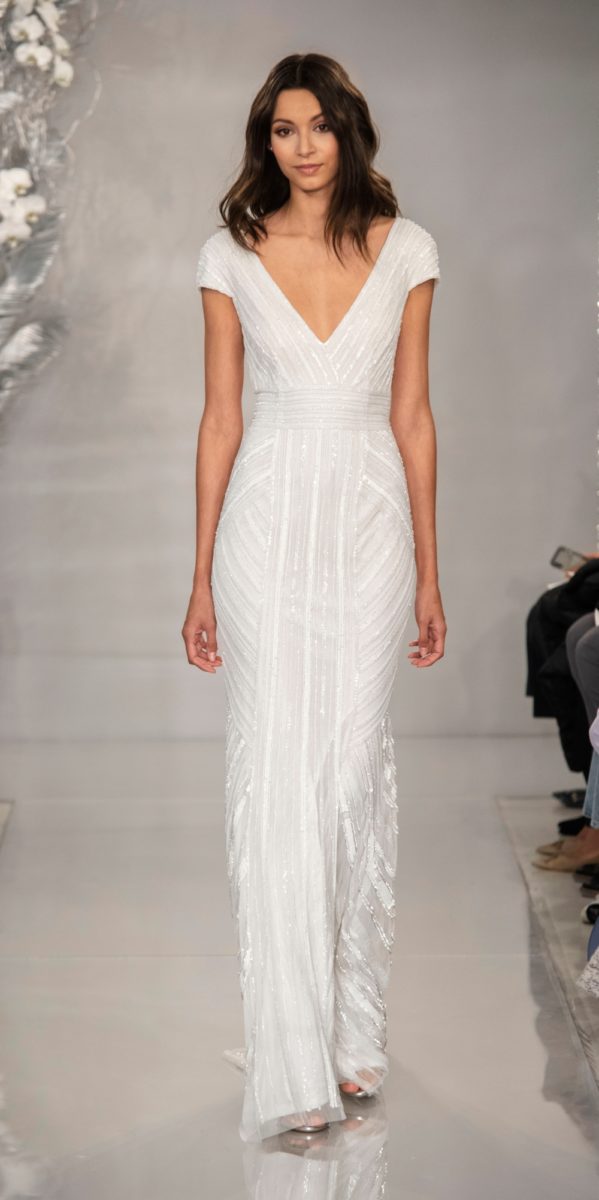 Renee is a beaded cap sleeve, v-neck wedding dress with hand embroidered chevron stripes of bugle beads and polychrome sequins.
Adrienne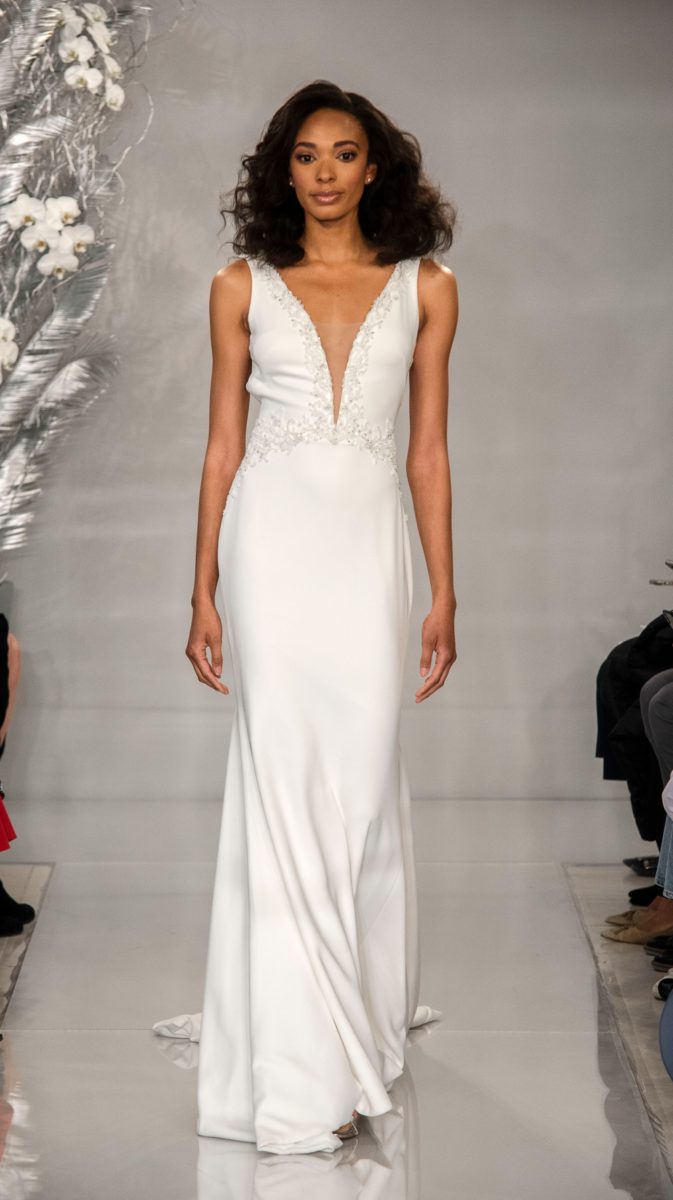 Adrienne is a plunge neckline crepe mermaid wedding dress, with a hand embroidered beading and pearl details at the neckline and waist.
Emilia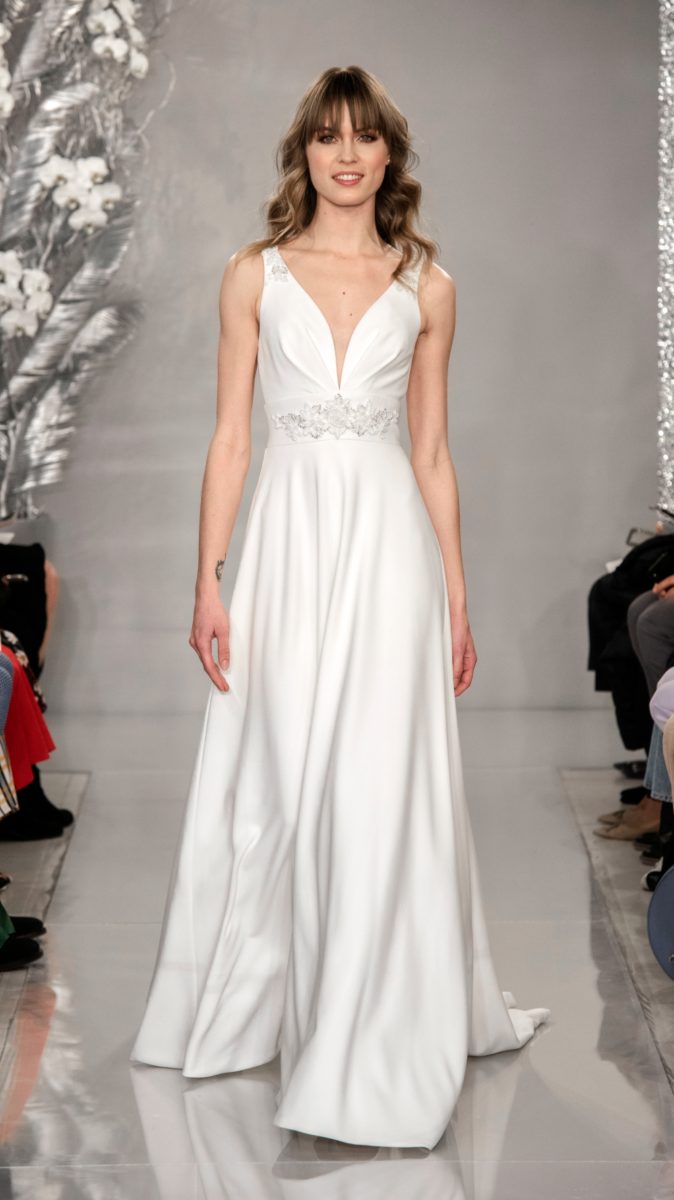 Emilia is a V-neck ball gown wedding dress with hand beaded floral appliques at the shoulders and the waist.
Cara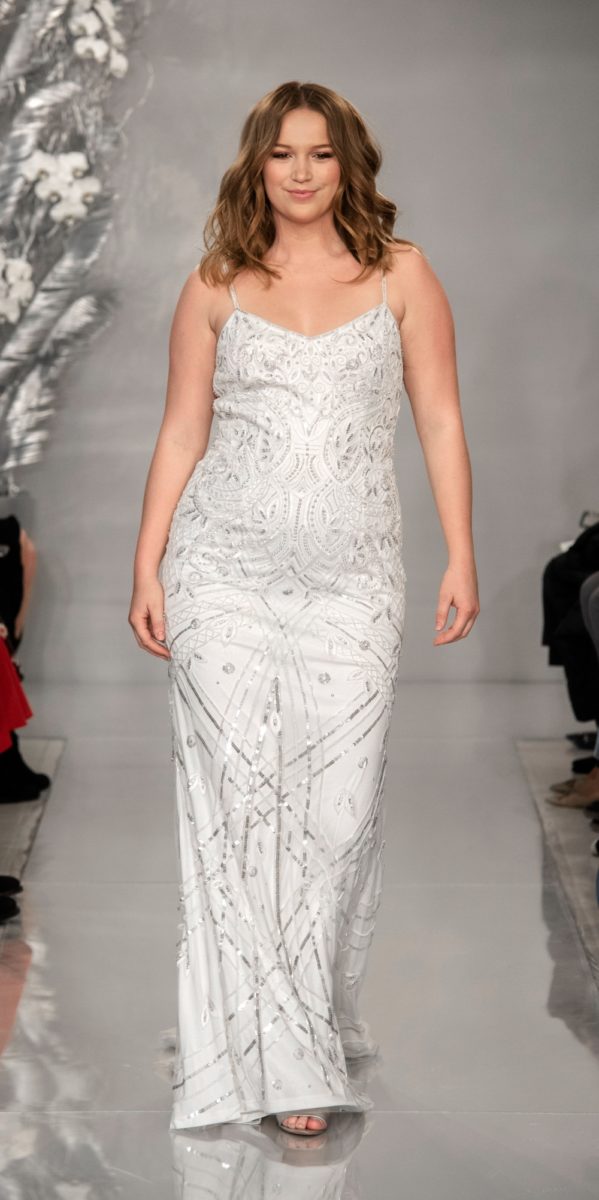 Cara is a slip style bridal gown with delicate straps and hand embroidered beaded details done with glass beads, micro pearls and sequins.
Faye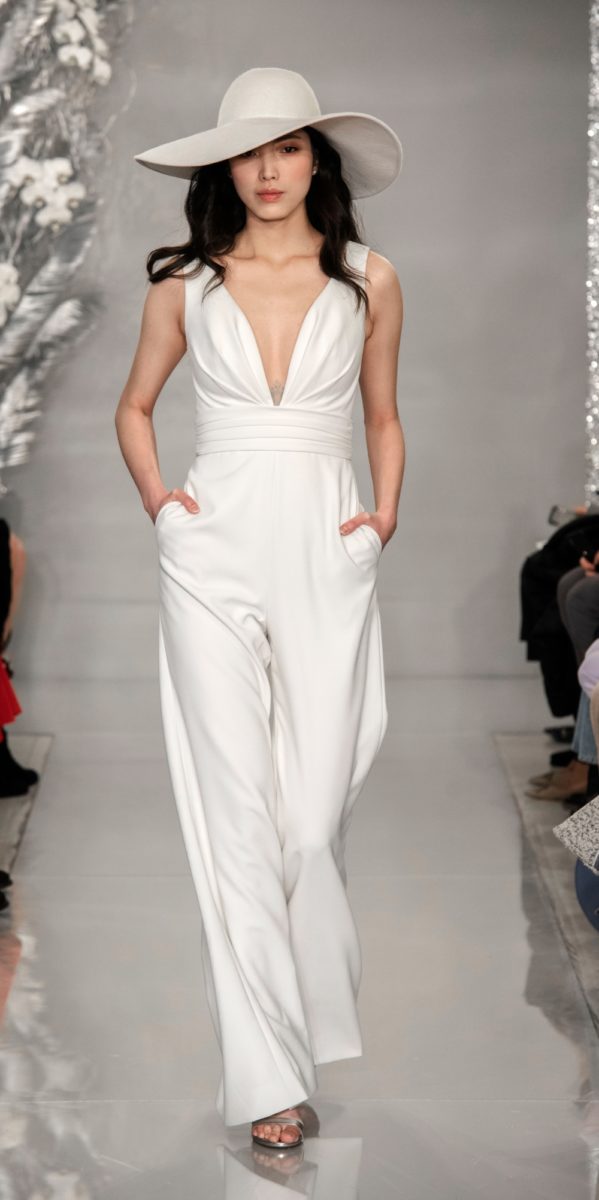 Faye is an ivory jumpsuit with plunge front, crepe ivory wedding jump suit with ruched waistband.
Agnetha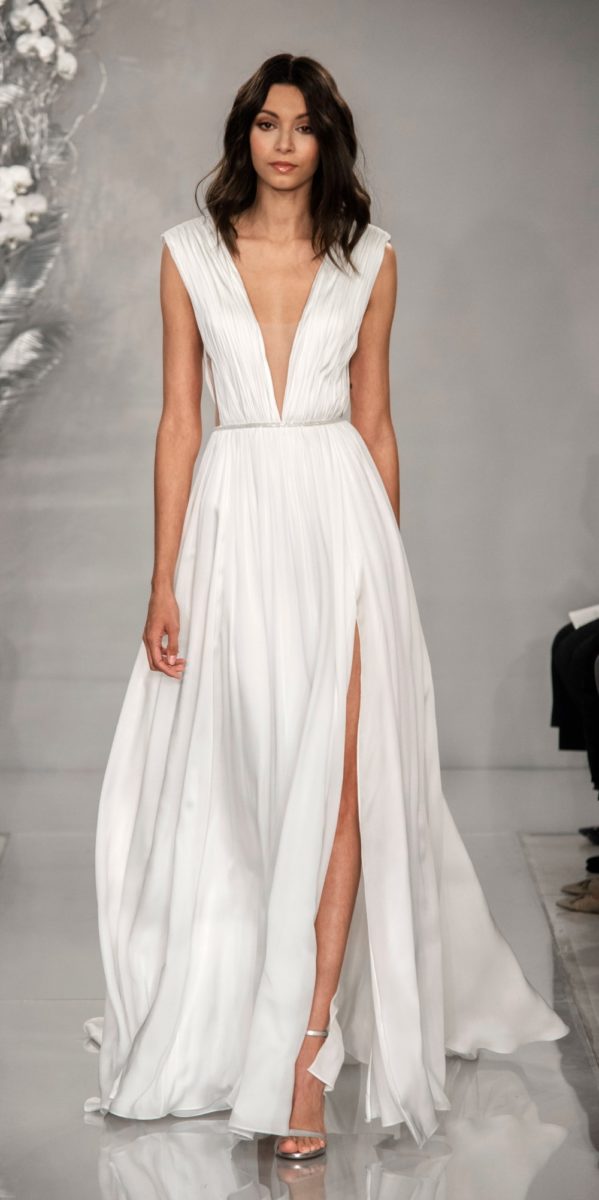 Agenetha is a silk satin faced georgette plunge front bridal gown with ruched bodice and side slit ball skirt.
Farrah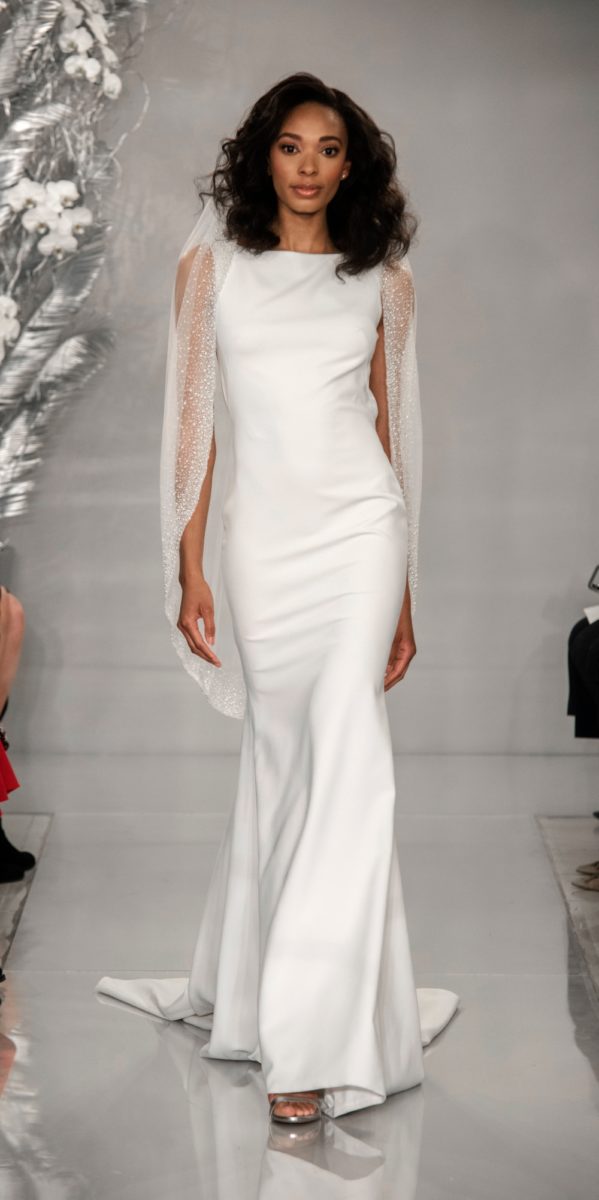 Farrah is a boat neck crepe mermaid gown with open backwith Rhea pearl embroidered veil.
Ariella

Ariella is a strapless ball gown with hand embroidered seed bead and crystal bodice and spanish tulle skirt.
Vanessa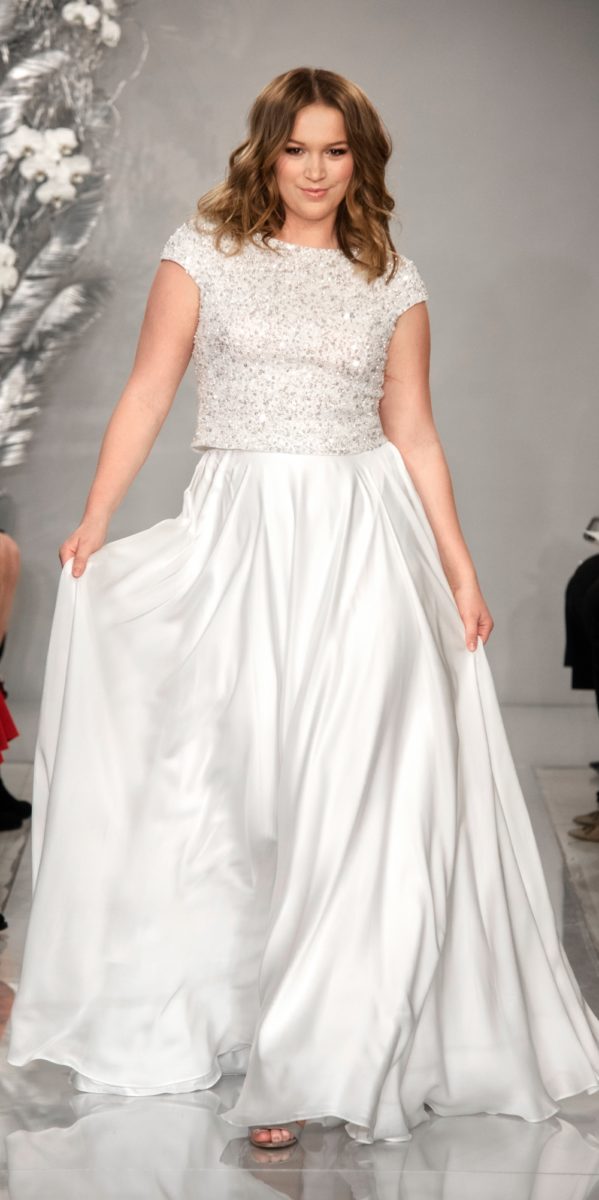 Vanessa is a cap sleeve hand embroidered top with polychrome sequins over the Marlena silk satin faced georgette ball skirt.
Ellinor
Ellinor is a strapless mermaid wedding gown with Spanish tulle skirt. Bodice is hand embroidered with a dégradé of pearls, seed beads, and sequins.
Klara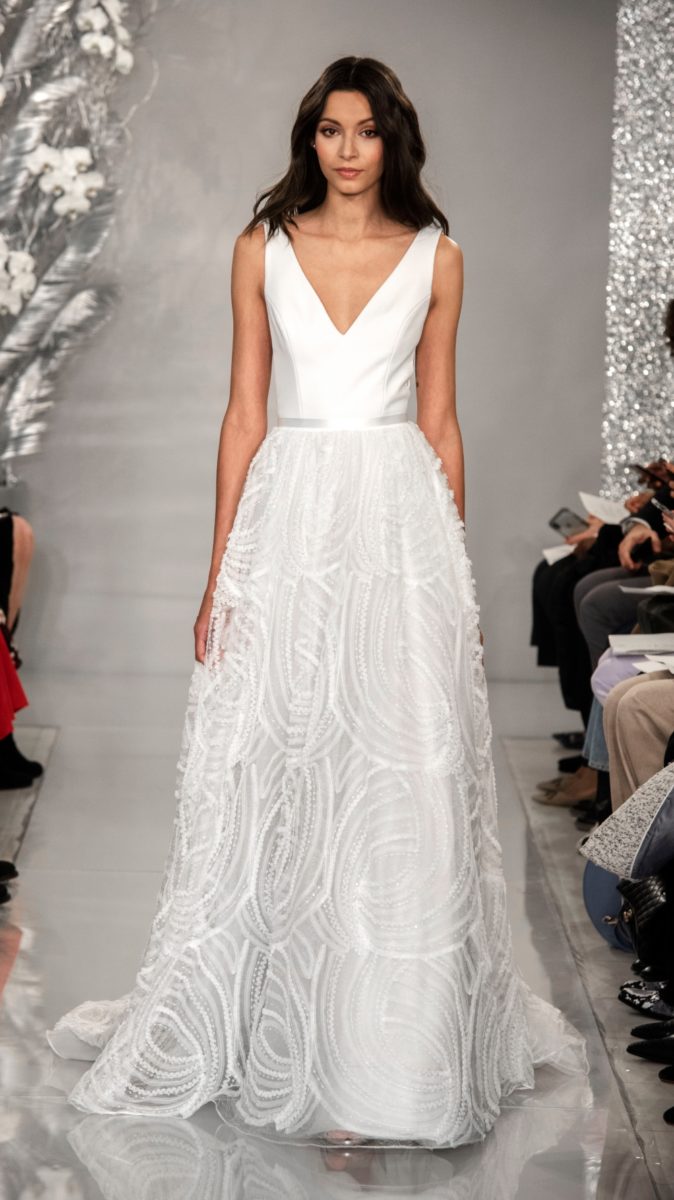 Klara by Theia is a V-neck wedding dress with tulle embroidered ball skirt
Iman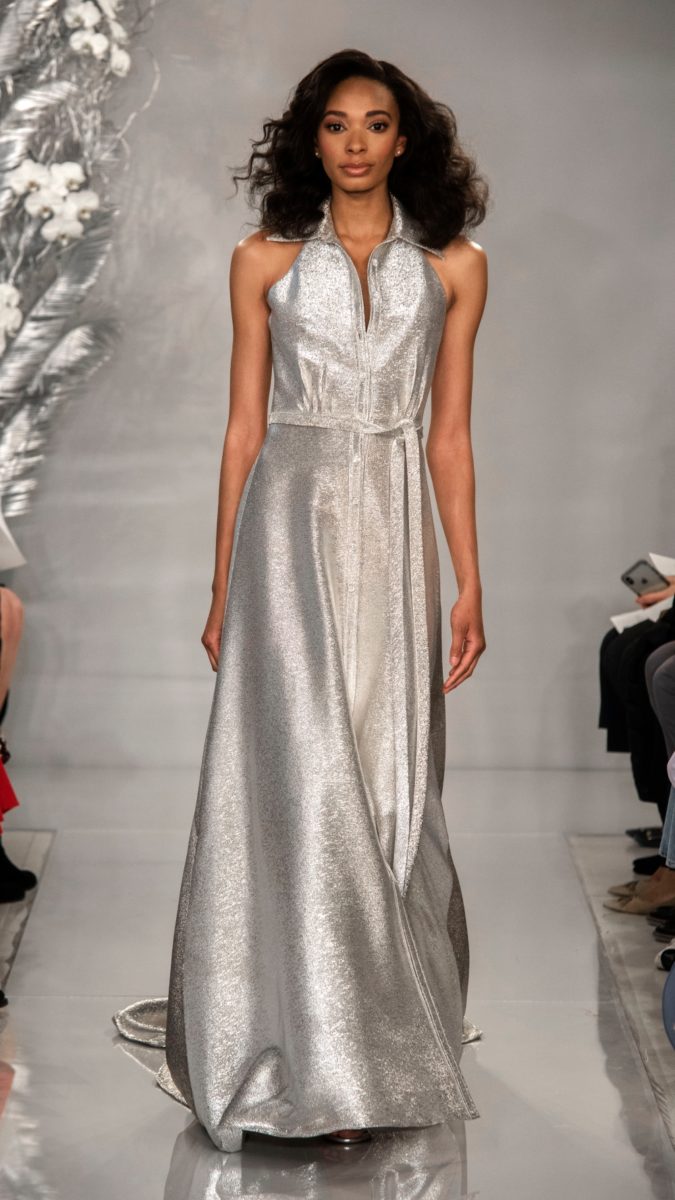 Iman is a shirt style halter gown in platinum lamé
Hannah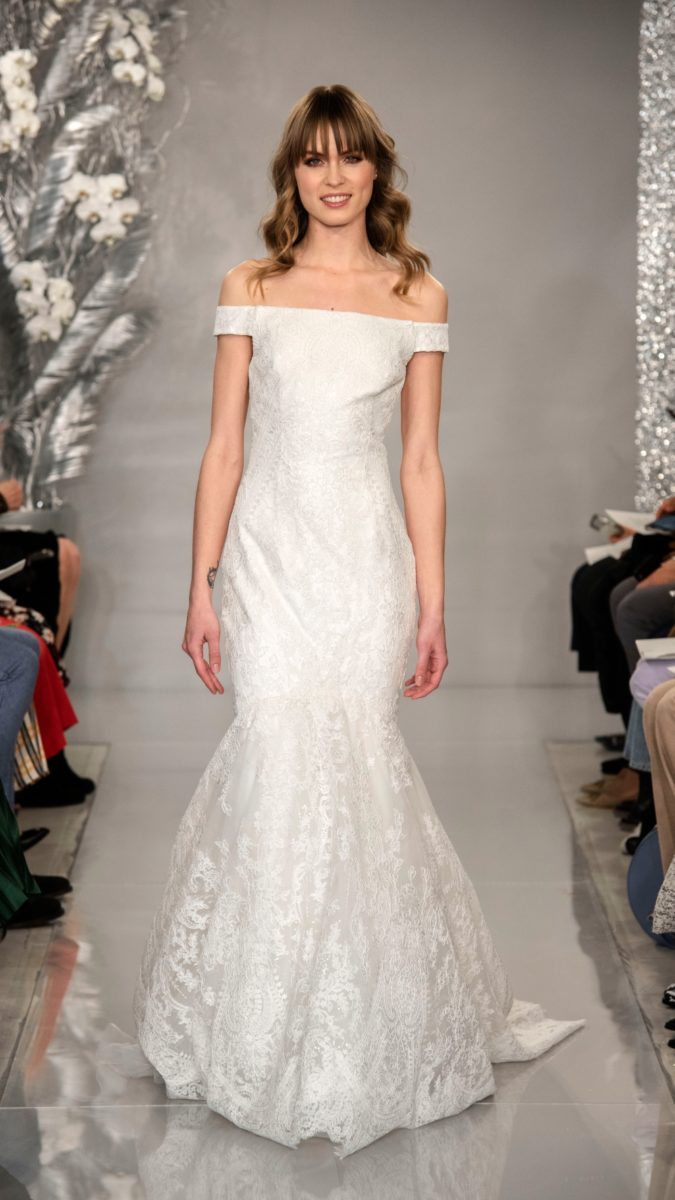 Hannah is an off-the-shoulder lace wedding dress with mermaid silhouette.
Isabelle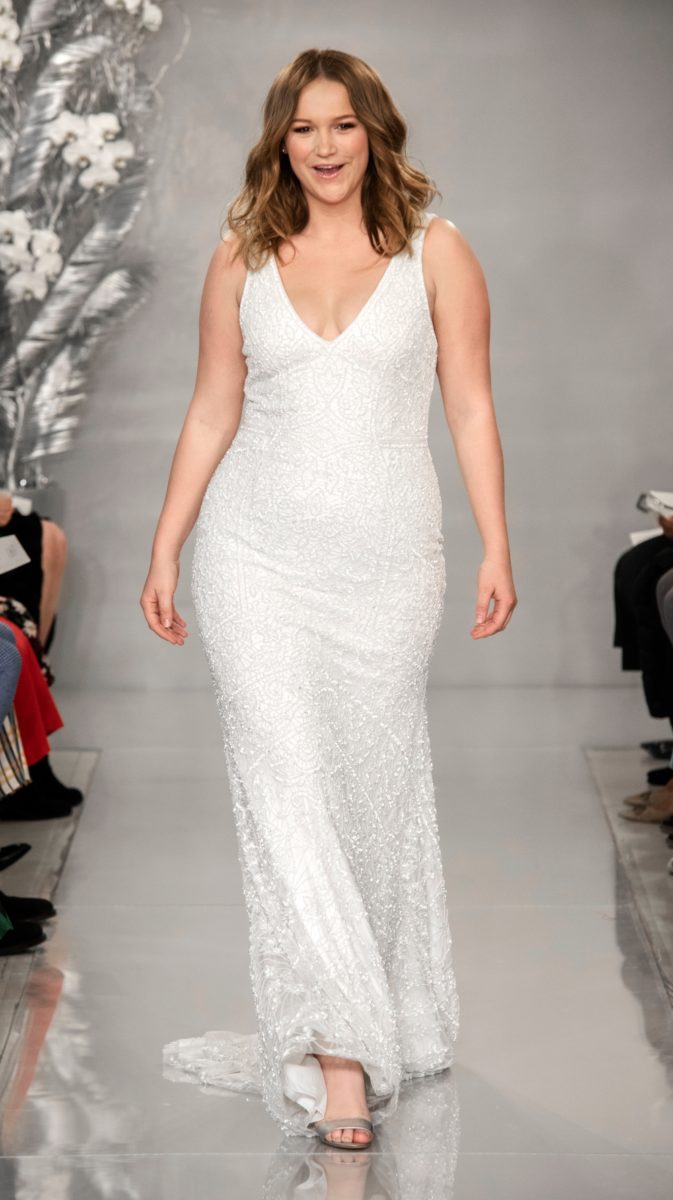 Isabelle is aV-neck wedding dress, hand embroidered with porcelain glass beads and matte sequins.
Luciana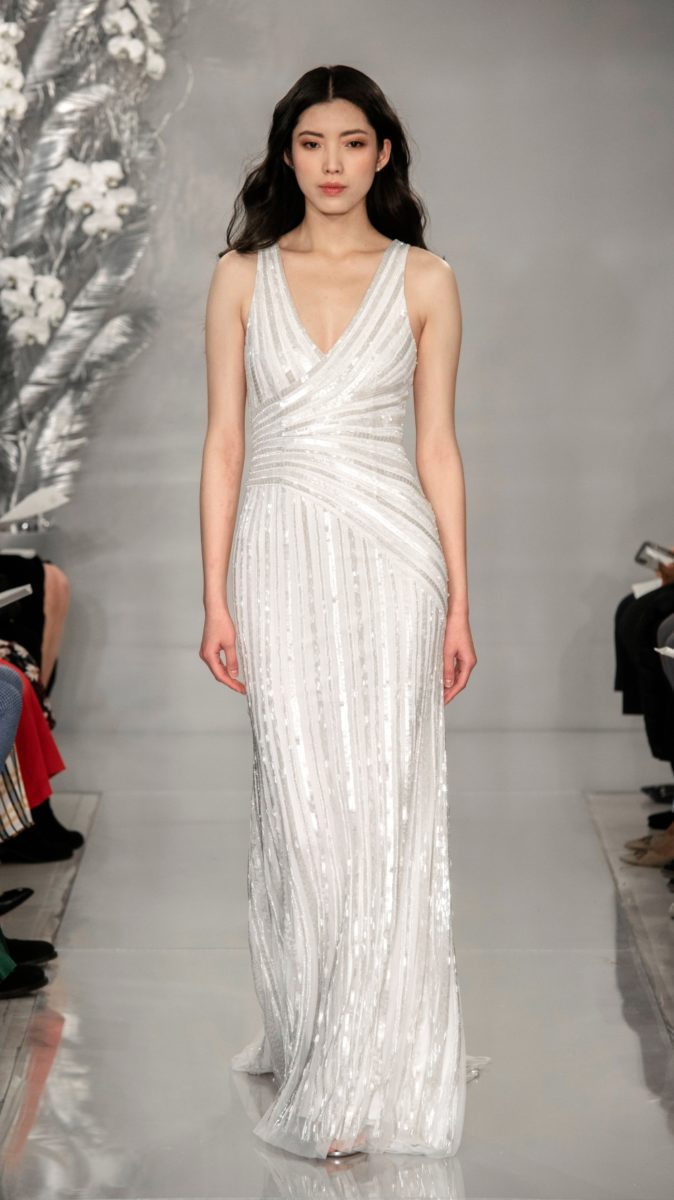 Luciana is a V-neck beaded bridal gown that has been hand embroidered with Grecian-inspired bugle beads and polychrome sequins.
Margaux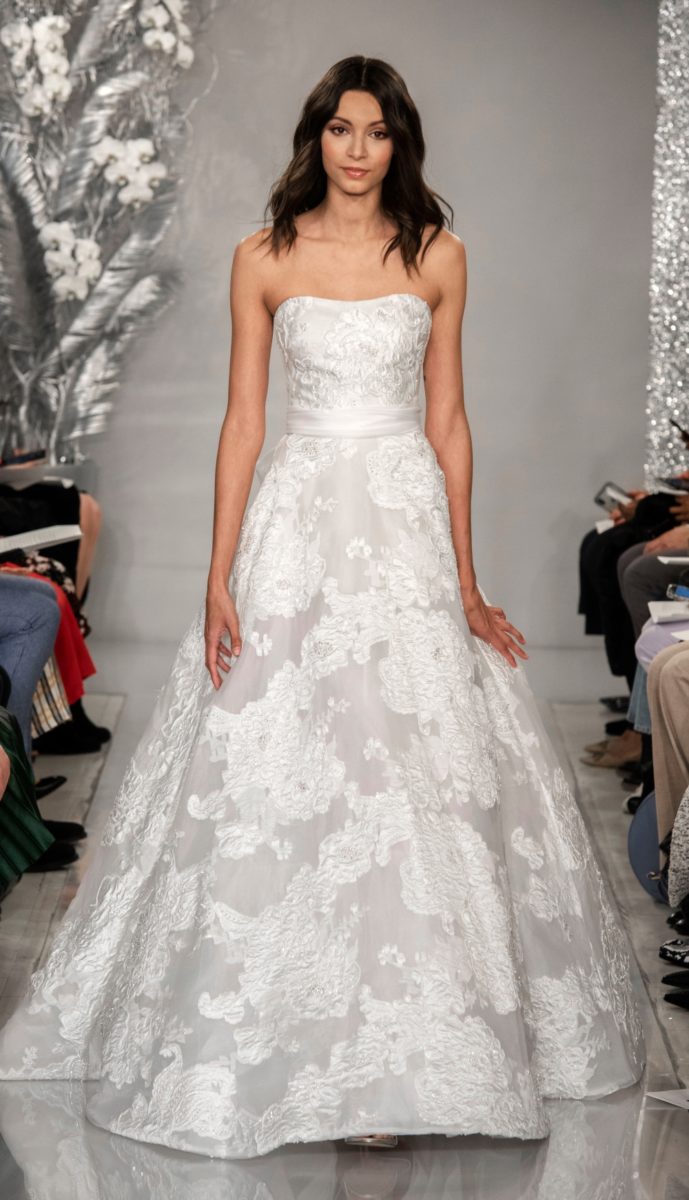 Margaux is a fil coupé strapless ball gown hand embroidered with pearls and poly chrome sequins, cinched at the waist with a silk organza bow.
Anni-Frid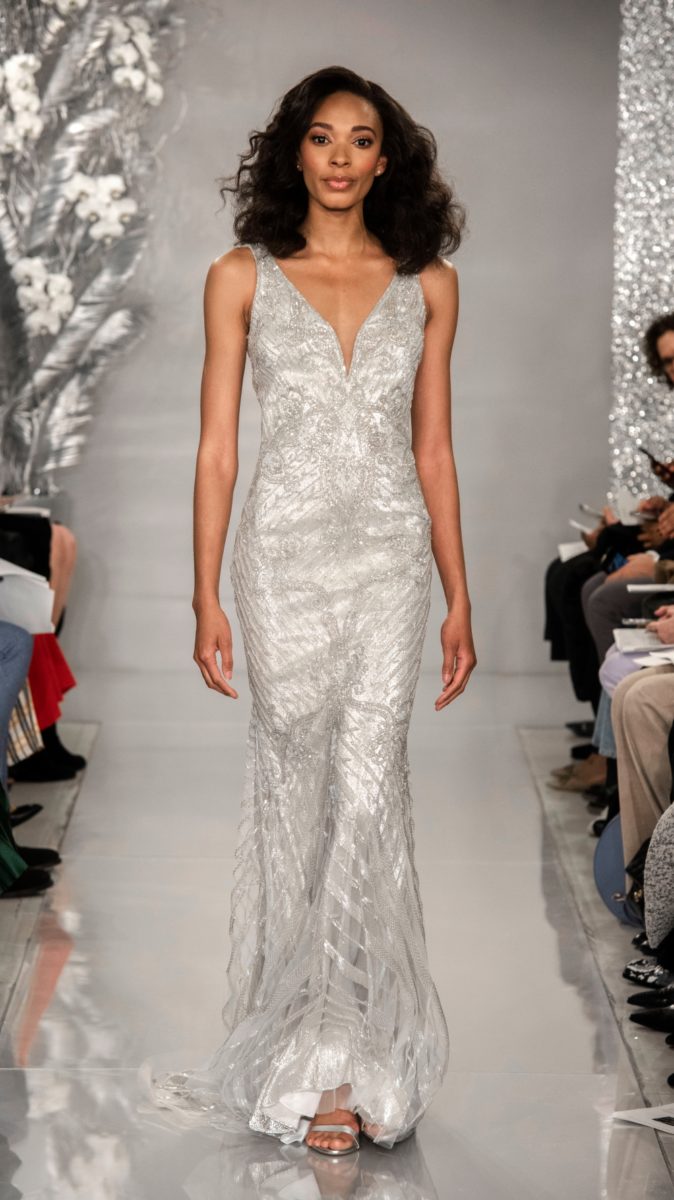 Anni-Frid is a platinum V-neck wedding gown gown, hand embroidered with crystals, glass bugle beads and polychome sequins.
More Details on Theia Bridal
For more information, including where to buy THEIA Bridal, please visit bridal.theiacouture.com/bridal
We thank the following talents for these images from the THEIA Bridal Spring 2020 Runway show:
Bridal Gowns: THEIA Bridal | Hair: Linh Nguyen | Makeup: Susan McCarthy | Florals: Fleur De Pascal | Runway Photography: Rodin Banica | Video: Video Fashion | Models: R'el Dade from Muse | Sarah Victoria from Elite | Kylie Frink from Wilhelmina | Hsu Chen from Supreme | Rea Triggs NY Models | Music: Simon Wheeldon
Also see these other Theia Wedding Dresses and Theia Bridesmaid Dresses, we've featured.
Wear it With: Bridal Accessories
The shopping sources in this section post use affiliate links. This site may earn a commission if you make a purchase from our links.