What to Wear to a Semi-Formal Fall Wedding. Weddings that start in the late afternoon and go into the evening are usually classified as semi-formal dress codes. Semi-formal fall weddings call for dressy attire in a fabric that shows off autumn colors. Women should wear festive special occasion cocktail dresses, jumpsuits, pants or skirts. Men should wear dark suits with a crisp shirt and tie.
What to Wear to a Semi-Formal Fall Wedding
Semi-formal wedding attire for women usually consists of a nice knee-length cocktail dress, a midi-length dress, or maxi or longer dress in a special occasion fabric for the ladies. Women can also choose pants, jumpsuits or skirts special occasion fabric. To make your semi-formal look right for a fall wedding just add a fall-weight fabric in a pretty autumnal color and some accessories, and your semi-formal style will be good to go!
For men, a nice suit in an appropriately dark color for evening (i.e., dark blue, charcoal grey, or black) for the men is usually the standard for both semi-formal and cocktail wedding attire.
What to Wear to a Evening Fall Wedding
Semi-formal wedding attire is generally the most appropriate choice for an afternoon or evening wedding reception that starts in the late afternoon and goes well into the night. For a fall semi-formal wedding, adding fall colors and fabrics is the way to go. Try a nice lace or jacquard cocktail dress, or a longer gown in with embellishment, beading, or just a dress in a beautiful fall color is a great choice!
Below I have picked out so semi-formal attire for men and women for the fall season. I also these pages that might be helpful for dresses for fall weddings, top wedding guest dresses, semi-formal wedding guest dresses maxi dresses for wedding guests with the latest picks for what to wear to weddings!
Shopping sections use affiliate links.
Dresses to Wear to a Semi-Formal Fall Wedding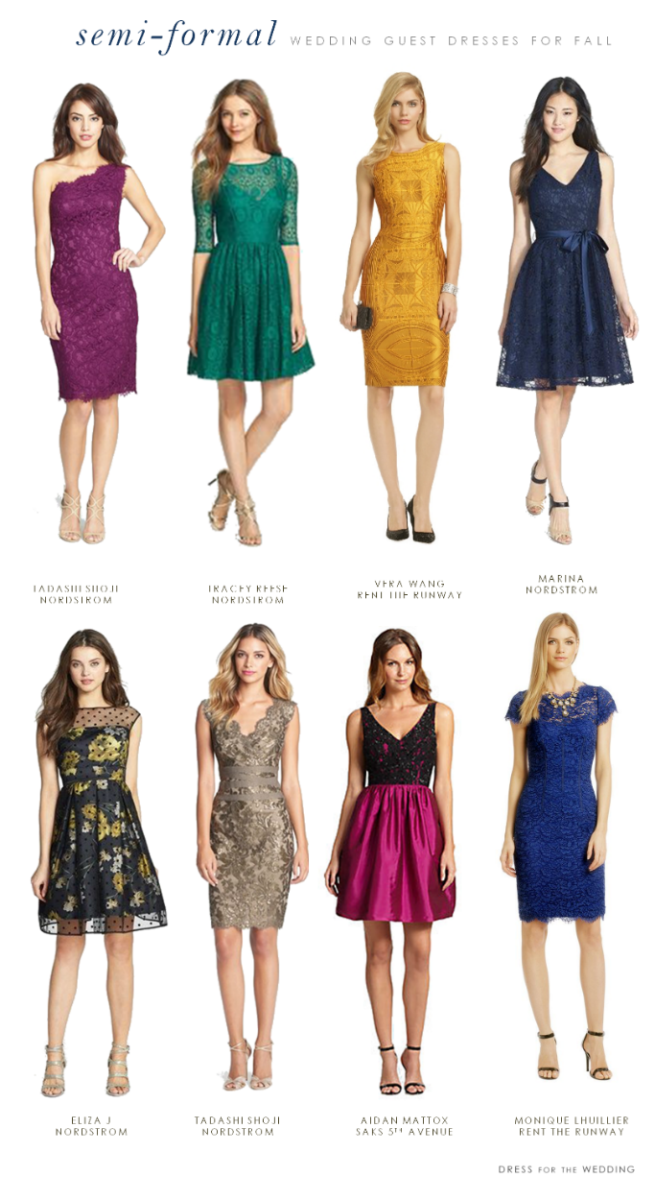 Shopping sources use affiliate links.
Top row: 1. One shoulder lace dress in Berry by Tadashi Shoji at Nordstrom 2. Green lace 3/4 sleeve dress Estella dress by Tracey Reese 3. Sun Goddess Sheath by Vera Wang at Rent the Runway 4. Navy lace fit and flare with V neck by Marina at Nordstrom
Bottom Row: 1. Black and Yellow Dotted Illusion Dress by Eliza J at Nordstrom 2. Lace Metallic Dress by Tadashi Shoji at Nordstrom 3. Black and Berry Dress by Aidan Mattox at Saks 4. Never Let You Go Sheath by ML Monique Lhuillier at Rent the Runway
Shop More Semi-Formal Guest Dresses

What Is Fall Semi-Formal and Cocktail Wedding Attire?
Semi-formal and cocktail attire is very similar-- if not interchangeable. If there is a distinction to be made, it's that cocktail attire, to me, implies the attire can be a little more festive, modern, fun, and flashy (but still wedding-appropriate).
Semi-formal sounds a little more conservative and is edging toward more formal evening wear.
Usually, semi-formal attire is most appropriate for late afternoon and evening weddings, with late afternoon ceremony and a reception that begins between 4 and 6 pm.
Semi-formal fall attire, just means it's time to bring out some fantastic fall colors and to choose warmer fabrics and perhaps longer sleeves!
More Semi-Formal Wedding Attire Details
For those of you who want more specifics--I like specifics myself--generally, the semi-formal designation means a women should wear a festive cocktail length dress in a dressy fabric with some sparkly accessories; or a dressy top and dressy skirt in a special occasion fabric; or a dressy maxi dress (i.e., not a sundress like cotton or cotton jersey), with slightly more relaxed accessories. If you go with a long maxi dress and very formal accessories, it starts to look more like black tie, which might be too formal for your event, but--hey-- I'm usually ok with overdressing! There's also the emerging trend of the dressy jumpsuit, so if you want to wear that, then please do! For men, I recommend a darker suit, a nice shirt, and tie; or a sport coat, suit, and tie for men. And don't forget nice shoes for everybody, of course!
What Should You Consider When Choosing What to Wear to a Fall Wedding?
The location, weather, time of day, your own personal style, the formality of the couple, and the overall style of the wedding are certainly factors in what kind of semi-formal attire you chose to wear, so the semi-formal dress code has a quite a bit of variation to it.
Style Considerations and Accessories for Fall Weddings
Fall dressing, in general, can be tricky: some days day it's eighty degrees, and others it's fifty. If you have a wedding in early fall in a climate that is still warm, feel free to wear a summer-weight dress, but perhaps one in a more fall-ish or transitional color palette.
As you head throughout the fall season you'll likely want warmer, more substantial fabrics like satin, lace, jacquard, and maybe even some tasteful sequins and beading.
Outdoor Semi Formal Fall Weddings
If it's chilly, you can always bring a cover-up or wrap, dressy sweater, or jacket to wear, and--oh --- I almost forgot my new favorite thing! If your wedding is outside, and you want to wear heels, get some Solemates High Heelers. ( They are an affiliate partner, but they did not ask me to write this, I am thrilled with them on my own.) I have a pair of nude-colored stilettos I've been wanting to wear, and with these little caps, I can walk on grass on them. (Yes -- I have been walking on my front lawn in stilettos and my running shorts testing these out. Hi, neighbors! I'm quirky. )But these caps work, and they'll save you from frumpy shoes! I even have the feeling they give a little stability and traction on the dance floor.
More Ideas for Autumn Wedding Guests
I hope this has given you some dress ideas to take you in style to weddings from September into November. And if you're planning a semi-formal fall wedding, and want to give your guests the hint that this is the sort of thing you'd like them to wear, link to this page on your wedding website, and they'll show up looking lovely! Also follow my Wedding Guest Dresses Pinterest board for more inspiration; I update it each day with new dresses.
This post has affiliate links to retail partners.
Check out these posts too!
What to Wear to a Formal Autumn Wedding
What to Wear to a Dressy Casual Fall Wedding
or get ready for the next season and shop Winter Wedding Guest Dresses