If shopping more sustainably for wedding guest attire is something you're trying to be more mindful of this wedding season, we'll share our tips for where to find the best sustainable wedding guest dresses. These eco-conscious brands offer lots of formal styles for special occasions that provide elegant alternatives to fast fashion.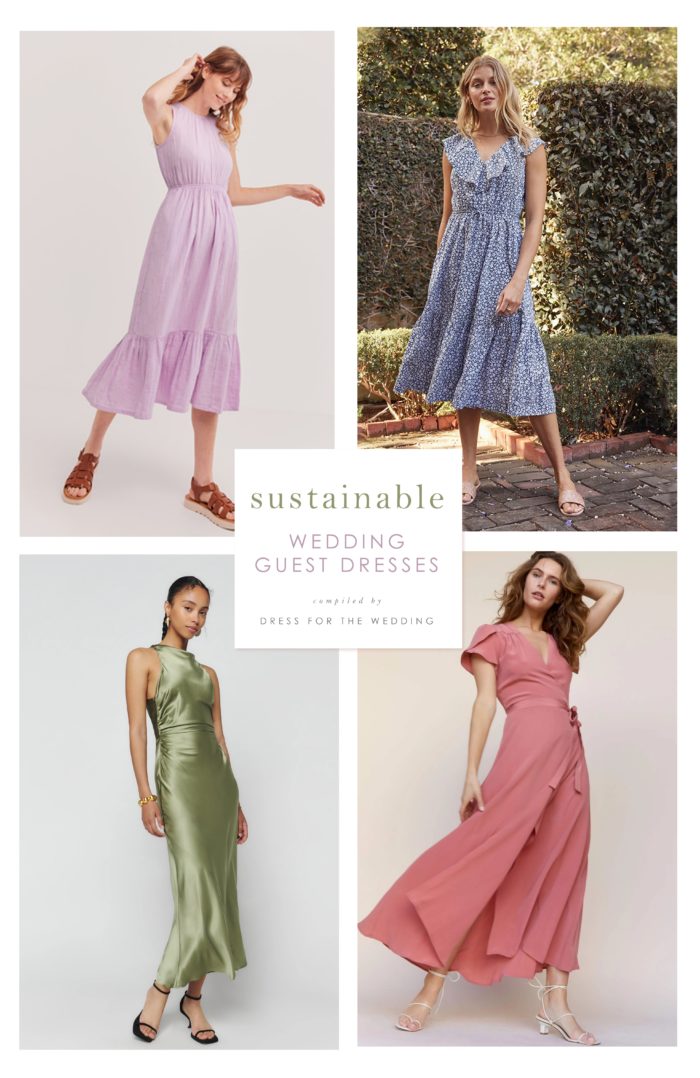 Image and shopping sources: 1. Lavender Midi Dress - Coastal Cutout Midi Dress from Pact 2. Blue Floral Dress - Coastal Cotton Poplin Ruffle Dress from Summersalt 3. Sage Green Silk Gown - Casette Silk Dress from Reformation 4. Pink wrap dress - The Autumn Dress from Christy Dawn
Where to Find Sustainable Dresses for Wedding Guests
Do you have back-to-back wedding events scheduled from now until the foreseeable future? If so, you can probably imagine that you -- and legions of other other guests-- are figuring out what to wear for this season of weddings.
Since weddings and the events that surround them are such one-off events, they often inspire a flurry of single-use fashion purchases, and they can generate a lot of waste. While the most sustainable thing to do is wear something you already own, sometimes a special occasion calls for attire you may not already have access to.
Thankfully, fashion sustainability and waste-free practices are gaining more traction, and along with that come many more options than ever before for sustainable special occasion styles. While there aren't yet any official governing rules of what qualifies as sustainable fashion, ideally designers would include a combination of ethical practices for both labor and material sourcing, low-waste and eco-friendly methods of production, and some goals for recycling or replenishing regenerative materials.
To that end, here are some of the brands we've found that are doing the best job of attempting to create sustainable fashion while putting out some beautiful special event styles. We've shared over 15 top brands that carry sustainable special occasion styles, and below that, you'll find a shippable section of over 70 sustainable dresses for wedding guests for this season of weddings.
Top Brands for Sustainable Wedding Guest Dresses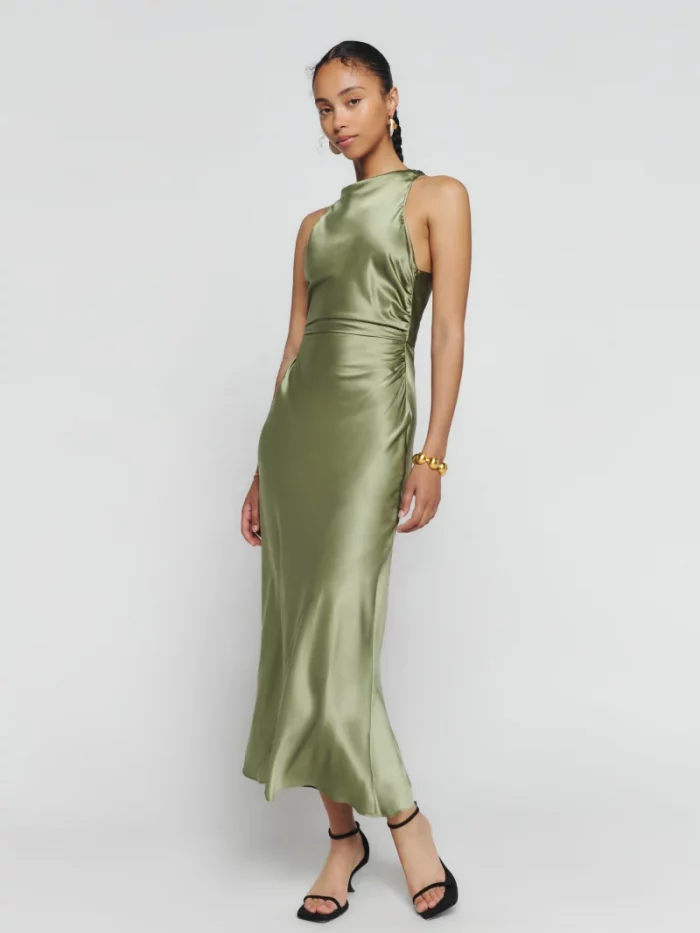 Reformation is perhaps one of the best-known sustainable brands specializing in formal and wedding-ready dresses. And for good reason; these dresses are gorgeous! While Reformation dresses retail for over $250, a price point that is a little steep for some, the brand's ideals are well worth supporting with your money. Reformation has outlined some of the most comprehensive plans we've seen for ensuring sustainable fashion, through multifaceted approaches to fabric sourcing, recycling, environmentally safe dying and chemical processes, and fair working conditions for all involved in the creation of their clothing.
In addition to a commitment to sourcing fabrics from renewable or recyclable sources, and building fabrics to last, the brand also provides great guidelines on how the consumer can be a part of the solution with mindful washing practices and a recycling program should you decide to pass along your Reformation purchase at some time.
Read more about the brand's sustainability practices here or shop the dresses.
This British brand is known for its bright and cheerful casual styles and dresses. The aesthetic is quirky patterns and enthusiastic hues paired with classic silhouettes and tailoring. This vibrant offering makes their dresses, skirts, and suits perfect cheerful attire for a wedding guest. The splashy prints and bright colors are ideally suited for daytime weddings, beach weddings, and outdoor celebrations, but they have some satin formal styles that will suit semi-formal events as well.
From packaging choices, to working with ethical partners and following ethical labor guidelines, recycling fabric, to finding a wood pulp alternative to viscose fabric, Boden is showing how large brands can take a path to sustainability. Read more about their commitment to sustainability here.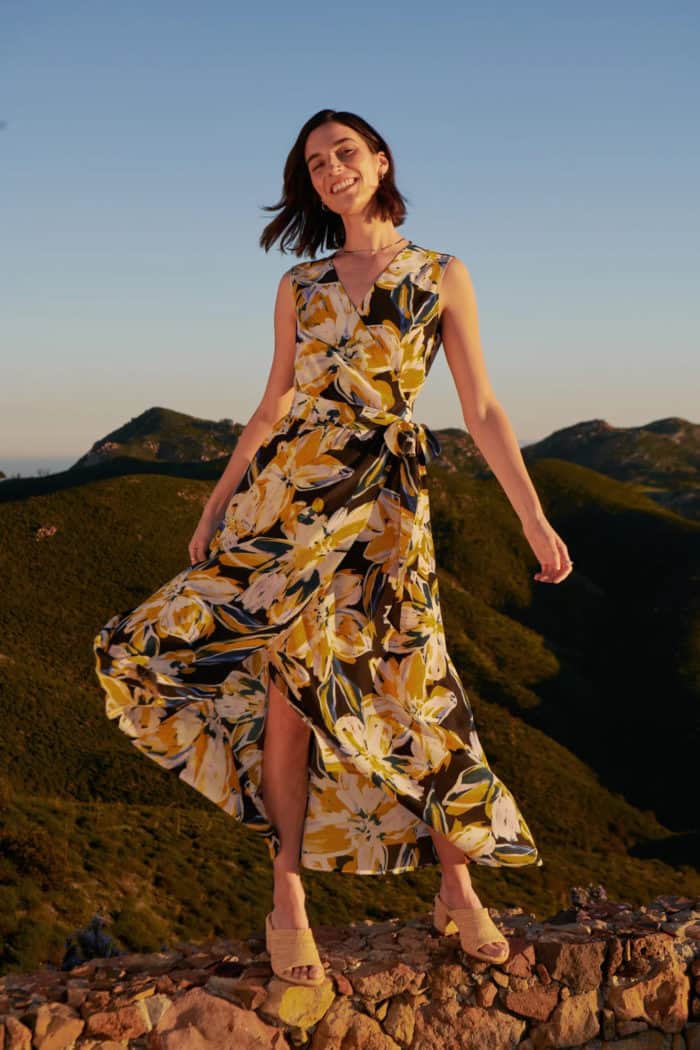 Shop This Dress from Amour Vert
Amour Vert's entire brand is designed around sustainability, from a "commitment to artisan-made elements, responsible supply chains, pure and low impact materials, conscious packaging, and circularity. The dresses they offer are beautiful, classic creations in beautiful silks.
We're drawn to the delicate patterns and flattering cuts that make these wedding guest dresses both unique, yet timeless styles. They even have a section of their site called ReAmour dedicated to buying or reselling past Amour Vert styles. You can see Amour Vert's detailed approach to sustainability here or shop their dresses and outfits.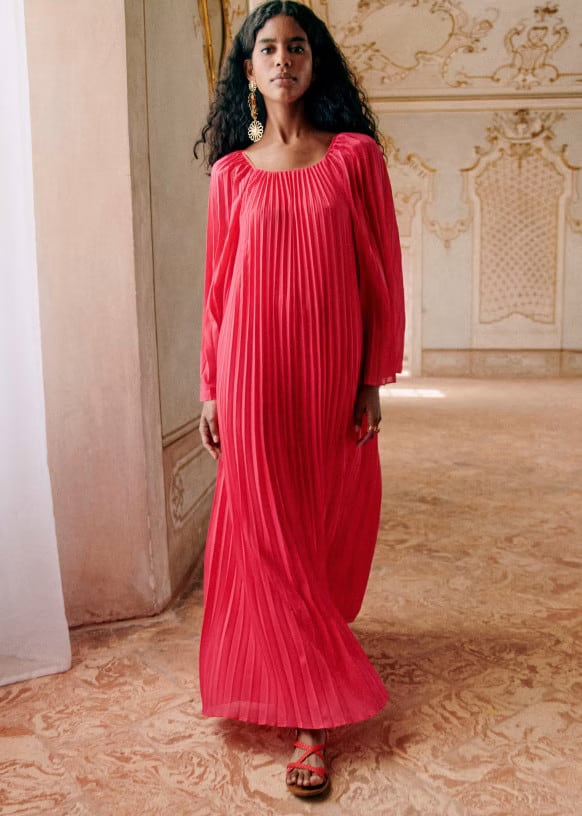 French brand Sézane, offers dresses with a delightful splash of color, that you'd love to wear. Each offering seems to offer that effortless French girl chic style. Their curated catalog of dresses is a delight to browse through, and gets even better as you see each dress shows icon guidelines that detail exactly how each item falls in line with Sézane's "desire to create timeless pieces that respect the planet and its people" To that end, " ¾ of the materials in [their] current collections are eco-friendly" Additionally, they offer pieces that are " certified GOTS, Oeko-Tex, FSC, RWS, and RMS" There's even more philanthropy and other good stuff; you can read for yourself here and then you might want to shop the wedding guest dresses!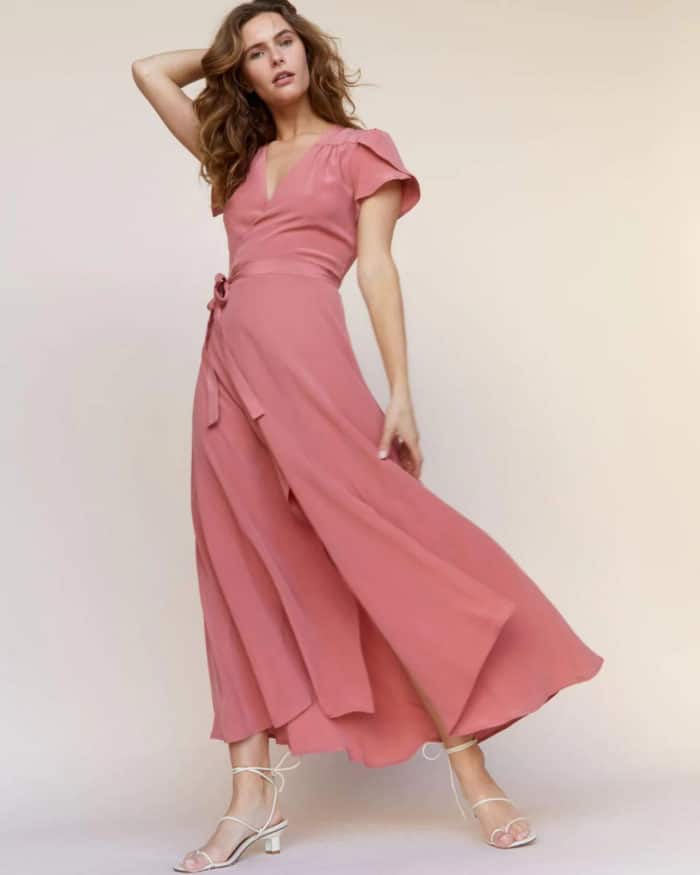 Shop this Dress
These soft floral prints and wrap dresses are perfect for spring and summer outdoor weddings and well-suited to outdoor venues like beach weddings, and rustic country weddings. Christy Dawn has also just launched a Bridal Collection perfect for brides, bridesmaids, or guests. Christy Dawn's slogan is "honoring mother earth" and they support not only sustainable but regenerative practices. They offer recycled fabrics like cotton and silk and work to ethically source fabrics in India and work with cotton and other materials farms to heal the land and grow new crops for their fabrics. Both factories and dressmakers are ensured a good living wage and ethical working standards by the company.
Modern and classic interpretations of top trends are the way we'd classify the dresses from Mango. We're delighted that they are reasonably priced, with many under $100. The brand's sustainability initiatives include a plan for being committed to the plant, people, and product and working towards sustainable or recycled fabric being used in all designs by 2030.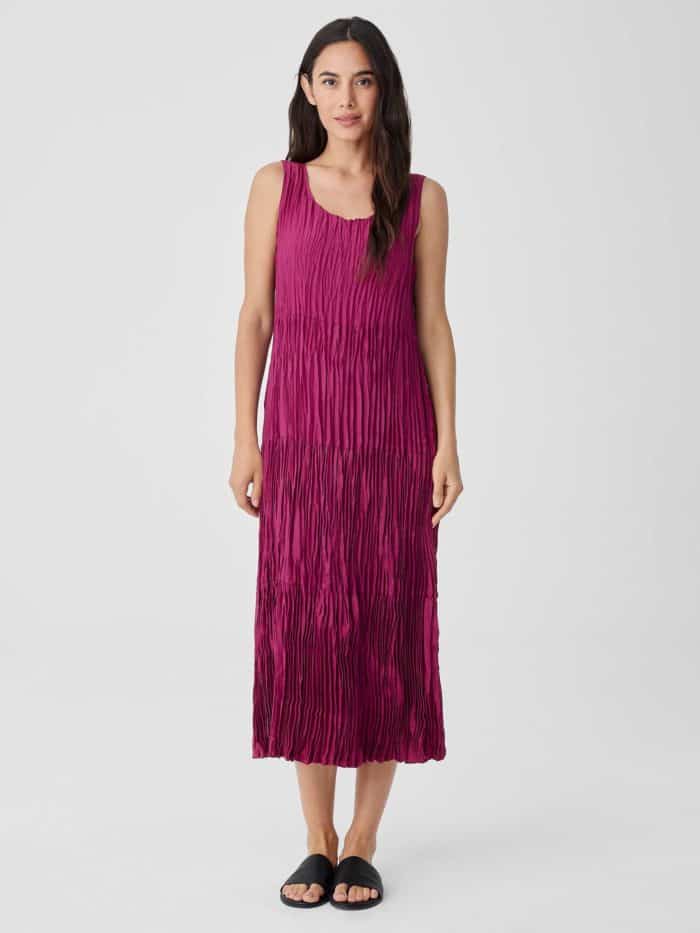 Shop This Dress
Eileen Fisher had been doing modern, minimalist, sustainable fashion for years before many other brands we mentioned existed. The original capsule wardrobe, of high quality effortless, relaxed style comes to mind whenever we see the Eileen Fisher label.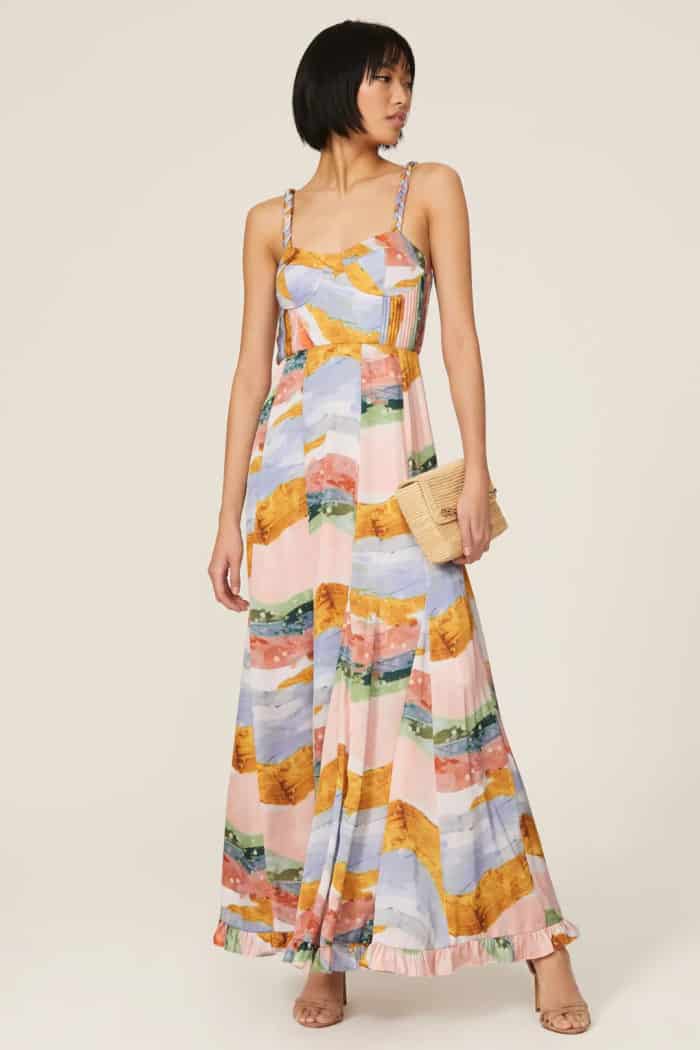 We have been recommending Rent the Runway as a helpful solution to back-to-back weekends of wedding events and it makes the list of sustainable options, because of the built-in re-wearing, reusing and inherent sustainability that comes from the fashion rental business.
Best of all this is a more affordable option than buying new in many cases, and allows you to choose from thousands of high-end designer dresses and try out different looks without a big cost or commitment. Most rentals are between $30 to $100, and if you have an ongoing membership to Rent the Runway, then adding wedding guest styles to your picks for the week just makes sense! See our picks for best wedding guest dresses to rent if you need some new inspiration!

We've been fans of Pact for their leggings and loungewear and soft cotton fabrics, but now they've added more dresses to their offerings. While these won't work for more formal weddings, these fun dresses are great for more casual outdoor weddings, daytime events, or any of the pre-and post-wedding events like showers and brunches. Pact's sustainability comes from Organic Cotton, Fair Trade, and Carbon Neutral. Best of all, many styles are reasonably priced at $100 or less and are chameleon styles that can be worn again in many other day-to-day casual settings. Pact recently launched their Soiree line with dresses made for occasions, making elevated, sustainable style possible!

We knew we loved Summersalt for the swimsuits, but did you know they have sustainably-made dresses, too? They create both swimsuits and dresses out of recycled and eco-friendly Tencel. These dresses are casual styles, and are perfect for bachelorette weekends, bridal showers, and brunches, as well as some styles that can easily fit into the category of casual wedding attire for beach weddings, outdoor weddings, and more.

We love how Quince finds a way to bring classic well-made jewelry, bags, and wardrobe basics like sweaters to consumers in a sustainable and affordable way. Now they're offering washable recycled silk dresses that will be perfect for minimalist wedding guest styles.

Reiss has been a favorite of ours since the then Kate Middleton for her engagement photos and this classic British label offers always elegant dresses that one can easily imagine the now Princess of Wales reaching for in her closet. At first look, Reiss's sustainability statement seems to be more about the timeless classic style they are known for that is sustainable by extension because these dresses act as investment pieces, but with more of a look one realizes that this label has made a serious commitment to sustainability, with goals for sourcing through the BCI and reducing carbon emissions to zero within by 2040.

Everlane offers transparent pricing down to labor costs and and-easy-to see shopping guides that showcase each product's cost and sustainable aspect, such as responsible forestry. We love their V Neck silk dresses and full-skirted cotton dresses and jumpsuits as options for wedding-related outfits.

People Tree is one of the pioneers of Fairtrade Fashion bringing advancements to supply chains for fabrics. They create their own dresses, mainly out of their fair trade cotton. While most styles are day dresses that are best for daytime functions, they offer a few silhouettes like wrap dresses, and midi dresses, this off-the-shoulder sheath dress will look just right for semi-formal events.

Ted Baker dresses with their floral prints, clean, meets whimsical styles and bows are already the epitome of the perfect wedding guest dresses. But we're also delighted to see that Ted Baker London is another high-end brand that is taking sustainability seriously. Working with leading partners and committing to " ensuring their supply chain operates in a fair and safe environment" while also working to "reduce environmental impact" are some of the brand goals. See more about their commitment to sustainability, or shop the lovely dresses!

Stella McCartney has been looking for sustainability and eco-conscious approach to fashion decades before other brands. While the designer price tag and the avenat garde styles she's known for aren't always an easy mainstream choice for most wedding attire seekers, those who love a chic designer style might opt for this luxe and eco conscious choice.

Cuyana is a women-led company that offers minimalist, capsule style clothing collections, with ensuring designs and quality. They've added a few skirts, jumpsuits and lovely dresses to their offerings, that offer a great look for event dressing. Read their sustainabilty statement, or shop the dresses they offer.
Sustainable Dress Favorites - Shop The Look
Here are all of the wedding guest styles we've found in our search for the best eco-friendly dresses to wear to a wedding. We hope you find a fair trade or sustainable special event dress that you love!

More Tips for Sustainable Style
In addition to these retailers and brands we've highlighted, we're delighted to see that major online retailers like Nordstrom, Revolve, and H&M are starting to highlight the sustainable practices they offer and brands they carry to make it easier to shop with environmental and social impact in mind.
Here are links to their sustainable picks:
Sustainable Styles at Nordstrom | Sustainable Styles at H&M X ThreadUp | Sustainable Styles at Revolve
As we mentioned, re-wearing clothing - whether originally your own, or someone else's is another great way to lessen your clothing's environmental impact. Wearing an outfit or dress you already own with a change of accessories, blazer, or pairing separates with formal skirts and pants can go a long way to making a wedding-ready outfit. In addition to shopping mindfully, we're big fans of keeping an eye out at vintage shops, consignment stores, and places like Goodwill and The Salvation Army shops for wedding attire possibilities. One of our favorite tips in this regard is always to check out resale stores in affluent areas for some high-quality designer names at affordable prices.
Online, there's also always, Poshmark, ThreadUp, and Ebay, all of which are great if you are search for a particular designer or style from a past season.
We hope this shopping guide has been helpful in giving you more options for sustainable ways of dressing for weddings. We'll hope to continue this trend by featuring more articles soon on sustainable wedding dress designers, and sustainable bridesmaid dresses.
More style ideas you might enjoy :