This month, KristynJennifer Events and I were so in sync when planning our theme for Dress to be WEDnesday! I had just attended a beautiful wedding for my friends in the White Mountains of New Hampshire, at the same time that Kristyn had been pinning rustic mountain themes to her inspiration boards. So, it didn't take us long to decide this month: let's do a mountain themed wedding! See Kristyn at Live Eventufully's post about it here.
Style Me Pretty
 Photography By / 
Twin Lens
 / twinlensimages.com
-----
Mountain Wedding Event Inspiration
Please check out some of these beautiful images that have inspired us both. You can see more of this inspiration on LiveEventfully's Pinterest boards. especially on the one that she dedicated to this theme called Take Me Home Country Roads.  Following all her boards is an excellent idea to get your daily dose of her creativity.
I also made my own mountain themed inspiration boards which you can see here on Style Me Pretty and here by viewing my bundles on Lover.ly .These helped to get us in the right frame of mind.
Attire Ideas for the Wedding Party
As far as what to wear, here are the thoughts I had on that: First of all, under the general theme of "mountain" and rustic; one can have so many different other interpretations: a woodland theme, a hiking theme, a skiing theme, a wildflower theme, or a western theme. The list really can span whatever best reflects the couple's interests.  Secondly, while you certainly can wear a traditional gown and have traditional bridesmaids dresses, you don't necessarily have to! Pulling out a few of those ideas, here's what I've come up with for the bridal party to wear:
 Wildflower Theme Wedding
Tinley Road Enamel Jeweled Bangle Bracelet
 from Piperlime ||
 Blakely Dress from J.Crew in Dark Pacific Blue
 at  
J.Crew.com
 ||
Calypso Drop Earrings from PinkMascara.com
||
Area Bright Mustard Suede
  at
Heels.com
 || 
Genova Stripe Long Tie in Navy
 at 
Ties.com
 ||
Thumbnail Image by Jenna Walker via Style Me Pretty
For a wildflower mountain theme, I love the way all the brightly saturated hues of wildflowers, seen in the inspiration board pictures, just pop against a blue. There's also something about the ruffled collar of the Blakely dress by J.Crew, that looks right in this outside environment. (This dress also comes in pearl gray that I think is perfect for winter weddings.) I also love that bright yellow in that ball flower above, (called Craspedia or a Billy Ball flower) so I thought it would be pretty if the bridesmaids were carrying those bouquets, and had a fun pop of bright yellow on their feet. The photos would be so stunning, and the look would really reflect the beautiful bright colors of nature.
------
Alpine Hiking Theme
Aryn K  Green Tweed Peplum Dress
 at
SlimSkii.com
 |
Lanvin Dark Olive and Navy Striped Tie
at
Barneys.com
|
Red Valentino Tweed Pumps
at
theoutnet.com
|
Tree Twing Cuff Bracelet
from
Madewell.com
|
Amanda Pearl Black Lip Lei Necklace
at
Max and Chloe.com 
 ||
Thumbnail Image by Becky Young Photography via Style Me Pretty
I found this tweedy strapless dress, which I just adore. It's just so hunty/mountainy, and I though with tweed shoes, and some nature-inspired accessories, and a olive striped tie for the groomsmen, it would be a classic alpine-y look, which a chic twist to it. You could also put this with rubber Hunter boots, for another kind of fun outdoorsy feel.
------
Western Mountain Theme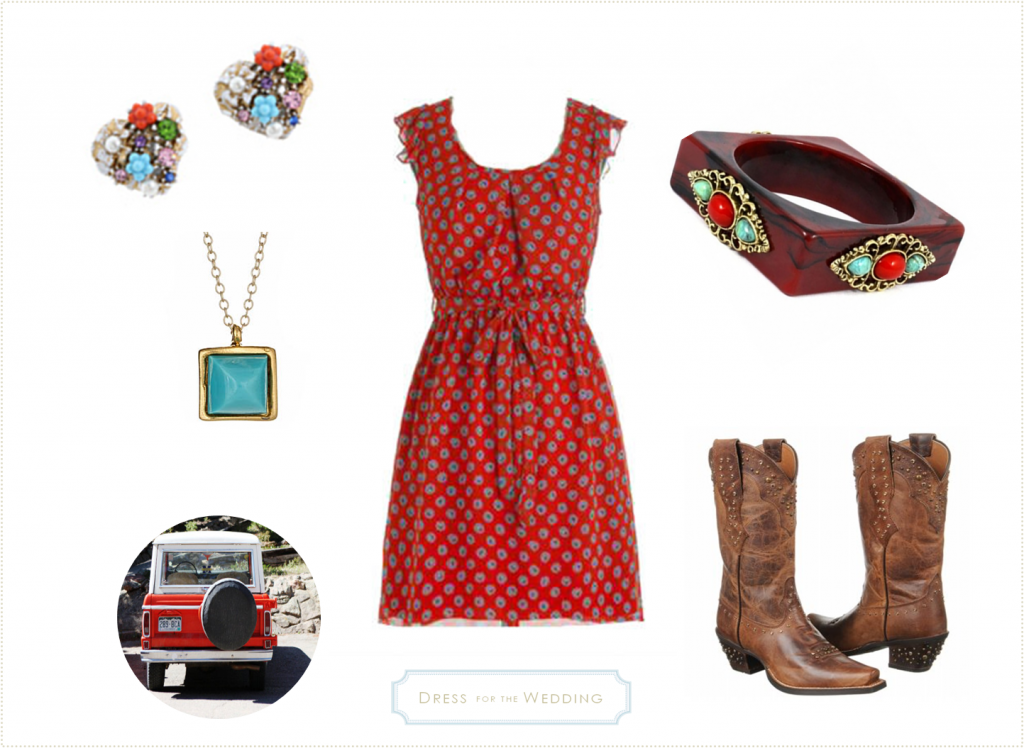 Turquoise Pendant Necklace from 
Max & Chloe ||
View From The Top Dress
 -
ModCloth.com
||
Betsey Johnson - Farmhouse Heart Charm Stud Earring from Zappos.com
|| 
Ariat Cowgirl Boots
at
Ariat.com
 || 
Chara's Square Ornate Red Lucite Bangle from Fantasy Jewelry Box
 ||
Thumbnail by Jenna Walker Photography via Style Me Pretty
This third look is just a simple red country patterned dress, which would be great for a mountain wedding - especially fitting in the western-ward region. There's no need to necessarily have silk and satin in an outside setting for your bridesmaids, I really like the idea of just a simple dress, and I always think the pictures with the girls in their dresses and their cowboy boots all lined up look so pretty! Add some western accessories like the turquoise shown here, and you have a complete western mountain wedding look.
 ------
Winter Ski Lodge Mountain Theme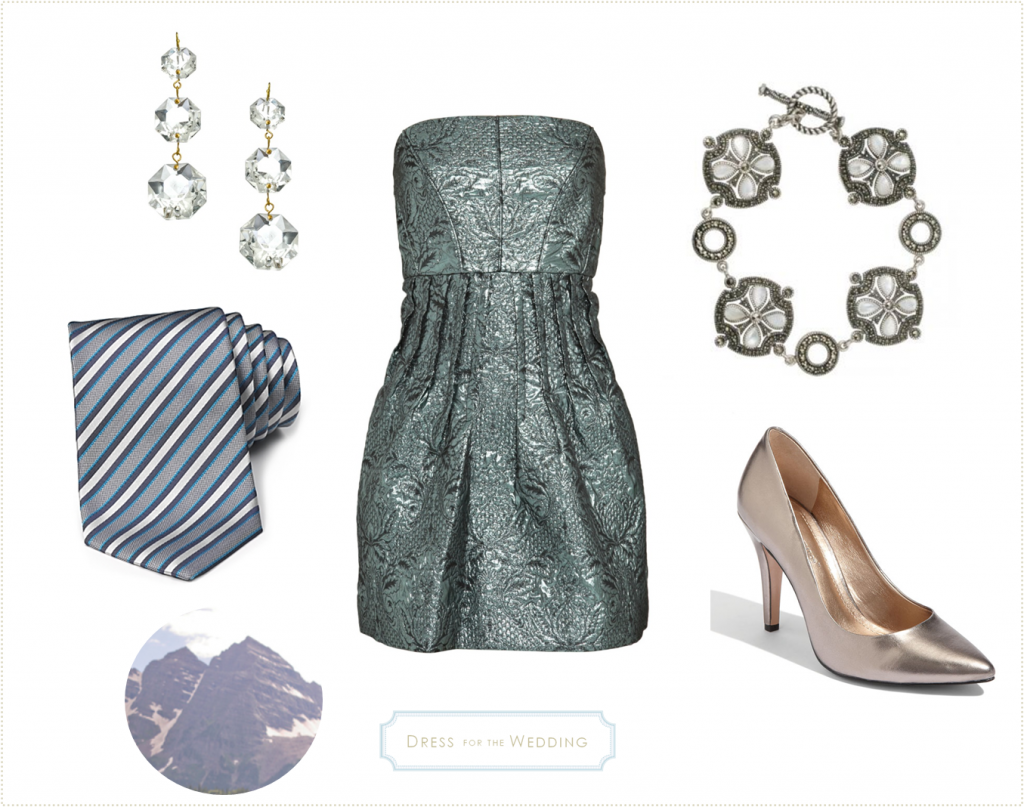 Amanda Pearl Vintage Crystal Drop Earrings from Max& Chloe.com
 ||
Tibi Metallic jacquard dress from TheOutnet.com
|| 
BOSS  Multi-Stripe Tie
 from Bloomingdales.com || 
Joolwe Sterling Silver Bracelet from LinensNthings.com
 ||
BCBGeneration 'Cielo' Pump
 from
Nordstrom.com
 ||
Thumbnail by  Maloman Photographers via Style Me Pretty
This look might be my favorite - a rich damask ice blue for a winter mountain wedding. Picture all of your bridesmaids lined up by the fire in a ski lodge with these icey-looking dresses and jewelry, and the fellows in those cool blue ties ties.  Snowy and cozy! Makes me want hot chocolate just thinking about it now.
-----
Woodland Mountain Bridal Look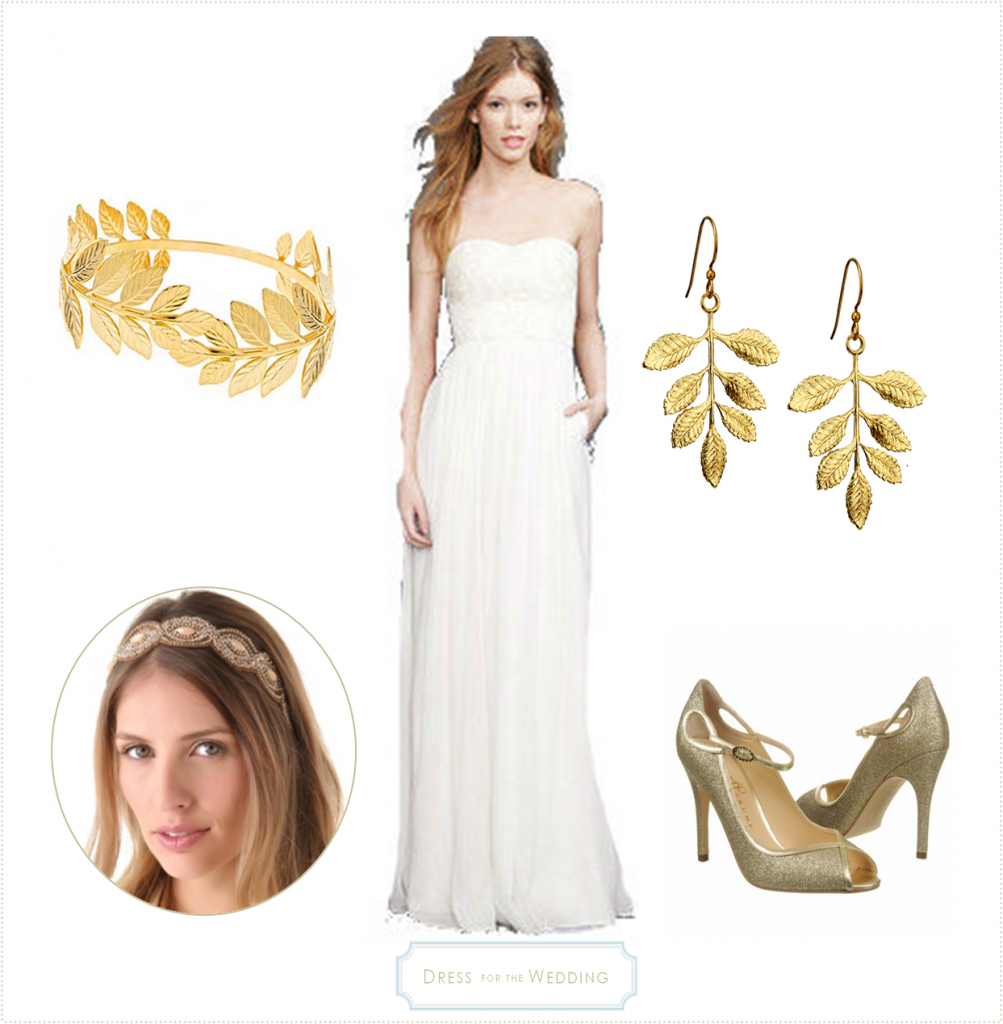 Chunky Gold Leaf Cuff at FantasyJewelryBox.com
 || 
J.Crew Farrah Bridal Gown at J.Crew.com
|| 
Privileged Seven Leaf Earrings at Max and Chloe.com
||  
Crystal Embellished Headband at Shopbop.com
 || 
Ivanka Trump Natalya Shoes (Gold Glitter) at Shoes.com
Lastly, for the bride of a mountain wedding, well, she can wear pretty much anything she chooses! While one doesn't want to be clearing pine needles with one's train, certainly outside under the trees is a grand as any cathedral and can accommodate a grand dress.  My friend who got married this month, chose the most beautiful lace strapless dress, which also suited the occasion perfectly.
The look I'm showing here, is more of a fairy/wood nymph kind of theme, yet another take on a mountain woodland theme, because I couldn't help myself with those leafy accessories. I think they look etheral, natural, relaxed with this dress from J.Crew.
No matter which of the many mountain themes you may choose, there is clearly a number of venues, approaches to decor and style that can be created to reflect a couple's individual taste and style.
Intro Thumbnail Photo Credit:  Via Style Me Pretty Photography By / Maloman Photographers