Mismatched Bridesmaid Dresses : Blush and Gold Bridesmaid Dresses to Mix and Match
Today's mix and match bridesmaid dress color combination is such a popular pairing, that I can't believe I haven't shown it off before! It's time to look at some ideas for mismatched blush and gold bridesmaid dresses!
 Blush Pink and Gold Beaded and Sequined Bridesmaid Dresses
Affiliate links are used in the shopping links in this post, meaning this blog may receive a commission from our sponsors at no cost to you, if a qualifying purchase is made.
Sources all dresses by Adrianna Papell: 1// Blush Off-the-Shoulder Beaded Gown 2// Gold Strapless Sequin Gown with Train 3// One-Shoulder Beaded Gown with Godet Skirt 4// Art Deco Beaded Gown 5// 6// Sequin Beaded Halter Dress  
This first look features all beaded and sequined dresses by Adrianna Papell: I can say without hesitation that this brand has one of the best selections of beaded and sequined blush bridesmaid dresses, and their process of grouping the color schemes makes it so easy to mix and match. You can essentially tell your friends the two colors you like and then turn them loose to pick their own gown. Adrianna Papell gowns also come in a full range of sizes and necklines, which makes finding the right fit so easy.  Take a look for yourself at all of the gold beaded bridesmaid dress options, and all the pink and blush beaded bridesmaid dresses they offer!
Pink and Gold Bridesmaid Dresses

All gowns from Dessy: 1// JY Jenny Yoo Bridesmaid style JY534 2//  Dessy Bridesmaid Dress 2987
3 // Dessy Bridesmaid Dress 2988 4// Social Bridesmaids Style 8180 in Blush
If you want a solid style, try a blush pink and gold combination from Dessy! Dessy offers several brands that all have distinct styles, along with a range of fabrics and price points. Among those styles there are so many colors to choose from that will work for a blush and gold color scheme. I really like the, blush gold color which I have not seen in person, but seems to be a metallic blend within the color! Try a sample or check out all the blush dress and gold dress options there.
Metallic Blush Bridesmaid Dresses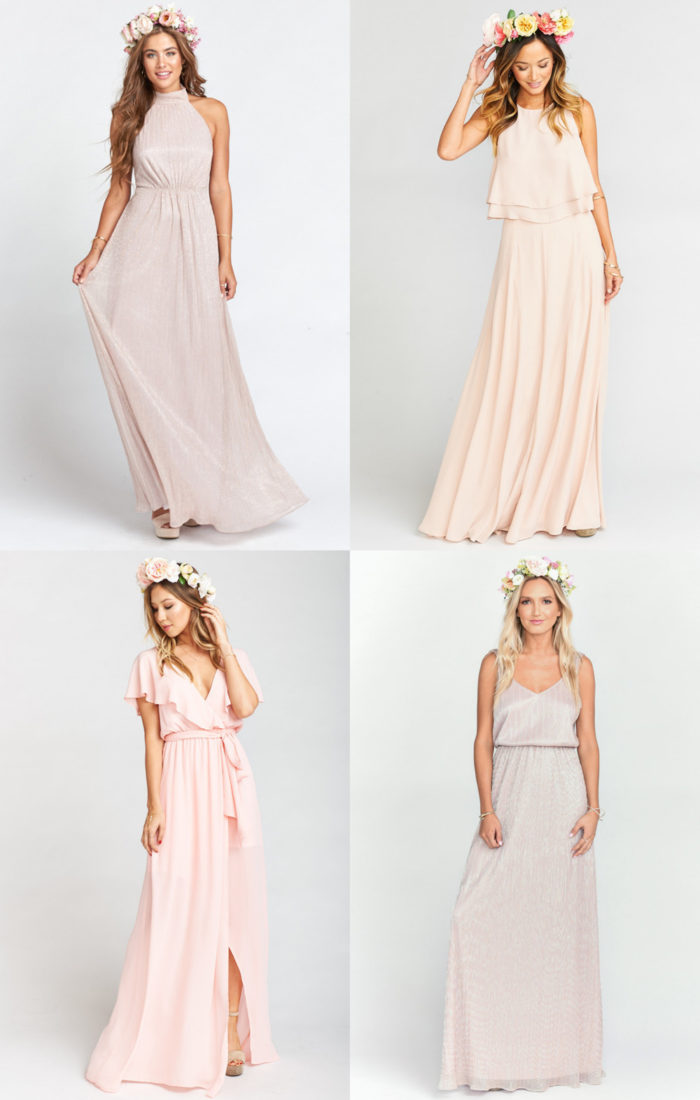 1// Collette Collar Dress ~ Magic Mauve Glimmer 2// Princess Di Maxi Skirt ~ Dusty Blush Crisp 3//  Audrey Maxi Dress ~ Frosty Pink Crisp 4// Kendall Maxi Dress ~ Magic Mauve Glimmer
Speaking of a metallic look, another one of our favorite places for boho and modern bridesmaid maxi dresses is Show Me Your Mumu. We've always loved their blush and pink dresses, and they have just released a new shimmery mauve metallic color called 'Magic Mauve Glimmer' which we love! Mix and match it, or stick to that one color, and have your bridal party member pick the dress silhouette they will most enjoy wearing.
More Bridesmaid Dresses in Blush and Gold
Some of our other favorite spots to find bridesmaid dresses have some pretty blush and gold options. Here are a few we like!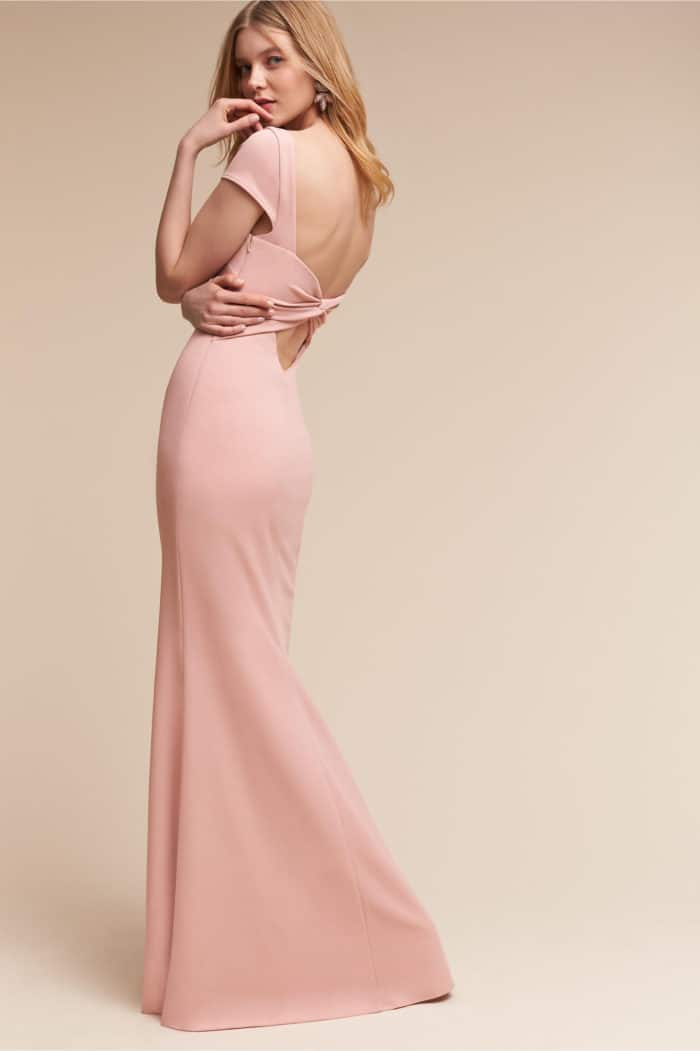 This twist back gown called the Madison Dress by Katie May, is available at BHLDN. Such a chic, sleek style!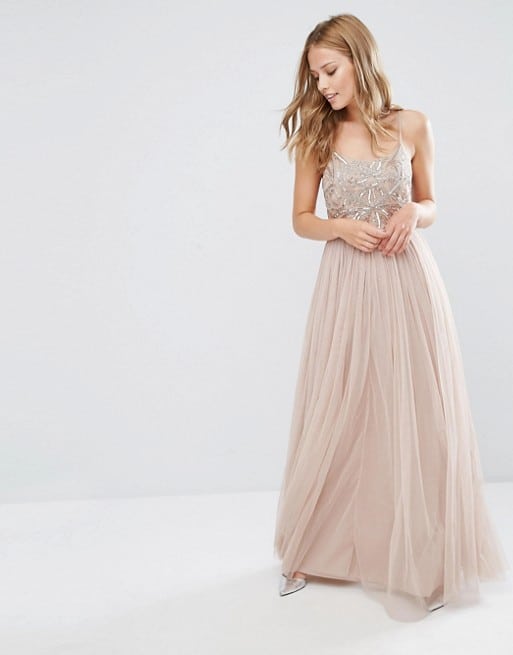 Love the on-trend styles at ASOS – full of tulle layer and embellishment! Above: Maya Cami Strap Maxi Dress with Tulle Skirt and Embellishment Below: Maya Cape Sleeve Tiered Maxi Dress in Tonal Delicate Sequin with Bow Back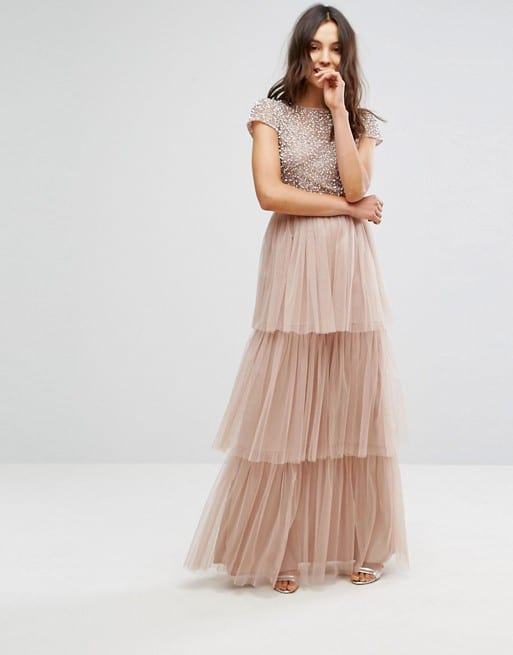 Maya Cap Sleeve Tiered Maxi Dress in Tonal Delicate Sequin with Bow Back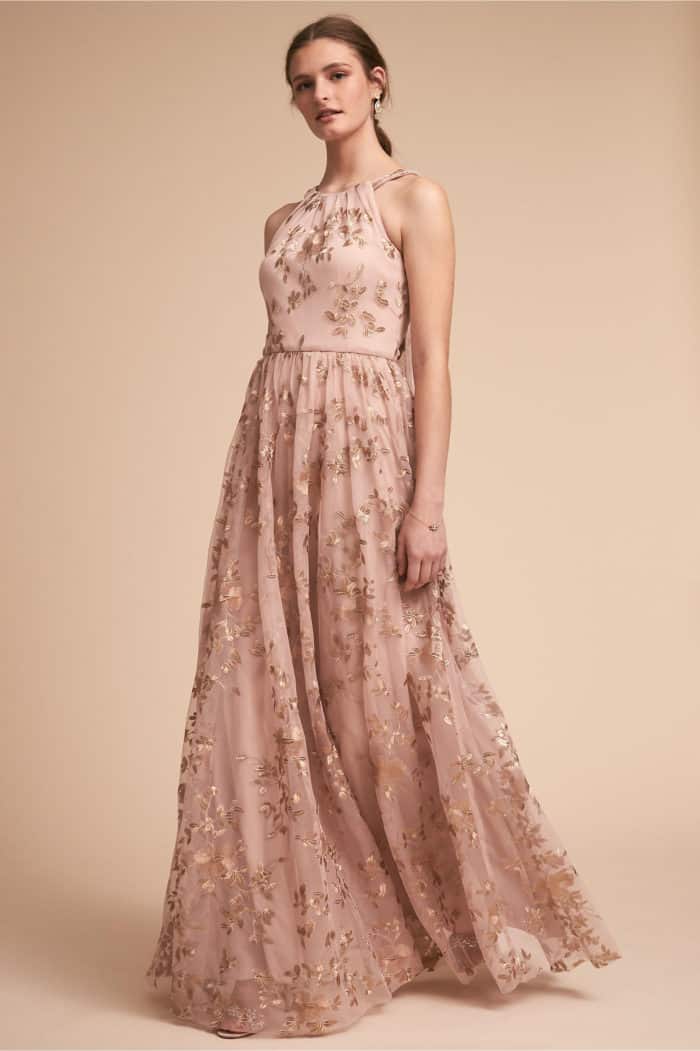 BHLDN also does a a great job of romantic detail and embellishment as seen in this two gowns: Antonia Dress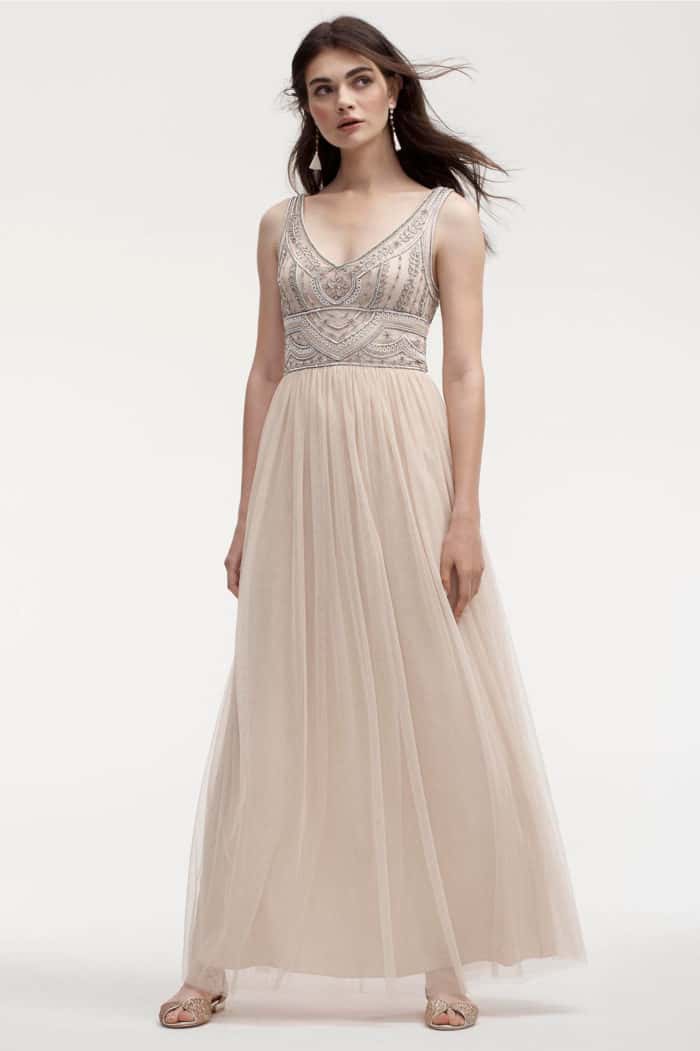 ASOS again for a great mix of embellishment and sleek satin!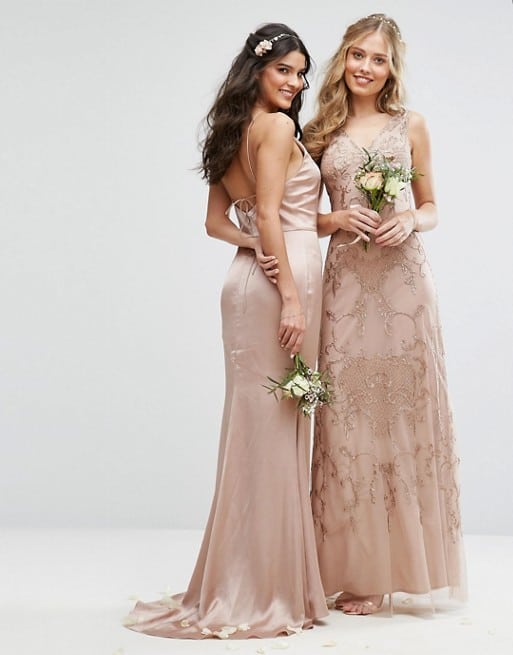 Maya Embroidered Maxi Dress With Beading And V Plunge  and Satin Maxi Dress by Jarlo (Out of Stock in this color)