High-Low Dresses for Mothers of the Couple
This post about high-low dresses for the Mother-of-the-Bride has shopping links throughout this post that are from our affiliates and sponsors. 
Dress: Embellished Pleated Chiffon Gown by Eliza J from Nordstrom | Earrings: Swarovski Crystal Drop Earrings by St. John from Nordstrom | Bracelet: Crystal Line Bracelet by Belle Badgley Mischka from Dillard's | Clutch: Crushed Glitter Frame Clutch by Kate Landry from Dillard's | Sandals: 'Raphael' Sandals by Topshop from Nordstrom

Hi-Low Mother of the Bride Dresses
High-Low dresses for the Mother-of-the-Bride are in for 2017-2018 weddings! The high-low hemline is nothing new, with this cutaway front style being first seen in Victorian times, and coming back into fashion during certain decades of the 20th century. Most of the 2017 versions of the high-low hemlines we've been seeing offer a balanced look that offers just a little peek of the ankle and calf, but still keeps the gown at a formal length. These modern classic silhouettes make for a great choice for fashion-forward mothers seeking a gown for their daughter or son's wedding, especially when done in a beautiful flowing chiffon fabric or in a silk or taffeta ball gown.
Lately we've seen so many high-low styles we love, we've decided to dedicate a few points to this look, starting off with these choices for mother-of-the-bride dresses. The emerald green style above would be ideal for a fall wedding, but we've seen hi-low hems in dresses for all seasons. Here are a few more favorite looks!
More High-Low Hem Gowns, and Where to Buy Them!
This navy floral dress for a formal floral look: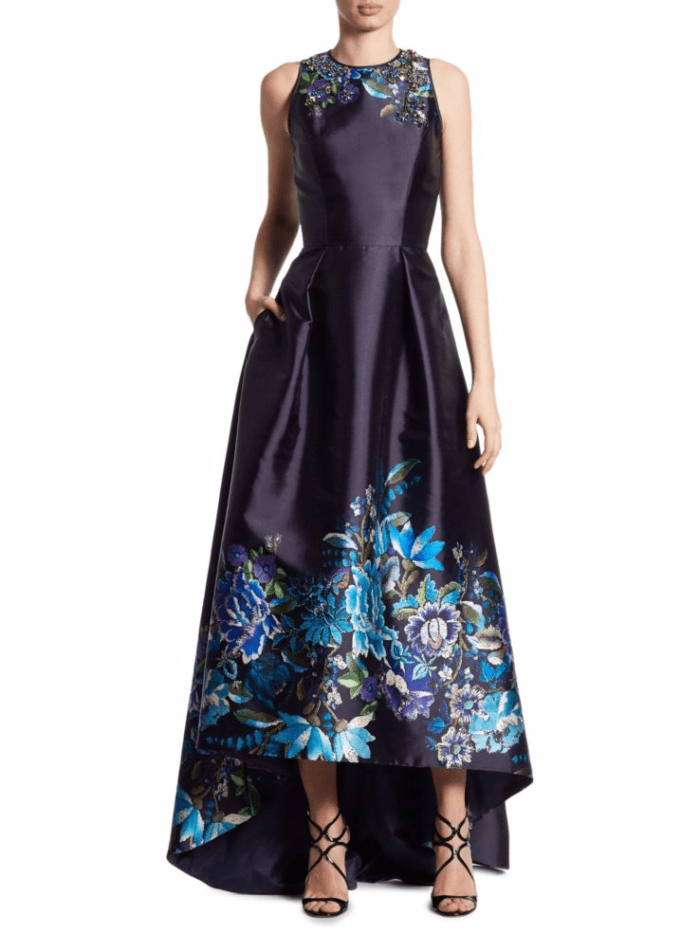 Embroidered High Low Gown by Theia from Saks Fifth Avenue – $1195.00
This beautiful light blue silk Mikado gown: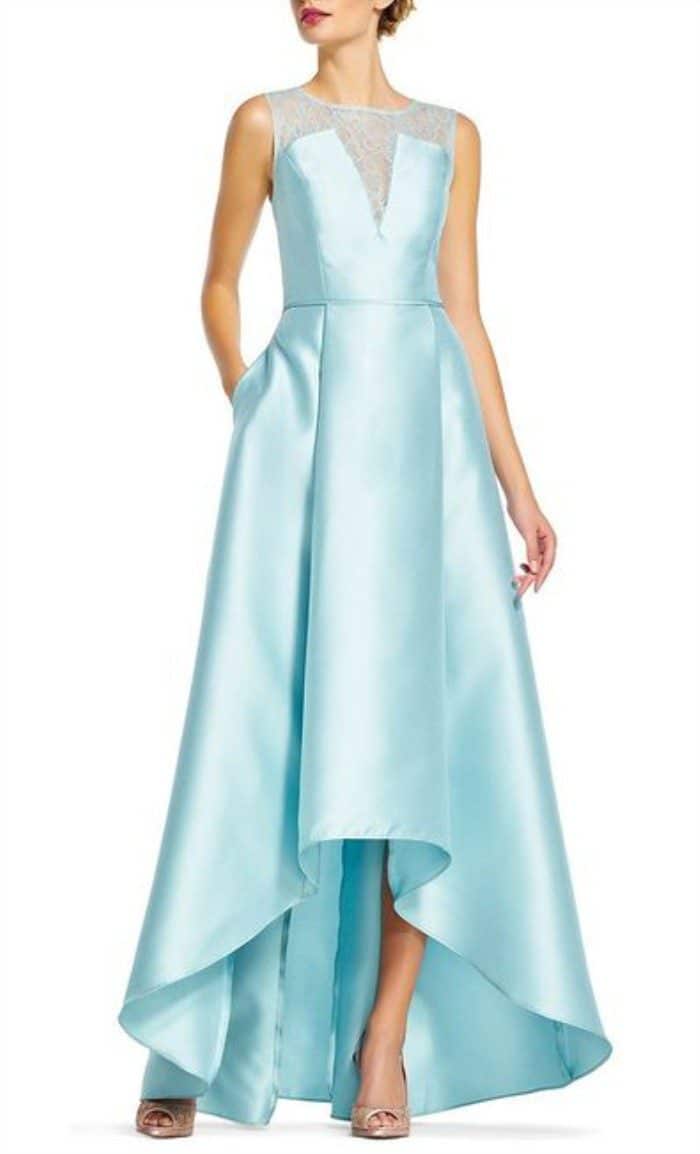 Adrianna Papell Mikado Lace Illusion High Low Gown from Dillards – on final sale $69.95
More style ideas you might enjoy :