New wedding dresses by British designer Savannah Miller. We present the designer's 2020 Autumn Winter Collection, entitled 'Breathless'.
Savannah Miller Wedding Dresses 'Breathless' Collection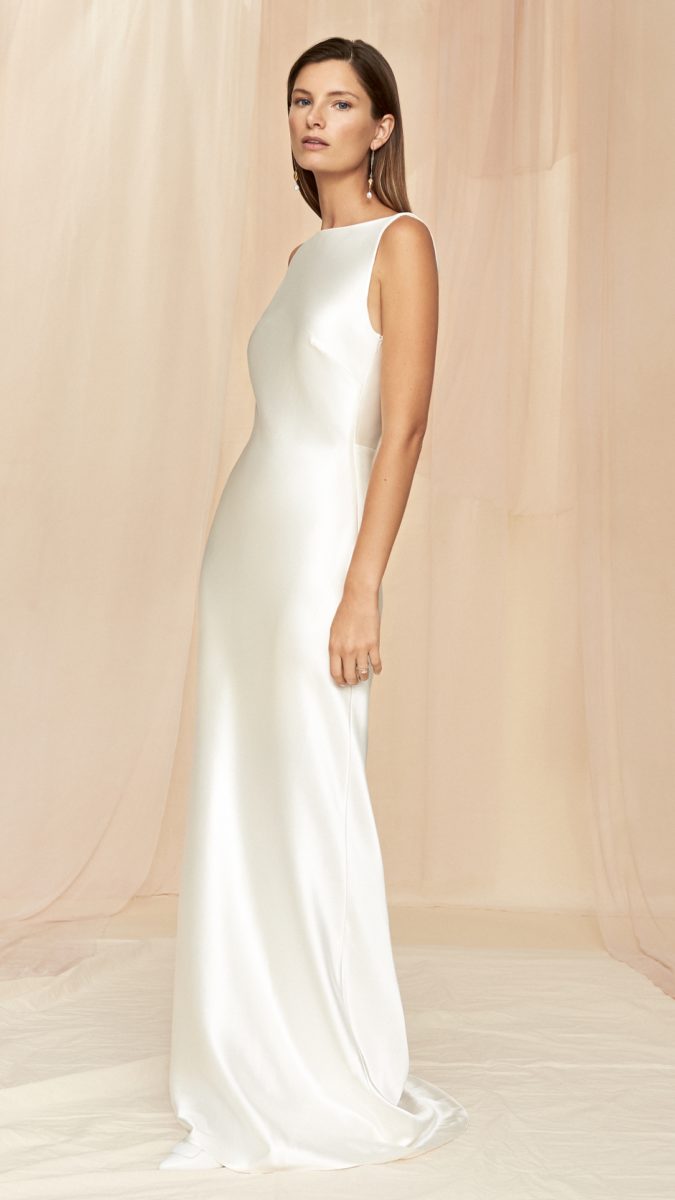 New York Bridal Week was held earlier this month, and that means we'll be showing off new 2020 Collections for several weeks to come. We have some new bridal labels to add to the usual list of bridal collections we like to cover, and one of the ones that we're most excited about is Savannah Miller.
This British designer is known for understated, chic styles that have gained her fans all over the UK. The designer recently partnered with American bridal label Justin Alexander and is poised to introduce her signature styles to American audiences. We are excited to have her 2020 Fall/Winter Breathless Collection to share, which has been inspired by the Nick Cave song of the same name.
We think you'll enjoy the simplicity of these gowns mixed with the rich silk fabrics and modern styling. We love the loose flowing styles of lingerie straps, bias-cut silks and long trains that are juxtaposed with structured jackets and toppers. See the 2020 collection below as well as more details from the design house about the inspiration for this collection. To purchase or find a boutique near you, please visit savannahmiller.com
Erica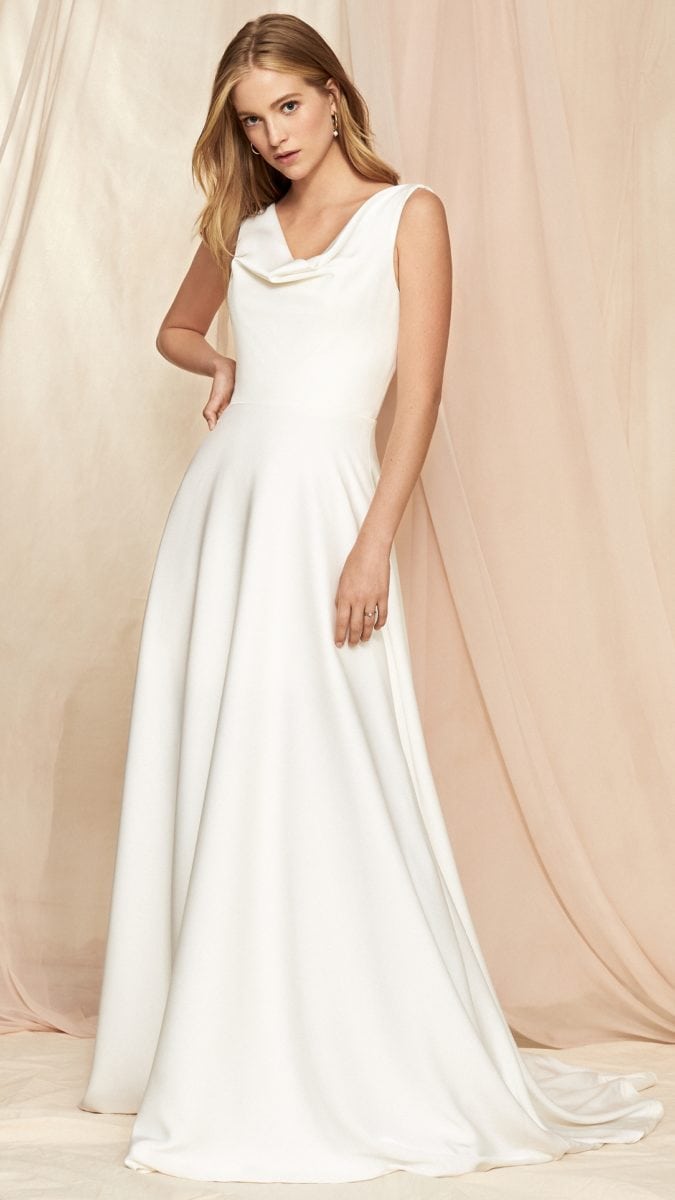 Luxurious heavyweight crepe and draped in a cowl neckline. Erica features a fully boned corseted bodice and a soft A-line silhouette. The pockets on the skirt give the gown a contemporary twist. Her deep chapel train and low cowl back make for a very elegant and flattering silhouette.
Aida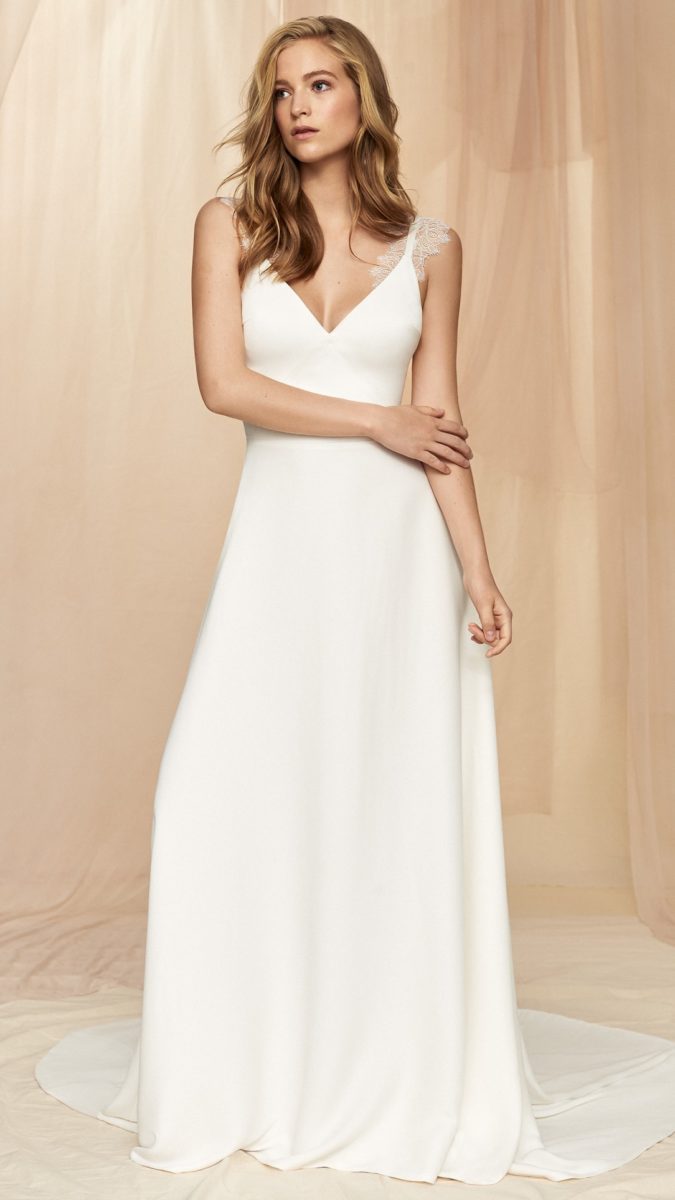 Aida is a bridal gown cut with a full skirt in heavyweight matte and shine crepe. Delicate Chantilly lace straps give this classic silhouette a romantic and contemporary edge.
Collette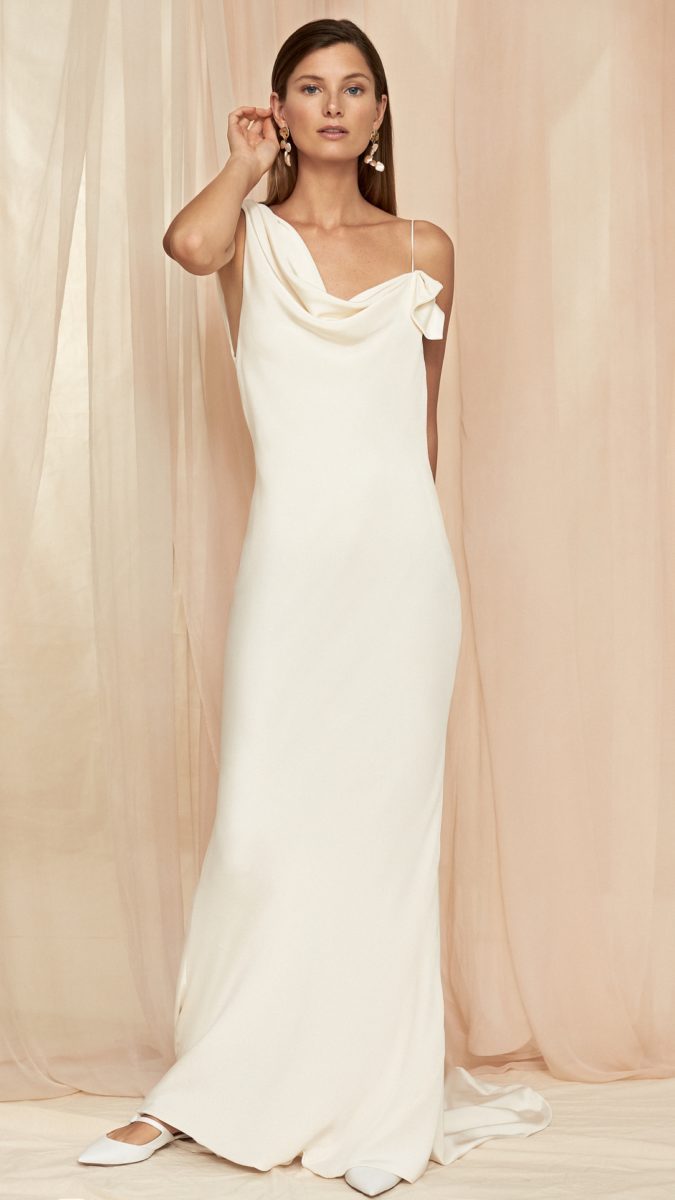 Collette is a100% Italian silk crepe, bias-cut gown with an asymmetric neckline, Collette is cut with a super low back and delicate spaghetti straps.
Talitha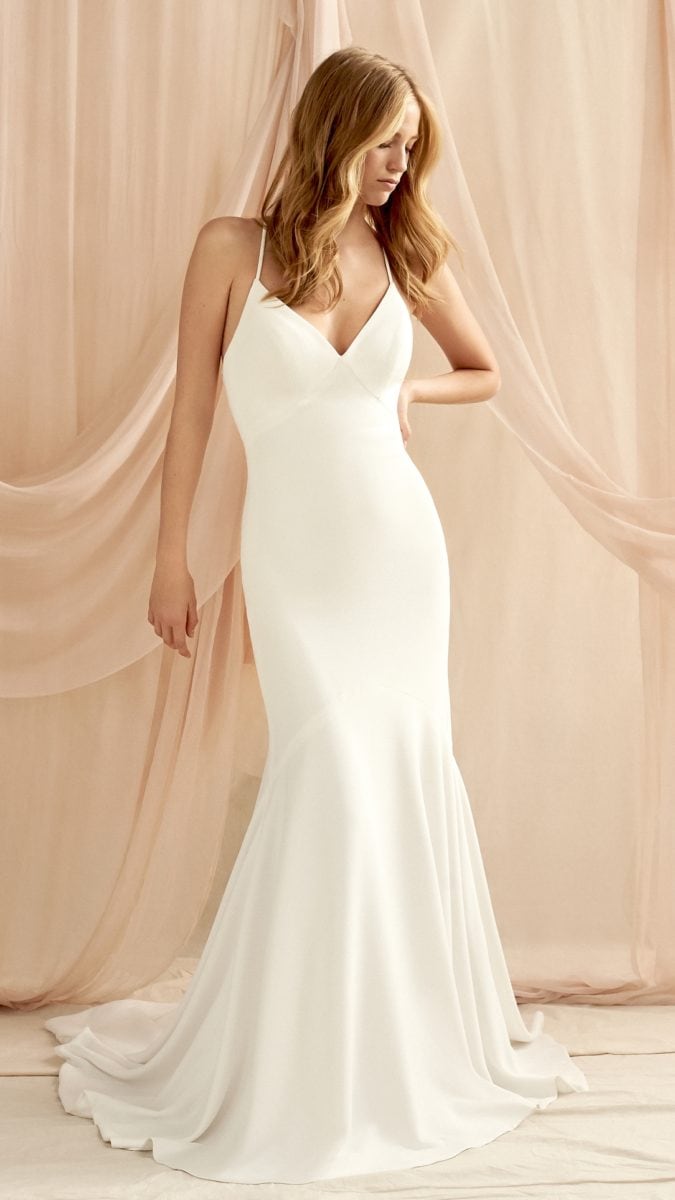 The Talitha bridal gown is cut on the bias with a fitted seam under the bustline and delicate straps. The silhouette is accented by fit and flare skirt silhouette and chapel train. Designed to be with the silver and blush floral embroidered, 70's inspired lace kaftan cape seen below.
Talitha Kaftan
Talitha kaftan is a classic 70's inspired kaftan silhouette with an extended train. This soft tulle is embellished with delicately embroidered blush and silver flowers and finished with a delicate Chantilly lace scalloped edge.
Anouk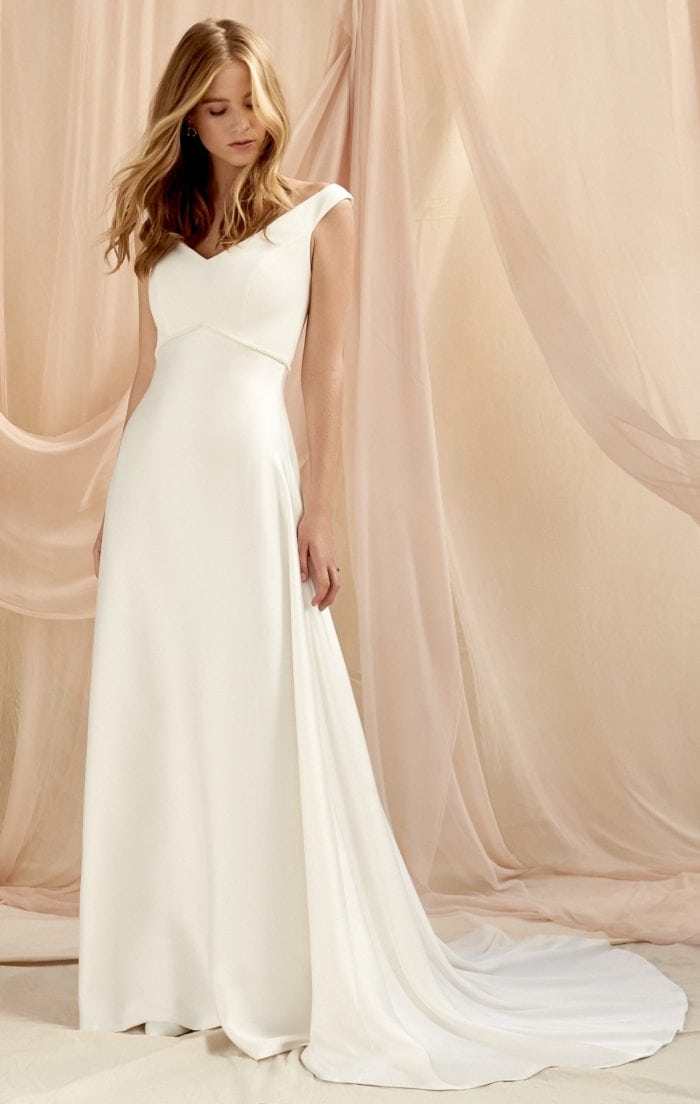 Anouk is a crepe bridal gown with an off the shoulder bateau neckline and a delicately beaded vintage ivory seed bead trim on the empire waistline. The silhouette is a soft A-line skirt with full chapel train.
Camille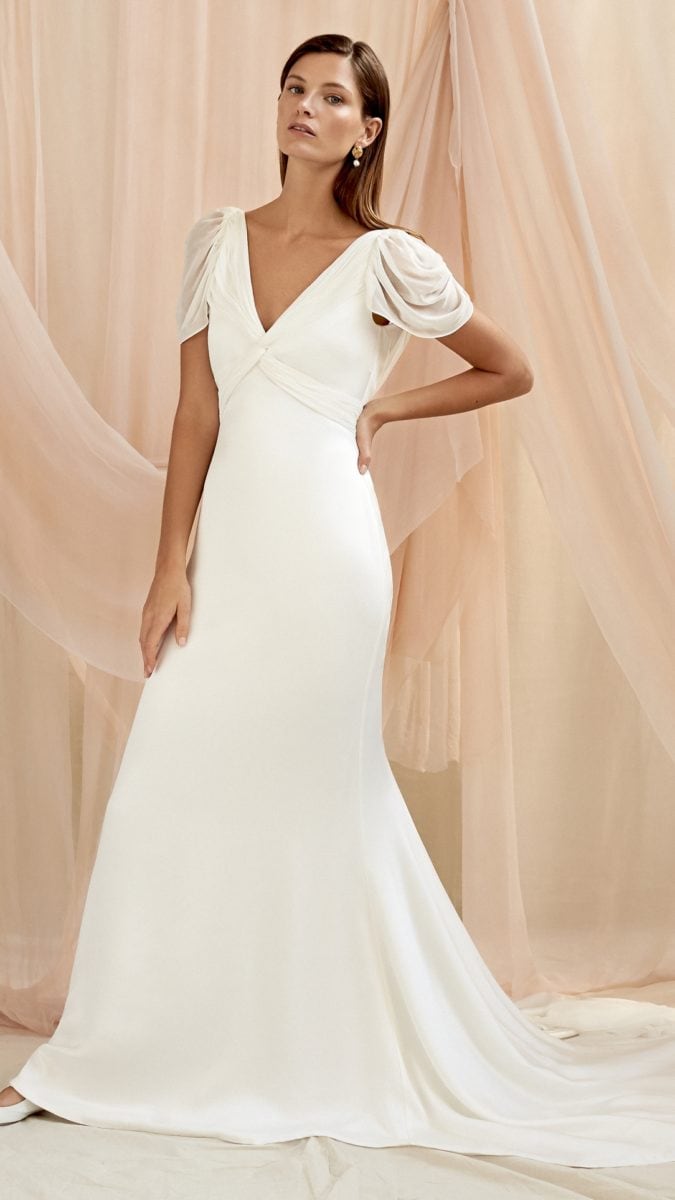 The Camille bridal gown features a silk chiffon draped cap sleeve and twisted cross front detail and a delicate court length train.
Luna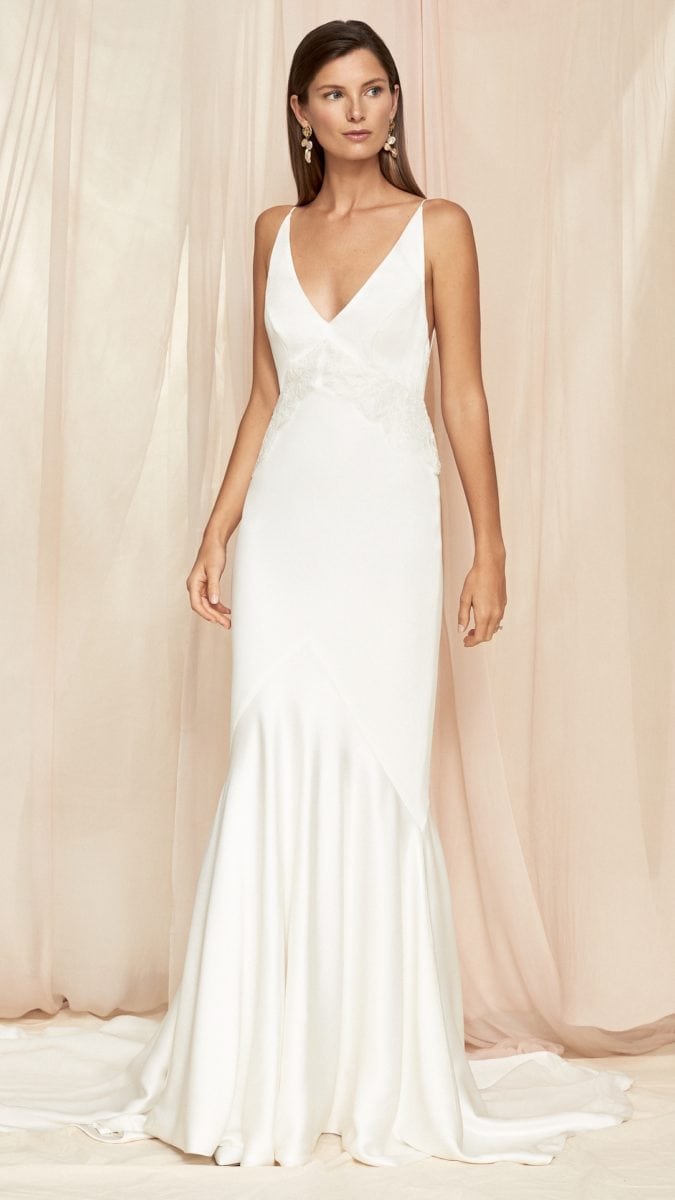 Grace is a bias silhouette bridal gown in a classic Italian crepe with a bust seam trimmed with Chantilly lace. The bodice finished with a micro spaghetti strap accentuating the beautiful low back detail.
Grace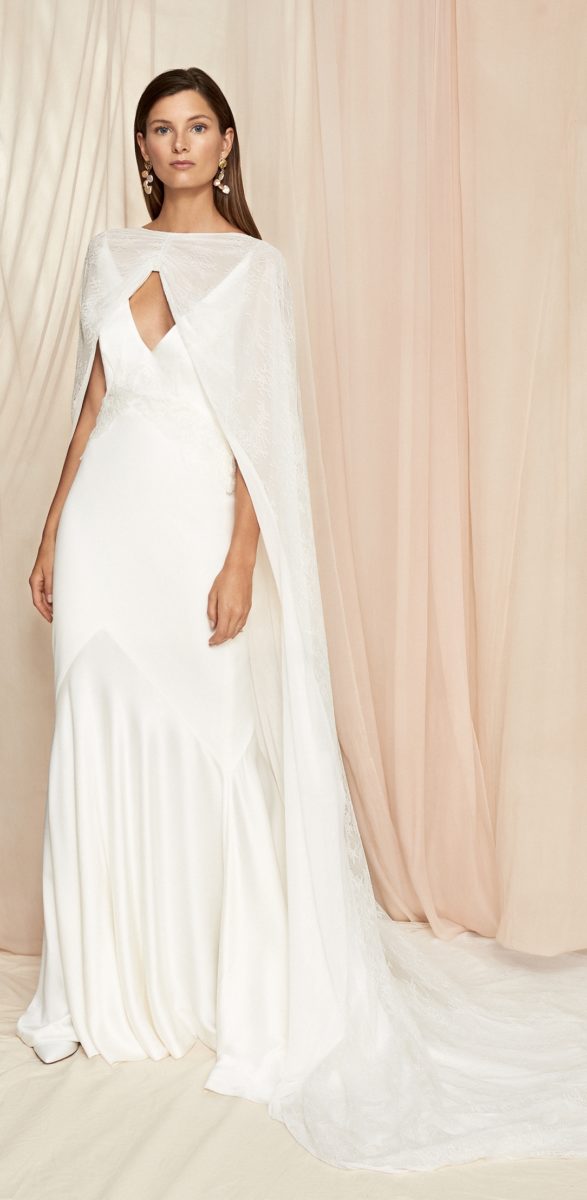 An elegant chiffon and lace reversible bridal cape with a gathered neckline that drapes across the shoulders and offers a peek at the gown beneath. The Grace cape extends to a full chapel length train. This wedding cape pairs perfectly with the Grace gown above.
Daphne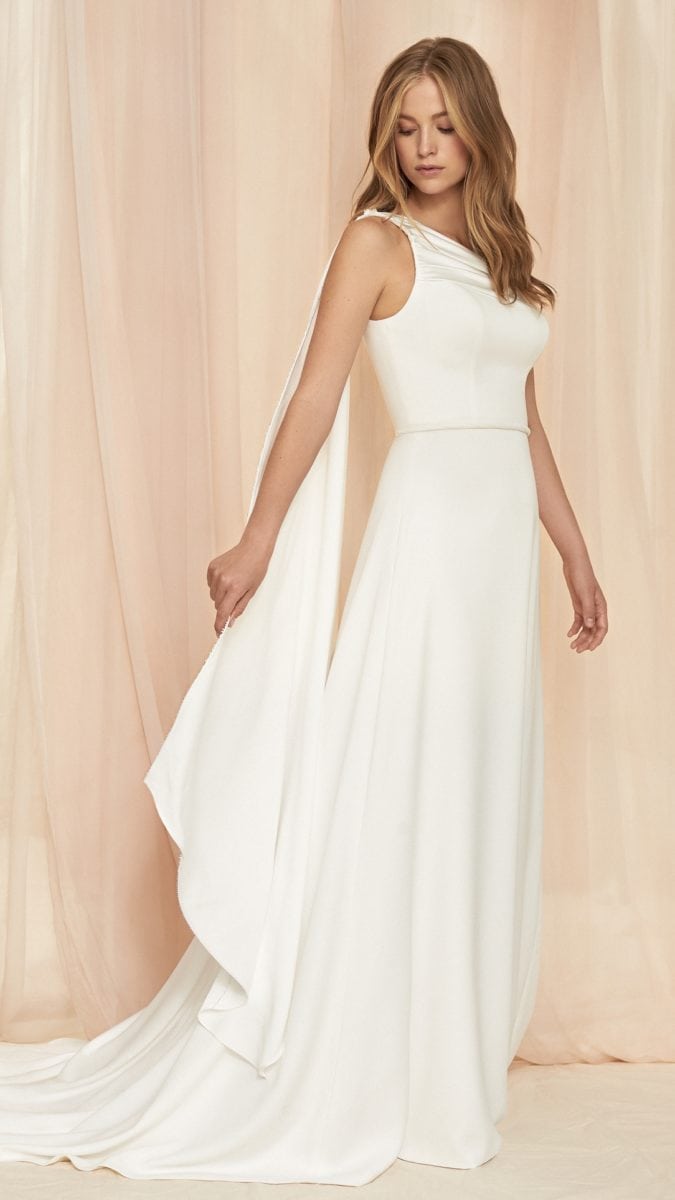 Daphne is a fit and flare gown featuring a one-shoulder detail and gathered bust trim. The right shoulder streamer has a starburst, custom-designed with bead and pearl embroidery. The gown is finished with a 70's inspired twisted belt and sweeping train.
Stella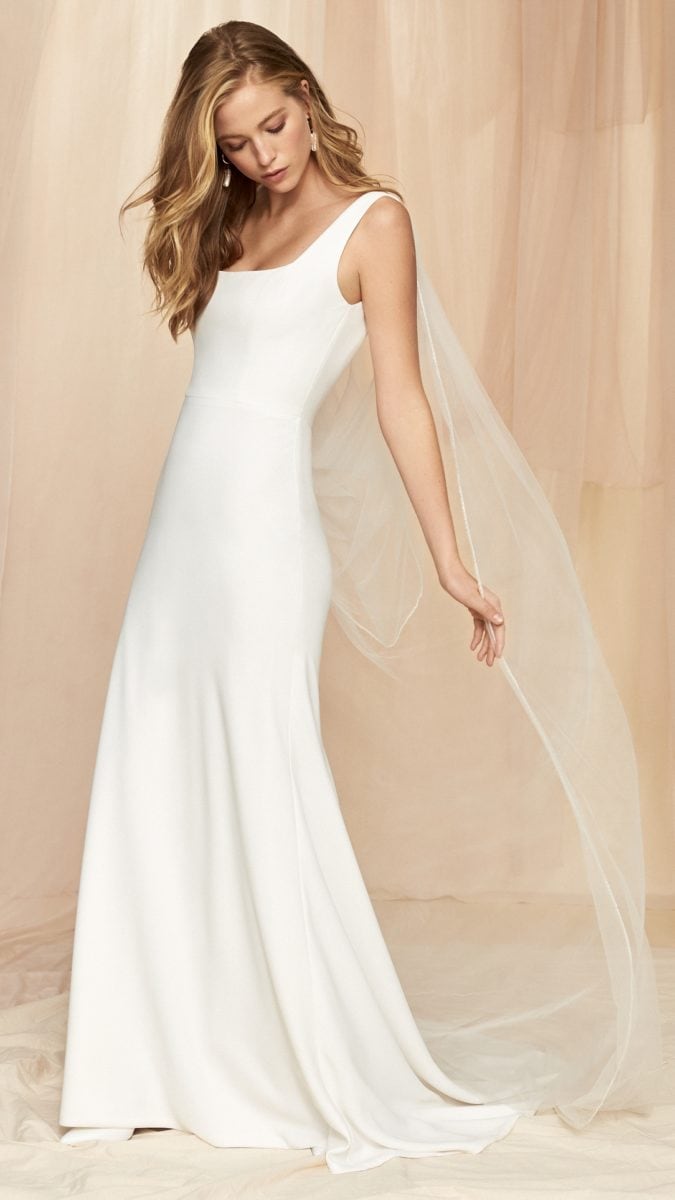 Stella gown features a square-cut bodice and sporty strap detail. Shown here with a detachable cowl draped tulle cape /veil.
Lily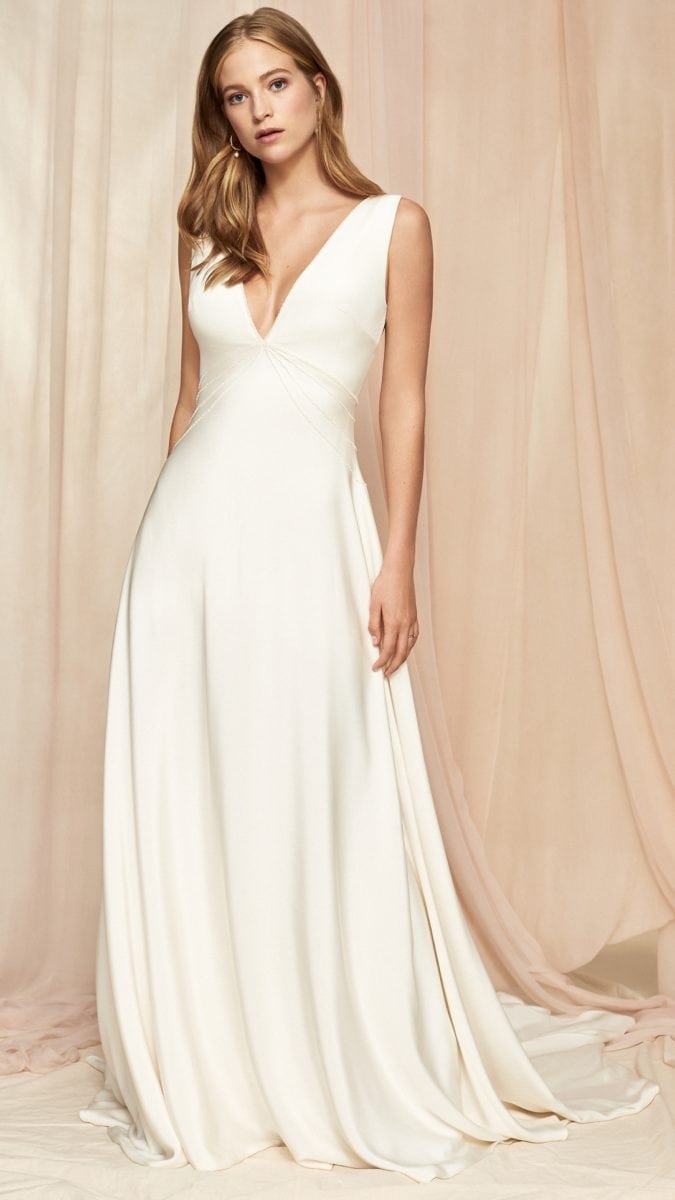 100% Italian silk crepe bridal gown with a deep V neckline and a delicate micro seed bead embroidery to accentuate the waistline. Extends to a full skirt and chapel length train.
Kate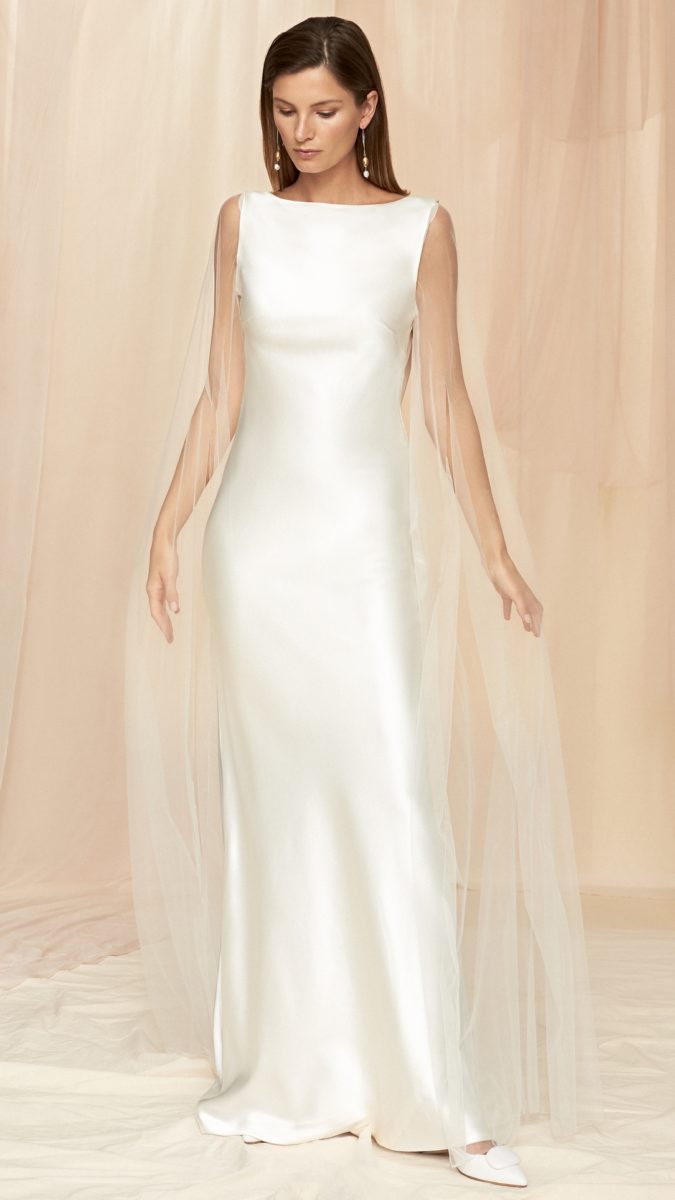 Kate is a silk satin bias-cut gown with a high, square neckline and deep low curved back featuring a delicate signature cowl drape. This gown comes with optional tulle "wings", which attach to the shoulders to provide a cape-like style.
Iris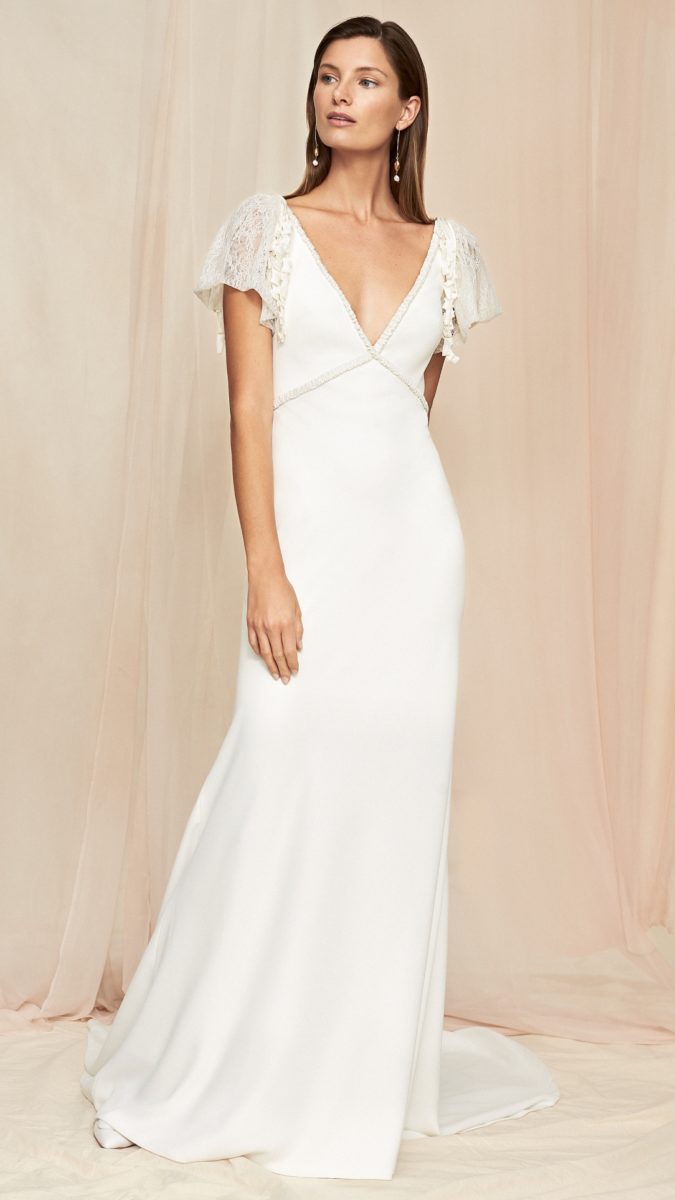 The Iris gown has a Chantilly lace capped sleeve back finished with small lace-covered buttons. This gown features a crossed front, gathered silk trim and detachable pleated silk tassels on the shoulder.
Mercury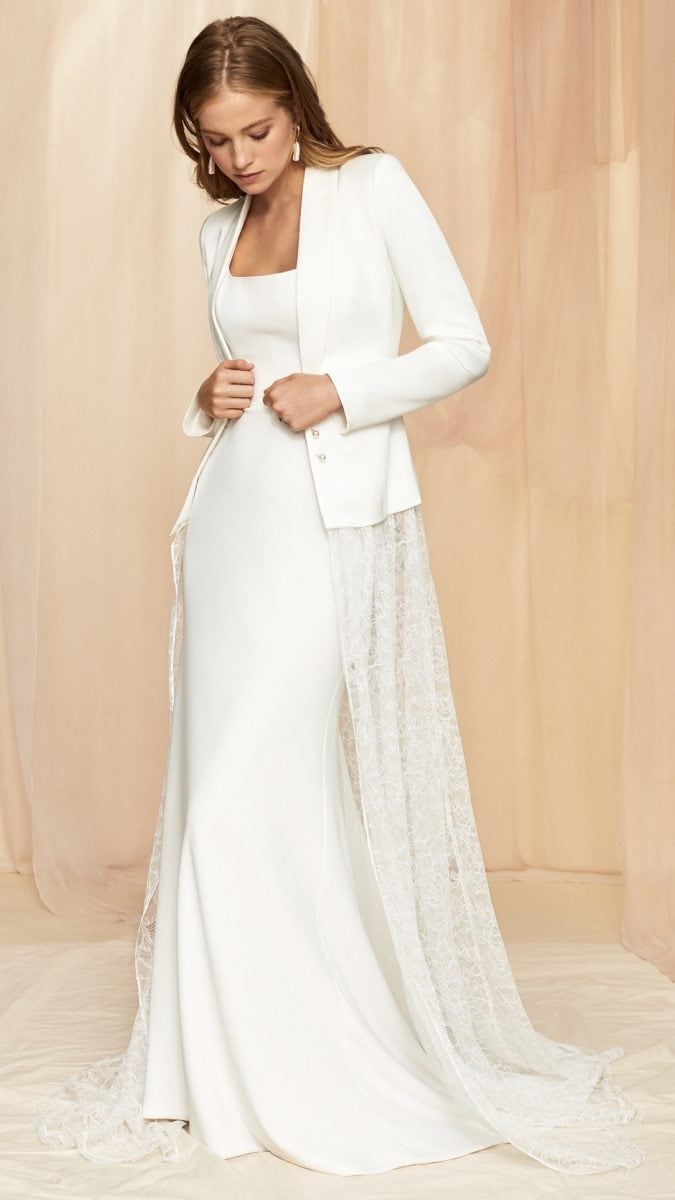 Signature Italian satin fully tailored single-breasted jacket featuring elegant pearl buttons and a detachable Chantilly lace skirt extending to a chapel train and finished with a delicate lace scalloped edge.
Marion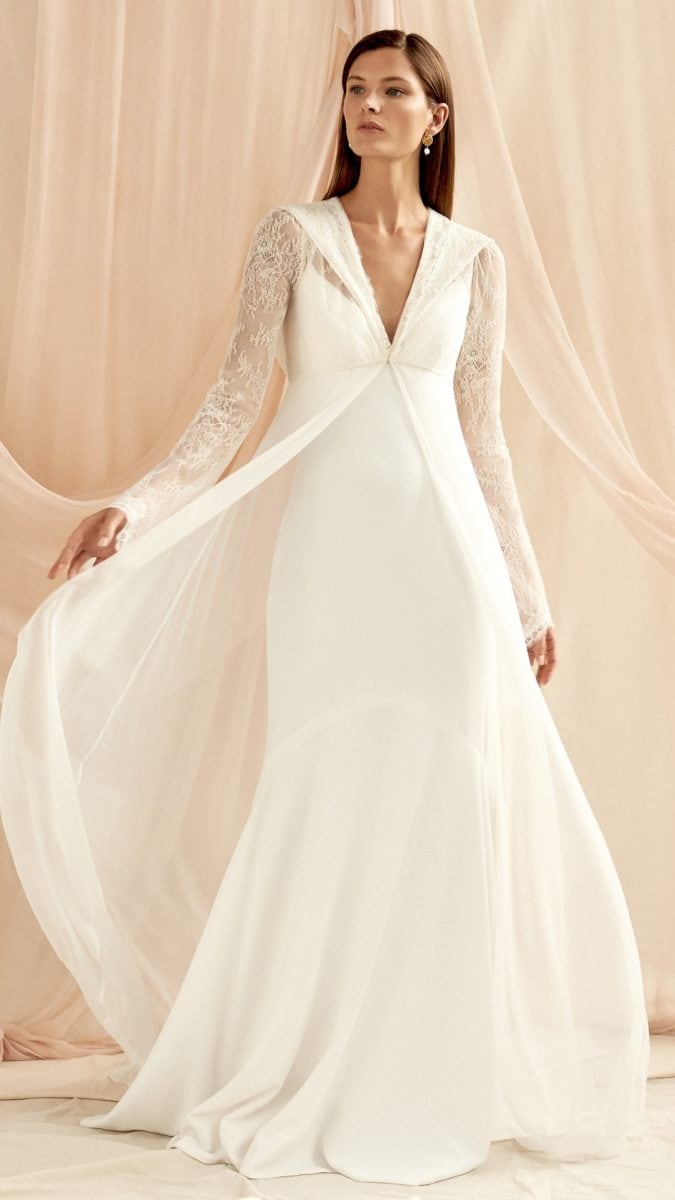 Chantilly lace and chiffon jacket featuring a full hood and deep bell sleeves trimmed in delicate scalloped lace. The empire waistline flatters all shapes and the gentle gathering at the back extends to a full chapel train.
Manon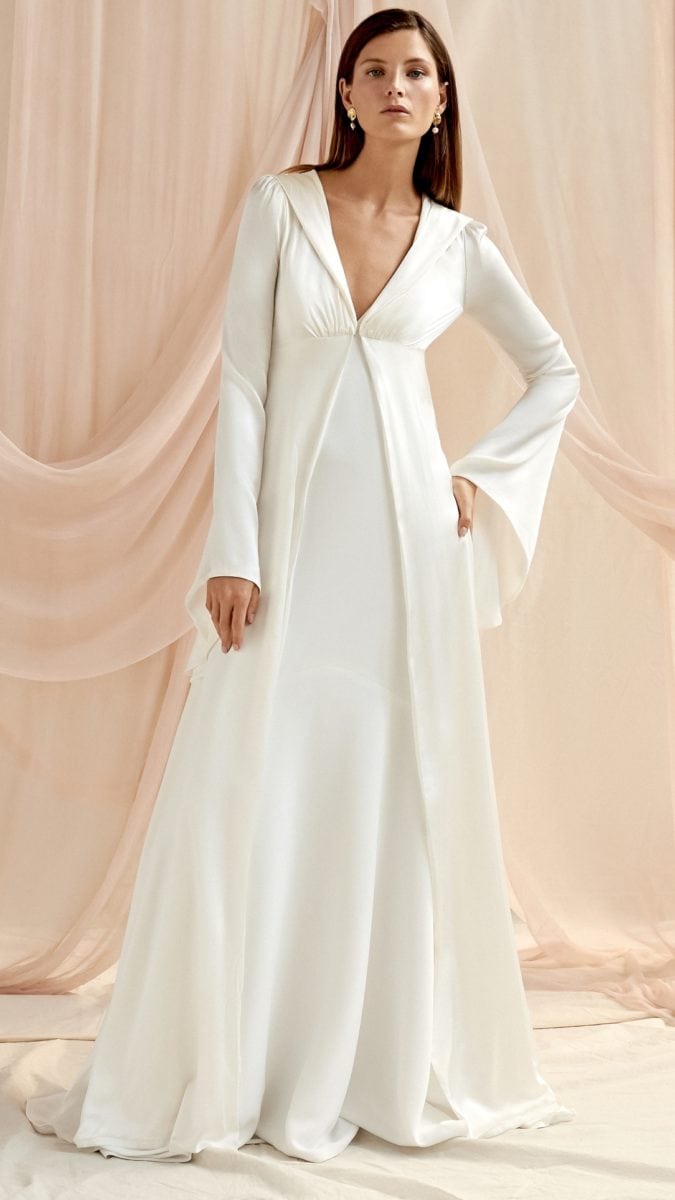 Crepe de chine jacket featuring a full hood and deep bell sleeves inspired by Savannah's own wedding gown. The gathered empire waistline flatters all shapes and the gentle gathering at the back extends to a full chapel train.
Savannah Miller Fall/Winter 2020 Wedding Dresses
Renowned for her bohemian aesthetic, classic silhouettes and pretty vintage detailing, the new
collection from the British designer is true to form: both beautifully feminine and timeless. Inspired by the Nick Cave song of the same title, Breathless is a collection of romance and beauty. The juxtaposition of contemporary music and archival fashion give this collection a unique and fresh point of view.
Savannah continues to explore the intoxicating nature that is falling in love and expresses it with a
collection of gowns that are timeless, elegant and ethereal. Referencing the slippery silken gowns of 1930's cinema, sensuality and romantic essence is present that has become synonymous with the brand.
For fall 2020 Savannah Miller has explored the use of texture to create a thoroughly modern
collection for the alternative, fashion-conscious bride. The designer's love of 1930's style is reflected
in the cool simplicity of dresses designed with sleek silhouettes and glamorous detail. She continues
to explore alternative solutions to the traditional with the addition of a tailored jacket featuring a
detachable Chantilly lace skirt and has reimagined the velvet cape she wore to her own wedding in
billowing crepe de chine. More details at SavannahMiller.com.
Wear It With
This section shows off bridal accessories picked by our editors, that you might want to consider to pair with your wedding gown. This section features items not affiliated with the dresses pictured. You may also enjoy these other wedding dresses, bridesmaid dresses, or bridal accessories.
Commission links are used in the shop section.