Shoes for Bridesmaids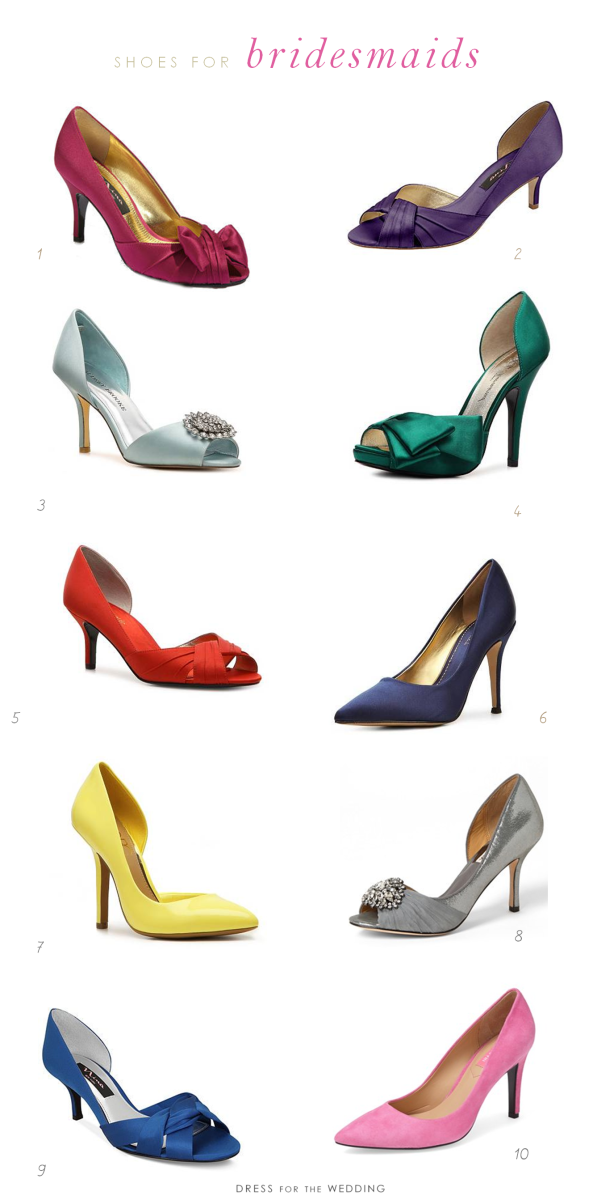 1. Nina Forbes Fuchsia Peeptoe Pump 2. Nina Culver D' Orsay in Grape 3.  Audrey Brooke Taylor Pump 4. Lulu Townsend Emerald Green Bailey Pump  5. Katie and Kelly Casilda Red and Orange Pump  6. Nine West Flax Pump in Navy Satin 7. BCBG Jaze D'Orsay Pump 8. Pearson Pump in Gray by Badgley Mischka  9. Nina Crista in Azule Pumps 10. Issac Mizrahi Lamis Pump in Pink
Heels for Bridesmaids
You hear so much about finding bridesmaid dresses that your ladies can wear again, but what about the shoes? I presently have about 5 pairs in my closet from the weddings I was in! Strangely enough, sometimes it's the ones that were dyed to match, or at least chosen with  the dress color in mind, that I actually sometimes find myself happy to have. After all, I probably wouldn't go out and buy myself burgundy satin pumps, but they're fun to wear for a little kick with jeans at the holidays, and I love my pair of purple heels that actually look good with more than I expected them to!
If you want your maids to have some bright color on their feet, here are some colorful options for you to pick from. While there are lots of dyed-to-match options from brands like Coloriffics and Dyeables, I actually think it's fun to pick shoes that are a shade or two lighter or darker than your dresses, or are a totally different accent color. ( For instance, I recently saw some yellow heels with gray bridesmaid dresses, and I though they looked so cute!) Sometimes a unexpected color pairing makes the whole look, and if all your bridesmaids are wearing the same statement color on their feet, it looks fantastic!
As you'll see in so many of my dress posts, I also love pairing a neutral or metallic heel with any color bridesmaid dress. I'll have a full collage of those color ideas for you soon. Neutrals elegonate the leg, and are essential to anyone's wardrobe, so they can also be a great choice for your bridal party - stay tuned! For now, I hope these bright colors inspired you for your bridesmaids, or just a fun addition to your spring wardrobe! Check out my latest bridesmaid style ideas and these bridal shoe ideas!


This post has links from retail partners