Wedding Shoes under $100
If you've been spending any time on Pinterest researching your wedding attire, you've probably seen that bridal heels and wedding shoes really take center stage in some wedding photos. You may have seen those beautiful images of the bride's shoes either placed next to her other accessories, on a box, or peeking out from under the hem of her dress. Oftentimes, there's a designer name peeking out as well.
This post uses affiliate links, which means this site may earn a commission if a sale is made from a product we link to.
Where to Find Affordable Bridal Shoes for Under $100
Your wedding day can definitely be a great one-of-a-kind day to rock some fancy designer heels, and if that's your dream, then please check out this post on designer wedding shoes. However, sometimes you'll find that the cost of everything for the wedding starts to pile up, and you just want some lovely shoes for your wedding day, but don't want to pay designer prices. Here are my picks for some great quality shoes for the bride - all under $100.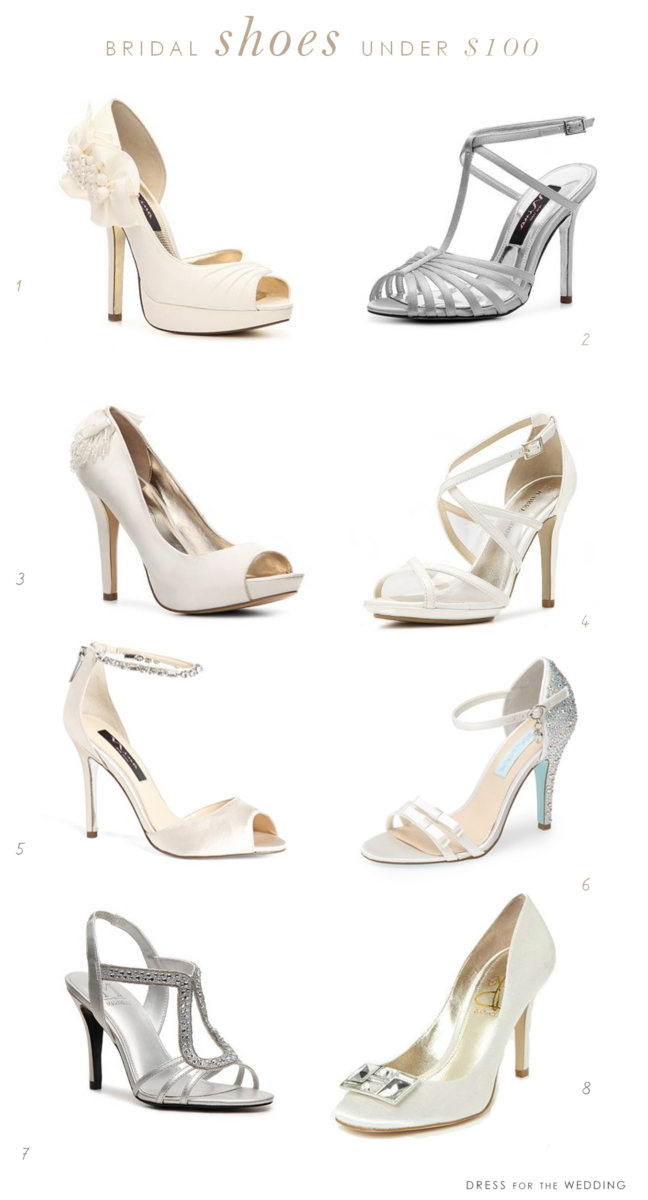 1. Nina "Neva" Platform Pump at DSW $49.95 2 . Nina Mariana Sandal at DSW $29.99 3. ABS by Allen Schwartz Akira Pump $99.95 at DSW 4. Audrey Brooke Jacob Sandal at DSW $29.94 5. Nina Maraya Sandal at Nordstrom $98.95 6. Betsy Johnson" Bow" Sandal $98.95 at Nordstrom 7. M by Marianna Sandal at DSW $59.95 8. Joan & David 'Fanceen Pump on Sale at Nordstrom $89.95
Shop For More Shoes for Bride Under $100

This post uses affiliate links, which means this site may earn a commission if a sale is made from a product we link to.
More Wedding Shoe Tips
Happily, as you can see, there are many really wonderful choices when it comes to bridal shoes for under $100 -- some are even under $30! Whether you pick a $1,000 pair or a $40 pair, think not only of your overall wedding style, but also your comfort. You certainly don't want to have to hobble around because of a painful blister, or curtail your dancing because of a strap that digs in. It's also a good idea to have your shoes picked out at the same time as your dress so that you can see the overall look and know where you want your hemline to fall for alterations.
More Tips for Weddings on a Budget
You might also want to check out my picks for wedding dresses and other wedding shoe posts for more shoe inspiration. You may also like wedding dresses under $1,500, wedding dresses under $500, and more ideas for how to save money on your wedding.
I hope with these picks, you'll be ready to float down the aisle and dance all night!