Silver Brocade Cocktail Dress
I mentioned in an earlier post that I thought Anthropologie's dress collection for fall had really hit it out of the park with dresses that strike the balance of looking ladylike, modern, and unique. One that I've had my eye on for a few weeks now is this silver brocade dress called the Josseline Dress.
Affiliate links are used in this post.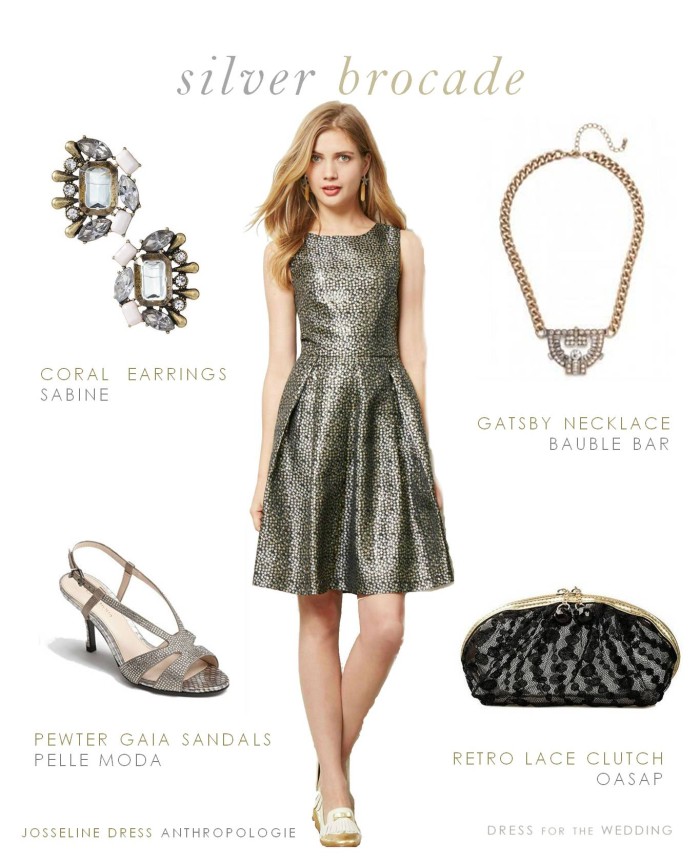 Josseline Brocade Dress / Cluster Earrings from Piperlime /Gatsby Necklace from Bauble Bar / Retro Lace Clutch by Oasap /Gaia Sandals from Pelle Moda /
I love the shape of this dress, and if you look up close at the pattern, you'll see it's a great mix of silver gold and black dots. It's also made from a brocade material that fits the metallic trend right now. But if you're not one for following trendy whims, this is still might be the dress for you. The shape and style make this dress a classic, and a go-to-for really any kind of cocktail reception or semi-formal event from fall weddings all the way to holiday parties.
I'd also love to see this dress used as a bridesmaid dress. It's a more subtle option than sequins but still gives some pretty polish to the usual wedding party wear. And I dare to say that it's a wear-it-again style for sure.
Check our shop Looking for more silver dresses for wedding guests? Check out these silver and gray bridesmaid dresses.
More Like This Look