Destination Weddings at Secrets Playa Mujeres Golf & Spa Resort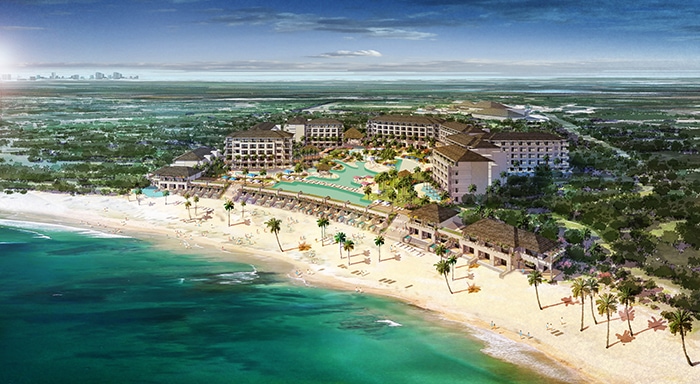 Secrets Playa Mujeres Golf & Spa Resort
Secrets Playa Mujeres Golf & Spa Resort has generously sponsored this post, but the words of enthusiasm are all mine.
Travels to Mexico, and time spent basking by the Caribbean Sea have been some of the most memorable, enjoyable, and relaxing experiences of my life. And I can tell you that relaxed is exactly how you'll want to feel on your wedding day, knowing that every detail has been attended to. If you're thinking of planning a destination wedding, there's a brand-new luxury resort in the midst of the paradise that you need to consider!
The all new Secrets Playa Mujeres Golf & Spa Resort has just opened as of November 2014, and to grandly welcome the new couples who choose to have their wedding there, Secrets Playa Mujeres Golf & Spa Resort, is now offering the "Love it, Book it & Get More…" package on wedding bookings from November 3 through December 31, 2014.  This means that the first 50 lucky couples who book their wedding at Secrets Playa Mujeres Golf & Spa Resort will receive $500 worth of premium wedding day add-ons of their choice. These add-ons are sure to make your wedding an extraordinary event that will exceed your expectations and dazzle your guests.
If you love a show, you can select Lively Entertainment as your add-on option; this means a mariachi band, a Caribbean music trio, or fire dancers could be your wedding entertainment! If you like creating lasting memories, perhaps you'll select the Unforgettable Special Touch, which provides a choice of a fireworks display or fly-over drone videography to capture an amazing aerial view of your wedding. If you want the details of your wedding to have the ultimate touch of style, select the Above-and-Beyond Style & Decor to include exotic flowers in your wedding set up. With the appeal of a brand-new luxury resort, and these premium add-ons to make your wedding an exceptional event, I have the feeling that Secrets Playa Mujeres Golf & Spa Resort will move to the top of your list. Hurry and book now, to ensure that you'll be one of the first 50 couples!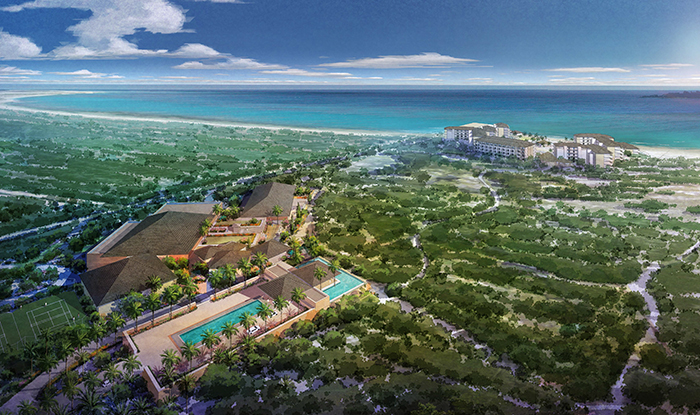 Aerial view of the new Secrets Playa Mujeres Golf & Spa Resort, in lush surroundings overlooking the Caribbean Sea.
If you're seeking the perfect spot for your honeymoon, this brand-new resort features the luxe accommodations, and 5-star amenities that Secrets Resorts & Spas are known for, along with the latest state-of-the art features and world-class spa and golf course on the grounds. I can't imagine a more beautiful location, and blissful relaxation will come easily when you have the added service and pampering that the Unlimited-Luxury® all-inclusive amenities offer.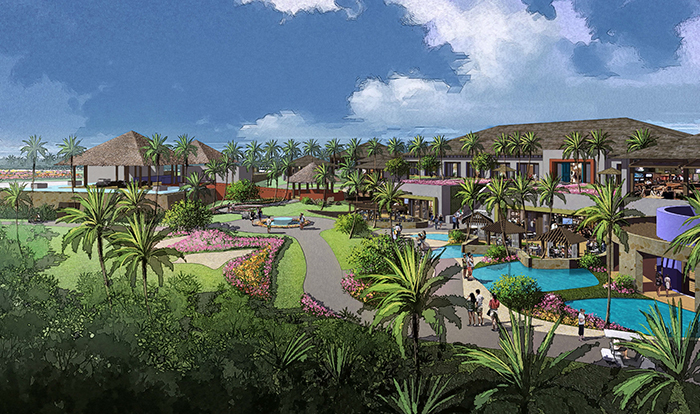 Stunning setting! You and your wedding guests will be warmly greeted at the arrival village before proceeding to their luxurious suites.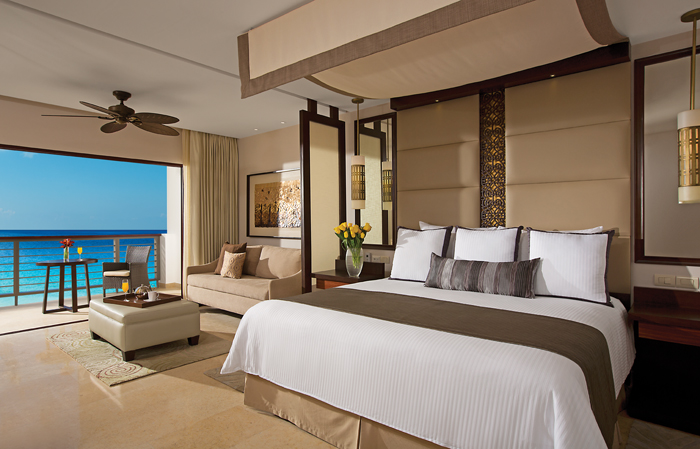 What a view! This Junior Suite boasts an ocean front location.
If you've ever vacationed all-inclusively you know what a delight it is to have every whim catered to, and to never have to carry your wallet or adhere to a daily budget.  The signature all-inclusive program at Secrets Playa Mujeres Golf & Spa Resort, is the ultimate in all-inclusive service.  Unlimited-Luxury® truly does allow for every luxury and creature comfort, including; 24-hour concierge service, Unlimited Premium drinks, gourmet dining at 8 restaurants, beach concierge service, activities, entertainment, complimentary greens fees and-- just in case you need to stay in touch-- free wi-fi and international calling. So if you're like me, and love a nice top-shelf cocktail, want to play a complimentary round of golf, and check email (briefly!) -- it's all included!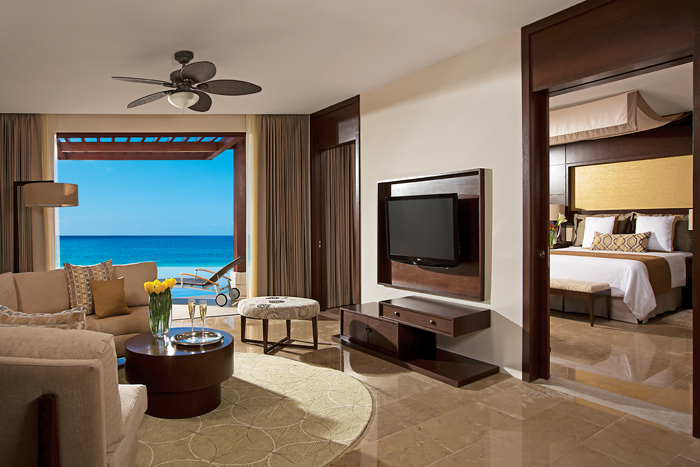 Be poolside right from your room in this swim-out Master Suite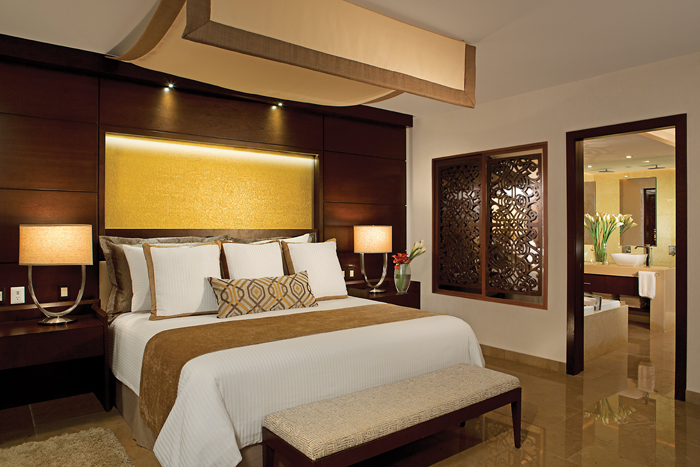 A romantic Master Suite accommodations with an in-suite tub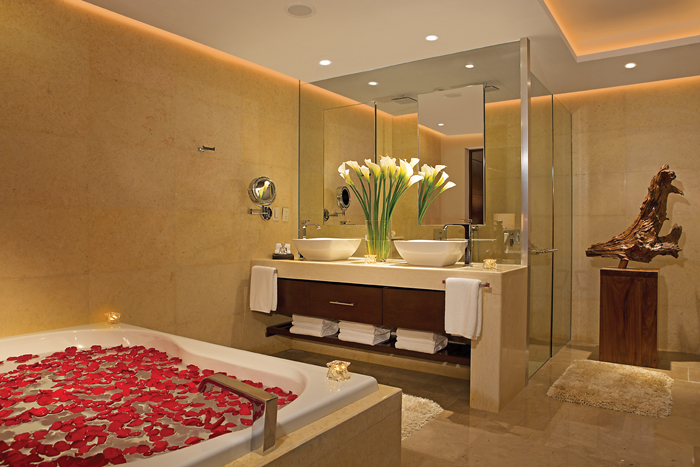 Spa-like atmosphere, even in your own suite!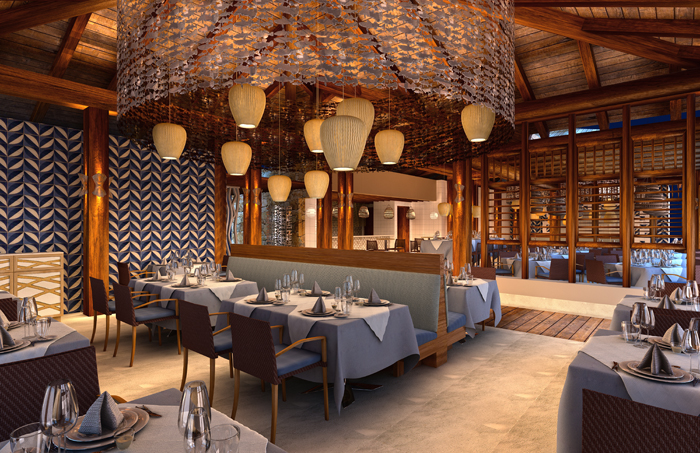 Fine dining and unique settings at all 8 gourmet dining options.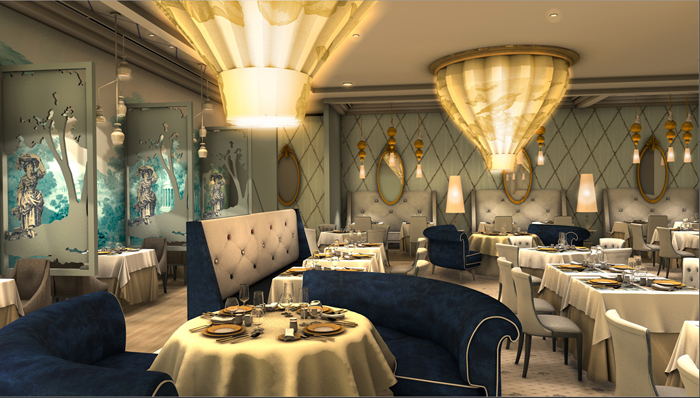 The finest cuisine, and luxuriously appointed interiors await at each restaurant.
So, it's December, and a warm destination wedding sounds just perfect right now. You only have a few more weeks to book this fabulous wedding and secure those fire dancers! Take a moment to learn more, and book today!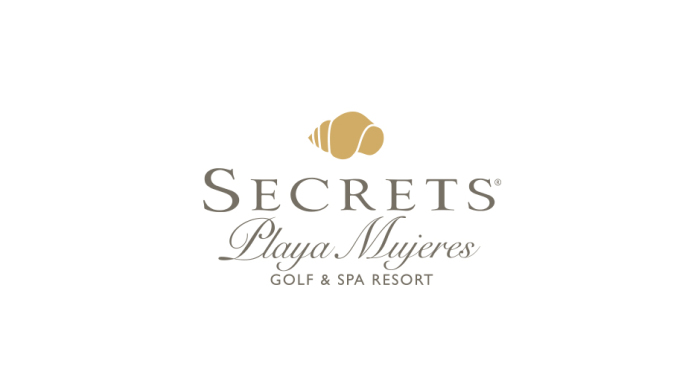 This post was sponsored by Secrets Playa Mujeres Golf & Spa Resort.