Our pick for pretty bridesmaid dresses for summer weddings, and where to shop for bridesmaid dresses in the best colors for summer weddings.
Bridesmaid Dresses for Summer Weddings
Summer is the season for weddings, so to make summer bridesmaid dresses easier to find, we've compiled a list of colors, and picked some pretty dresses for summer wedding parties!
Dress for the Wedding uses affiliate links in shop sections, meaning this blog may receive a small referral commission from our sponsors, if a qualifying purchase is made.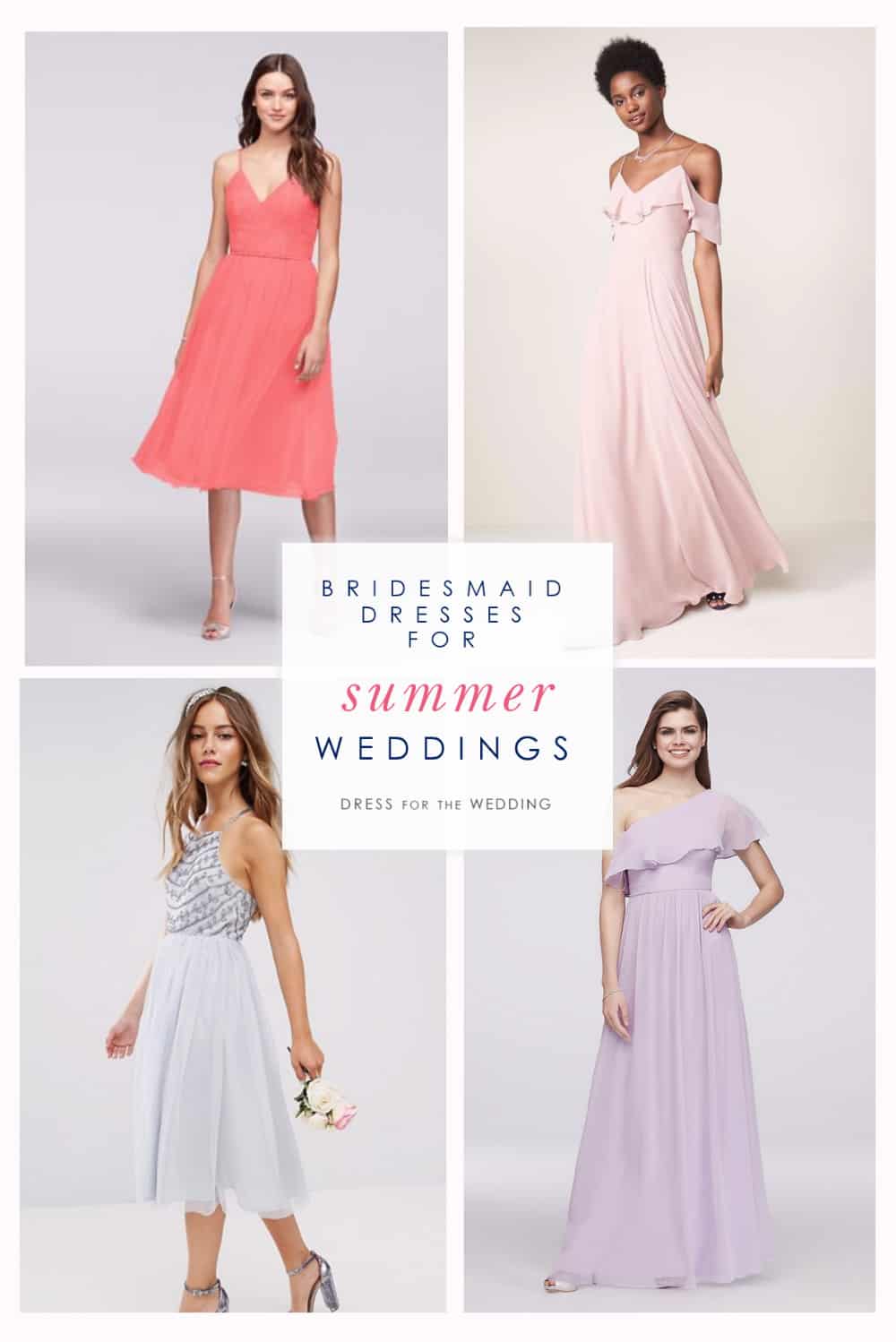 Image sources with commission links: 1/ Coral Dress (Comes in a variety of colors) -Chantilly Lace and Tulle Short Bridesmaid Dress | David's Bridal 2/ Cold Shoulder Chiffon Gown -comes in Several Colors - By Jenny Yoo at Nordstrom 3/ ASOS - Beaded Strappy Back Midi Dress Shown in Petite, comes in Regular and Tall sizes as well 4/ Lavender off-the-shoulder dress - David's Bridal
Summer is prime wedding season, and one naturally wants to choose summer bridesmaid dresses that fit with the season, in terms of fabric weight, colors, and styles! From short cocktail dresses to light chiffon maxi dress styles, there are many suitable options when outfitting your wedding party for your summer wedding! Here's a quick shop section, that we'll try to keep stocked with pretty summertime dresses for bridesmaids!
Where to for Shop Summer Bridesmaid Dresses
Here are some of the best spots we've found to shop online for bridesmaid dresses for summer.

Best Colors for Summer Bridesmaid Dresses
You may also want to check out some of these bridesmaid dresses organized by popular colors for summer weddings!
Pink Mauve and Blush

These pink-hued colors are a classic for any wedding, but these light, soft, and festive colors always do well for summer celebrations!
See More Pink, Mauve, and Blush Dresses
Pale Green

We hear sage green in particular is going to be big this year, and we are behind that 100%.
Light Blue

Always a classic choice, especially for weddings by the sea or beach! See our picks for beautiful light blue bridesmaid dresses!
Navy Blue

Navy blue is another classic bridesmaid dress choice. While it might be too dark a color for an early afternoon daytime outdoor wedding, it's especially lovely for evening weddings or nautically inspired!
More Dark and Navy Blue Dresses
Lavender

Another great pastel to try is purple's softer sister - lavender or lilac. Some of these shades have a soft grey hue that makes them cool and beautiful colors for the summer season.
More Lavender and Purple Dresses
Gray

A soft gray is a cool tone that will keep summer wedding parties looking chic even on the hottest of days. It's also a classic color, and makes a great backdrop to bright florals for the summer season.
Coral

In stark contrast to cool colors, you may want to try a hot color like coral! Coral bridesmaid dresses range from a delicious peach color, to an eye-catching pink coral! This color looks so appropriate in warm climates like beach weddings, desert weddings an is just a fun shade for summer!
Neutrals

Neutrals will never go out of style! We're seeing cream-colored bridesmaid dresses emerge in addition to soft tones of tan and neutral beaded bridesmaid dresses we've seen!
More Neutral, Beige, and Taupe Dresses
Floral Print

If summer isn't the perfect season for floral bridesmaid dresses, well, the I don't know what is! We love the prints from Jenny Yoo.
Beaded or Embellished

Heavy headed-to-toe sequins and beading can be hard to wear in the summer, but a light mix of chiffon dresses with scattered beading can be a great way to go!
More Beaded and Embellished Bridesmaid Dresses
More Tips on Bridesmaid Dress Shopping
Your local bridal boutique will likely have a large selection of bridesmaid dresses, but it's also helpful to buy dresses online! That way your bridesmaids can try on dresses at home. most reputable retailers who sell bridesmaid dresses, allow for easy returns!
Here are a few of the best places we've found:
Nordstrom always has a huge selection. Shop Nordstrom Bridesmaid Dresses
BHLDN a boutique-like collection of bridesmaid dresses with the most chic and up-to-date colors and styles. Shop BHLDN Bridesmaid Dresses.
Azazie has every color and silhouette imaginable, reasonable pricing, and they custom tailor to one's own measurements.
Dessy has possibly the largest selection of bridesmaid dresses, including a whole section that is ready-to-ship immediately. Shop Dessy Bridesmaid Dresses.
Also check out our bridesmaid outfit ideas which have lots of looks and accessories for summer wedding parties. We also have picked bridesmaid dresses for the spring and fall seasons!
Dress for the Wedding uses affiliate links in shop sections, meaning this blog may receive a commission from our sponsors, if a qualifying purchase is made.