Sponsored post. This guide to Honeymoon and Vacation Style has been generously sponsored by Walmart. Affiliate links are also used in this post.
It's the time of year for vacations, stay-cations, and the current wedding season can also mean many destination weddings or honeymoon trips are soon to follow. If you're planning a warm-weather getaway, need some outfit ideas for your honeymoon, or just want cute styles to wear for your summer plans, this look at vacation-ready swimsuits, dresses, tops, and accessories from Walmart's We Dress America collection, will ensure you have I'm-on-vacation style all summer long!
Vacation and Honeymoon Style from Walmart
The perfect vacation outfit for your honeymoon, resort trip, or just staying close to home and enjoying the sun!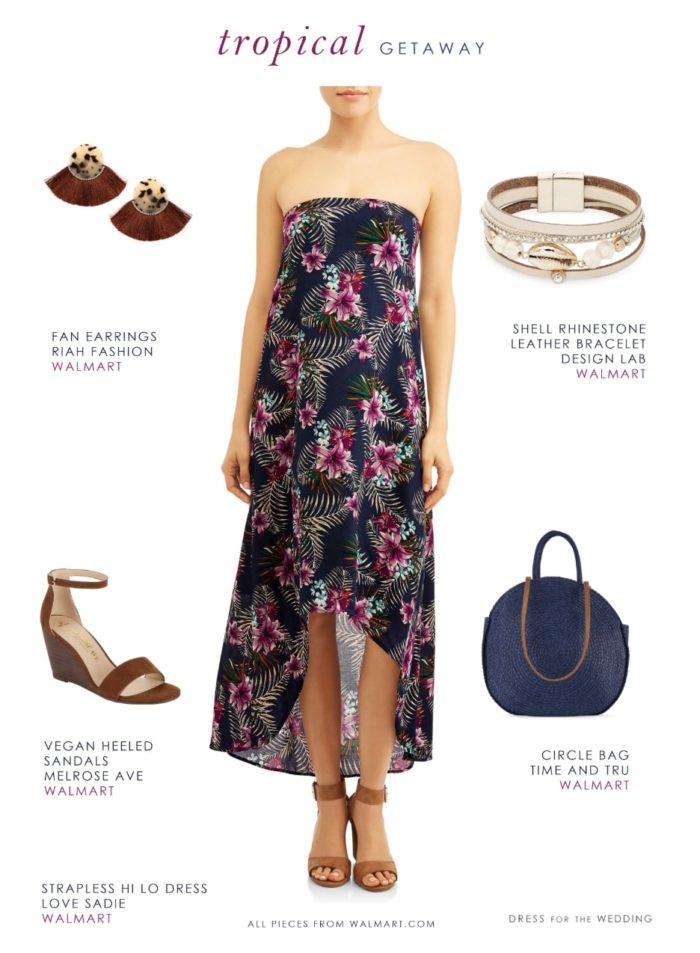 All Pieces From Walmart: Dress: Love Sadie - Women's Strapless Hi-Lo Maxi Dress | Earrings: Riah Fashion Tasseled Acetate Fan Shape Earrings | Bracelet: Design Lab - Shell Rhinestone Leather Bracelet | Bag: Time & Tru Straw Circle Tote | Wedges: Melrose Ave Women's Said And Done Vegan Heeled Sandal
The Perfect Vacation Outfit
Walmart's We Dress America collection has expanded Walmart's always growing fashion offerings; it's like getting boutique styles at Walmart's affordable price points! We loved this sweet printed strapless Hi-Lo Maxi Dress the minute we saw it.
This dress is formal enough that you can wear it to a relaxed outdoor wedding, but with its tropical floral print, it's also perfect for vacation and honeymoon dressing! If you're going to a resort or cruise for your honeymoon or vacation, you'll want something easy to put on after a long day that still that fits the dinner dress code requirements that some resorts and cruise lines have. This is exactly the kind of easy and elegant outfit you'll want to reach for.
This look encompasses some of the great summer trends Walmart's We Dress America has curated for stylish summer dressing -- tropical prints, woven bags, and statement accessories -- these styles particularly look perfect for warm temps! In addition to great trends, Walmart is still offering all the things you love about shopping with them; everyday low prices, great style at a value. You can get this pieces quickly and with no hassle: Walmart also offers free shipping on orders over $35, and even free 2-day shipping on some items!
How to Accessorize a Tropical Print Dress for Day to Night
To elevate this look for the evening, we'd put some punchy bold earrings like these Goldtone Beaded Hoop Earrings and this Studded Textured Bracelet, that pick up on that fuschia color in the print. We've shown a more understated afternoon style here in the collage with some statement earrings, neutral wedges, and a woven bag.
There are so many cute vacation dresses in tropical prints and one-and-done dress and jumpsuit styles in the We Dress America collection, that are the perfect pieces to throw on and wear wherever your vacation travels take you! Here are a few more dresses and accessories we think you'll love.
Shop The Look

Vacation and Honeymoon Essentials from Walmart
If you're heading to a beach or tropical climate for a trip, here's your at-a-glimpse guide for the vacation essentials to pack for your vacation or upcoming honeymoon.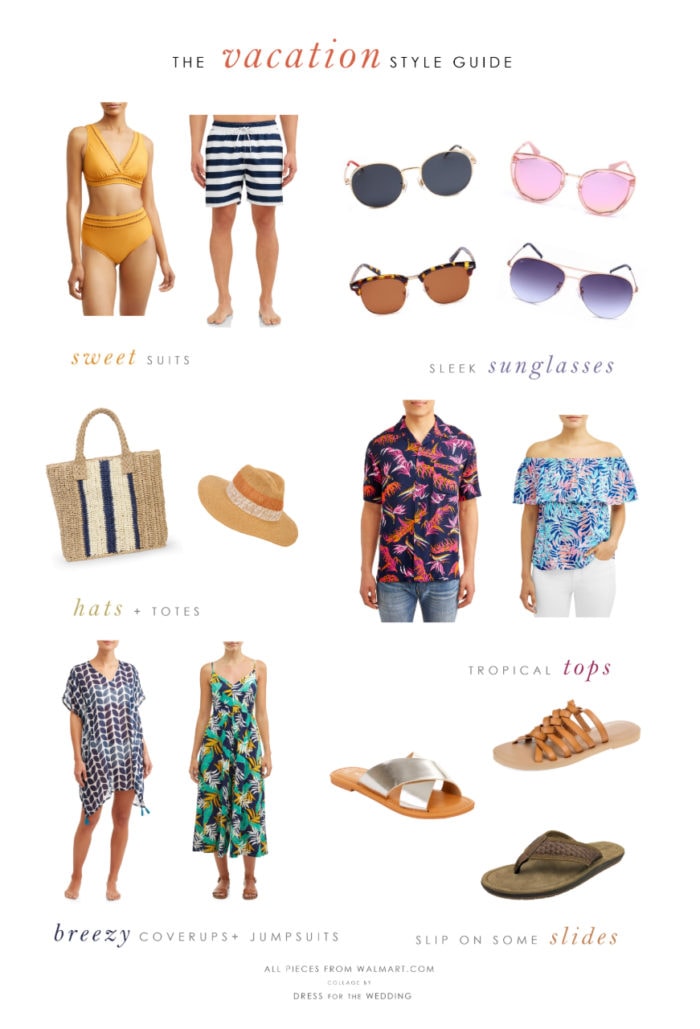 Sweet Suits: 1/ Women's Ladder Trim Bikini Swimsuit Top (Matching bottoms: here) 2/ Kanu Surf Men's Troy Print Short Trunk Swimsuit | Sleek Sunglasses: Top 1/ Prive Revaux "The Riviera" Sunglasses 2/ Prive Revaux "The Artist" Polarized Sunglasses Bottom 3/ Prive Revaux "The Chairman" Polarized Sunglasses 4/ Prive Revaux "The Ace" Sunglasses | Hats and Totes: Tote: Eliza May Rose Duo Bag Hat: Eliza May Rose Women's Cabana Straw Fedora with Orange Stripe | Tropical Tops: 1/ George Short Sleeve Printed Rayon Woven Shirt 2/ Off-the-Shoulder Ruffle Top Women's (Safari Print) | Breezy coverups: 1/ Women's Short Sleeve Swim Suit Cover-Up with Tassels 2/ Poof Apparel Juniors' Tropical Jumpsuit | Slides: 1/ Melrose Ave Women's Good To Go Vegan Sandal 2/ Brinley Co. Women's Knotted Slip-on Sandal 3/ George Men's Weave Sandal
We think one of the hardest parts about vacationing is figuring out what to pack! And, if you're just coming off of months of wedding planning, it's easy to forget about packing a bag for your honeymoon in the middle of all the wedding chaos. Use this guide as a little reminder of some of the items to pick up and pack.
What to Pack for Your Honeymoon or Vacation
We find that we usually spend most of our time in a swimsuit on vacation, so new suits are a wardrobe must-have. Walmart has so many great statement swimsuits for men and women. For men, we're particularly into the tropical printed trunks and striped nautical looks. Don't forget some cute coverups and one-piece dresses or jumpsuits, or tropical top and some easy to put on slide sandals to pull on to take you from the beach to happy hour or lunch easily!
Warm Weather Destination Packing Tips
When going to a hot climate, it's almost essential to have several suits in rotation, not only because it's fun to change the look, but also because suits sometimes don't dry overnight in certain climates. Nothing is worse than wearing a wet suit!
Sunglasses are a must-have as well along with a hat and tote bag for beach trips or pool lounging. Pack a few pairs to have backups or to change up your poolside look.
A cute woven bag is great to bring along because they do double duty as a daytime handbag that can easily be used as a beach bag.
Have fun, and keep your clothes simple, and styles that can work from beach to dining and attending events inside the resort.
Shop The Look

More Vacation-Ready Styles from We Dress America Walmart
There were many more chic and relaxed summer styles we were eager to snap up. Here are the more items we love from We Dress America from Walmart to make your summer wardrobe stand out with those vacation vibes. Be sure to check out our post on Summer Style Trends from Walmart for more dress and outfit ideas. And follow along on Instagram to check out all of our posts from #WeDressAmerica for even more style ideas.
Shop Vacation Pieces

Sponsored post. This post has been generously sponsored by Walmart. Affiliate links are also used in this post.