Being in a wedding is an expensive honor, and bridesmaid dresses can be a large part of that expense. But that doesn't need to be the case! More and more bridesmaid dress companies are offering bridesmaid dresses for $150 or less.
Affiliate links are used in the shopping links in this post about bridesmaid dresses under $150. This means this blog may earn a small commission if a qualified purchase is made from clicking on these links. Dress for the Wedding is a curated shopping and wedding styling blog.
Bridesmaid Dresses For $150 or Less!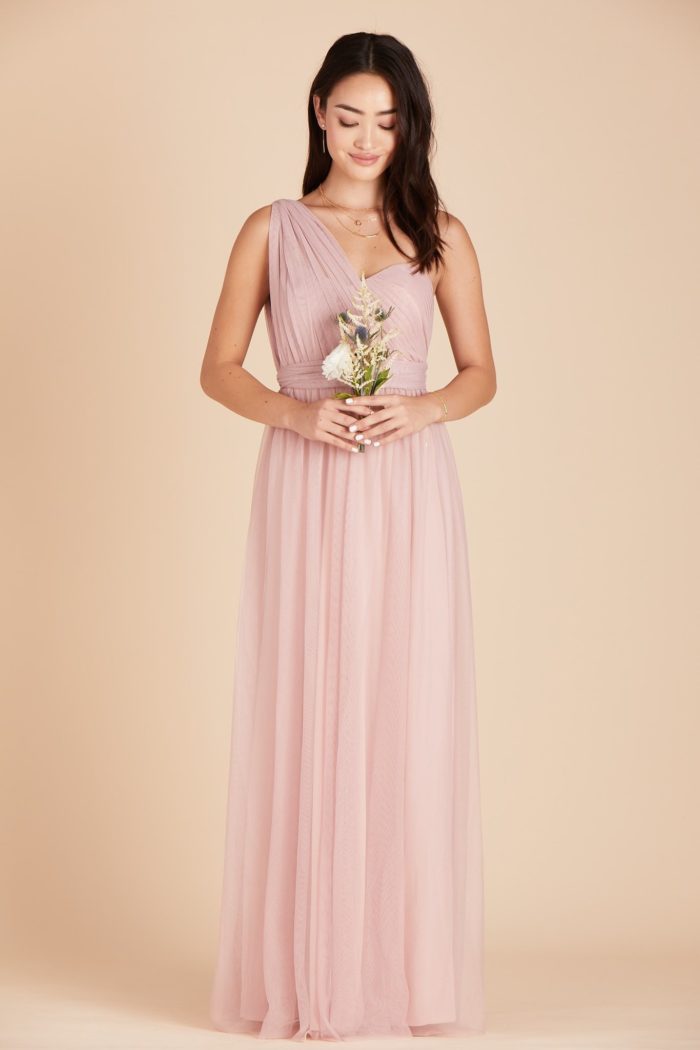 This convertible bridesmaid dress allows for multiple neckline configurations and is available in over 10 beautiful colors. Best of all, this dress is only $99 from Birdy Grey. It's the Christina Convertible Tulle Bridesmaid Dress.
Wouldn't it be nice if your bridesmaids could get their dresses for less than $150, and still have them be as pretty as can be? This post will help make that a reality! We've rounded up some of the best places to shop for bridesmaid dresses under $150.
Note: This post was originally published in January 2015, and has been updated now for 2020 with new products and images.
Where to Find Bridesmaid Dresses Under $150
Weddings are expensive, and if you're in multiple weddings it can really add up. I fall for all types of bridesmaid dresses that really range in price, but I love a well-priced dress that has plenty of style.
Fortunately, the selection of dresses that you can obtain for under $150 is wide -- with many, under $100! In my mind, $150 is a great price to aim for if you're trying to keep bridesmaid dresses costs low, and if you can go lower, I'm sure ladies in your wedding party will appreciate it!
Shop For Bridesmaids for Under $150
Here is an alphabetical list of some of the places you can find bridesmaid dresses for under $150 from trusted shops and online retailers.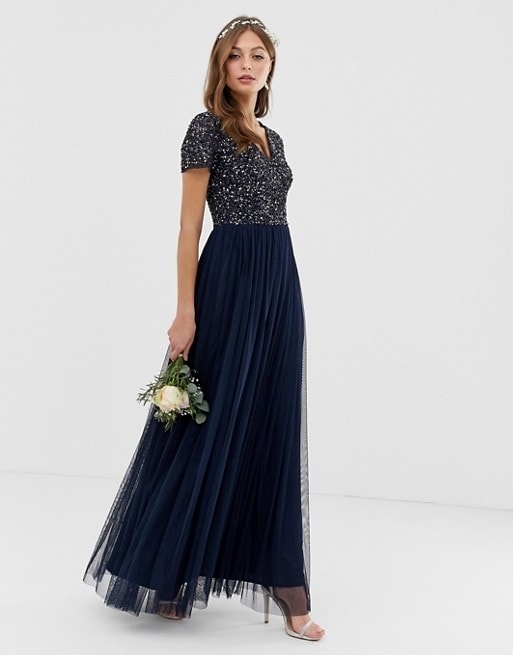 Sequin bridesmaid dresses can be affordable!
This navy blue sequin top dress is from ASOS, and it retails for $109.
Amazon
Amazon has everything, so of course, they would have reasonably priced bridesmaid dresses! I have been seeing some Amazon dresses in person on friends and they have been good quality! I don't have personal experience with seeing these brands in person, but I plan to do a try-on review post sometime soon! For now, read the reviews and stick with well-rated styles! We found some bridesmaid dresses by Ever Pretty and by Koh-Koh with high ratings for under $50.
Shop The Look

ASOS
ASOS has some of the most unique and trending styles of bridesmaid dresses and ship world-wide, They have a particularly good selection of sequin and tulle style bridesmaid dresses by Maya for under $150. ASOS also offers petite, maternity, and curve styles in some gowns ensuring great fits for all members of your wedding party. The only downside, colors and styles are somewhat limited, so you have to shop quickly for best selection.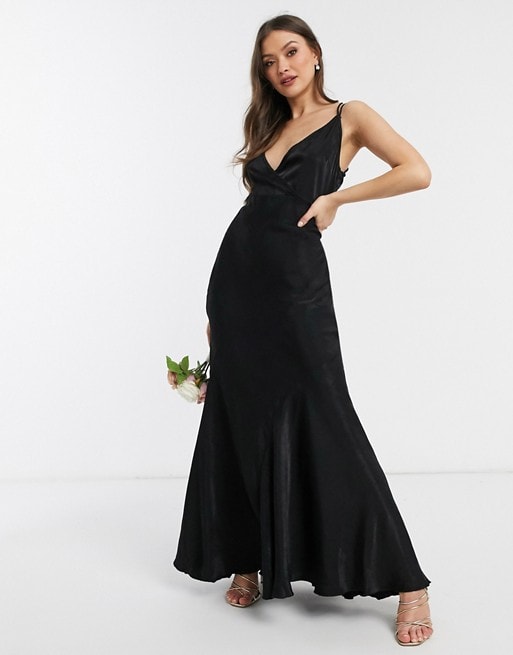 ASOS DESIGN Bridesmaid washed satin cami maxi dress is $119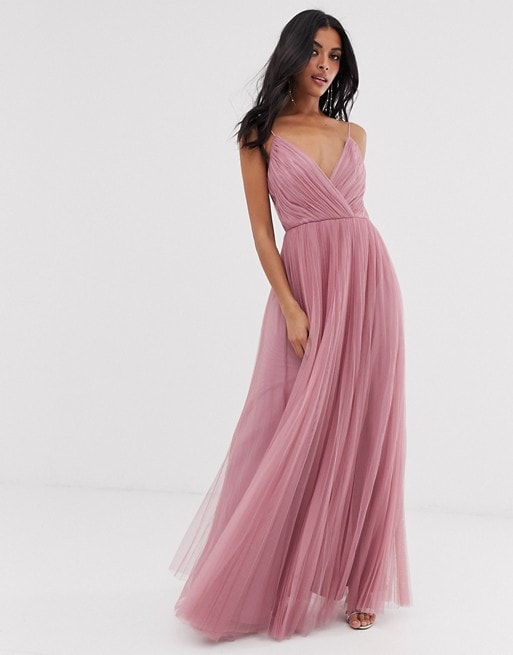 ASOS DESIGN cami pleated tulle maxi dress is $108
Shop The Look

Azazie
We recently reviewed Azazie bridesmaid dresses and we were impressed with the process and quality! Azazie is wonderful because they offer bridesmaid dresses in nearly every color scheme, sleeve, neckline, bodice and length you can imagine! Here are a few of the Azazie styles we love for under $150.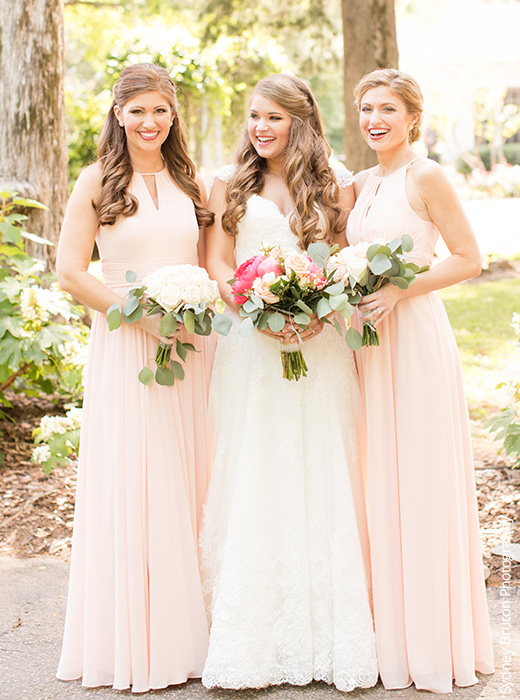 Spring Wedding Color Ideas | Azazie
BHLDN
BHLDN is known for incredibly chic bridesmaid dresses, but they don't always have dresses under $150, however, they have recently created their own label, and there's one stunning dress under $150 called the Caron Dress. It's a good start, and we hope this trend of BHLDN offering more dresses under $150 will continue!
If you can nudge your budget up by just $18 BHLDN has several dresses in the $168 price point. The Thompson Dress, The Kari Dress, The Nasha, and The Madrie Dress are all $168 at the time of publication. You can also often get a deal on styles in the BHLDN sale section.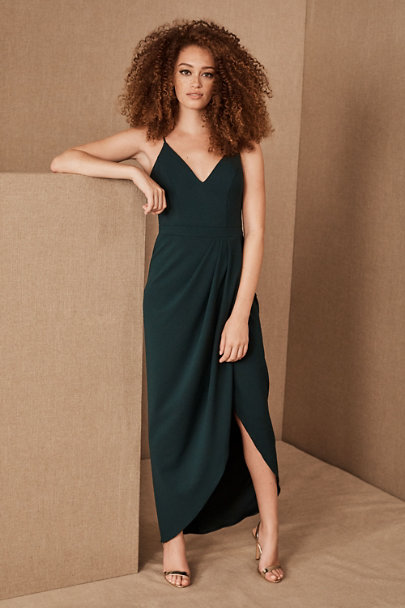 Birdy Grey
Birdy Grey is one of our new favorite bridesmaid dress companies! (We're doing a feature on them soon!) They really seem to get the bridesmaid dress struggle! Birdy Grey offers some of the most popular colors, silhouettes, and styles, and every dress is under $100! The result is totally photo-perfect bridal party looks, with happy bridesmaids who didn't have to shell out more than $100 for dresses!
Sage Green Bridesmaid Dress from Birdy Grey for Under $100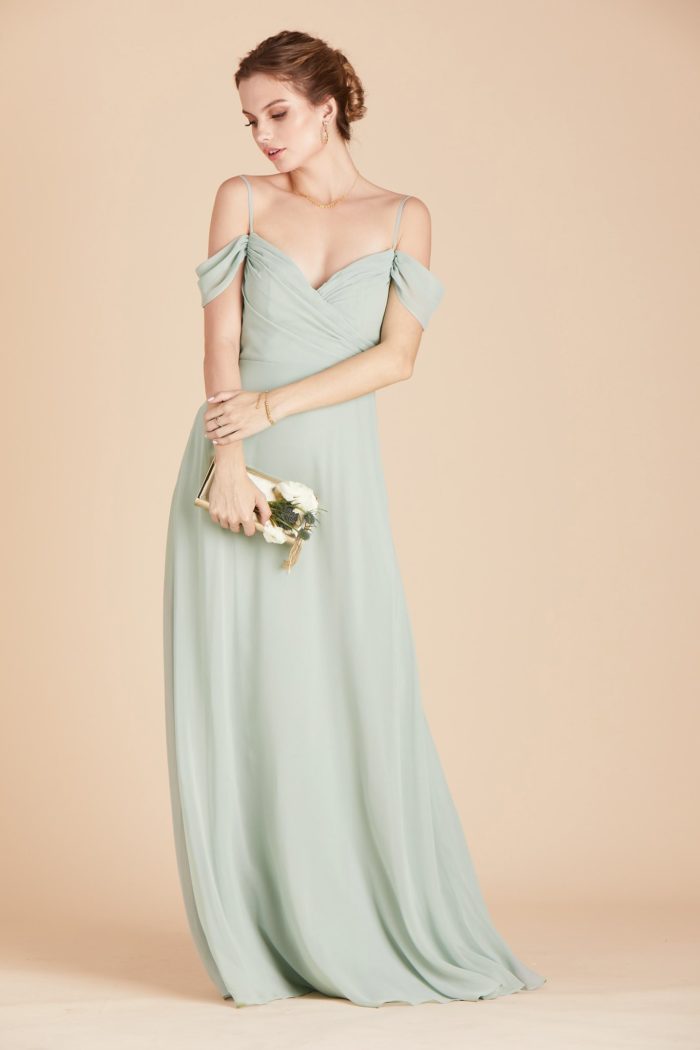 The Spence Convertible Bridesmaid Dress is from Birdy Grey and is under $100. This convertible style allows for several different necklines, and comes in several beautiful colors. It's shown here in sage.
Pale Blue Bridesmaid Dress for Under $100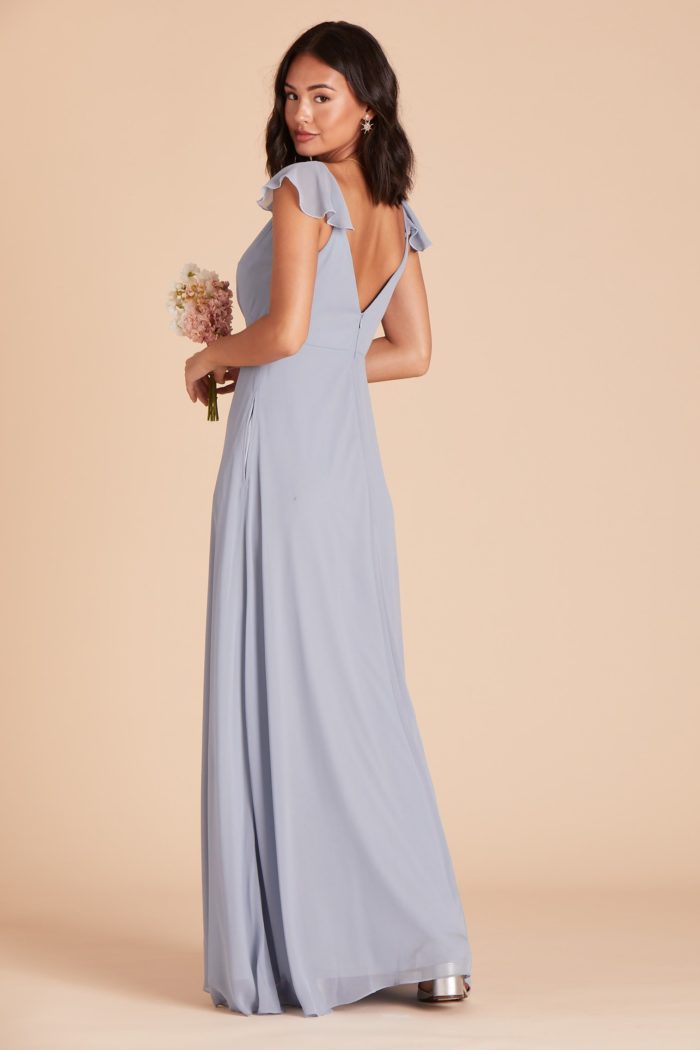 This boho style flutter sleeve dress is called the Kae dress and is under $99 from Birdy Grey.
Shop The Look

Dessy Thread
Dessy's Line of Affordable Bridesmaid Dresses known as the Thread Collection is one we featured last year. The entire Thread Collection line is under $150, and is a capsule collection of top silhouettes and colors.
Dessy also just released the Loop Dress, which is a great convertible multi-way bridesmaid dress that can be configured 13 different ways, to offer 13 different necklines. It's also a lux stretch fabric which makes it packable and easy to wear and care for. It's even machine washable! Dessy's After Six line also has several dress options under $150. You can see all of Dessy's bridesmaid dresses for under $150 here.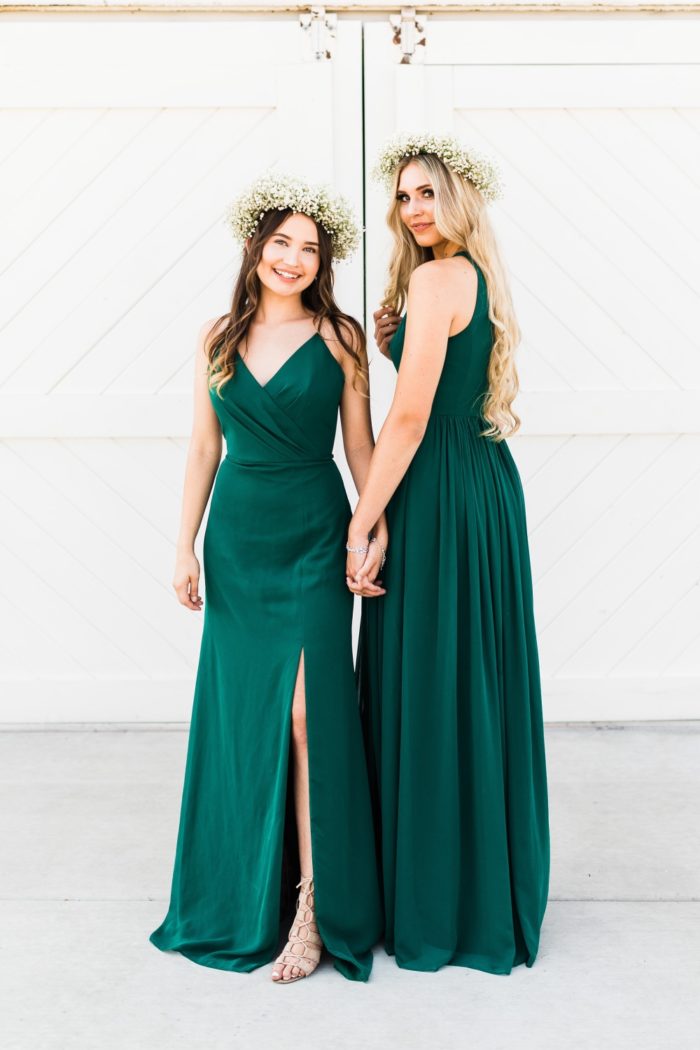 Green Bridesmaid Dresses from Thread Bridesmaid from Dessy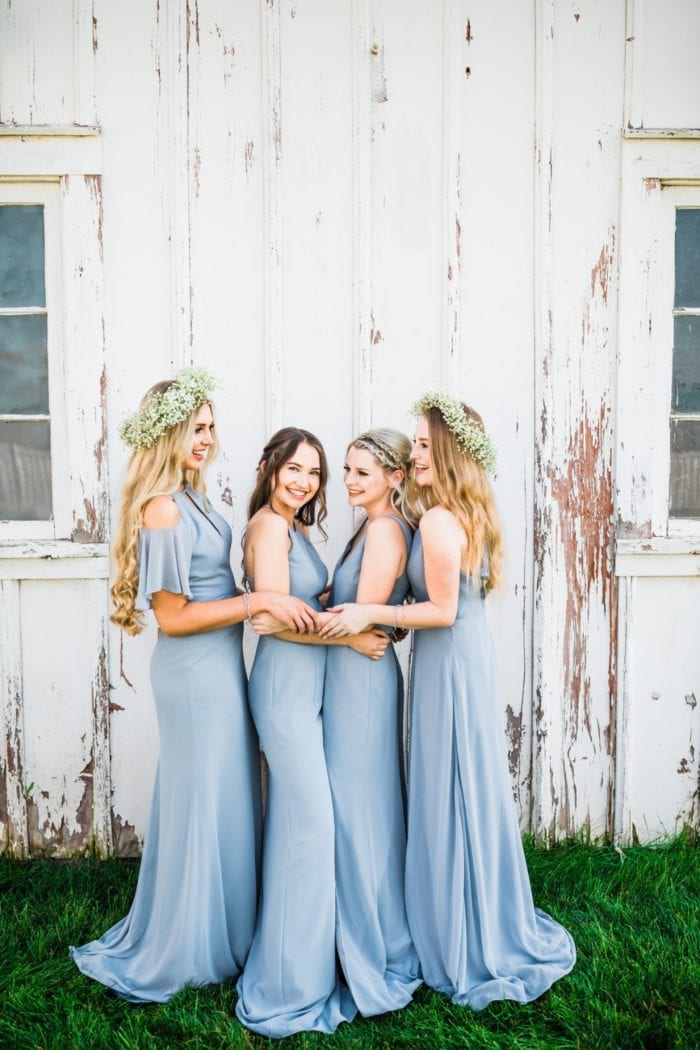 Thread Bridesmaid Dresses in Mist
Lulus
Lulus has a whole section dedicated to weddings and almost all of the bridesmaid dresses are well under $150. See more details in our feature on Lulus Dresses for Weddings, or see a few of our favorite picks below.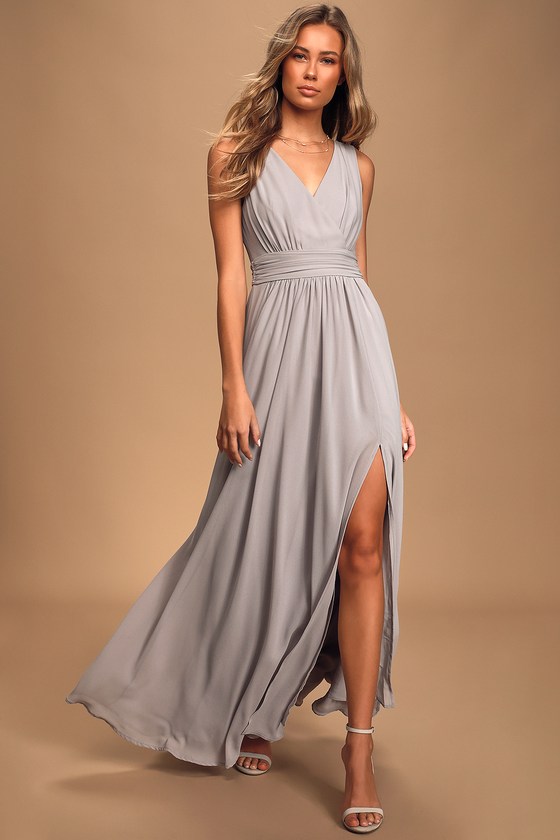 Thoughts of Hue Light Grey Surplice Maxi Dress - Lulus - $84
from: Lulus.com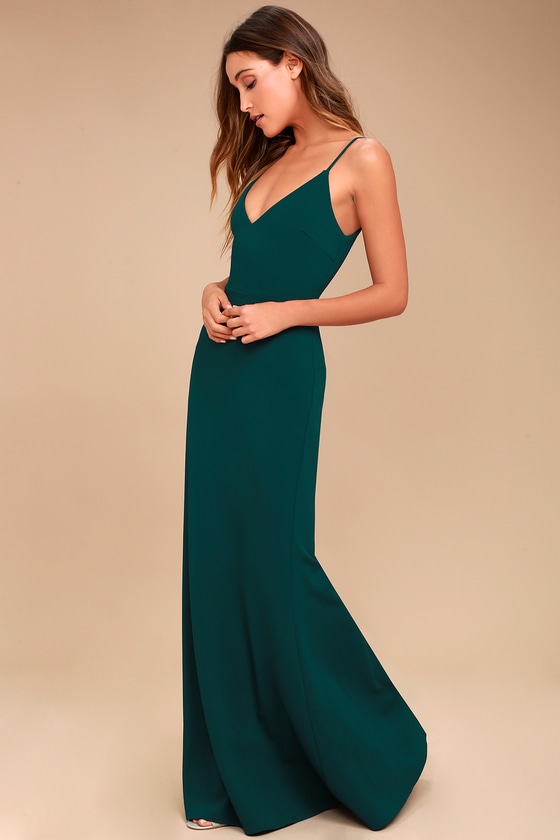 Infinite Glory Forest Green Maxi Dress - Lulus - $84
from: Lulus.com
Affiliate links are used in the shopping links in this post. This means this blog may earn a small commission if a qualified purchase is made from clicking on these links.
Shop The Look
This shop section is continually updated with more bridesmaid dresses we've found under $150. We also have bridesmaid dresses arranged by color! Affiliate commission links are used in this shop section.

Please note, this post was originally published in 2015, and updated in December 2019. If you are reaching this post from an old image on Pinterest, some of the dresses in those images have now sold out, but we have kept them below for continuity.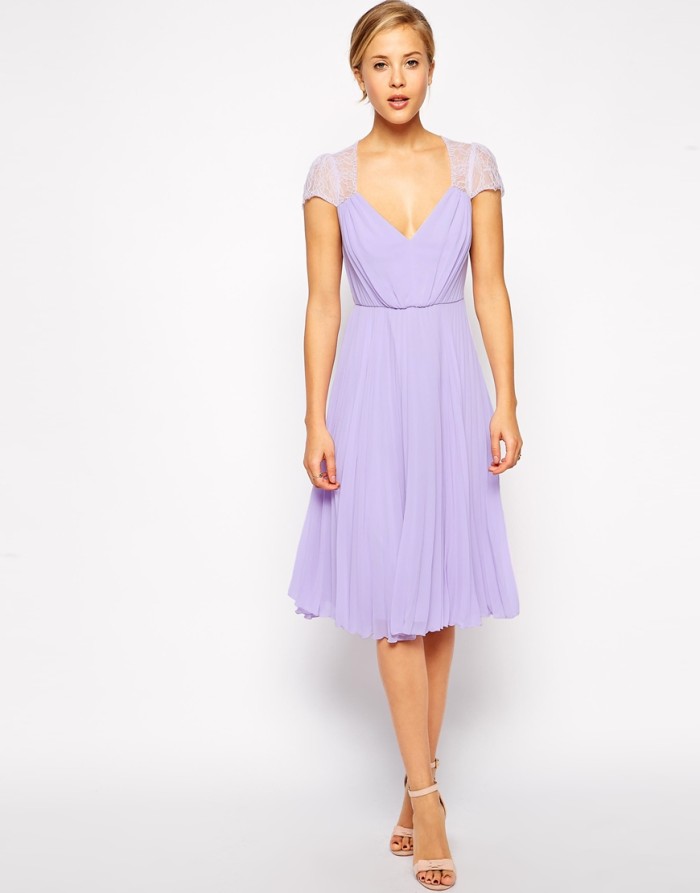 Lilac lace Midi Dress at ASOS $90.06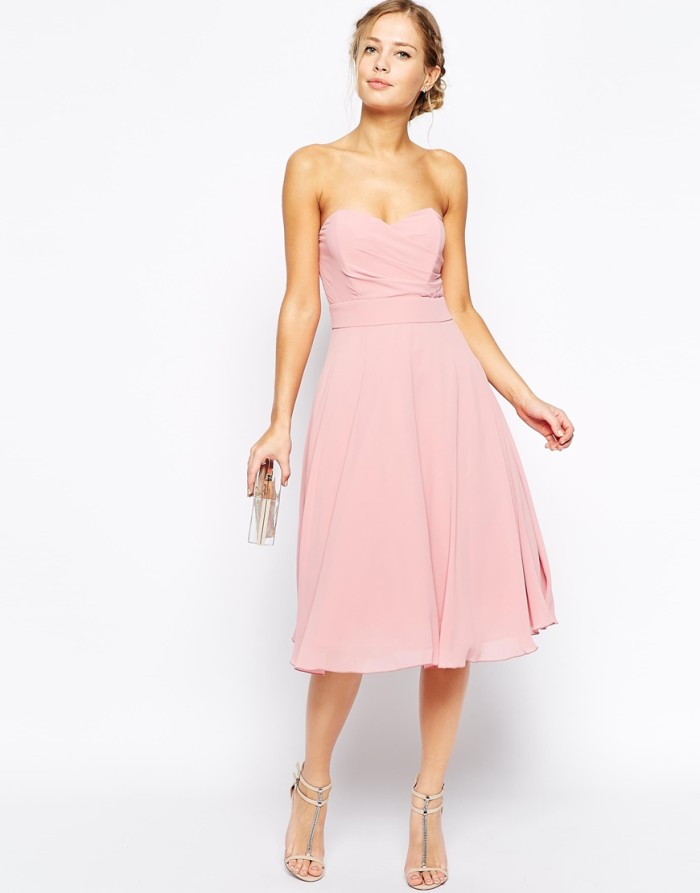 TFNC Debutant Dress $75.80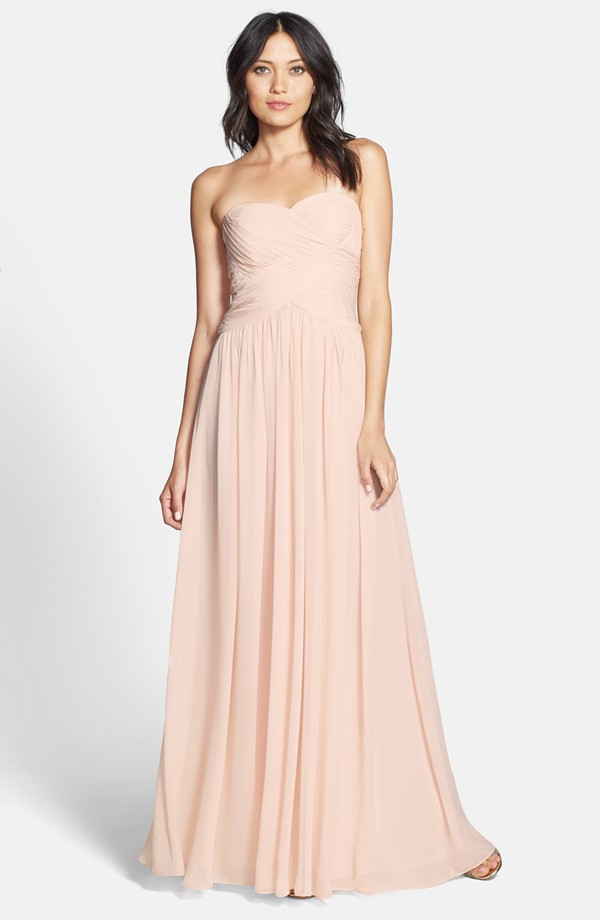 JS Collections Gown $148 comes in 4 colors $148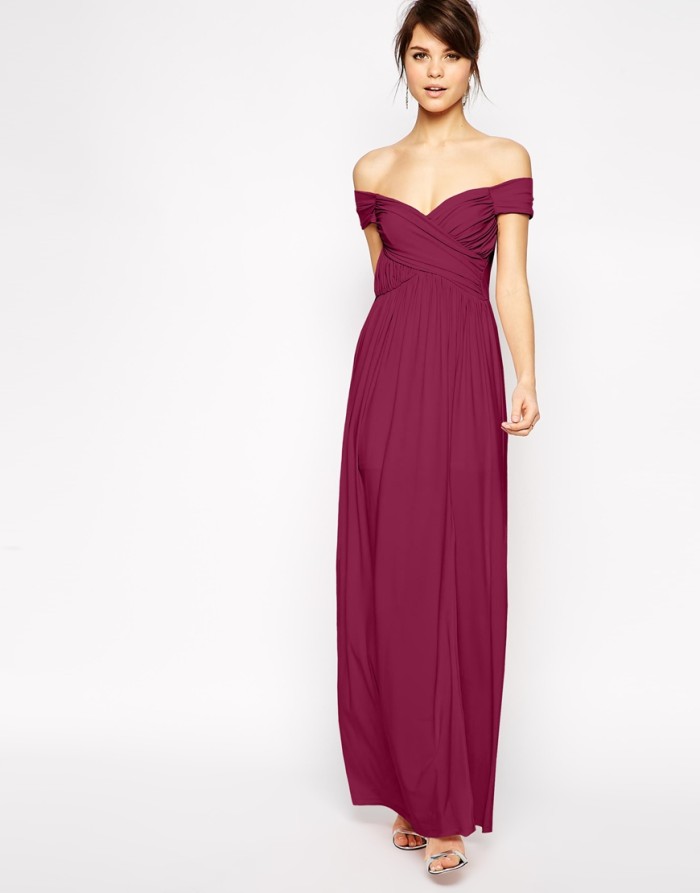 ASOS Bardot Ruched Gown for $88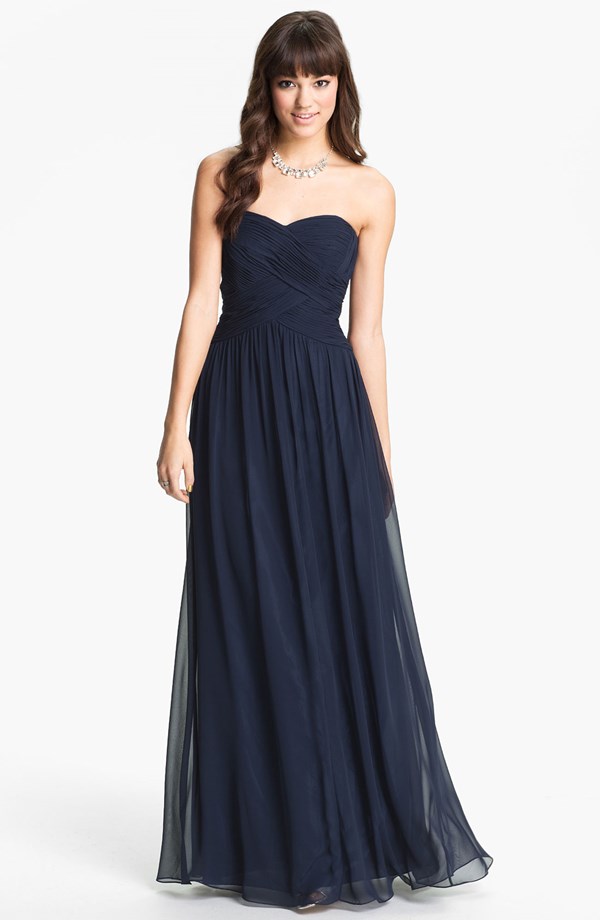 JS Collections Gown $148
Bridesmaid dress rentals are another way to keep dresses reasonable for your maids. Try Little Borrowed Dress or Rent the Runway for choices! With a little smart-shopping your can give your entire wedding party a great look, for less!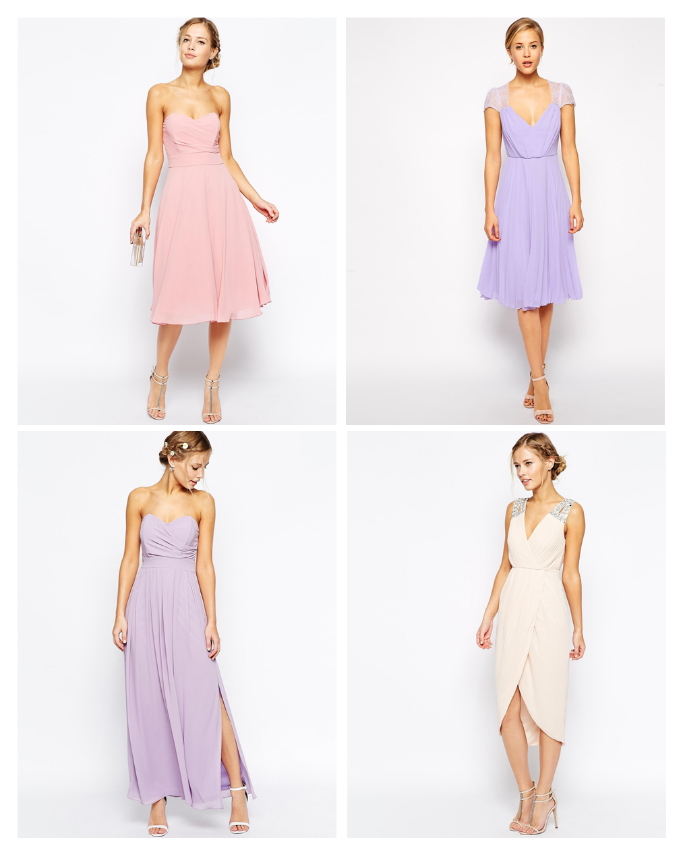 Dresses from ASOS for Weddings