Dresses and outfit ideas for what to wear to a casual daytime wedding, a semi-formal wedding, and a black tie wedding in Charleston, South Carolina.
The shopping sources on this site use affiliate links, which means this site may earn a commission if you make a purchase from our links.
What to Wear to a Charleston Wedding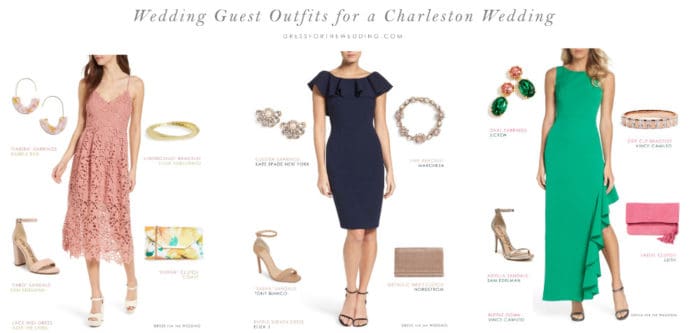 As I sit here dutifully catching up on one of my favorite guilty pleasures, Bravo's Southern Charm, I decided now was the time to create a collage and series that I have been meaning to do for years! My What to Wear to a Wedding organized by City - starting with the place that always inspires me -- Charleston, South Carolina!
What Should You Wear to a Wedding in Charleston?
If you've been invited to a wedding in Charleston, South Carolina, first of all let me say, lucky you! While I haven't had the pleasure of attending a wedding there, I've visited the Crescent City many times, and have been lucky enough to see some of the fantastic venues the city has to offer.  If you've never visited, you'll be so excited you get to go! It's one of those cities that lives up to the hype. It really is as beautifully rich in scenery, architecture, history and food as you've been led to believe by blogs, books, and TV shows.
Charleston as a Wedding Destination
There are so many different venues surrounding the city of Charleston.  You may be attending an Isle of Palms wedding at a beach club, a casual beach wedding at Folly Beach, a hotel wedding at one of the many charming hotels in the area like The Mills House or Charleston Place or you might be in a historic home, or one of the grand churches.
The style in Charleston is always elegant and inspiring, and great looks are easy to find in shops on King Street.  When I think of Charleston, I think of delicious sorbet like colors, and a preppy, polished classic vibe with a little tropical and coastal aspect thrown in.
What to Wear to a Casual Daytime Charleston Wedding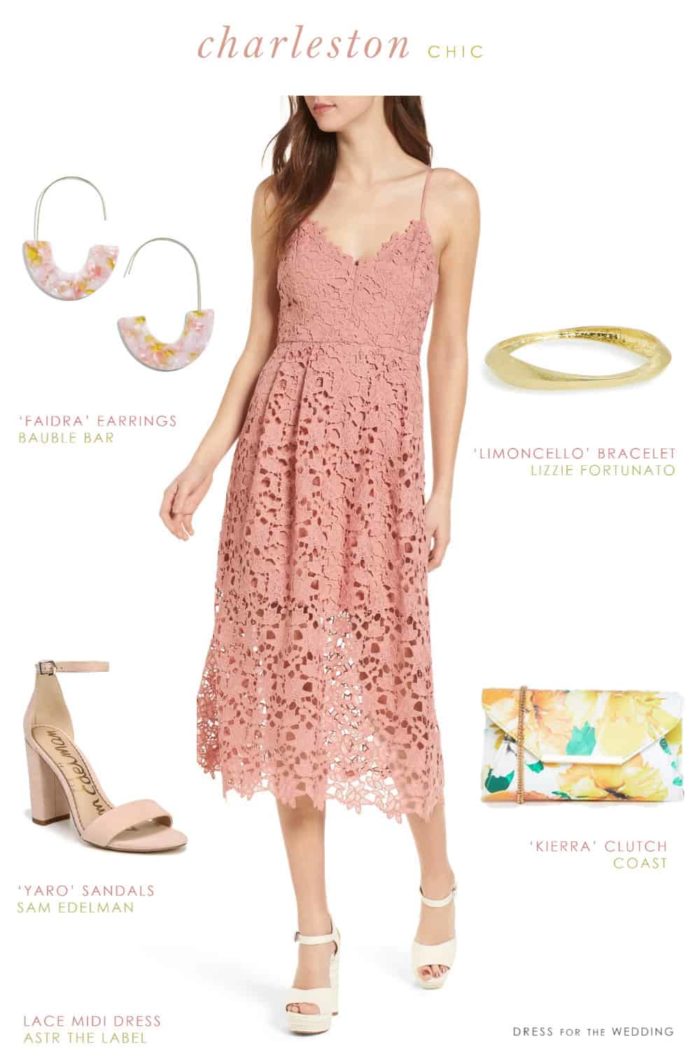 Dress: ASTR the Label Lace Midi Dress from Nordstrom    |  Earrings: Faidra Earrings from Bauble Bar (May be sold out at Nordstrom - also at BaubleBar) | Bracelet: Lizzie Fortunado Limoncello Bracelet from Moda Operandi  | Clutch: Coast Kierra Printed Bag from ASOS | Shoes: Sam Edelman Yaro Ankle Strap Sandals from Nordstrom 
The first look I have for you (shown above) is a casual look, for a morning or afternoon wedding. This lace midi dress is the epitome of lady-like style with its below-the-knee length.
It's casual enough for a beach wedding, but can be dressed up enough to be semi formal as well! Casual accessories in citrus-y shades make this a daytime look, but this could suit an evening wedding with a more formal set of accessories.
This dress comes in several other colors for any season, or color scheme you might like. I love this rusty peach color paired with white, gold, yellow, and a hint of green, because it reminds me of some of the beautiful home colors in Charleston.
What to Wear to a Semi-Formal Wedding in Charleston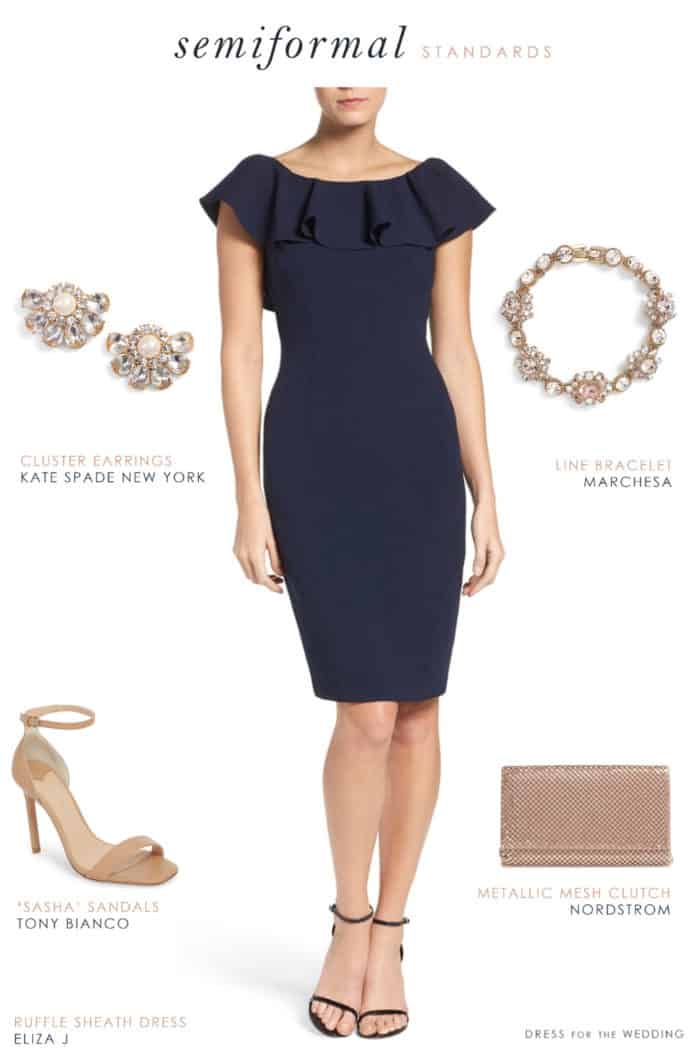 Dress:  Eliza J Ruffle Sheath Dress from Nordstrom | Earrings:  kate spade new york cluster earrings from Nordstrom (also in Navy Blue) | Bracelet: Line Bracelet from Marchesa  | Clutch:  Metallic Mesh Flap Clutch from Nordstrom | Shoes: Sacha Ankle Strap Sandal by Tony Bianco from Nordstrom
A semi-formal evening wedding calls for a more formal look and darker color. The magic of this dress is actually the lace back (see it here). I love it because it's slightly conservative, perfect for church where you may want your shoulders to be covered, but the lace back and ruffles makes this an elegant and unique cocktail dress. And one can never go wrong with navy blue.
I've paired it with neutral -- but sparkling accessories--for a classic, understated semi-formal look that will take you to nearly any wedding in any venue.
What to Wear to a Black Tie Wedding in Charleston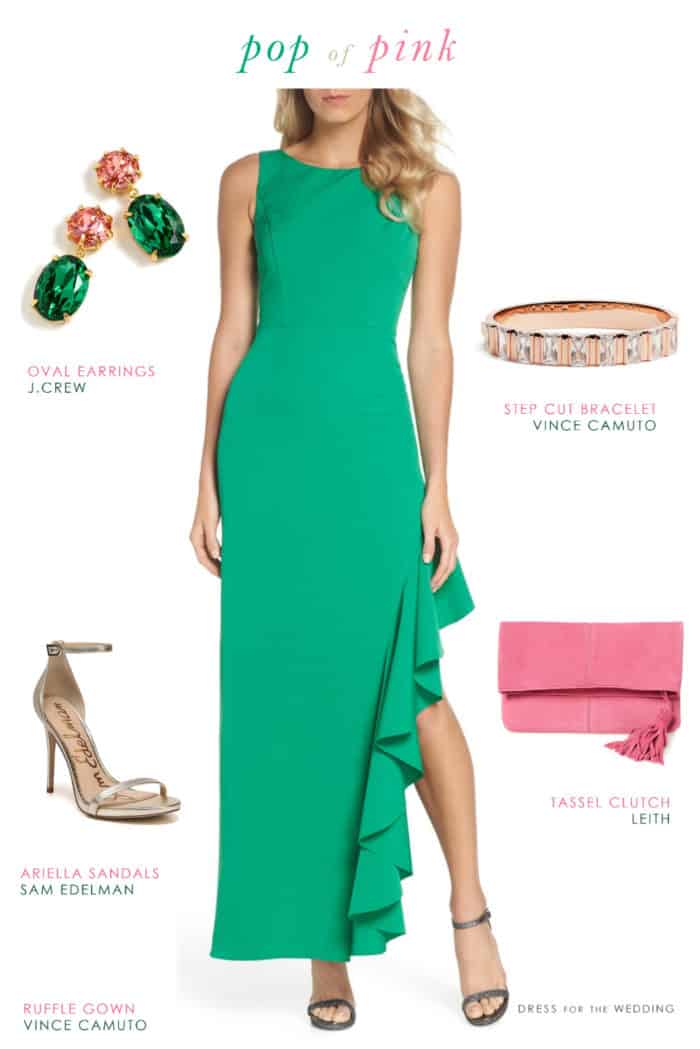 Dress: Ruffle Gown by Vince Camuto from Nordstrom  | Earrings: Oval Stone Drop Earrings by J.Crew from Nordstrom   | Bracelet: Step Cut Bracelet by Vince Camuto | Clutch: Leith Suede Clutch from Nordstrom  | Shoes: Ariella Sandals by Sam Edelman from Nordstrom
This look is a nod to the preppy coastal style of Charleston! Inspired by pink houses and palm trees, this pink and green pairing would be perfect for a black tie wedding - especially if it's a preppy wedding or creative black tie has been requested.
For a more formal look, or if  green with hot pink isn't your style, this dress is still a knock out for any black tie event. Just change out the accessories for neutral, but sparkling gold, crystal, diamond, or other highly formal looks and a metallic clutch!
Also check out this recent post on affordable formal gowns for a wedding, for another classic black tie look! I also try to keep this page stocked with dresses to wear to formal or black tie weddings.
While these look were designed for Charleston, if it's your style, feel free to steal it for any event or venue that it suits!
And, if you're a couple planning a wedding in Charleston; send your guests here to let them know the dress code requirements. You can also give them more information with our wedding outfits by dress code or directing them to our wedding guest attire etiquette and guidelines.
Charleston Wedding Style Inspiration
For more ideas for Charleston weddings, definitely check out our posts on Lula Kate - one of our favorite shops and designers for bridesmaid dresses, that happens to be headquartered in Charleston!
There's also this styled shoot with Plum Pretty Sugar that was done at a few venues in Charleston!
And lastly, one of our favorite Charleston-based bloggers, is Julia Engel, and she's created a new dress line named after her blog - Gal Meets Glam Collection.  These dresses are always perfect Charleston style ( even when they are inspired by other areas of the world!) Check out our wedding guest dress picks from the Gal Meets Glam Collection, or have a look at the latest offerings!
Also follow us on Instagram, Pinterest, and Facebook for more wedding style inspiration!
Dresses to Wear to a Southern Wedding in Charleston
Here are some more dresses I've picked with Charleston style in mind!

The shopping sources on this site use affiliate links, which means this site may earn a commission if you make a purchase from our links.
More style ideas you might enjoy :