Formal Maternity Dresses for a Wedding Guest
A friend is looking for a wedding guest dress or gown for a formal wedding, and she'll be 6 months along at the time of the wedding. Let's help her find formal maternity dresses for a wedding guest!
Shopping sources on this site use affiliate links, which means this site may earn a commission if you make a purchase from our links.
Maternity Friendly Formal Gowns and Semi Formal Wedding Guest Dresses
So this week, I had a fun request from a friend to help her find a formal dress for her brother's wedding in May! She'll be 6 months pregnant at the time of the wedding, so she is looking for a formal gown that will accommodate her baby bump; but of course she's not quite sure what size it will be!
To help her -- and to hopefully help anyone else who might be searching for the same thing -- I came up with a few special occasion maternity dress ideas and resources. I also have a "shop" section below which I will keep updated with formal maternity dresses as I see them! Forgive me if any of the advice I give is off for your particular pregnancy shape. I haven't had kids myself, so I'm not fully sure if everything I have recommended is as practical as I hope it is! Feel free to leave a comment with your own take and experiences!
Formal Maternity Dress for a Wedding Guest
The best online sources I could find for formal maternity dresses were at ASOS, Seraphine, Tiffany Rose, and Pink Blush with a few non-maternity styles at Rent the Runway and a few by Adrianna Papell. Here are a few of my picks for my friend!
Formal Maternity-Friendly Chiffon Gown
This wrap dress is a maternity-friendly style from David's Bridal bridesmaid collection - they have about 13 other styles, and 100s of colors! While I often think of David's Bridal for bridesmaid dresses and wedding dresses, they actually also really knock it out of the park for beautiful affordable special occassion dresses. This one is gorgeous! I like that it's simple and elegant, and it comes in 45+ colors! I will go into more detail below about what colors my friend would like to wear, and those she is trying to avoid! However, I think this gray color might work for my friend perfectly. She could also try the colors Biscotti, a pretty neutral taupe color; Graphite, a dark gray; Mystic, a stunning blue-gray; Portobello, a brownish taupe; and Quartz, a pretty mauve, or really any color she chooses! It's just a pretty dress all-around!
Formal Mauve Maternity Dress with Lace Detail
I also love this goddess-like gown; The Lace Accent Chiffon Gown from Pink Blush.
Pink Blush has a huge offering of maternity clothes, and their evening gown styles are particularly beautiful. If you are looking for less formal dresses, they have a ton. They would be my go-to for every day dresses and I would check them out for a maternity photo shoot outfit, too!
Chic, Stylish Formal Maternity Dresses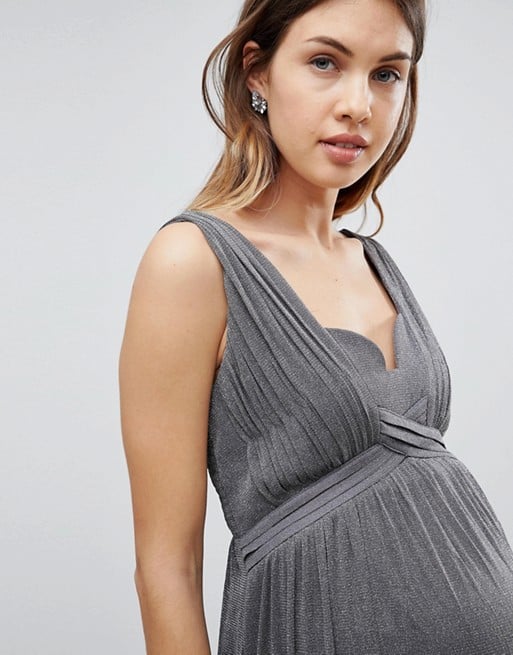 Little Mistress Silver Maternity Maxi Dress from ASOS
ASOS also has an amazing selection of on-trend maternity dresses, and a whole gorgeous collection of maternity bridesmaid dresses too. I love this metallic charcoal gray gown - it would be a great color to wear for a formal evening wedding! Little Mistress Silver Maternity Maxi Dress from ASOS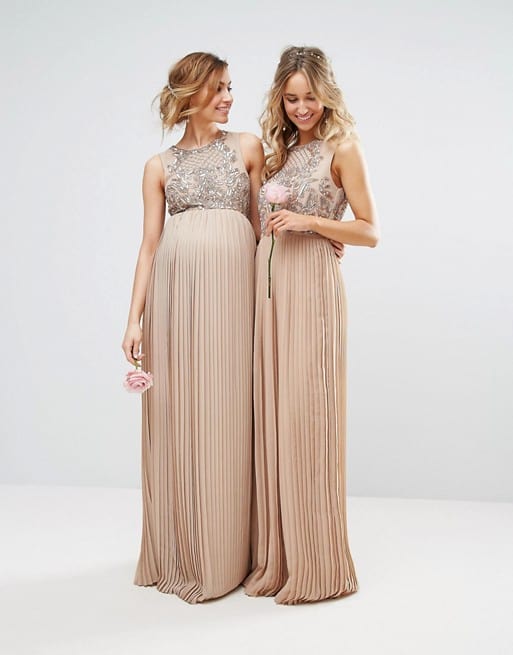 Maya Maternity Embellished Dress with Pleated Skirt
I think a lot of the ASOS bridesmaid dresses, work for wedding guest dresses as far as I'm concerned! This style is for bridesmaid dresses, but I think this soft rosy beige color with the embellished neckline might be gorgeous for my friend's event! The whole Maya collection of maternity styles is fantastic!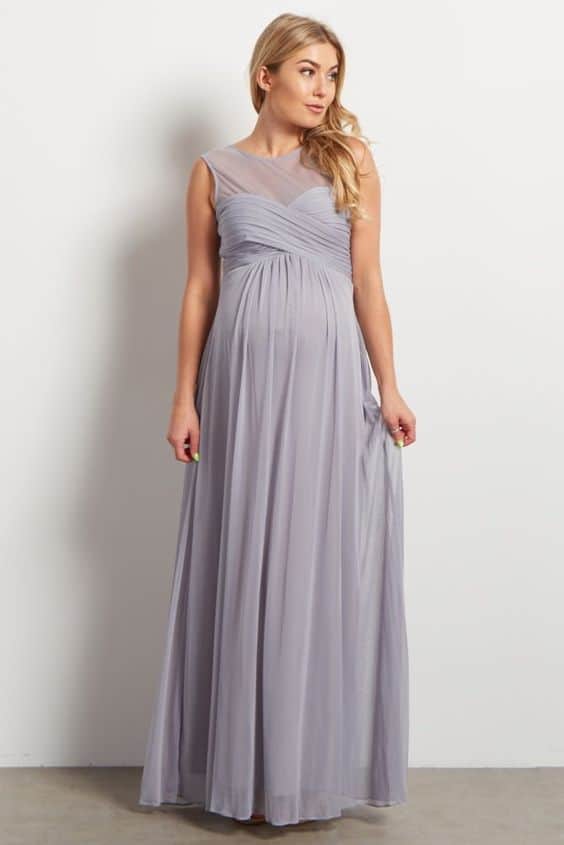 Another fantastic dress is this gown with an illusion neckline. It's another beautiful style from Pink Blush. This is another top pick in either mauve or silver! It comes in 9 gorgeous colors!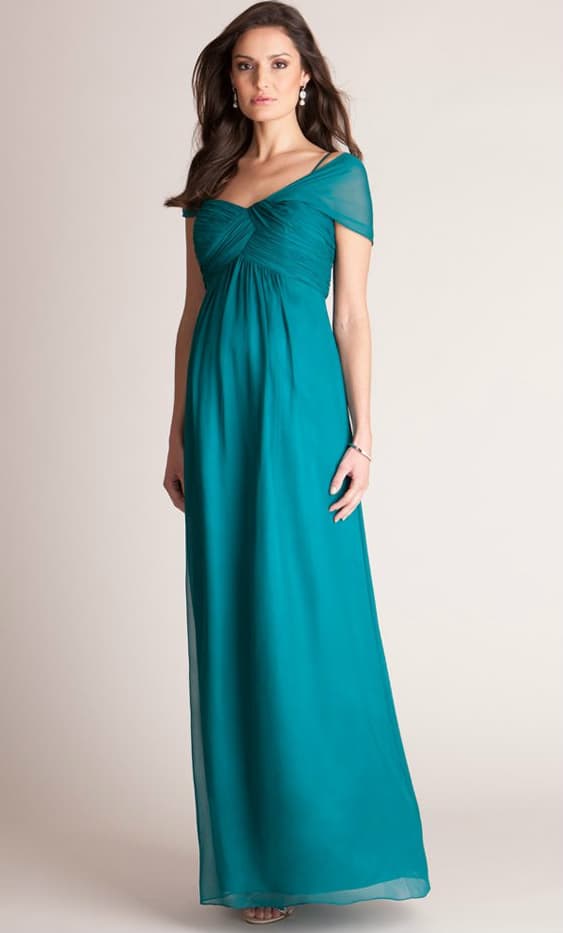 If you have a very, very formal black tie event during your pregancy, Seraphine has amazing evening gowns like this emerald green stunner. Someone wore it to the Oscars in blue! These gowns range from $200 - $500, but sometimes they go on sale.
Seraphine also has gorgeous semi-formal style dresses and everyday dresses that are a bit more in the price range most of my readers request.
If my friend chooses to wear a shorter dress, I like this midi length lace cocktail dress in pink, or this teal lace dress, this mint green lace, or this mauve gray embellished neckline cocktail dress all from Seraphine.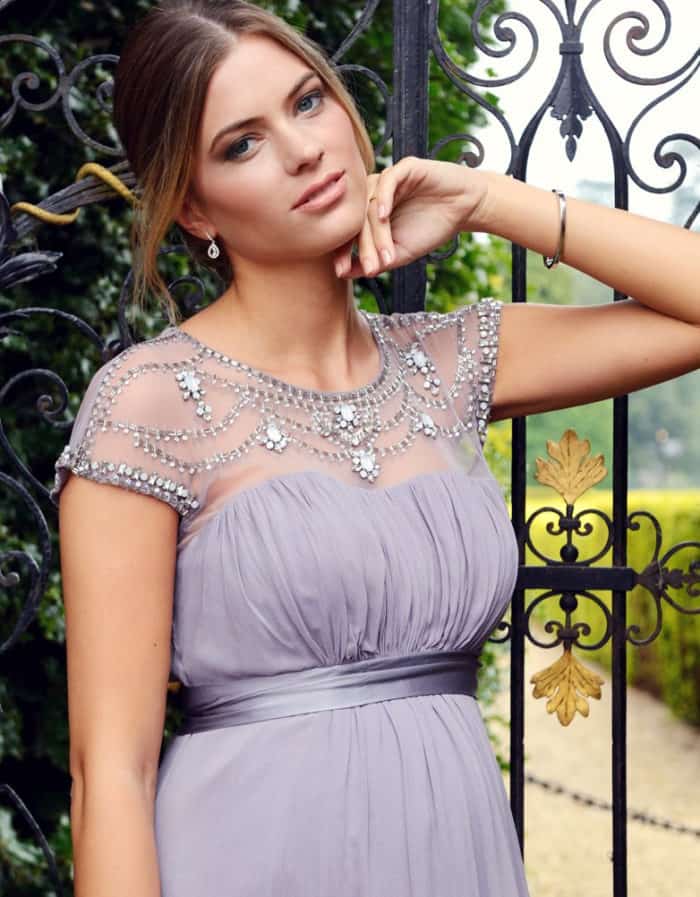 Embellished neckline cocktail dress from Seraphine.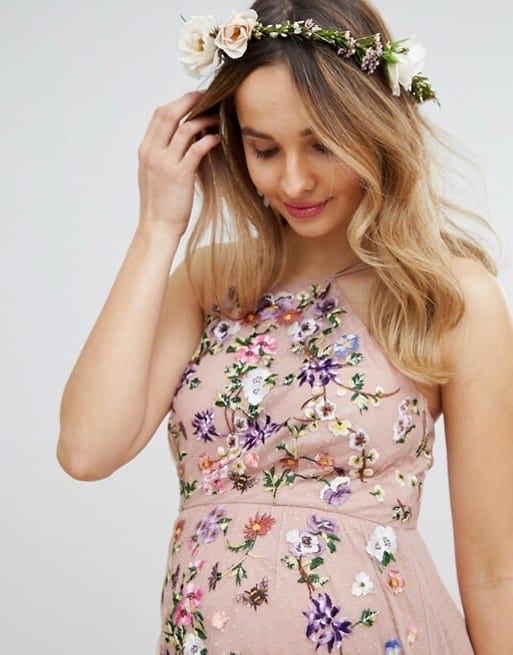 Dobby Mesh Maternity Dress from ASOS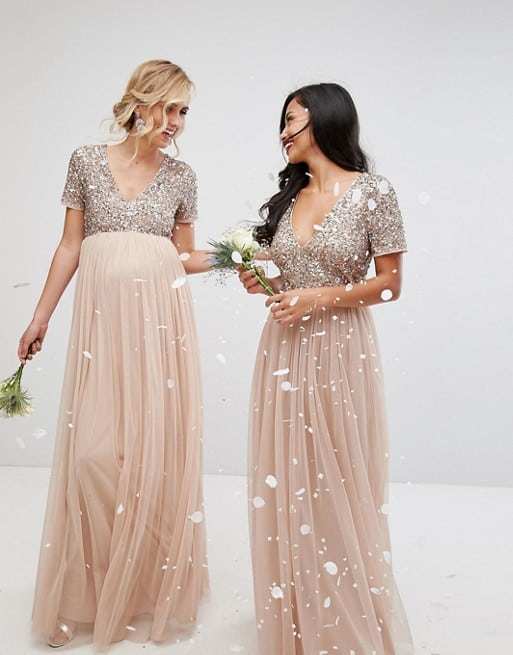 The Maya sequin dresses also have this look, or these BHLDN dresses with beaded bodices and tulle skirts.
Shop Formal Maternity Dresses
Need a few more ideas? This shop section is updated with featured dresses as quickly as I can find them! see more suggestions below!
Shopping sources use affiliate links from our sponsors and retail partners.

Bump-Friendly Regular Dresses for Special Events
There are also several styles of "regular" dresses that can be made to work for maternity dresses! Maxi dresses, especially those with full skirts, wrap styles, and empire waistlines can often work for maternity dresses, especially if you are in the early months of pregnancy and your bump is small or low. In general, maxi dresses, stretch lace dresses, dresses with soft pleats or ruching, stretch jersey styles might work perfectly for you. Here are a few of these potentially bump-friendly gowns.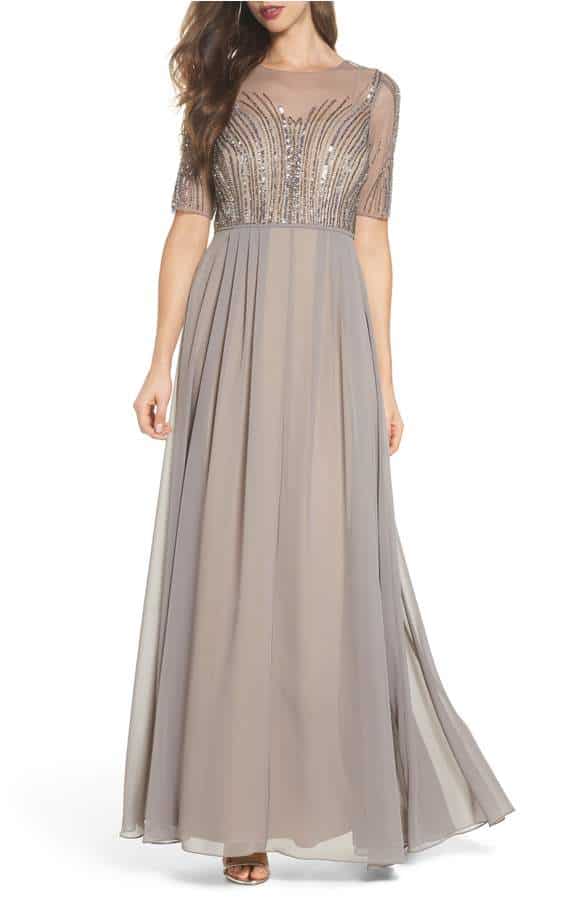 This taupe dress is an empire style dress that is a non-maternity style, but I think the skirt and high waist might work! I love the color and the bodice detail!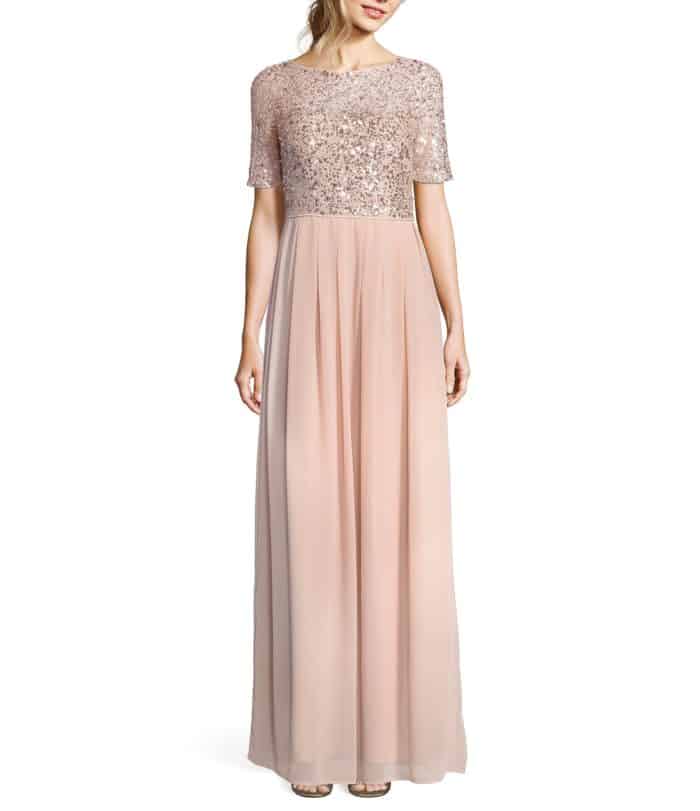 Beaded Bodice Gown By Adrianna Papell
Along those same lines, this Adrianna Papell high waisted dress would also work. I think this might be too close to the colors the wedding party plans to wear, but if it isn't, It's a gorgeous option. Beaded Bodice Gown By Adrianna Papell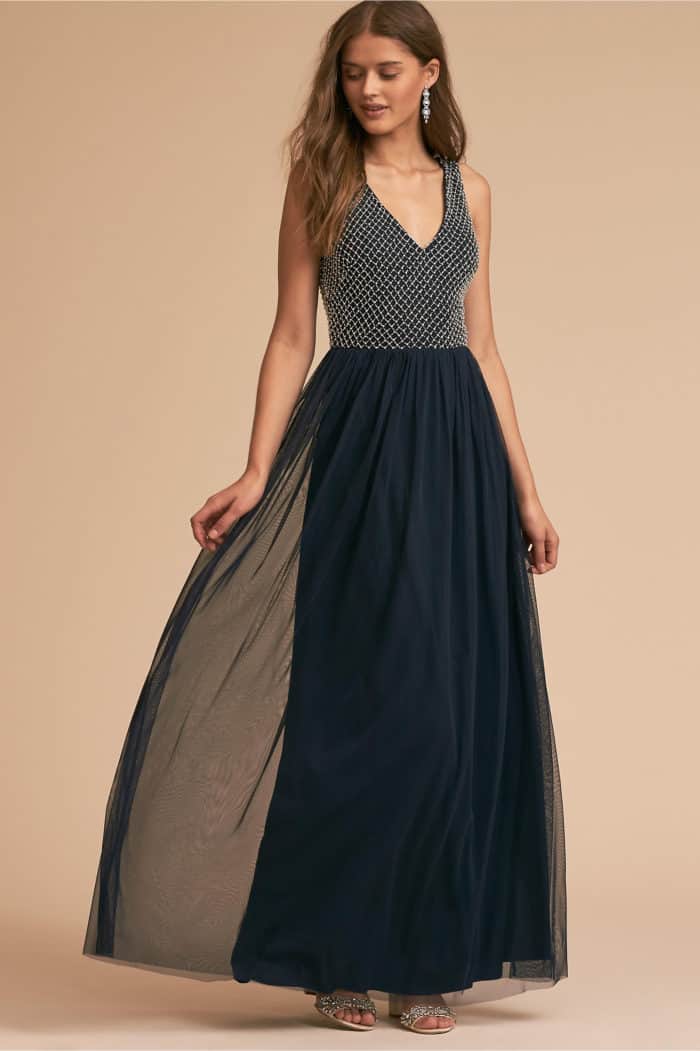 Bryce Dress is a navy beaded dress from BHLDN has a high waist and full skirt, so it may work for smaller bumps!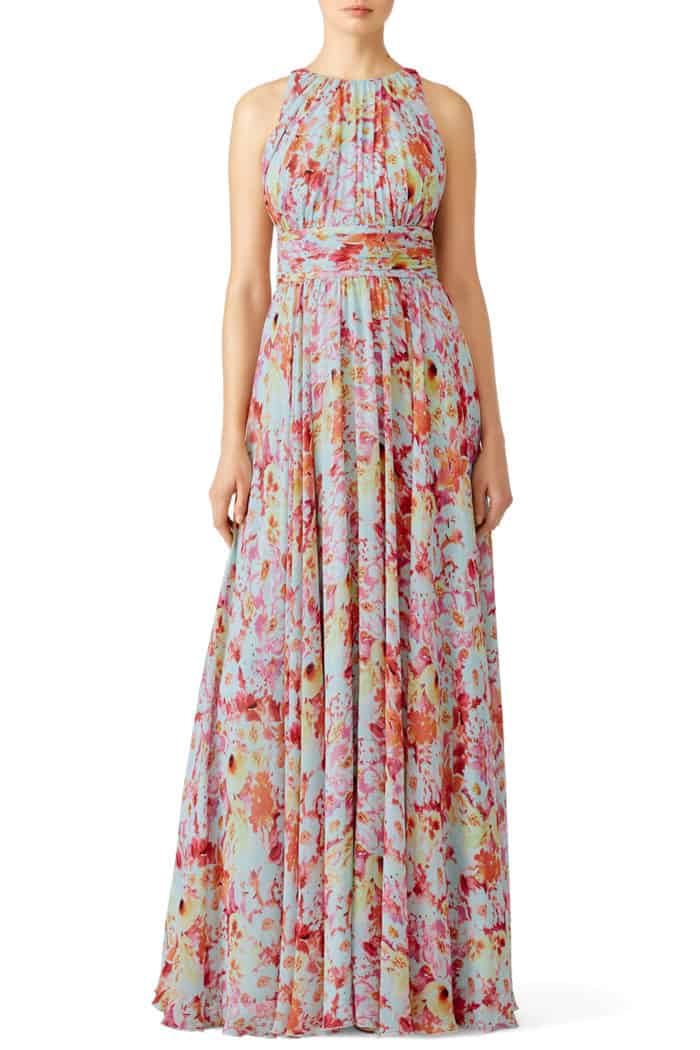 Badgely Mischka Utopia Maxi Dress
This just a dress I love, and reviewers have said it's bump friendly. There are actually a ton of dresses at Rent the Runway that reviewers have worn well into their third trimester, including this one. I think the colors are gorgeous for a spring wedding. A few Badgely Mischka gowns really seem to work, and I've rented them myself, so I know they have some stretch. A few that also have bump-friendly silhoutters are the Corundum gown, are the Neutral Stripe Gown, Purple Cloud Maxi,
This floral dress would be a great color combination for this particular wedding, but I'm not sure if the style will have the right sihouette for her at month 6, but it's a cute dress! If that skirt has some give, and the bump is small, this might be perfect! This similar style is black and rose, and has a little bit more room in the skirt and pockets!
More Maybe Bump-Friendly Dresses

Formal Maternity Dress for a May Wedding Guest
So if you are interested, here's more detail on why I've picked these dresses. My friend has been asked to do a reading, and as a family member she will be in lots of pictures, so of course she wants a special dress!
The other consideration is that the bridesmaids are wearing a rose gold /blush/ petal pink color and the groomsmen will be in navy blue tuxedos, so she doesn't want to exactly match the bridesmaids, but she does want a color that will compliment those colors.
I think a few colors I've selected above will blend nicely with the wedding colors. Taupe, gold, a dark graphite gray or pewter silver tone, dark mauve, a purple gray, and maybe even a deep bronze. Navy blue would also be lovely, but it's not a color she want to wear to this particular event. Sage green, and teal might work in some cases too, depending on the colors in the flowers, but they also might stand out a bit in pictures in contrast to pink. I am also keeping an eye out for more printed dresses that might work as well!
Also since this is a formal dress code, but not black tie, it's a little open to interpretation whether or not she should wear a long gown for this. Usually a formal at-the-knee or below-the-knee cocktail dress can also be considered formal, if it's not black tie. Even the black tie rules have loosened a bit lately.
The other question is of color. While black, navy and other deep colors are certainly formal, for women, really as long as the fabric and style of the gown is formal, nearly any color aside from white, ivory, and cream, and any very pale shades of blush and champagne that might read as ivory, will work for formal events - especially for spring and summer.
Shopping Guide: Where to Find Maternity Special Occassion Dresses
Still haven't found the dress for you? Here are the places I look when looking for maternity dresses! Keep in mind, these are also great resources to keep on hand if you are in a wedding and need a dress, or if you are looking for a special dress to wear to your own baby shower or for a maternity photo shoot! These are just in slightly random order, but I tried to place in the order of the most maternity dresses that are suitable for weddings!
Places to Find Great Maternity Dresses
Shopping sources use affiliate links from our sponsors and retail partners.
Amazon sellers have some great selections. I have not seen the quality in person, but the reviews seem really good on many of these. The prices are wonderful too, with many styles in the $25- $50 range! Try KohKoh, Patty Boutik and Hello MIZ
ASOS has I have stated has a fantastic selection of maternity bridesmaid dresses, and super-chic on trend styles for maternity dresses. They often go on sale and are usually under $150, too!
Pink Blush - Great for maternity clothes in general, with outstanding and affordable dress options.
BHLDN Has jsut released a few maternity bridesmaid dresses by JennyYoo, but I also think their Two Birds convertible styles will be perfect for materity dresses. They are also showing a lot of empire waisted gowns with full skirts, so try a few of those . I particularly love this Avery Dress
David's Bridal - I really love the maternity friendly styles, but I also think they have some styles with ruching and stretch that weren't added that that section that would work as well, check out the REverie ine they offer - I think they'd work for maternity dresses in some cases as well. Most dresses are in stock so there isn't a wait time!
Dessy Dessy has a full selection of maternity bridesmaid dresses. They are to order, thouugh, so you may have tow wait several weeks. As an alternative, they have twist wrap dresses that can be configured a bunch of different wasy, come in many, many colors, and are super comfortable and stretch for maternity dresses.
Seraphine Fine maternity dresses and evening gowns. There are stunning but high-end
Tiffany Rose High-end special occasion maternity dresses, Classic style!
Rachel Pally Rachel Pally specializes in making dresses in a slinky, find jersey that are comforta and formality combined. Her maxi dress styles would be great for a beach wedding. Find her dresses at Nordstrom Rack on Sale Shopbop
Macy's carries Jessica Simpson maternity styles and dresses from A Pea in The Pod. Most were better for dressy casual or semi-formal dresses.
Kimi and Kai A line carried at Nordstrom that sometimes has cute dresses - more for daytime and semi-formal than formal.
Azazie - this is an affordable made-to-order dress shop for bridesmaid dresses, and they just released a line of maternity styles. They are madefrom your custom measurements, but there is a bit of a wait time. If you have time, and want a really specific color, these dresses might be for you!
Revolve has wrap dresses, and maxi dresses that would work for some!
Komarov these are popular for beach formal eweddings because of the stretchy, loose fit and kind of uniuq patterns. They might work for a beach or boho wedding
Motherhood Maternity A good spot for casual maternity dresses, although I didn't see any formal dresses I thought were a good fit at this time.
Show Me Your Mumu, One of my favorite places for boho bridesmaid dresses, has lots of loose styles that look to me like they'd be easy to wear as maternity styles. Great colors too!
Rent The Runway - They don't have a huge maternity section, but As I mentioned, if you search for bump friendly or read the reviews, many reviewers will state if they wore it as a maternity dress, and many did!
Also read my other post which covers and shows lots more maternity wedding guest dresses, in less formal styles!