Getting an invitation to a black tie event or formal wedding doesn't mean you have to pay high-end boutique prices for your gown! There are definitely lots of places to find affordable dresses for black tie weddings and events! If you know where to look, there are some deals to be had to make getting dressed in black tie attire more economical than you might think!
The shopping sources on this site use affiliate links, which means this site may earn a commission if you make a purchase from our links.
Affordable Dresses for Black Tie Weddings and Events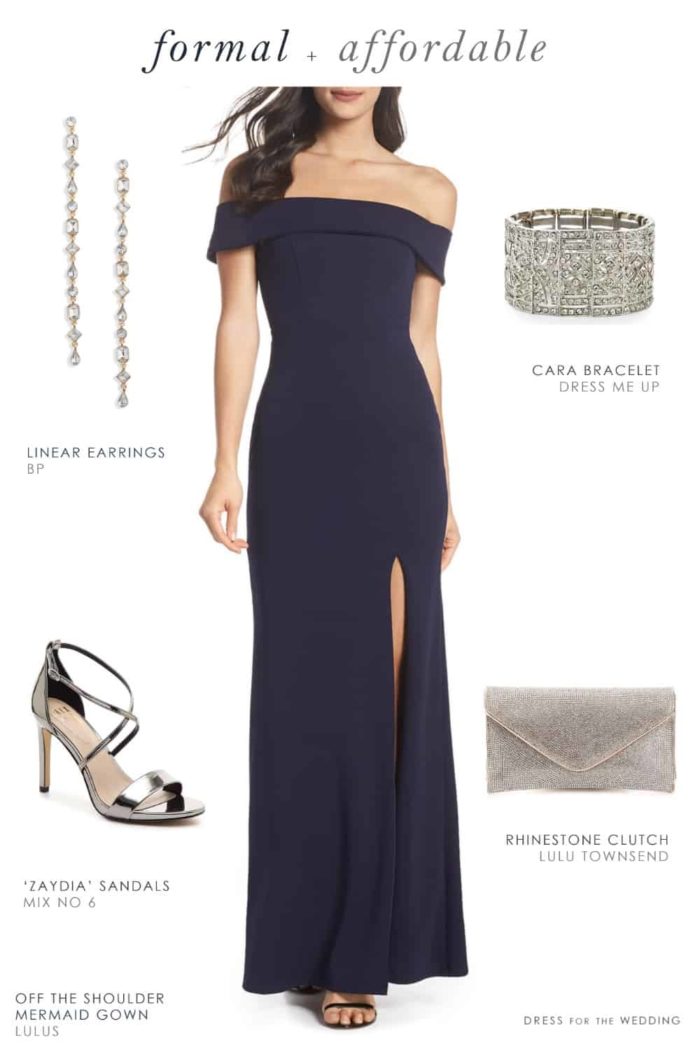 Dress: Lulu's Off the Shoulder Mermaid Gown - $94 Shown in Navy, also available in Red, Burgundy and Black | Earrings: Linear Crystal Earrings from BP - $19 |  Bracelet: Cara Bracelet from Rent the Runway - - $10  or buy similar Rhinestone Bracelet from Claire's $14.99| Clutch: Rhinestone Clutch by Lulu Townsend from DSW $24.99  |  Shoes: Zaydia Sandals From DSW - $39  (Total price of entire outfit & accessories approximately, $189)
The thought of being invited to an upscale formal wedding or black tie event, might send you into a bit of a panic; especially if you are thinking you'll have to spend quite a bit to get dressed up. Fortunately, that isn't the case, since many shops and labels offer affordable special occasion dresses and accessories!
How to Put Together an Affordable Outfit for a Black Tie Wedding
For gentlemen, there are many places to rent tuxedos like The Black Tux or Men's Warehouse, or even buy them affordably at places like ASOS.
And, women, have an easy time as well! There are many formal dresses under $100 available from labels like Lulus ,Morgan and Co, Sequin Hearts, and at ASOS.  If you want a formal designer dress, but don't want to pay more than $100, Rent the Runway, is always a great place to try! And by using your own accessories, renting, or having fun buying some fun costume jewelry and inexpensive clutches, your look will be complete!
Formal Dresses for Less Than $100
The dress in the collage above is by Lulu's and is from Nordstrom. They have several formal styles we love, and all under $100.  Below is a shop section where I've tried to keep the dresses in the under $100 range, although some may be $150 or so.
These are great gowns for black tie weddings, school formals, prom, as bridesmaid dresses or to wear to black tie galas and events. No one will know you didn't spend hundreds of dollars on your elegant gown!
Where To Find Inexpensive Formal Dresses
Here are a few of the brands and shops, we've found that carry reasonably priced formal dresses.
There's a full shop named Lulus, and selected dresses from the label are sold at Nordstrom. As I mentioned, that's the dress in this collage, and it's great quality and a classic style! See more formal styles from Lulus.
This seems to be a junior brand, but with a range of sizes that Nordstrom carries. If you want an bit of sparkle, embellishment or cut-outs, this is a label to look at.  See the Morgan and Co formal gowns.
We love WAYF dresses for bridesmaids and for wedding guests. These are stylish, romantic, with a relaxed bohemian elegance. Styles are usually around $120.
ASOS always as an incredible selection of chic, unique and modern gowns under $100, and they usually have very affordable formal gowns and tuxedos! See the formal looks at ASOS.
This is probably the best spot for quality high-end formal dresses, especially if you don't need something you can wear again. Most rentals are between $40 - $100.
The stock here is always changing, so check back frequently for all the formal styles you can rent! Look for black tie dresses from Rent the Runway
Where do our favorite dresses from Nordstrom go on super-sale? At Nordstrom Rack! You'll find lots of reasonably priced formal gowns and shoes and accessories, too!
This spot has really cute and affordable dresses for any life moment, and I was pretty amazed by the styles they have for formal events - most starting at $48! See the formal dresses at Red Dress Boutique
You may think David's Bridal is just for members of the wedding party, but that's just not the case! They also stock beautiful formal dresses, with plenty at attainable prices. If you're really stuck on a color, then you can also just order a formal style from the rainbow of bridesmaid dresses, no one will know the difference! See formal dresses from David's Bridal.
ModCloth specializes in unique styles with a slightly retro feel, and they've expanded special occasion dresses recently. There are usually several formal dresses to be found in season under the $100 price point. See the selection at ModCloth
If you want a specific color gown, and a very specific style, as well as a semi-custom fit, we love the choices at Azazie! Typically we recommend Azazie for bridesmaid dresses, but the formal dresses there come in over 50 colors and so many styles! They also have a unique approach to sizing based on your custom measurements, which makes these dresses sort of made to order. They get great reviews and lots of women have purchase for formal events. See the colors and styles of formal gowns at Azazie.
Affordable Formal Accessories
DSW has some of the best deals on formal shoes, but also on accessories. Reasonably priced clutches, and even costume jewelry! See the shoes, sandals, and clutches for special events at DSW.
If you need some dramatic costume jewelry crystal earrings or bracelets, I'll be the first to admit, sometimes I look to Claire's! Frequent sales mean even better deals on costume jewelry. See the special occasion pieces at Claire's
Shop Affordable Evening Gowns for Weddings and Events

More formal dress ideas that you might like:
Check our picks for formal and black tie wedding guest dresses.
Our thoughts on the best wedding guest dresses to rent from Rent the Runway.
Wear a formal length that can be casual or formal with this fall maxi dresses for wedding guests.
And, if you're expecting, you might like this post on formal maternity dresses for a black tie wedding.